Planning a family vacation can be stressful. Even after researching online, you may find it difficult to decide where to stay because there are so many options. While you want to treat your family to a wonderful vacation, you may be wondering if the more expensive options are worth it. Let's look at some of the most expensive hotels in Oregon and the amenities they offer to see how they compare.
It is important to remember that hotel prices often change depending on the season. And savvy trip planners know that booking early, using loyalty programs, and checking for special promotions will save money. With that in mind, the prices in this list are quotes for two adults planning to stay one night.
What Makes Oregon Unique?
If you're looking for a state with a little bit of everything, Oregon is a state that offers travelers many choices. From scenic parkways to exploring the mountains to historic sites like The Oregon Trail, adventure lovers will find plenty to do on vacation. And if you're a thrifty sort, Oregon is one of the few states that do not have a sales tax, so you will save on everything you buy.
Portland is a popular urban destination for its funky vibe and diverse culinary offerings. Book lovers will enjoy exploring the legendary Powell's City of Books. Beer lovers will love exploring the many breweries in the city. Portland is also a kid-friendly city, offering many art, science, and outdoor activities year-round.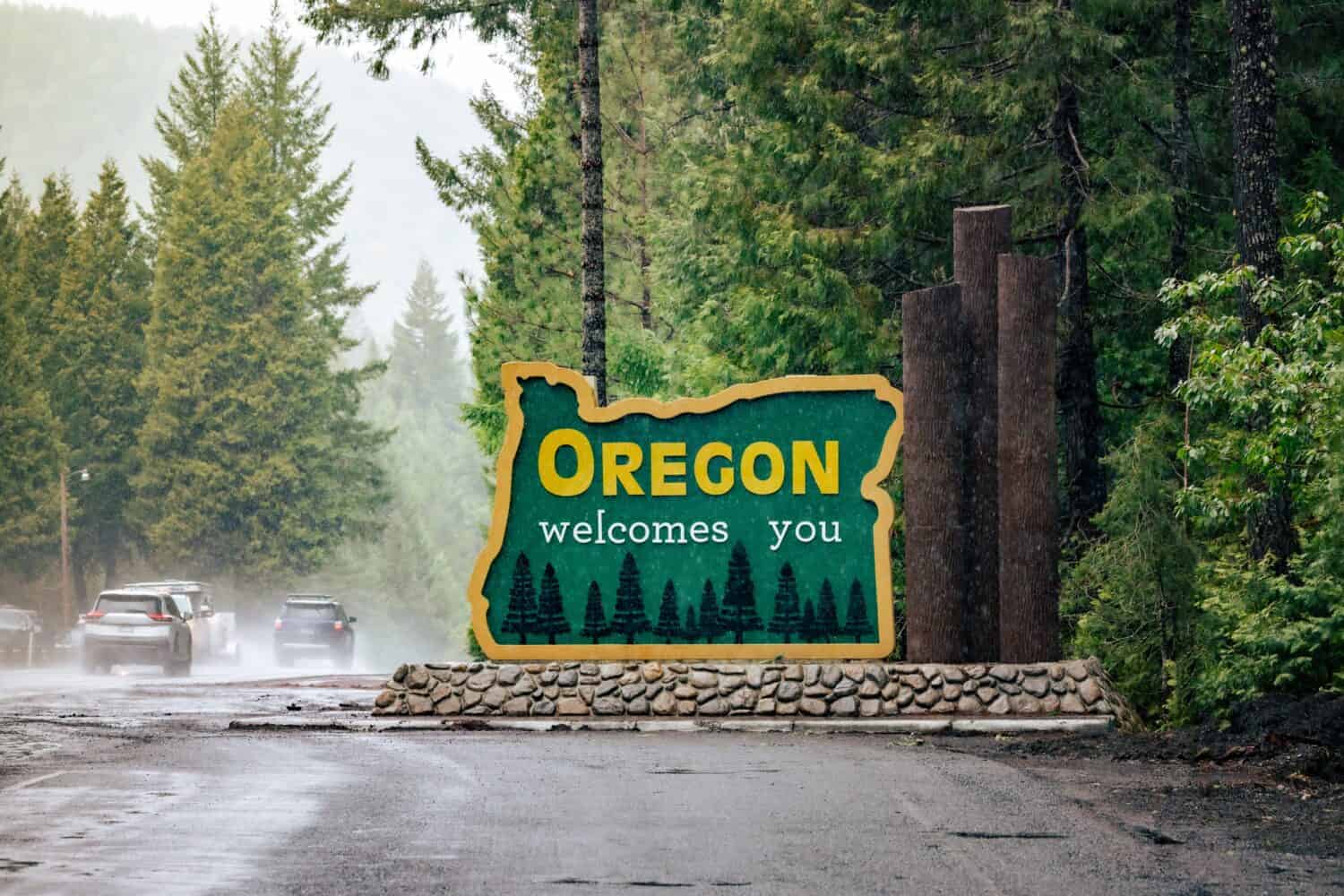 What Are the Tourist Attractions in Oregon?
So, what else is there to do in Oregon? Here is a list of some of the most popular tourist destinations.
Portland Japanese Garden
Crater Lake National Park
Cannon Beach
Oregon Coast Aquarium
Portland Art Museum
Enchanted Forest Theme Park
Columbia River Gorge
Oregon Dunes National Recreation Area
Oregon Coast Trail
The Nines Hotel, Portland
525 SW Morrison, Portland, OR, 97204
Price: $829
Located in downtown Portland, The Nines is an eco-friendly hotel currently listed as one of Conde Nast's top hotels in the Pacific Northwest. Their name refers to the hotel's "dressed to the nines" aesthetic which is evident in the couches covered in Tiffany blue velvet and the satin draperies hanging in the rooms. Students from the Pacific Northwest College of Art supply the impressive artwork found throughout the hotel.
What Makes The Nines Unique?
The Nines offers family rooms, stunning views of the city, and access to nearby boutiques and trendy restaurants. However, if you prefer to dine at the hotel, there are two restaurants on site: the modern Urban Farmer Steakhouse, and the Asian-inspired Departure Restaurant and Lounge.
When you're ready to rest after a day of sightseeing, hotel rooms include a 42-inch television with a DVD player, room service, and massage services. The hotel also offers free infant beds, laptop-friendly workspaces, and rainfall showers in the bathrooms.
What Are the Attractions Near The Nines Hotel?
Pioneer Courthouse Square, The Portland Art Museum, and Tom McCall Waterfront Park are all within walking distance of The Nines. Adventurers can sign-up for Sea to Summit Tours and Adventures, a shuttle company that offers everything from whitewater rafting trips to Oregon wine tours. Kids will enjoy the Animals in Pools sculpture park that features bronze bears, ducks, and beavers in water pools.
The Oxford Hotel, Bend
10 NW Minnesota Ave, Bend, OR 97703
Price: $523
Located in Bend, OR, the Oxford Hotel combines luxury with environmentally-friendly practices, which include recycled glass vanities and energy-efficient heating and cooling systems. The rooms are furnished with organic materials that are locally sourced. The 10Below restaurant serves organic and local cuisine in their restaurant as well as offering room service. Pets are welcome if you give advance notice.
What Makes the Oxford Hotel Unique?
Besides its dedication to eco-friendly amenities, the hotel offers rooms for short-term travelers as well as extended stay rooms. The fitness room on the seventh story of the hotel offers breathtaking views from its floor-to-ceiling windows. Inside the hotel is the Cruise Room Bar and its companion restaurant ROAM, where all of the food is organic and local. The menu even offers special meals for dogs, but cat lovers will be sad to learn there is no menu for felines.
What Are the Tourist Attractions Near the Oxford Hotel?
Situated in downtown Bend, the hotel is surrounded by shops and restaurants. The Bend Whitewater Park is within walking distance. There visitors can kayak, go boogie boarding, or paddle boarding. Guests who are looking for adventure in the outdoors can reach Sunriver Resort, which offers horseback riding and bike trails, in about 25 minutes. The iconic desert wilderness of Smith Rock State Park can be reached in about 45 minutes.
Stephanie Inn, Cannon Beach
2740 Pacific Ave, Cannon Beach, OR 9711
Price: $669
Nestled in Oregon's North Coast, The Stephanie Inn offers the relaxation of a beach house with the amenities of an exclusive hotel. Whether it's arranging special celebrations, organizing outdoor activities, or recommending local attractions, the staff at the Stephanie Inn go the extra mile for their guests. The hotel offers views of Cannon Beach and its ocean monoliths. Guests can take walks on the beach, relax in the beachfront reading room, or book a spa day.
What Makes the Stephanie Inn Unique?
The inn offers unique experiences for its guests, which can range from fishing to glass-blowing, depending on the season. Food and offerings at the hotel spa are sourced from Public Coast Farm, a 40-acre culinary farm located nearby. Each guest receives complimentary cookies and scones made fresh as well as a complimentary evening nightcap of house-made cordials. The hotel also offers bicycles for guests who want to explore the beach or make a short trip into town.
What Are the Tourist Attractions Near The Stephanie Inn?
While there is a chance you will not want to leave this beachfront hotel, the small artists' enclave of Cannon Beach is a short trip away. There are many art galleries to explore. Depending on when you vacation, Cannon Beach offers several art festivals throughout the year.
From March to June, gray whales migrate to Cannon Beach and can sometimes be spotted around Haystack Rock, one of the area's famous ocean monoliths. At the north end of the beach is Ecola State Park, and the park has hiking trails that lead to Crescent Beach and Indian Beach. And, of course, if you're visiting this part of Oregon, you will want to try the fresh seafood at places like Mo's Seafood and Chowder and the Bistro Restaurant.
Atticus Hotel, McMinnville
375 NE Ford Street, McMinnville, OR 97128
Price: $470
Forty miles south of Portland, located in the heart of the Willamette Wine Country, The Atticus Hotel is located in the downtown district of McMinnville. The hotel offers an unusual variety of rooms. Some travelers prefer the Micro Studio rooms of the Atticus, which at 220 square feet, are small, but still offer luxuries like a king-sized bed, floor-to-ceiling windows, and fireplaces. More lavish guests, or groups of up to six people, might prefer the spacious penthouse suite. The penthouse suite boasts two private bedrooms, two bathrooms, a powder room, an island bar, and a curated selection of books.
What Makes the Atticus Hotel Unique?
In addition to the unusual variety of room offerings, the hotel offers maps to local vineyards, personalized itineraries for a day of wine-tasting, and can garner exclusive reservations for local wineries and tasting rooms. Cyprus, the hotel restaurant, offers Mediterranean-inspired menus with food brought in from local farmers and ranchers.
What Are the Attractions Near the Atticus Hotel?
While wine lovers will certainly appreciate the Atticus Hotel, beer lovers will appreciate McMinnville's many breweries. Visitors will also want to check out Vista Hot Air Balloons in nearby Newburg, where they can spend an hour gazing out over Oregon's wine country. Movie and aviation buffs can see director Howard Hughes's "The Spruce Goose" at the Evergreen Aviation Museum. Hughes only flew the goose once, but it remains the largest wooden plane ever built. Film lovers can also check out a drive-in movie at the Corral Drive-In in McMinnville, one of America's last remaining drive-in movie theaters.
One Final Note
Whether you are dreaming about a fantasy vacation or planning a luxurious trip for your family, these hotels in Oregon are as awe-inspiring as their price tags. The question remains, are they worth it? Will you pay more money for luxury, or for unique experiences? Or, perhaps, both? Even if you are traveling on a budget, and are not impressed by these expensive offerings, it is clear that Oregon is a wonderful vacation destination because of its vibrant and diverse landscape, which includes everything from beautiful beaches to wine vineyards.
The image featured at the top of this post is ©Boyloso/Shutterstock.com.