The state of Oregon is known to be a nature lover's paradise, from the rocky coastline overlooking the blue water of the Pacific to the forests filled with greenery to the many crystal clear lakes throughout the state. The natural beauty of the state makes it an excellent choice for summer camp. Summer camp is an amazing experience for children to make new friends, learn new skills, and gain self-confidence. Plus, research supports children spending more time outside helps their cognitive development and positively benefits their physical and mental health.
Before you start packing your child's bags for camp, parents should assess which type of camp is best for their child. Some camps focus on physical fitness, others focus on creativity, and others on conservation projects. But whatever the focus is, they should focus on a fun educational experience outdoors. The American Academy of Pediatrics advises parents to consider their child's age, abilities, and interests before choosing a summer camp to be sure to find the best fit. Likewise, parents should ask important questions about health and safety protocols and procedures.
If you are looking for some of the best camps in Oregon today, here is a list of some of the best camps the state has to offer.
1. Camp Magruder
Camp Magruder on Rockaway Beach off the Old Pacific highway is an excellent all-ages summer camp. The camp offers swimming, boating, archery, and hiking for campers. They also have a challenge course to facilitate team building and gain self-confidence. They have programs for elementary, middle, and high school ages that usually run for four or five days. The camp also has family camps, adult retreats, and a Q camp for LGBTQ+ young adults.
The camp also hosts the Northwest Regional Outdoor Science School in the Fall and Spring for students to explore the scientific process, data collection, and careers in science and natural resource management.
2. Big Lake Youth Camp
Big Lake Youth Camp is a summer camp in central Oregon on a beautiful lake aptly named Big Lake. The summer camp offers programs for ages starting at age 7 through 18. Plus, they have family camps for families that want to experience camp together. The activities at Big Lake include swimming, canoeing, hiking, and arts and crafts. Kids have a scheduled day full of fun, ending in a group campfire with fun songs and games.
For teens 13-17, the camp offers RAD Camps that offer off-site experiences like advanced rock climbing at Smith State Park, wakeboarding at an off-site rustic camp, mountain biking off trails, and white water rafting. They also offer a unique specialty camp dedicated to horses and learning riding skills and horse communication.
3. Camp Tamarack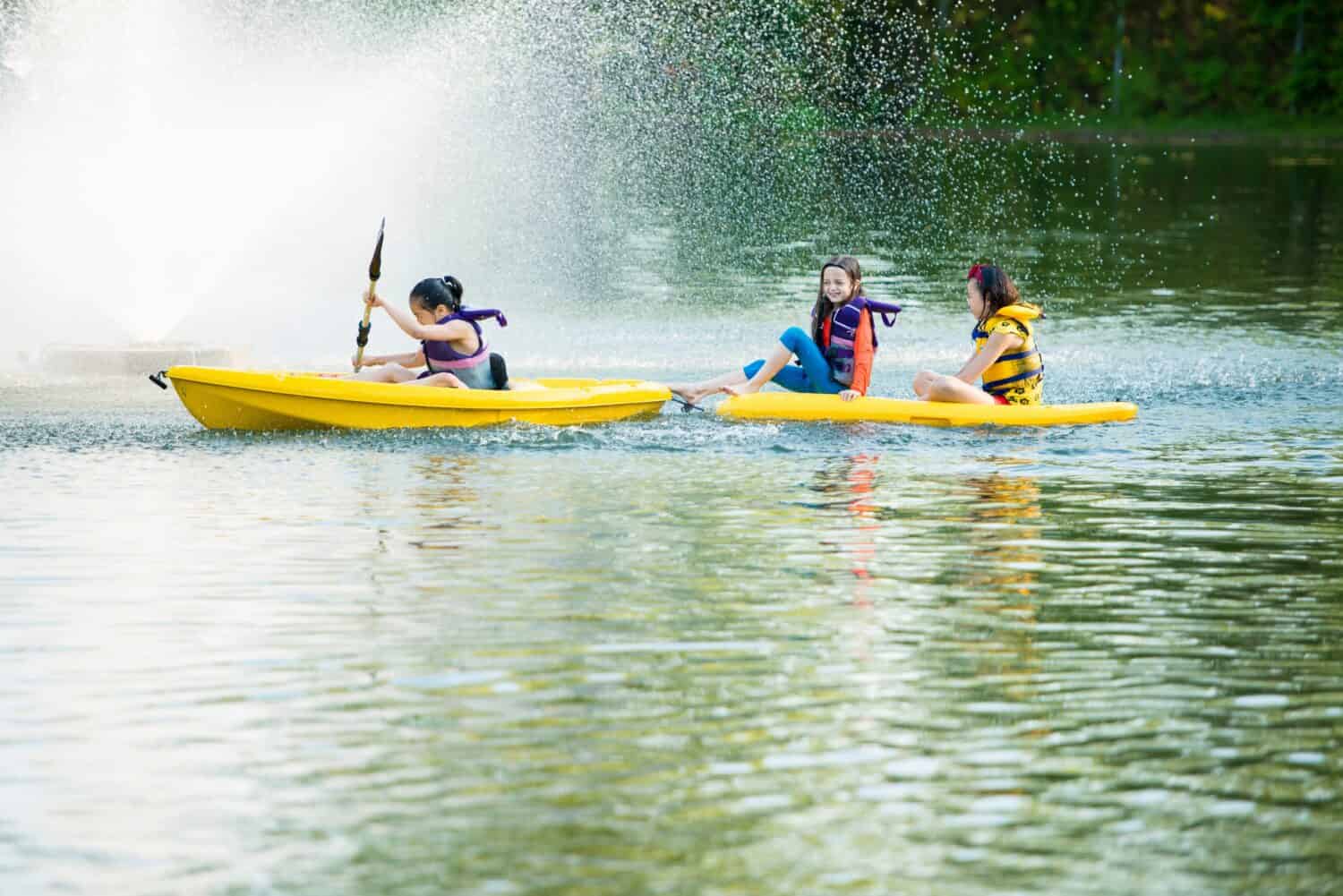 Camp Tamarack, located in central Oregon near Dark Lake, is a camp filled with activities for children ages 8-13. They offer week-long camps with standard camp activities like swimming, hiking, canoeing, and arts and crafts. But they also have unique activities like yoga, theatre, ceramics, journalism, and engineering. For 9th graders, they offer a Counselor in Training Camp for older kids to learn what it takes to be a camp counselor. In addition, they offer a session for campers 8-18 who have Type 1 diabetes, where campers can explore the activities in a safe manner.
4. YMCA Camp Collins
Outside of Portland, Oregon, near the Sandy River, is YMCA Camp Collins. The camp offers day camps, overnight camps, and family camps for those eager to explore this beautiful part of Oregon. With a climbing wall, ziplines, outdoor pool, archery center, and hiking trails, there is a lot to explore at this diverse camp. Campers are grouped by age, with a camp for 2-4 graders, another for 5-6th graders, and 6-8th graders. High schoolers have another camp dedicated to exploring leadership and team building. Camps run for one week, but they also offer mini camps for young campers in 2-4th grades who might not be ready for a full week away from home. Camp Collins also offers a horse-focused camp for beginners and experienced riders.
5. Camp Westwind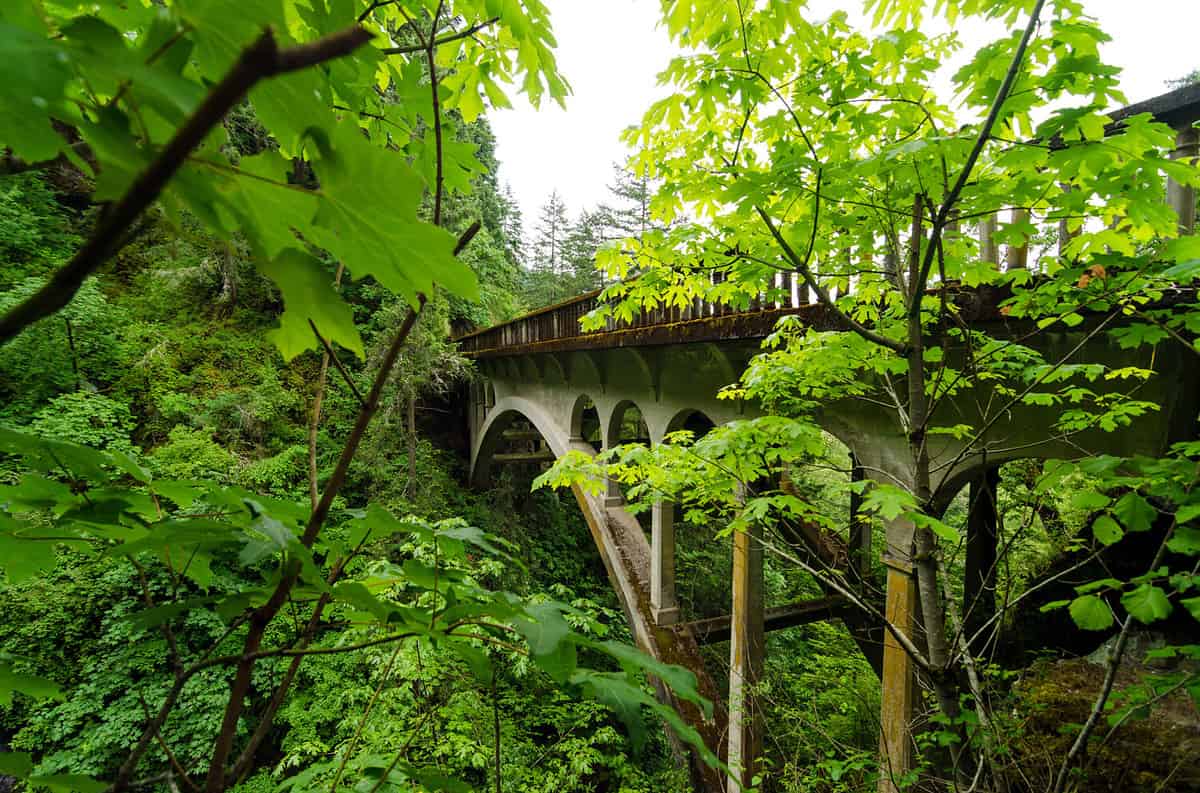 If you are looking for a real and rustic camp adventure, then Camp Westwind on the rocky Oregon Coast just north of Lincoln City is an excellent choice. The camp is a little tricky to get to, and if the ferry isn't running, then you have to park and hike the two miles, which gives it an island and isolated feel perfect for connecting with nature. The camp has programs for children as young as kindergarten up through teen adventure camps. Plus, family camps and special mother-child camps for a special bonding experience. Younger children choose from arts and crafts to swimming, canoeing, and paddleboarding. Older campers explore all the Oregon coast has to offer, including surfing, seas kayaking, and team-building challenge courses designed to build confidence and self-esteem.
6. Washington Family Ranch
Washington Family Ranch offers exciting outdoor activities in northern Oregon. The camp is isolated on a large piece of land. Their summer camps are for middle school and high school students who are part of the Young Life Christian organization. Their summer programs are specifically for Young Life teens, but they also offer retreats and family weekends for anyone and everyone to enjoy. The facility has two camps in the canyon and the creekside. On-site, there are water slides, a ropes course, zip lines, a pool, a climbing wall, waterslides, and mini golf. It offers a relaxing experience isolated from the pressure of real life. The campus is so isolated that there is no cell service, and the unpaved road is quite an adventure.
The camp also has a bit of history. In 1981, the site was originally purchased by the controversial cult leader Bhagwan Shree Rajneesh. He relocated his ashram from India to Oregon, where his followers built a utopian city in the Oregon desert with a full police force, telephone system, and bus service, all created by his followers. Unfortunately, there was a conflict with the locals, and the ranch was abandoned, and the cult guru was exiled in 1985. The ranch was left uninhabited, and eventually, the state sold it to a Montana man who donated it to the Young Life organization. Some of the same structures that the guru cult built are still standing and in use today.
7. Camp Gray Coastal Discovery Center
Does your camper love the ocean and learning about everything in it? Then Camp Gray Coastal Discovery Center is a perfect camp for them. It is located between the sandy dunes of South Beach and Yaquina Bay. The Coastal Discovery Center at Camp Gray in Newport has access to diverse ecosystems of the Oregon Coast, with overnight camps and programs for kids from 2nd grade to 12th grade and day camps for K-8 students. The camp focuses on exploration, education, creativity, and, most importantly, fun.
The programs range from art and design to exploring sea life and beaches to canoeing and surfing adventures. The camp has so much to offer. One unique program for high schools combines a love of sea and beach exploration with documentary filmmaking. Another, called Salt, Sand, and Sea, has young explorers trekking through different environments each day and gaining skills and building self-esteem.
8. Camp Attitude
Every child deserves to experience the wonders of summer camp, and at Camp Attitude, every child can, regardless of physical or cognitive diagnosis. The camp is dedicated to serving those that other camps can't. Camp Attitude is for children and adults who otherwise would not be able to experience camp due to their need for aid and assistance. It is a not-for-profit Christian camp, but campers are welcome in every faith. The camp is located in western Oregon on the South Santiam River. The nearby Foster Lake is for swimming and tubing. While the camp provides a lot of fun activities like laser tag, talents show, and crafts. Accommodations are either cabins or yurts with two single beds, and all are wheelchair accessible. If you are a parent of a differently abled child, this camp is where they can have fun and be a regular camper and kid.
There are many excellent summer camps all across the U.S. Children will cherish the memories and friendships they make at camp.
The image featured at the top of this post is ©Maples Images/Shutterstock.com.