Researching prices and amenities is necessary when booking a hotel for your family vacation or a weekend getaway. However, the prices of hotels are often downright outrageous! If you dig deeper, you will see that the extra expenses may make the price seem more reasonable. If you are planning a trip south, these expensive hotels in Georgia may be worth the extra look.
What Makes Georgia Unique
The saying You're just a "Georgia peach" may come to mind when thinking about this sunny state. This is because Georgia grows plenty of peaches; contrary to popular belief, it doesn't produce the most peaches in the United States. That title belongs to California. Georgia is, however, a top producer of pecans.
Coca-Cola calls the state of Georgia its birthplace. Also, this state has a rich history as being the place where the Civil Rights Movement began, due in part to it being the birthplace and home of Martin Luther King Jr. All of these facts and more make Georgia an interesting place to visit with rich history, and an abundance of tourist attractions to explore!
What are Interesting Tourist Attractions in Georgia?
When visiting Georgia, there are plenty of attractions to choose from. If you enjoy museums, hitting up some of the popular ones in this southern state may be fun. These include the World of Coca-Cola and the National Infantry Museum. Visit the Martin Luther King Jr. National Historical Park or the National Center for Civil and Human Rights for a better and deeper understanding of the Civil Rights movement and its history.
Those who love nature may also enjoy visiting Atlanta Botanical Garden, Rock City Gardens, and Providence Canyon State Park. All these and more are excellent tourist attractions while in the Peach State.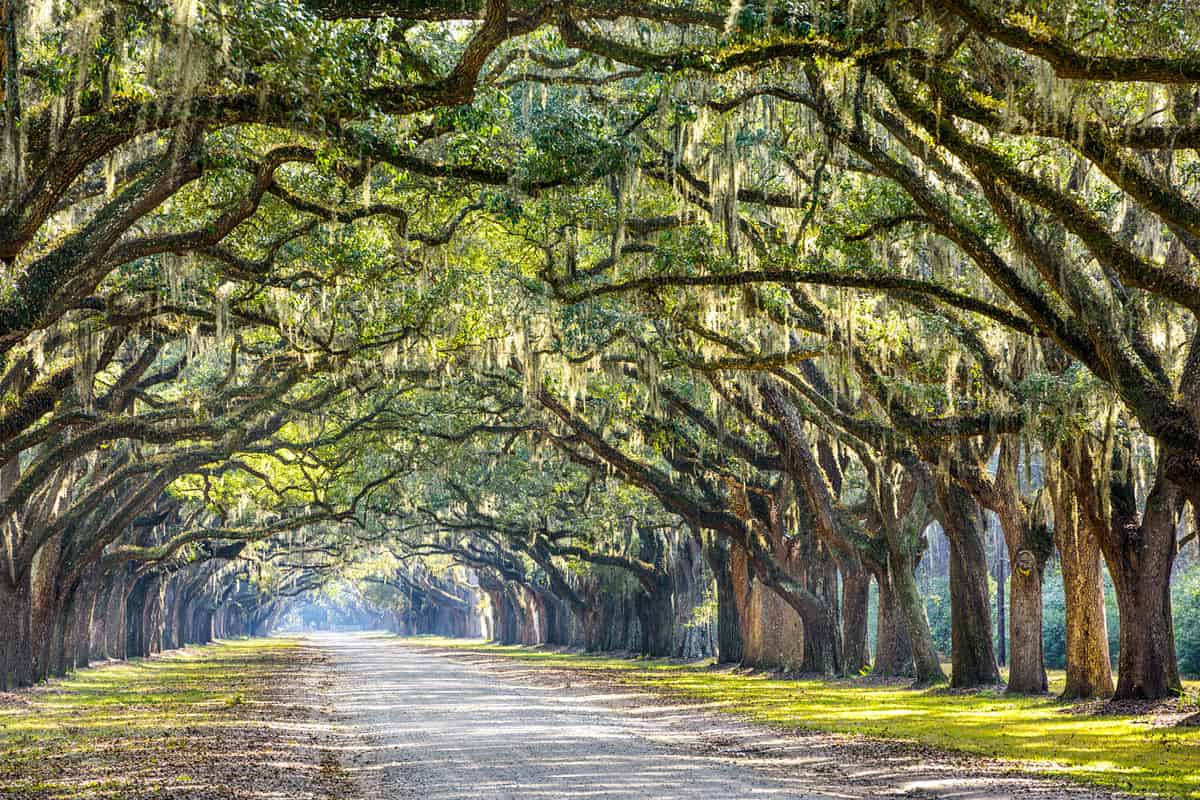 The Most Expensive Hotels in Georgia
Below are expensive hotels in this southern state. With many attractions, beautiful scenery, and important history, Georgia is incredible to visit.
The Cloister at Sea Island
100 Cloister Dr, Sea Island, GA 31561
Price: $1,099
One of the most expensive hotels in Georgia is the Cloister at Sea Island. Guests who want to feel like they just stepped right into magnificence itself may find themselves drawn to The Cloister at Sea Island Hotel.
What Makes The Cloister at Sea Island Unique
The Cloister at Sea Island Hotel is right on the coastline, allowing guests to enjoy the water on the private beach. Aside from the beach, this hotel offers plenty of activities to enjoy during a stay. A few of these activities include:
Paddleboarding
Fishing
Horseback riding
Biking
Dolphin tours
Ice cream and candy shop
Crabbing off of Cloister dock
Resort pool
Tennis lessons
Restaurants
The Cloister at Sea Island also has a five-star spa that offers renewal and relaxing services. While at the spa, guests can try hydrotherapy or take a cold plunge. Guests can also access the hot pools if cold plunges are not their thing. Clearly, there are many ways to feel rejuvenated while staying at this luxurious hotel.
What are the Attractions Near The Cloister at Sea Island
While staying in Sea Island, GA, guests can explore fantastic tourist attractions. Visit the Fort Frederica National Monument or St. Simons Island Lighthouse Museum.
If guests are interested in history, the World War II Home Front Museum is also worth visiting.
Take the day as a family and explore St. Simons Island or Cannon's Point Preserve. The options are plenty while visiting this gorgeous area.
The Lodge at Sea Island Golf Club
100 Retreat Ave, St Simons Island, GA 31522
Price: $799
Another one of the most expensive hotels in Georgia is the luxury hotel Lodge at Sea Island Golf Club. Upon entry, guests immediately fall in love with this hotel's breathtaking decor and luxury. It also boasts many of the same amenities as The Cloister Hotel. If guests are looking for a magnetic and personal place to stay, look no further than the Lodge at Sea Island Golf Club.
What Makes The Lodge at Sea Island Golf Club Unique
While staying at the Lodge at Sea Island Golf Club, guests can access an extensive array of amenities and extras. There is a pool and a golf course at the resort. There is also a private beach and delicious cuisine at the Colt & Alison Oak Room; in-room dining is also available.
The Lodge helps guests book many activities that the Cloister does because these activities are available on Sea Island. These include horseback riding, a cocktail cruise, a hawk walk, and stand-up paddleboarding.
Regardless of your passion, you will have many fun activities to choose from while at the Lodge!
The St. Regis Atlanta
88 W Paces Ferry Rd NW, Atlanta, GA 30305
Price: $797
The St. Regis Atlanta is a Marriott Bonvoy luxury hotel in Atlanta, GA, and one of Georgia's most expensive hotels. Guests enjoy staying at this hotel because it is five-star with immaculate accommodations and luxury at its finest.
What Makes The St. Regis Atlanta Unique
While staying at St. Regis Atlanta, guests can access incredible amenities to elevate their stay. First, guests can visit the St. Regis Atlanta Spa for a massage, a wax, or even a body treatment, leaving them feeling relaxed and rejuvenated.
There is also an Athletic club available to all who stay 24 seven. As well as a Jacuzzi and outdoor heated pool. There are excellent cuisine options, tea times, a butler service, a concierge service, and more while staying here.
What are the Attractions Near The St. Regis Atlanta
St. Regis Atlanta is thriving with rich history and culture. While here, guests may enjoy visiting the many museums available. These include:
High Museum of Art
Martin Luther King, Jr. National Historical Park
Atlanta History Center
Fernbank Museum 3D Theater
College Football Hall of Fame
Jimmy Carter Presidential Library and Museum
If guests are looking for something to do as a family, visit the Georgia Aquarium, Atlanta Botanical Garden, are the Zoo Atlanta is an excellent choice. It is easy to fill your days up while in Atlanta, GA.
The Ritz-Carlton Reynolds, Lake Oconee
1 Lake Oconee Trail, Greensboro, GA 30642
Price: $647
The Ritz-Carlton Reynolds, Lake Oconee, is a luxury hotel in Greensboro, GA. Guests will be close to Atlanta yet able to get a taste and view of immense natural beauty that feels somewhat set apart. This lakeside resort offers captivation and unique experiences for a memorable vacation.
What Makes the Ritz-Carlton Reynolds Unique
If guests are golf lovers, they will enjoy this resort. The Ritz- Carlton Reynolds has 99-hole golf courses, where guests can unwind and practice their golf swing all day if they'd like.
The Ritz- Carlton Reynolds also has options for guests to enjoy paddleboarding and kayaking individually or as a family.
Aside from the golf course, there is also a sandy Creek Sporting Ground. While here, guests can partake in an array of sporting games. These include fishing, archery, and an off-roading course.
Back on the resort is a spa pool, infinity pool, family pool, and a whirlpool. Waterbugs will enjoy spending their entire day in these relaxing pools, whether they are young or young at heart.
One of the favorite characteristics of these luxury hotels is the spa options. The Ritz-Carlton Reynolds is no exception. The rejuvenating spa at the Ritz-Carlton Reynolds has various options for guests. These include facials, massages, body treatments, and even hair and makeup appointments. Guests will leave relaxed after unplugging and practicing the art of self-care.
Outside activities are also abundant while staying here. Guests may enjoy going fishing, riding a pontoon, or even a jet-ski! If guests love being on the water, there are boat tours and lake activities to enjoy. If keeping both feet on the ground is preferred, guests may like renting a bike, making s'mores on the lake, or going for a nature hike.
The Ritz Kids Clubhouse brings the magic to live with young children as they participate in fun activities. These include nature hikes and animal encounters. Families can sign their kids up for the VIK check-in, which gives them a scavenger hunt to explore. Even in-room camping allows kids to have the best of both worlds, the cozy indoors and the adventure and fun of camping!
What are the Attractions Near the Ritz-Carlton Reynolds
While in Greensboro, GA, guests will enjoy nature and history! Take an afternoon and explore the water with watersports, a lakeside picnic, or play golf by the lake.
If guests would instead visit a museum, there is plenty to choose from here. These include:
Heritage Hall
Morgan county African-American
The old gaol
Kae Oconee Discovery Museum
Guests will not be short of anything to do while staying here!
The Westin Jekyll Island
110 Ocean Way, Jekyll Island, GA 31527
Price: $563
On Jekyll Island, GA, sits the beautiful Westin. The Westin at Jekyll Island is a four-star hotel that boasts fun amenities that make guests never want to leave.
What Makes The Westin Jekyll Island Unique
While staying at the Westin Jekyll Island, guests will enjoy the tasty cuisine options from the restaurants The Reserve, Salty's Seasonal Poolside Bar & Grill, and the Westin Cafe.
The Westin is not far from Jekyll Island. If guests want to explore the town, or if they'd rather stay in, there is plenty to do! They can visit the fitness studio and continue their health routine while on vacation. Guests can also enjoy a dip in the outdoor heated pool or whirlpool with spectacular landscapes in view. Horseback riding and paddle boarding are additional fun activities families may enjoy here.
What are the Attractions Near The Westin Jekyll Island
Jekyll Island boasts beautiful beaches and waterfronts. Activities that are enjoyed here are typically outdoor or water oriented. However, there are inside options to explore as well.
While on Jekyll Island, guests can visit the Georgia Sea Turtle Center or the Mosica Jekyll Island Museum. On the other hand, if historical landmarks are their thing, guests may enjoy exploring the Horton house. This house was built in 1743 by William Horton and his servants. There is also a cemetery on site.
Guests can explore this run-down house and get a taste of the enriching history on this Island.
Guests who love nature may enjoy visiting Great Dunes Park or Driftwood Beach. The natural beauty of Jekyll Island is worth exploring!
Waldorf Astoria Atlanta Buckhead
3376 Peachtree Rd NE, Atlanta, GA 30326
Price: $442
The Waldorf Astoria Atlanta Buckhead has earned the nickname "the Beverly Hills of the South" and is located in Atlanta, GA, with immense culture to behold.
What Makes The Waldorf Astoria Atlanta Buckhead Unique
The Waldorf Astoria Atlanta Buckhead offers guests an array of amenities to enjoy. These include a delicious restaurant as well as room service. Guests can also access a fitness center, meeting rooms, and an indoor pool.
The Waldorf Astoria also offers them a spa to enjoy. Often it can be hard to unplug and get away from the hustle and bustle of everyday life. The spa at the Waldorf Astoria makes it easier for adults to do so. There are 13 treatment rooms at this spa. There is also a couples' suite and a saline lap pool.
While at the spa, guests can take a detox bath or experience a body scrub. Massages, body wraps, and facials are all options for them to choose from as well. The experiences at the Waldor Astoria make the extra expense worth every penny.
What are the Attractions Near The Waldorf Astoria Atlanta Buckhead
Buckhead Atlanta, GA, is a unique area to visit with various tourist attractions for guests of all interests. Guests may enjoy visiting the Atlanta History Center or the Swan House at Atlanta History Center. The Swan House was designed in 1928 for Edward and Emily Inman. Edward could only enjoy his new home for three years until he died suddenly. Emily lived in this beautifully designed home with her son, daughter-in-law, and grandchildren. Emily passed away in 1965 when the Atlanta Historical Society bought the home. This is a unique and interesting, not to mention a beautiful home to visit while here.
Guests may also love visiting Piedmont Park, Blue Heron Nature Preserve, or the Cadence Bank Amphitheatre. The rich culture and history in Buckhead and Atlanta make the visit enjoyable and educational.
One Final Note
When it comes to the history and attractions in Georgia, the options are endless. Coming to this beautiful state is absolutely worth it. No matter what you may enjoy doing, there are plenty of possibilities. If you love history and museums, there are a vast number of museums available to visit. Georgia is also home to stunning waterfronts where you can participate in fun water activities or sit by the beach and enjoy the breeze and salty air.
Regardless of what you decide to do in Georgia, you must first find a place to stay. These expensive hotels in Georgia are worthy of a second look. Many of these hotels have excellent accommodations, luxurious amenities, and extras that are easy and fun to indulge in. At first, the price may feel too steep; however, if you take a closer look at their amenities and extras, you may find the price of the expensive hotels in Georgia worth it.
Georgia Posts
The image featured at the top of this post is ©Anel Alijagic/Shutterstock.com.