When planning a vacation or a weekend getaway, researching the right hotels can leave your head spinning! You will start to wonder, what are the best accommodations for your family? Do you want dine-in meals? A swimming pool? What about valet parking? Sometimes, narrowing down what makes a hotel worth it can be challenging. In fact, when it comes down to hotels, sometimes the prices feel entirely outrageous! These expensive hotels in Arizona are no exception. However, sometimes you may wonder what makes the price worth it and what doesn't. This article is going to explore the most expensive hotels in Arizona. However, before discussing the hotels, we will cover fun tourist attractions in this beautiful state!
What Makes Arizona Unique
When traveling to Arizona, you will be met with magnificent natural beauty and a completely unique world.
Arizona's natural landmarks and beautiful scenery mean it is packed with national parks and monuments. These parks range from the Grand Canyon to the Zion national park. The deserts are covered in cacti and gorgeous landscapes. Arizona is often described as a dream. Traveling here will make you want to come back again and again.
What are Tourist Attractions in Arizona?
There are plenty of tourist attractions in Arizona. The Grand Canyon will likely be your first stop if you enjoy the natural scenery. Natural attractions continue beyond there. More gorgeous parks to visit include: 
Saguaro National Park
Desert Botanical Garden
Petrified Forest National Park
Monument Valley
Canyon de Chelly National Monument
Meteor Crater Natural Landmark
Sedona
Chapel of the Holy Cross
Arizona also has enriching museums and attractions like the Pheonix Zoo and Heard Museum. Also, when visiting the unique sites in Arizona, your accommodations can help elevate your trip to one you'll always remember or bring it down a few notches. 
Below are some of the most expensive hotels in Arizona. It is always important to remember price ranges are subject to change with hotels depending on the time of year and week. However, the prices below are reflective of what was quoted for one room for two adults. That said, there are plenty of ways to find deals on luxury hotels. Here are a few ideas: 
Take the time to research loyalty programs
Book your trip during nonpeak months, such as January.
Sign up for special promotions from the hotel websites
Look for free cancellations
Book through the hotel website
It's also good to remember that this list is nowhere near extensive. There are so many expensive hotels around the United States and Arizona specifically. Now, let's look at some of the most expensive hotels in Arizona!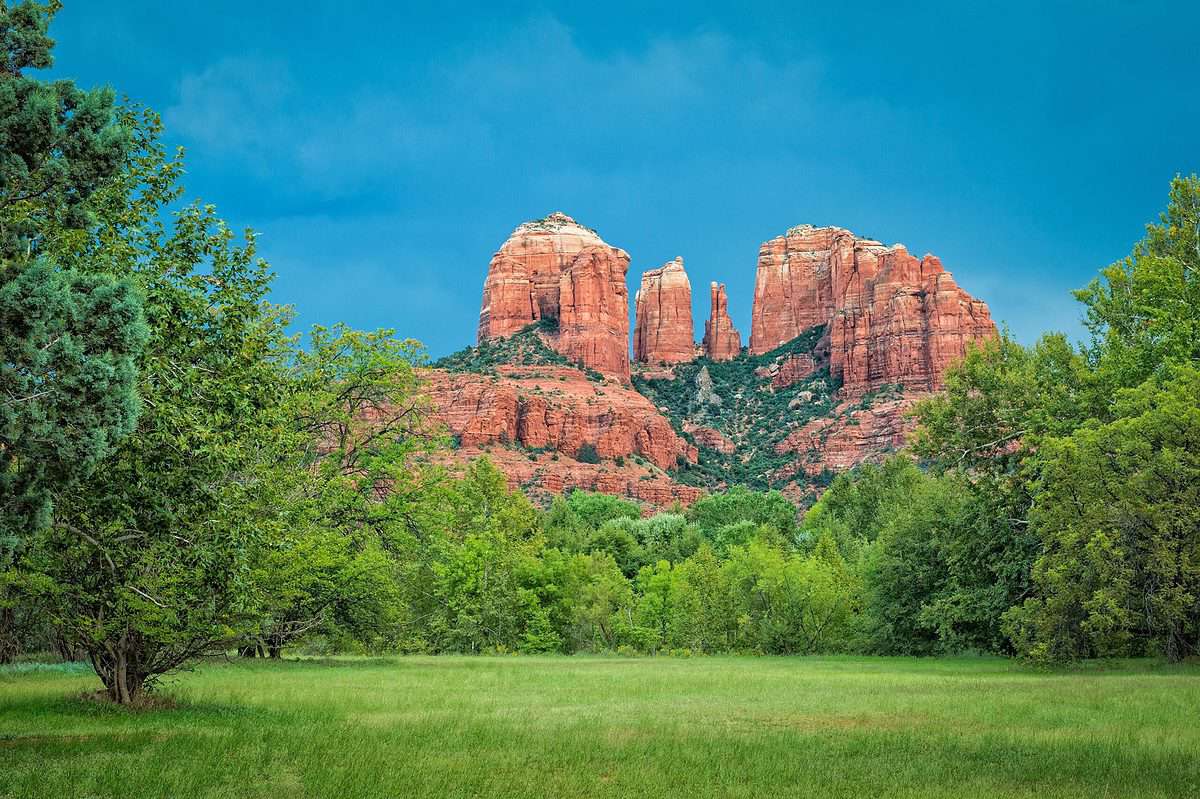 Canyon Ranch in Tuscon
8600 E Rockcliff Rd, Tucson, AZ 85750
Price: $1,900
The most expensive hotel is Canyon Ranch Tuscon, which costs $1,900. However, Canyon Ranch Tuscon is less of a hotel than it is a wellness resort. While here, guests examine their wellness and life. Additionally, during this time, guests can move at their own pace and participate in activities specifically for them with a personally curated itinerary. 
What Makes Canyon Ranch in Tuscon Unique
Canyon Ranch Tuscon employs experts who know how to guide guests through their own wellness journey. There are also fitness classes, cooking lessons, and activities for self-discovery. 
Sometimes all you need is something to help you reset your lifestyle. With this in mind, Canyon Ranch Tuscon is prepared to meet you where you are with support and tools to make the reset much easier! 
The Canyon Suites at the Phoenicia
6000 E Camelback Rd, Scottsdale, AZ 85251
Price: $555
The Canyon Suites at Phoenicia is in Scottsdale. Also, this particular hotel is rated a Forbes Five-Star hotel! The guestrooms are spacious and beautifully unique. They scream polish and cozy at the same time. 
What Makes The Canyon Suites at the Phoenicia Unique
Canyon Suites at the Phoenicia has much to offer. First, there is an award-winning steakhouse that offers delicious cuisine. Also, the Phoenician spa is fabulous and perfect for guests to feel renewed and refreshed. Additionally, among the Phoenician spa, amenities include:
Treatment room
Movement Studio
Drybar
Vitality pool
Golf club
Athletic club
Outdoor swimming pool and hot tub
Nail lounge
Game room
Tennis court
Pickleball courts
Basketball court
Poolside dining
Aside from these fantastic amenities, guests can also participate in unique experiences such as meeting Harris Hawk.
Customizable packages are also available, making it easier to customize your perfect stay.
What are the Attractions Near The Canyon Suites at the Phoenicia
If you are visiting Scottsdale as a family, children may enjoy Arizona's Wonderspaces or stroll through Old Town Scottsdale. A visit here will feel both charming and magical. 
Mii Amo Spa
525 Boynton Canyon Rd, Sedona, AZ 86336
Price: $540
Mii Amo Spa is a wellness resort that is in seclusion in Sedona, AZ. The seclusion and beauty make staying here feel like a daydream. Also, the refreshing atmosphere makes refreshing your life possible. 
What Makes Mii Amo Unique
Mii Amo is a wellness resort to help guests pause and reset their lives. Connecting with nature is a priority while here. Why not? The natural beauty surrounding this resort is remarkable. Mii Amo is also all-inclusive; guests can stay three, four, seven, or ten nights. 
Mii Amo offers lectures, classes, fitness facilities, and a spa for treatments. All these and more allow guests to retreat from the world and go on a journey of self-discovery and renewal.
Enchantment Resort
525 Boynton Canyon Rd, Sedona, AZ 86336
Price: $491
Enchantment Resort is nestled in beautiful and picturesque nature. There are also a few accommodations, including pool suites, one or two-bedroom suites, and casitas. Take the time to reconnect to nature while staying at the Enchantment Resort. 
What Makes Enchantment Resort Unique
Dine in style at the Che Ah Chi or take a break to unwind with family at the Tii Gavo. In addition, the Enchantment Resort offers poolside dining and a pool bar. 
If you enjoy nature, take a trip to the Trail House for all your outdoor needs. There are also family adventures to try, such as: 
Mountain biking
Hiking
Pink jeep tours
Art classes like watercolors and beading
Hot air balloon rides
These are just a few incredible activities offered for families while staying here!
What are the Attractions Near Enchantment Resort
While in Sedona, take a hike or meditate on the Red Rocks. You can also visit the Chapel of the Holy Cross, Slide Rock State Park, or even the Broken Arrow Trail. 
L'Auberge De Sedona
301 L'Auberge Ln, Sedona, AZ 86336
Price: $451
L'Auberge De Sedona takes pride in the beautiful nature that surrounds Sedona. Additionally, the amenities are fine-tuned to fit the natural renewal one feels when visiting here. 
What Makes L'Auberge De SedonaUnique
At L'Auberge De Sedona, guests are fully immersed in the natural beauty of Sedona. There are plenty of soul-renewing activities to take part in while staying here. These activities include visiting an art gallery, strolling along Duck Beach, going on a Grand Canyon driving tour, or taking an intriguing hot hair balloon ride to enjoy the gorgeous scenery.
If you enjoy the great outdoors, hikes, mountain biking, pink jeep tours, and spiritual tours are necessary when staying here.
Aside from the outdoor adventures, L'Auberge De Sedona also has incredible amenities to partake in. The dining is enriched with Southern cuisine. Additionally, there is a fantastic spa that helps guests feel renewed. There is even an option to host weddings here! What a beautiful way to say I Do.   
What are the Attractions Near The L'Auberge De Sedona
The natural beauty in Sedona is quite honestly unmatched. The Devil's Bridge Trail takes your adrenaline to the next level, and the Sedona Airport Scenic lookout is incredible. However, if you want to stay indoors, you can visit the Sedona Heritage Museum to get a taste of the remarkable history. Then journey to the Tlaquepaque Arts and Shopping Village to dine in yummy restaurants or explore quaint shops. The possibilities are endless in Sedona! 
Four Seasons Resort in Scottsdale
10600 E Crescent Moon Dr, Scottsdale, AZ 85262
Price: $316
In Scottsdale sits the Four Seasons Resort. This resort is equipped with charming and homey casita rooms and suites. Retreat to the spa and salon or set up camp in the Four Seasons Resort to bring your trip to a whole new vacationing level.
What Makes Four Seasons Resort in Scottsdale Unique
The Four Seasons Resort has impressive amenities that can turn your vacation from good to outstanding. There is a Kids For All Seasons Camp, which allows the kids to explore and you relax. In Addition, the dining is family-friendly and relaxed. Aside from the pool and spa options, families can go hiking, work on their wellness, or even pick an enriching tour to partake in. These tours include: 
Sip, Sour, and Explore Tour
Stand-Up Paddleboard Tour
Path of THe Ancients Hiking Tour
Pedal to Peak E-Bike and Hiking Tour
Sedona Day Trip
Airplane/Helicopter Tour
Grand Canyon Day Trip
Jeep Tour
ATV Tour
Mountain Biking
Horseback Riding
Four Season Resort in Scottsdale will help bring your vacation to the maximum level of fun while refreshing in a luxury style.
What are the Attractions Near Four Seasons Resort in Scottsdale
In Scottsdale, the natural beauty is something to behold. Take a trip to the Southwest wildlife conservation center and get to know the animals housed here. Walk through Old Town Scottsdale or visit McCormick-Stillman Railroad Park. The Butterfly Wonderland is something spectacular, as is Tom's Thumb Trailhead. If you enjoy history, spending the day at Scottsdale's Museum of the West will make your day. Scottsdale is rich in history and natural magnificence!
Sanctuary Camelback Mountain, A Gurney's Resort and Spa
5700 E McDonald Dr, Paradise Valley, AZ 85253
Price: $364
The Sanctuary Camelback Mountain, A Gurney's Resort and Spa, has earned the title "Number One Hotel in Arizona." What a title to have! This luxury resort has incredible amenities and breathtaking views, making your visit feel like you just stepped into a magazine.
What Makes Sanctuary Camelback Mountain, a Gurney's Resort and Spa Unique
Sanctuary Camelback Mountain has a concierge service, a fitness center, and house car services. This resort also empathizes with pet owners; therefore, if you want to bring your furry and cuddly pets with you, you can as long as they weigh under 50 pounds!
Sanctuary Camelback has a gorgeous pool to relax in, tennis and pickleball courts, and its own retail store.
If you need a renewal, the spa is the place to be. The services offered are plenty, including facials, massages, and body treatments. Finding a way to relax is possible while staying here!
What are the Attractions Near Sanctuary Camelback Mountain, a Gurney's Resort and Spa
Paradise Valley is also filled with incredible natural beauty. If you are looking for things to do while staying at the Sanctuary Camelback Mountain, you can quickly fill your days. Visit Camelback Mountain, the McCormick-Stillman Railroad Park, or hike the Mohave Trail. Guests can also take in the view of Mummy Mountain or hike the Cholla Trailhead.
Paradise Valley is just a hop, skip, and jump away from Scottsdale. This makes taking a day trip to Scottsdale easy to take in the splendid sites there!
JW Marriott Phoenix Desert Ridge Resort
5350 E Marriott Dr, Phoenix, AZ 85054
Price: $310
The JW Marriot Phoenix Desert Ridge Resort is an incredible luxury resort in Phoenix. This resort is perfect if you want to get away as a family or even just as a couple. Staying at the JW Marriott will transform your vacation into something spectacular as you set out to explore all that Phoenix has to offer.
What Makes JW Marriott Phoenix Desert Ridge Resort Unique
While staying at the JW Marriott Phoenix Desert Ridge Resort, there are so many incredible experiences to be had! If you want to stay in, this resort offers relaxing pool amenities, including beautiful cabanas, a spa pool, and VIP seating. Guests can also enjoy a family day at the Aquaridge Waterpark.
The spa is an excellent place to leave all your troubles behind. The spa offers many services, including a lap pool, massages, facials, a steam room, and even waxing!
If guests want to work on wellness and fitness, this is also an option! Enjoy biking, in-room fitness, group classes, and pickleball, and take in the views with incredible outdoor fitness.
JW Marriott Phoeni Desert Ridge does luxury right. Staying here will make you wish you never had to go home.
What are the Attractions Near JW Marriott Phoenix Desert Ridge Resort
Phoenix, AZ, is a sought-after destination with incredible attractions scattered throughout. Guests can explore the Desert Botanical Gardens or visit the Hole in the Rock. Papago Park is free and a great site to behold. Phoenix also has a family-fun amusement park called Castles N' Coasters.
Whether your trip is family oriented or simply a fun getaway for yourself, there's so much to explore while in Phoenix.
One Final Note
Arizona is breathtakingly beautiful. It is known for its scenic views and luxury hotels. These expensive hotels in Arizona have incredible amenities and additional experiences, making guests rethink whether the price tag may actually be worth it! 
Arizona Posts
The image featured at the top of this post is ©Anel Alijagic/Shutterstock.com.