Lodging prices may seem outrageous when searching for hotels to book during a family vacation or weekend getaway. Sometimes, the price tag on some of these hotels seems outrageous. However, when you start digging further, you may realize that many of these hotels come with a unique history, fun packages, and extras that are worth it. This article will discuss the most expensive hotels in Indiana, what makes them exceptional, and whether or not it is all worth it. 
Factors to Consider When Booking a Hotel
Before jumping into Indiana's most expensive hotels, we must consider a couple of factors.
The very first factor is that hotel prices are always subject to change. The prices in this article reflect the price given for two adults during a one-night stay. However, it is possible to find a better deal during off seasons and certain days of the week. If you are looking for a good deal in a luxury hotel, there are a few steps you can take.
First, try to book the stay in January
Sign up for promotional emails
Check the hotel website first before booking through a third party
Begin your stay on a Sunday
The second factor that needs to be considered is the cost of living. Throughout the United States, you will be able to find numerous luxury hotels. However, the hotel's price will depend on the cost of living in the area and the state.
For example, Indiana ranks 44 on the Cost of Living Index Chart. Based on a 100-point index chart, Indiana comes in at 89.9. This means it descends 10.1 points under the national average cost of living. Considering these factors, it makes sense that the hotels on this list will be priced lower than hotels in states like Maine or California. Therefore, even the most expensive hotels in Indiana, may not seem too outrageous.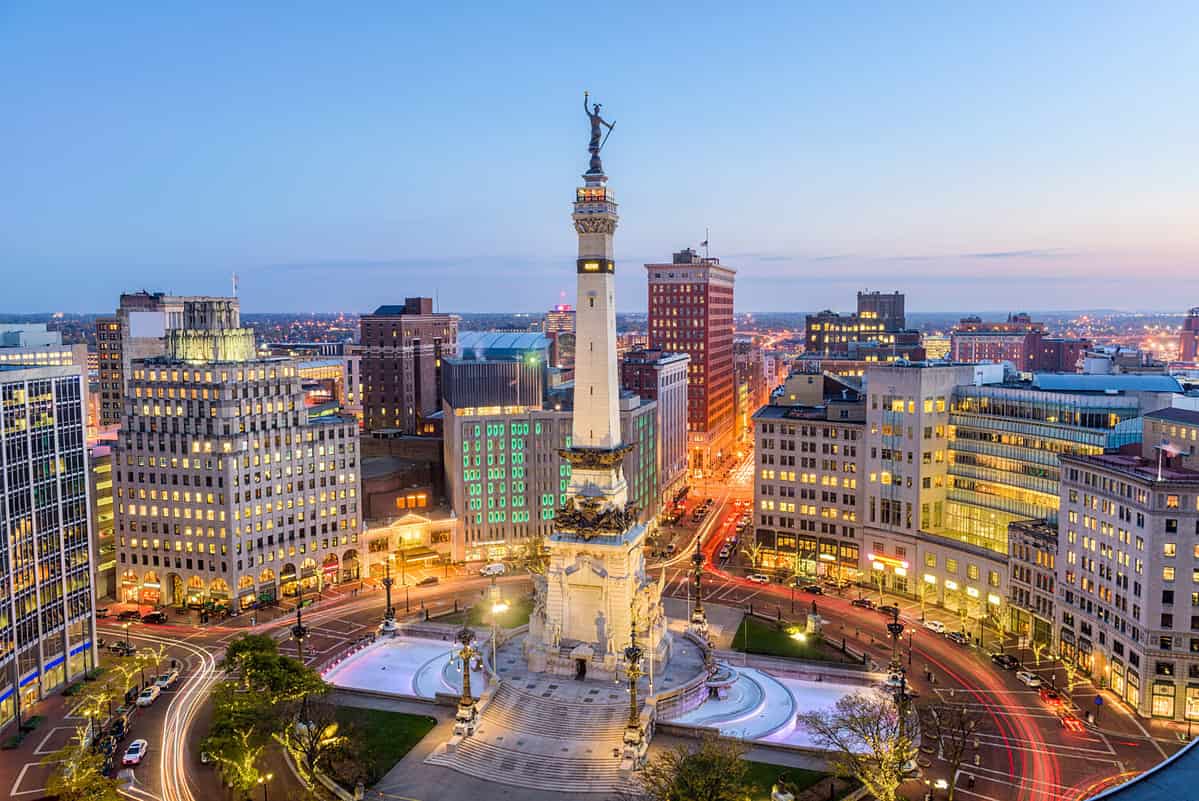 What makes Indiana Unique
Indiana is known for having expansive farmlands. The main crops produced in Indiana are corn and soybeans. Yet, the long stretches of farmland are not the only exceptional characteristics one can appreciate in Indiana.
Indiana also has one of the largest Children's museums in the United States, is home to the Indy 500, and the University of Notre Dame.
If you enjoy racing, chances are you have heard of the Motor Speedway; you may have even been to the fast-paced and exciting Indy 500.
Indiana also has a low crime rate outside of Indianapolis and comes in third on the lowest poverty rate.
Indiana has quite a bit going for it, including expensive luxury hotels. Although the expensive hotels in Indiana may still be higher than most want to pay, many families may find that some of these hotels are not necessarily completely out of price range.
What are Tourist Attractions in Indiana?
Now that we have talked about what makes Indiana special let's dive into tourist attractions in Indiana.
If you have a family, visiting the Children's Museum of Indianapolis will make for a fun day trip. The many interactive exhibits and giant dinosaurs outside of the building make this museum thrilling for the young and old.
Of course, if you are a sports fan, seeing the Motor Speedway will be heart-racing and exhilarating.
More fun tourist attractions in Indiana include:
Newfields
Eitelijorg Museum
White River State Park
Indianapolis Zoo
Holiday World & Splashin' Safari
Indiana Dunes National Park
Turkey Run State Park
Indiana State Museum
Conner Prairie
Brown County State Park
These are just a few attractions available as you fill your days in this great state. Now, let's look at the most expensive hotels in Indiana below.
West Baden Springs Hotel
8670 West State Road 56, French Lick, IN 47432
Price: $334
West Baden Springs Hotel offers visitors luxury and charming lodging in French Lick, IN. This hotel allows guests to take in Indiana beauty in a stunning hall that has once been called the "Eighth Wonder of the World."
What Makes West Baden Springs Hotel Unique
Originally this hotel opened up in 1855. The reason? All of the mineral springs surrounding the area. The initial name of this hotel was Mile Lick Inn. The accommodations were marvelous; these included the following:
Casino
Opera House
Two-Deck Pony and Bicycle Track
Baseball Field
After a fire destroyed the original building, a new one was built. Which is the gorgeous resort guests drive up to today.
However, West Baden Springs Hotel has a turbulent history of multiple owners, neglect, renovation, and reopening. Today, this enchanting hotel has been returned to its original gloriousness and reopened in 2006 for guests to appreciate. Aside from the rich history, West Baden Springs Hotel offers visitors many outstanding amenities that make the price worth it. These include:
Retail Shops
Dining
Formal Gardens
Historical Tours
Adaptable to Dogs
Valet Services
Shuttle Service
Concierge
Fitness Area
Other than the incredible amenities, West Baden Springs Hotel also offers guests fun activities to participate in. These include:
Pools
Bowling
Arcade
Concerts
Kid's Craft Time
Kid's Drop-Off Services
Family Pictures
Movies on the Lawn
Kids Club
Yard Games
Themed activities like Sunken Treasure Selfie Hunt, Pirates Scavenger Hunt, Pie Eating Contest, Adventure Under the Big Top, and more!
There are many unique activities that families and individuals can enjoy while staying at the West Baden Hotel in French Lick.
What are the Attractions Near West Baden Springs Hotel
In French Lick, guests may love visiting the French Lick Casino. Besides the Casino, visitors can spend the day soaking in the sun at Big Splash Adventure or exploring enriching history at the French Lick Scenic Railway or the French Lick West Baden Museum.
JW Marriott Indianapolis
10 S West St, Indianapolis, IN 46204
Price: $269
JW Marriott is a luxury hotel that offers guests a pampered and indulging stay. While in Indianapolis, guests will be in the city's heart, making exploring what makes Indianapolis striking easier.
What Makes JW Marriott Unique
The JW Marriott offers guests experiences to elevate their stay to a new level. Some of these experiences include the hotel dining at High Velocity and OP Italian.
JW Marriot is connected to the Indiana Convention Center. If guests have a convention or meeting here, walking through the skywalk makes their life easier. Also, this hotel has a fitness center, in-room dining, and private dining!
What are the Attractions Near JW Marriott in Indianapolis
While staying in Indianapolis, guests could explore all this city offers for weeks. For families, exploring the Children's Museum, Conner Prarie, or even taking a game in at Victory Field should be on the top of the to-do list.
More tourist attractions include:
Soldier's and Sailors' Monument
Rhythm! Discovery Center
White River State Park
NCAA Hall of Champions
Indianapolis Zoo
Lucas Oil Stadium
Indiana War Memorial Museum
Benjamin Harrison Presidential Site
Eagle Creek Park
Indianapolis Museum of Art
These attractions do not even hit the tip of the iceberg of fun and thrilling activities to do while in this city.
Conrad Indianapolis
50 W Washington St, Indianapolis, IN 46204
Price: $290
Also in Indianapolis is the Conrad Indianapolis. This hotel does luxury in style with valet parking, spa services, delicious dining options, and even an art gallery. The Conrad Indianapolis may be the right choice if guests are looking for an unforgettable and pampered stay.
What Makes Conrad Indianapolis Unique
While staying at Conrad Indianapolis, guests can participate in many engaging activities to elevate their enrichment and stay.
First, guests can explore the art gallery with pieces from Andy Warhol, Picasso, and more.
Afterward, guests can also take time to renew and rejuvenate at the relaxing spa. Choose from a deep tissue or a Swedish massage, or go for a renewing facial. The spa offers guests unique packages, personalized facial treatments, and more.
Aside from the spa and art gallery, this hotel offers guests a pool, fitness center, and even the option to bring their furry friends!
What are the Attractions Near Conrad Indianapolis
While staying at the Conrad Indianapolis, guests can explore downtown Indianapolis, hitting popular tourist sites. These include the Lucas Oil Stadium, Indianapolis Zoo, and Indianapolis Museum of Art.
Le Meridien Indiapolis
123 S Illinois St, Indianapolis, IN 46225
Price: $229
The Le Meridien Indianapolis is a gorgeous hotel with unique decor and a luxurious atmosphere.
This hotel is also near the convention center, making guests' commute to and from this center realistically close.
What Makes Le Meridien Indianapolis Unique
Guests at the Le Meridien are in downtown Indianapolis and are close to the convention center. They can also access a fitness center and large guest rooms or suites.
Guests at the Le Meridien dine in style at the Spoke Steele Restaurant and can book packages for weddings and important events.
What are the Attractions Near Le Meridien Indianapolis
The tourist attractions near Le Meridien Indianapolis are extensive. Some of these include:
Indiana Repertory Theatre
Central Canal
Fun Breweries
Monument Circle
Fountain Square
Go Ape Zipline
The opportunities are seemingly endless while in Indianapolis!
Salt Creek Golf Retreat
2359 IN-46 East, Nashville, IN 47448
Price: $230
The Salt Creek Golf Retreat is in quaint and charming Nashville, IN. This golf retreat is home to a course that covers 6,308 yards with exquisite scenery and a calm atmosphere. Staying here is a golf lover's dream.
What Makes Salt Creek Golf Retreat Unique
Salt Creek Golf Retreat is a peaceful and serene setting for avid golfers to focus and enjoy their game.
Aside from the beautiful golf course, this retreat has a delicious restaurant called the 19th Hole. Guests can indulge in boneless wings, Hoosier fries, or Bryon's pulled pork. The entrees are numerous and diverse.
Additionally, Salt Creek Golf Retreat offers guests mountain bike accommodations, golfing packages, and a relaxing pool.
What are the Attractions Near Salt Creek Golf Retreat
While staying at the Salt Creek Golf Retreat, guests will want to take a day to explore little Nashville. Seize the afternoon and stroll down the streets, visiting the unique shops, wine tasting, or art galleries.
Guests can also see the Brown County State Park, Brown County Playhouse, Lawrence Family Glass Blowers, or the Yellowwood State Forest.
The charming and intimate feel of Nashville, IN, will leave guests wanting to return again and again.
Inn at Irwin Gardens
608 5th St, Columbus, IN 47201
Price: $288
In Columbus, IN, is the quaint little Inn at Irwin Gardens, a beautiful bed and breakfast that takes appointments.
What Makes the Inn at Irwin Gardens Unique
Look no further if you want to find a private, quaint, and beautiful place. While here, guests can explore the gardens on Tuesdays and Sundays. The Inn also offers house and garden tours on Tuesday and Sunday. During the tour, guests will get a glimpse into the history of the house and the inspiration behind the architecture in Columbus.
What are the Attractions Near the Inn at Irvin Gardens
Columbus, IN, has modern stores that shoppers will enjoy spending the day exploring. Families will also love going to the kids' commons, the Commons playground, or Donner Park.
If you are a history lover, visiting the Miller House and Garden, Batholomew County Historical Society, or even the Atterbury-Bakalar Air Museum will be worth a day trip.
One Final Note
Indiana has many attractions that make it a great state to visit. If you are a sports lover, visiting the Lucas Oil Stadium to take in a game or watch the Indy 500 will bring your day to a whole new level. If you have your family with you, exploring one of the largest Children's Museums, the Indianapolis Zoo, or even Conner Prairie will be worth the extra expense.
Whether you are visiting Indiana for vacation or want to get away for the weekend, you may find that the most expensive hotels in Indiana are more reasonably priced than in many other states.
This can be attributed to a few different factors. The hotel's location is one thing to consider; another factor is that the Indiana cost of living index is lower than the national average. It comes in at 10.1 points below the average, making accommodations more affordable for many families and individuals.
Check out the West Baden Hotel if you want to stay the weekend in a fancier resort with a rich history. While here, take in the architecture, enriching history, and incredible amenities. If you are visiting Indianapolis on a business trip and want access to the convention center, check out the JW Marriott or Le Meridien Indianapolis. These hotels are luxurious, unique, and beautiful, no matter which one you decide to stay at.
Indiana Posts
The image featured at the top of this post is ©Soloviova Liudmyla/Shutterstock.com.