Researching the right hotels for your next vacation or weekend getaway can be exhausting. The prices on some of these hotels seem so outrageous! What is the deal? Although these expensive hotels in Alabama may seem unreasonable, you may find that their extras make the price well worth it!
There are a few important details to remember before booking a hotel. The first one is that prices are subject to change. The costs below reflect the price I was given when researching hotels for two adults over one night stay. However, there are ways to receive deals on luxury hotels. A few of these steps include:
Booking plenty of time in advance
Book your stay during off-season months like January
Check the hotel website before booking through a third party
Sign up to receive hotel promotions
The second thing to remember is that each state will be different regarding pricey hotels. One state, like California, will have hotels that boast prices in the thousands. While other states, like Indiana, will have lower prices. Many factors determine what the prices are for these hotels. However, one of those factors is the state's cost of living.
When it comes to Alabama, the cost of living in this state ranks number 48 on the list, making it one of the states with the lowest cost of living in the United States. The index comes in at 88.1. The cost of living index takes the average cost of living, 100, and rates the states based on this 100-point scale. This means that Alabama has a cost of living index of 12.9 points lower than the national average. Based on the cost of living index, the most expensive hotels in Alabama may still seem somewhat affordable to some.
What Makes Alabama Unique
The southern state of Alabama has many characteristics that make it unique! When picturing Alabama, the song "Sweet Home Alabama" or the words "Heart of Dixie" may pop into mind. Alabama is so much more than these two phrases, though! First, it was the 22nd state to become official. This happened on December 14, 1819.
Also, did you know that you can visit a tree that owns itself in Alabama? This white oak became the owner of itself in the 1800s, officially by way of William Henry Jackson. Talk about uniqueness!
Another fact about Alabama is that the Civil War started here. How so? The telegram sent to General Beauregard was sent from Montgomery, AL. This telegram was sent from Leroy Pope Walker, the Confederate Secretary of War. It was this specific telegram that started the Civil War.
More interesting facts include Alabama being Helen Keller's birthplace and Harper Lee and F. Scott Fitzgerald living in this southern state. Lastly, Rosa Parks was in Alabama when she rightfully refused to move out of her bus seat. This helped move the civil rights movement forward and made a profound impact.
Alabama is a fun and vibrant state to visit, filled with equally fun attractions to explore. Now, let's look at the many tourist attractions to try out while in Alabama.
What are Interesting Tourist Attractions in Alabama?
While in Alabama, there are many sights and history to take in. To start, if you are interested in science, there are many museums to visit! First, check out the U.S. Space & Rocket Center or the USS Alabama Battleship Memorial Park. More museums include the McWane Science Center, Birmingham Museum of Art, Birmingham Civil Rights Institute, and the Civil Rights Memorial.
As a family, visiting the Birmingham Zoo can be a fun way to spend the afternoon. There is also a train to ride and plenty of endangered species to explore.
Point Mallard Park is also fun if you want to enjoy the water!
Additionally, check out the Bellingrath Gardens and Home, Cathedral Caverns State Park, or Alligator Alley.
No matter what you are interested in while visiting this unique state, One thing is for sure when coming to or passing through: Alabama has plenty of interesting attractions!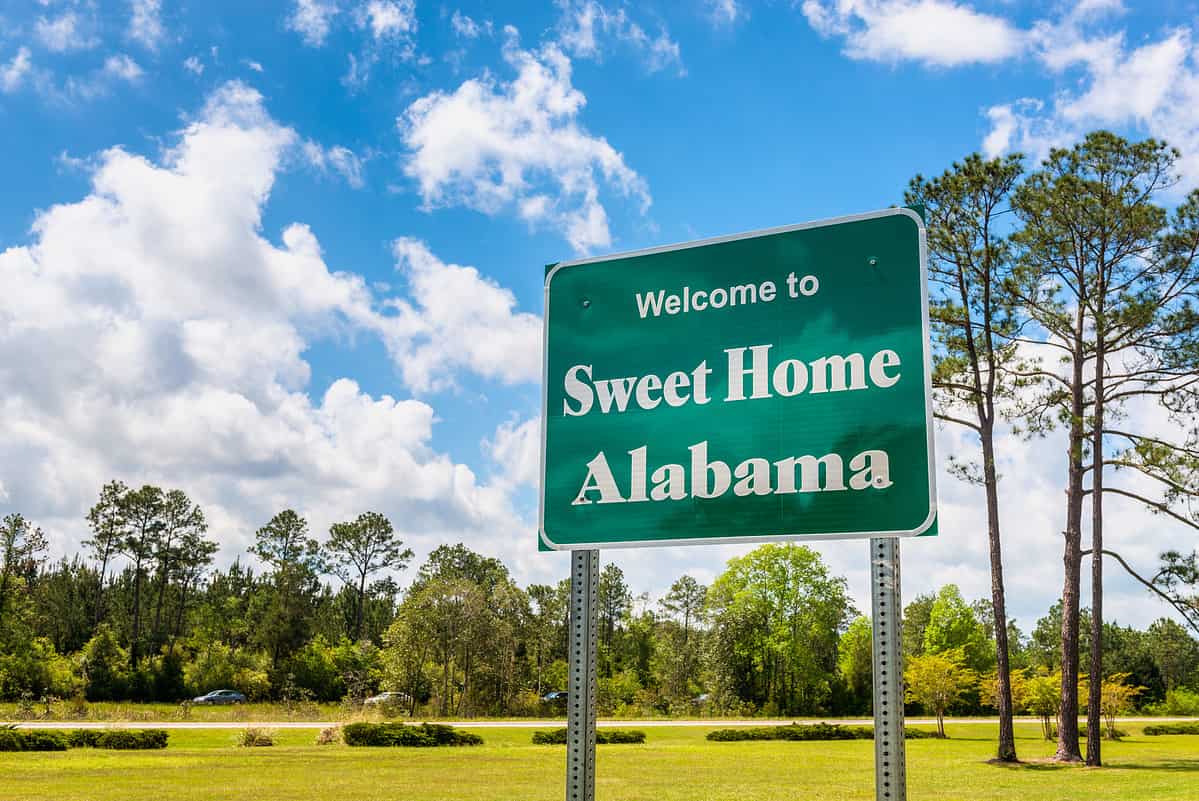 Expensive Hotels in Alabama
Below are some of the most expensive hotels in Alabama. They have excellent luxury, amenities, and unique extras to make your stay feel more elevated than ever before.
The Grand Hotel Golf Resort & Spa, Autograph Collection
One Grand Blvd, Point Clear, AL 36564
Price: $394
The Grand Hotel Golf Resort & Spa is in Point Clear, AL, and is part of the Marriott Bonvoy Autograph Collection. This resort is luxury and class all rolled up in one. When guests first pull up, they will be charmed by the sophistication and magnetism that is apparent at first glance. In addition, the Grand Hotel Resort & Spa boasts many luxurious amenities worth checking out and indulging in.
What Makes The Grand Hotel Golf Resort & Spa Unique
The Grand Hotel Golf Resort & Spa spills luxury. Guests here will have the option to book beachside cabanas or poolside cabanas. The beach cabanas have two lounge chairs to relax the day away in. There is also a towel service, Bluetooth speaker, and a fan. At the poolside cabana, guests can have a fruit tray, bottled water, and a television!
Another luxurious option while staying here is the spa. Guests can leave feeling relaxed after receiving one of these services:
Lap pool
Massage
Plunge pool
Scalp and hair treatment
Wax
Steam Room
Manicures/pedicures
Body scrub
Hand treatment
These are just a few of the services offered at this relaxing spa. There is also a golf course, several pools to choose from, and a beach to enjoy!
What are the Attractions Near The Grand Hotel Resort & Spa
While in Point Clear, guests can dine on fine cuisines such as The Hope Farm and The Wash House Restaurant. Guests can also go fishing off the Fairhope Municipal Pier, enjoy the Fairhope Pier public beach, or take their kids to the Punta Clara Kitchen, a fun candy store!
If guests are interested in historical sites, a visit to the home of Henry Stuart may be an intriguing visit! Have you ever heard of the "Hermit of Montrose"? This exciting story of Henry Stuart is sure to fascinate anyone. As a 65-year-old, Henry Stuart was diagnosed with consumption, which is what is now known as tuberculosis. The doctors told him to move somewhere with better weather. He chose Alabama and bought a piece of land he had never seen. When he arrived, he was content to build a little hut to spend the rest of his life in. What he thought would be only a few months turned out to be 22 years. Throughout his life in his little hut, he met many people, gave sage advice, and his home, along with him, became famous. You can now visit it in all its wonder while near Point Clear.
Perdido Beach Resort
27200 Perdido Beach Blvd, Orange Beach, AL 36561
Price: $403
Perdido Beach Resort boasts luxurious accommodations beachside with beautiful views and excellent amenities. While here, guests can enjoy the resort, the beach, the club lounge, and more!
What Makes Perdido Beach Resort Unique
The Perdido Beach Resort has a business center for those meeting for business and conference facilities. Guests will enjoy the indoor and outdoor swimming pool, hot tub, and fitness center.
When it comes to dining, there are five places to choose from. The Voyagers restaurant is worth checking out if guests want to get intimate and cozy. At Latitude 30, American cuisine is the go-to dining option, making this a family restaurant even kids enjoy!
For guests who like the feel of a bar, the Splash Bar & Grille is ideally located by the pool, keeping it casual and fun. For a kid-friendly option, check out Perdido Beach Pizza Co. However, if guests want to stay up later and try the cocktails, Ms. Nancy's Lobby Lounge is excellent for a fantastic evening.
Aside from the food options, Perdido Beach Resort offers guests plenty to partake in. These include spa services or waterfront activities. The waterfront activities include:
Parasailing
Water tours such as Kayak Adventure Sail, Dolphin Cruise, and Family Adventure Sail
Guests may enjoy participating in Saturday Yoga or playing golf on the stunning golf course.
What are the Attractions Near Perdido Beach Resort
Perdido Beach Resort is near Gulf Shores. This means access to the attractions here is plentiful! Check out Gulf State Park. Guests can enjoy hiking trails, a fishing pier, and the beach! If guests enjoy water parks. In addition, Waterville USA is a fun way to fill your entire day!
Families may enjoy visiting the Alabama Gulf Coast Zoo or the National Museum of Naval Aviation. Take a couple of hours and visit the Bon Secour National Wildlife Refuge. Here guests can see sea turtles such as loggerheads and greens.
These activities and more will surely delight individuals and families no matter how long you stay!
Renaissance Birmingham Ross Bridge Golf Resort & Spa
4000 Grand Ave, Birmingham, AL 35226
Price: $308
The Renaissance Birmingham Ross Bridge Golf Resort & Spa is part of Marriott Bonvoy. Located in Birmingham, guests will automatically fall in love with this beautiful resort. Not only are they close to the attractions in Birmingham, AL but guests will love the luxurious and charming resort amenities that come with it.
What Makes The Renaissance Birmingham Ross Bridge Golf Resort & Spa Unique
Guests can book a spa appointment while staying at this resort. Leave feeling refreshed after getting a couples massage or some time in the steam room. Guests can also indulge in the following options at the spa:
Body wrap
Massages
Hair treatment
Hand treatment
Therapy bath
Facials
Eye treatment
Waxing
These are simply a few options available at the spa; there are many more! Aside from the spa, guests can take in a golf game at the RTJ at Ross Bridge Golf Course.
Additionally, two pools and two whirlpools are available to guests and a fitness center.
Also, when it comes to restaurants, the options are plenty. The Clubhouse restaurant is family-friendly and offers American options. If guests prefer to sip on cocktails and listen to music, J.T.'s lounge is an exquisite option. Also, while at the pool, guests can enjoy the poolside Bar & Grille in a casual and fun manner.
What are the Attractions Near The Renaissance Birmingham Ross Bridge Golf Resort & Spa
Birmingham, AL, is home to many unique museums guests will enjoy visiting. These museums include:
Birmingham Museum of Art
McWane Science Center
Vulcan Park and Museum
Birmingham Civil Rights Institute
Barber Vintage Motorsports Museum
There are great options for families who want to enjoy nature or activity outside. These include:
Birmingham Botanical Gardens
Sloss Furnaces National Historic Landmark
Rickwood Field Park
Birmingham Zoo
Kelly Ingram Park
Red Mountain Park
There are plenty of options to choose from in Birmingham's compelling and vibrant city.
GunRunner Boutique Hotel
310 E Tennessee St, Florence, AL 35630
Price: $249
The Gunrunner Boutique Hotel is in Florence, AL. This hotel is interesting and cozy. The hotel has ten suites, seven boasting beautiful private balconies. Each suite is uniquely and beautifully decorated.
What Makes GunRunner Boutique Hotel Unique
One unique characteristic of the GunRunner Boutique Hotel is that it combines the luxury hotel idea with a leased apartment in the sense that guests have more privacy. This hotel's spa offers facials, massages, injectables, waxing, and cool sculpting. With all of the extras, guests will enjoy staying in this cozy yet luxurious hotel.
What are the Attractions Near GunRunner Boutique Hotel Unique
In Florence, AL, there is plenty to see and do. If guests are a history fan, they may enjoy visiting the Frank Lloyd Wright-Rosenbaum House Museum or the Florence Indian Mound and Museum. More unique museums include Helen Keller Birthplace, Children's Museum Shoals, and Pope's Tavern Museum. Florence, AL, has a unique, enriching history with plenty to explore here!
One Final Note
The most expensive hotels in Alabama may make your head spin. However, with all the extras available upon arriving at these excellent hotels, the price may be worth the higher expense. If you are booking a trip to Alabama sometime soon, take the time to look into these exciting and fun hotels! They bleed luxury and charm while allowing guests to explore the cities they are staying at in more in-depth ways. Go on water or dolphin tours, kick up your feet and take in the ocean air, or learn more about interesting ocean animals. There is plenty to do in this state; why not do it in luxury with one of these expensive hotels in Alabama?
Alabama Posts
The image featured at the top of this post is ©Studio Romantic/Shutterstock.com.