Searching for hotels can feel draining, especially if you are looking for the perfect one for your family getaway. Also, all the information may leave your head spinning. Sometimes it seems as though the prices of hotels are downright outrageous! While the prices may seem unnecessary, on the other hand, many hotels come with excellent amenities and luxury. Yet, all the extras may leave you wondering, is the extra price worth it? Therefore this article will cover Maine's most expensive hotels and what makes them unique. So, you can be the judge on whether or not the extras are worth the price tag.
What Makes Maine Unique
Before discussing the most expensive hotels in Maine, let's talk about what makes Maine Special. When you picture Maine, Lighthouses, Autumn trees with crips red, orange, and yellow leaves, and a picturesque lake may pop into your mind. Although this may be true, Maine is so much more!
Maine is a state that is known for lobsters and craft beer. Not to mention this state also has many rivers and streams, adding to the beautiful scenery.
Maine also has many more fun facts! Two of these facts are that Maine produces the most blueberries, and donut holes were first made in Maine!
One of the factors to consider while looking at hotels in certain states is the cost of living in the area. On the one hand, some states, like Indiana, have expensive hotels that can still seem reasonable for a family vacation. On the other hand, other states, like California, are home to some of the more expensive luxury hotels around.
Maine falls higher on the cost of living spectrum than many other states. For this reason, it ranks number 12 on the cost of living index with 115.9. To put it another way, this means Maine ranks slightly higher than the national average index score of 100. With this in mind, the most expensive hotels in Maine will be priced slightly higher than other states we have seen.
What are Some Tourist Attractions in Maine?
When visiting Maine, the scenery is one characteristic that draws tourists in. As a matter of fact, lakes, rivers, and lighthouses all rank high as must-sees in Maine.
Visiting the Portland Headlight is a very popular tourist trip, as is Acadia National Park. By the same token, The Victoria Mansion is a must-see in Portland if you are interested in historical sights. The Victoria House was finished in 1860, and the architecture is stunning. Originally it was a summer home for Ruggles Sylvester and Olive Morse.
Old Orchard Beach is also worth the visit. Guests can enjoy the water and seafood restaurants and walk along the stunning beach.
There are so many fun and exciting tourist sites in Maine.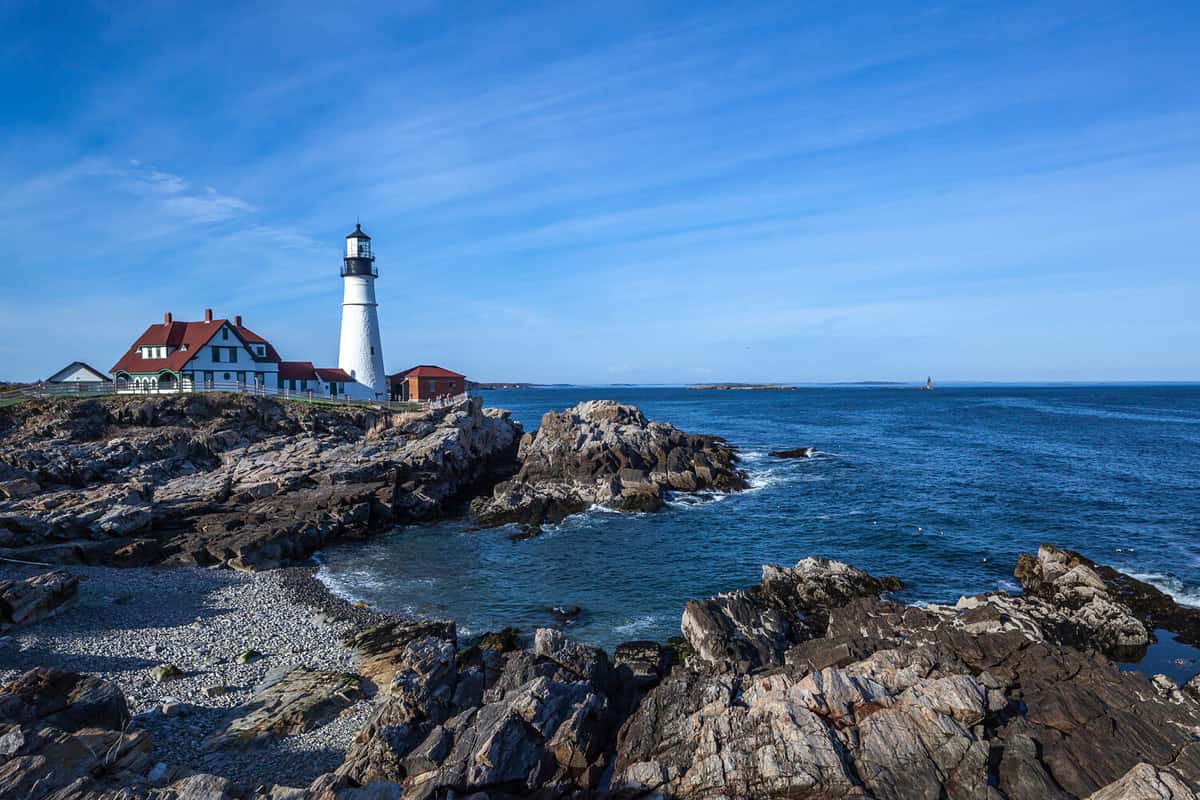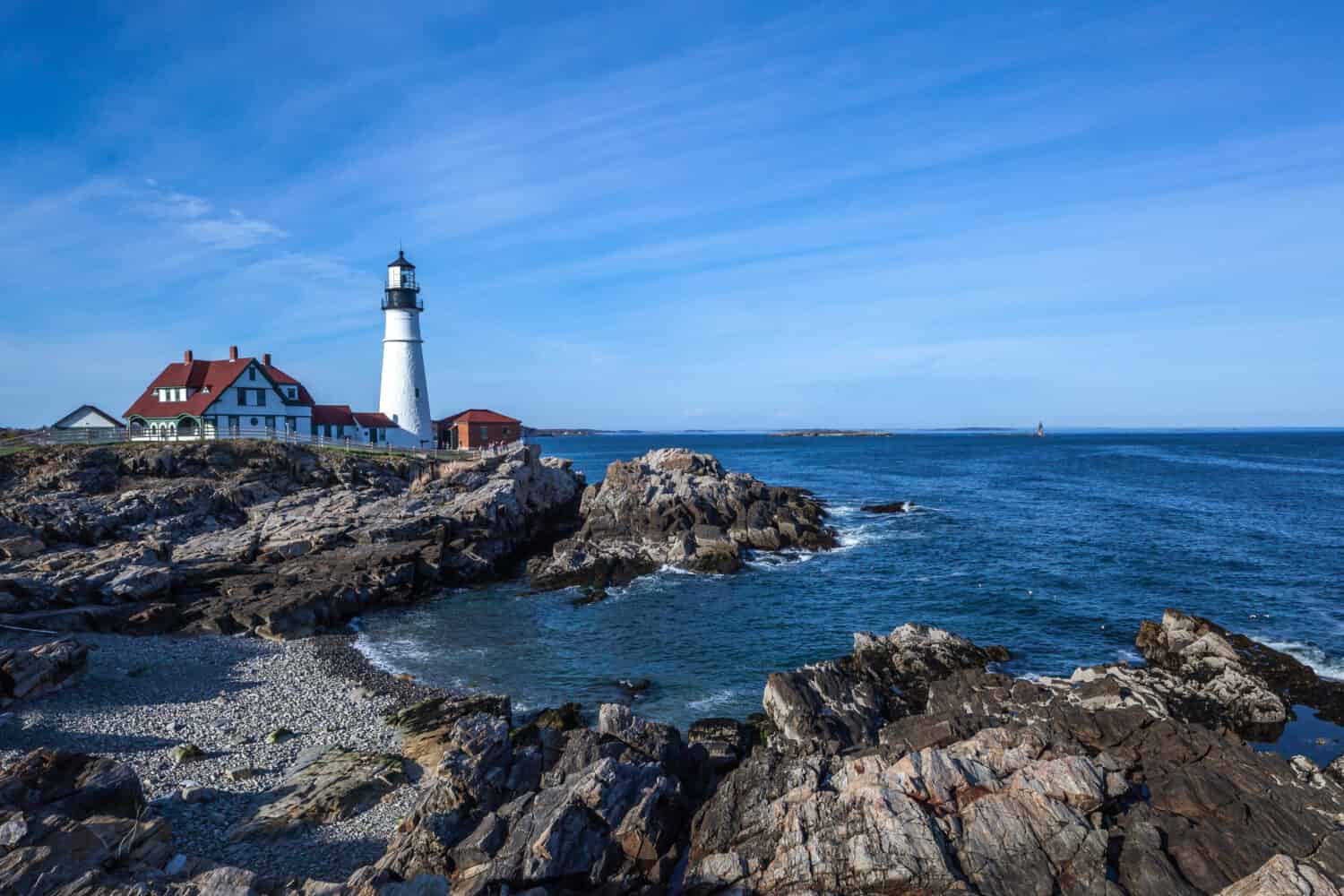 Most Expensive Hotels in Maine
Below are some of the most expensive hotels in Maine. It is important to remember that hotel prices are often subject to change. With this in mind, the prices shown are the prices given for two adults for one night.
It is also possible to find deals on luxury hotels. These include booking your stay in January, signing up for promotions, and booking through the hotel website.
Now, let's look below at the most expensive hotels in Maine!
Cliff House Maine
591 Shore Rd, Cape Neddick, ME 03902
Price: $1,964
One of the more expensive hotels in Maine is the Cliff House Maine. This hotel is a waterfront resort that allows guests to take in everything that makes Maine so glorious. Equally as important, the history of the Cliff House goes back to 1872.
What Makes Cliff House Maine Unique
Besides its long history, Cliff House Maine is a gorgeous resort that welcomes guests in luxury. The reputation of the Cliff House has always been refinement, peacefulness, and charm.
The Cliff House is on top of Bald Head Cliff near the beaches of Ogunquit. It also offers many in-room amenities, including a private terrace, televisions, safe, beverage chillers, and more. Aside from the in-room amenities, incredible hotel amenities are also available to guests. These include a spa, restaurants, excursions, a fitness center, indoor and outdoor swimming pools, and a place to shop!
What are the Attractions Near The Cliff House
The Cliff House is located near Ogunquit, ME, and offers fantastic attractions for guests. These include:
Ogunquit Beach
Nubble Lighthouse
Wells Beach
Ogunquit Playhouse
Ogunquit Museum of American Art
Harbor Candy Shop
Ogunquit Heritage Museum
These are just a few fun attractions that guests can enjoy near Cliff House, ME.
White Barn Inn, Auberge Resorts Collection
37 Beach Ave, Kennebunk, ME 04043
Price: $631
In Kennebunk, ME, is the White Barn Inn, a quaint and charming resort that will help guests fall even more in love with Maine. Not only has this hotel been offering guestrooms, suites, and cottages for 150 years, but also White Barn Inn offers a private waterfront view and charmingly decorated rooms.
What Makes White Barn Inn Unique
White Barn Inn is unique because it offers guests hands-on experiences to learn what makes Maine, well, Maine. While staying at the White Barn Inn, guests can first get cozy and watch a movie outside next to the dock. Next, they can be a beekeeper or experience a Maine Lobster bake.
Guests can also go on water adventures, cycle, participate in art activities, or visit Spring Creek Farm.
All the adventure at White Barn Inn will have your family requesting to stay another week!
What are the Attractions Near White Barn
While in Kennebunk, ME, guests will want to visit the many beaches, including Gooch's Beach, Kennebunk Beach, and Parson's Beach.
More tourist attractions include:
Brick Store Museum
Wedding Cake House
Maine Art Hill
Old House Parts
Secret Garden
Inn by the Sea
40 Bowery Beach Rd, Cape Elizabeth, ME 04107
Price: $679
There is just something magical about oceanfront hotels, and Inn by the Sea is no exception. Located in Cape Elizabeth, Inn by the Sea offers guests a unique and luxurious getaway to escape from reality.
What Makes Inn by the Sea Unique
Inn by the Sea offers families fun and interactive activities to make their trip memorable. These include activities like:
Family yoga
Children's art
Bike rides to the lighthouses
Ice cream socials
Beach ecology walks
Nature tours
Inn by the Sea also offers cabana for beach days and bike rentals to explore Cape Elizabeth. Additionally, there are swimming pools and a fire pit, and it is pet friendly!
What are the Attractions Near Inn by the Sea
As Maine tradition, the lighthouse in Cape Elizabeth is worth the visit. However, if guests are looking for something different for the day, many more notable attractions exist in and around Cape Elizabeth. These include:
Maxwell's Farm
Goddard Mansion
Portland Museum of Art
Alewives Brook Farm
Kettle Cove
The Bayview Hotel
111 Eden St, Bar Harbor, ME 04609
Price: $599
The Bayview Hotel is another unique hotel to visit in Bar Harbor, ME. The oceanfront and charming decor make the Bayview Hotel a favorite among guests. With this in mind, romance is at the forefront of this hotel. Therefore, the Bayview Hotel is a prime choice if you are looking for a honeymoon destination or a romantic getaway.
What Makes the Bayview Hotel Unique
The Bayview Hotel offers continental breakfast, is pet friendly, and has an incredible hotel spa.
Another wonderful quirk of the Bayview Hotel is that they offer guests a beautiful getaway to elope! Yes, you read that right. The elopement package allows couples to have a gorgeous backdrop for their wedding and more. The more includes officiant services, a flower bouquet and a boutonniere, a wedding photographer, a wedding cake, and a consultation with the wedding concierge. What a beautiful way to say "I do!"
What are the Attractions Near the Bayview Hotel
Some fun tourist attractions located near Bar Harbor, ME, include:
Bar Harbor Whale Watch Co
Cadillac Mountain
Thunder Hole
Abbe Museum
Acadia National Park
Frenchman Bay
Egg Rock Lighthouse
Smuggler's Cove Inn
727 Ocean Point Rd, East Boothbay, ME 04544
Price: $846
Smuggler's Cove Inn is in East Boothbay, ME. This charming Inn is also a waterfront paradise. Furthermore, it is an ideal getaway for families with beautiful views, a private balcony, and access to the beach.
What Makes Smuggler's Cove Inn Unique
Smuggler's Cove Inn gives guests access to a heated saltwater pool. Guests can also go canoeing, kayaking, or paddle boarding. Not to mention, a rowboat is an excellent option for guests looking for a gentler activity!
Smuggler's Cove Inn is pet friendly and has a delicious restaurant for guests. The restaurant is called the 727 Ocean Sunset Bar at Smuggler's Cove. While dining here, guests can drink delicious cocktails, eat a Cove burger, or even yummy desserts!
What are the Attractions Near Smuggler's Cove Inn
While staying at the Smuggler's Cove Inn, some tourist attractions guests may enjoy are:
Cap'n Fish's Cruises
Coastal Maine Botanical Gardens
Maine State Aquarium
Balmy Days Cruises
Railway Village Museum
Yachtsman Hotel & Marina Club
59 Ocean Ave, Kennebunkport, ME 04046
Price: $549
The Yachtsman Hotel & Marina Club is in Kennebunkport, ME. Coupled with the ocean, salty air, sandy beaches, and boats, make The Yachtsman Hotel & Marina Club a great place to stay. In the same fashion, this luxury hotel is on the water and offers beautifully decorated rooms and bungalows.
What Makes Yachtsman Hotel & Marina Club Unique
While at the Yachtsman Hotel & Marina, not only can guests can rent a bike or eat at the Lady Shuckers. Guests can also enjoy nature walks, beaches, guided tours, and whale watching.
There are many excellent activities to choose from at this luxury hotel.
What are the Attractions Near Yachtsman Hotel & Marina
Kennebunkport has beautiful beaches like Goose Rocks Beach or Kennebunk Beach. Guests can also visit Ocean Avenue, Colony Beach, Seashore Trolley Museum, or the Goat Island Lighthouse.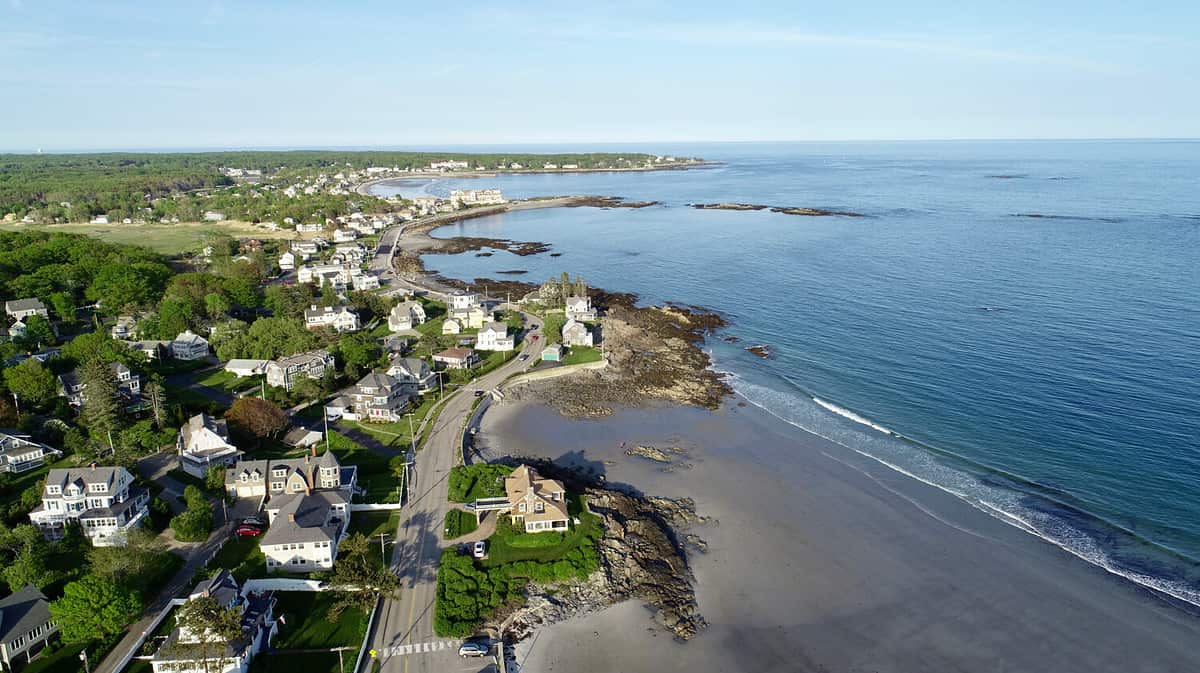 Sewall House Yoga Retreat
1027 Crystal Rd, Island Falls, ME 04747
Price: $570
The Sewall House Yoga Retreat is in beautiful Island Falls, ME. This retreat has been voted as the number two best yoga retreat center in the USA today. If you want a getaway to renew your mind and reset your life, this is it!
What Makes Sewall House Yoga Retreat Unique
The Sewall House Yoga Retreat offers guests several activities to help them on their renewal journey. These include massages, yoga activities, swimming, hiking, and even a sauna.
Guests may also enjoy sports like golfing, kayaking, or horseback riding. Additionally, Sewall House Yoga Retreat gives guests a daily schedule they can join or choose not to. It's flexible and geared toward each individual!
What are the Attractions Near Sewall House Yoga Retreat
While staying at the Sewall House Yoga Retreat, guests may enjoy boating or fishing on the water in town. Hiking is also an enjoyable activity to participate in. Historic buildings can be fun to visit if guests enjoy history. These include the Jail House and the Opera House. History buffs may also love to visit the Bible Point State Park, where President Theodore Roosevelt loved to hang out!
West Street Hotel
50 West St, Bar Harbor, ME 04609
Price: $499
In Bar Harbor is also West Street Hotel.
The Guestrooms are spacious and uniquely decorated. This hotel is also on the sea, giving guests a captivating way to enjoy Maine.
What Makes West Street Hotel Unique
West Street Hotel offers guests a variety of experiences while staying here. Guests can enjoy the rooftop pool or go on a guided tour. West Street Hotel also has a marina, a perfect place for guests to park their boats.
Some of the tours guests can choose from include:
Boat tours
Lobstering
Acadia National Park
Whale Watching
Guests may enjoy the relaxing spa or dine at the delicious restaurant Paddy's and Stewman's Lobster Pound.
What are the Attractions Near West Street Hotel
While staying at the West Street Hotel, guests may enjoy visiting the Shore Path Trail for a hike or the George B. Dorr Museum of Natural History.
More tourist attractions include the 1932 Criterion Theatre, Pirate's Cove Adventure Golf, Wild Gardens of Acadia, and gift shops like the Little Village Gifts.
The Press Hotel, Autograph Collection
119 Exchange St, Portland, ME 04101
Price: $565
In Portland, ME, is the Press Hotel, Autograph Collection. This hotel is luxurious, with many fantastic amenities and thoughtfully decorated suites.
What Makes The Press Hotel, Autograph Collection Unique
Guests can enjoy the fitness center, Union Restaurant, bicycle rentals, and more.
What are the Attractions Near The Press Hotel, Autograph Collection
While in Portland, guests may enjoy fun land and sea tours, whale watching, and nature cruises. More attractions include the Victoria Mansion and Museum at Portland Headlight.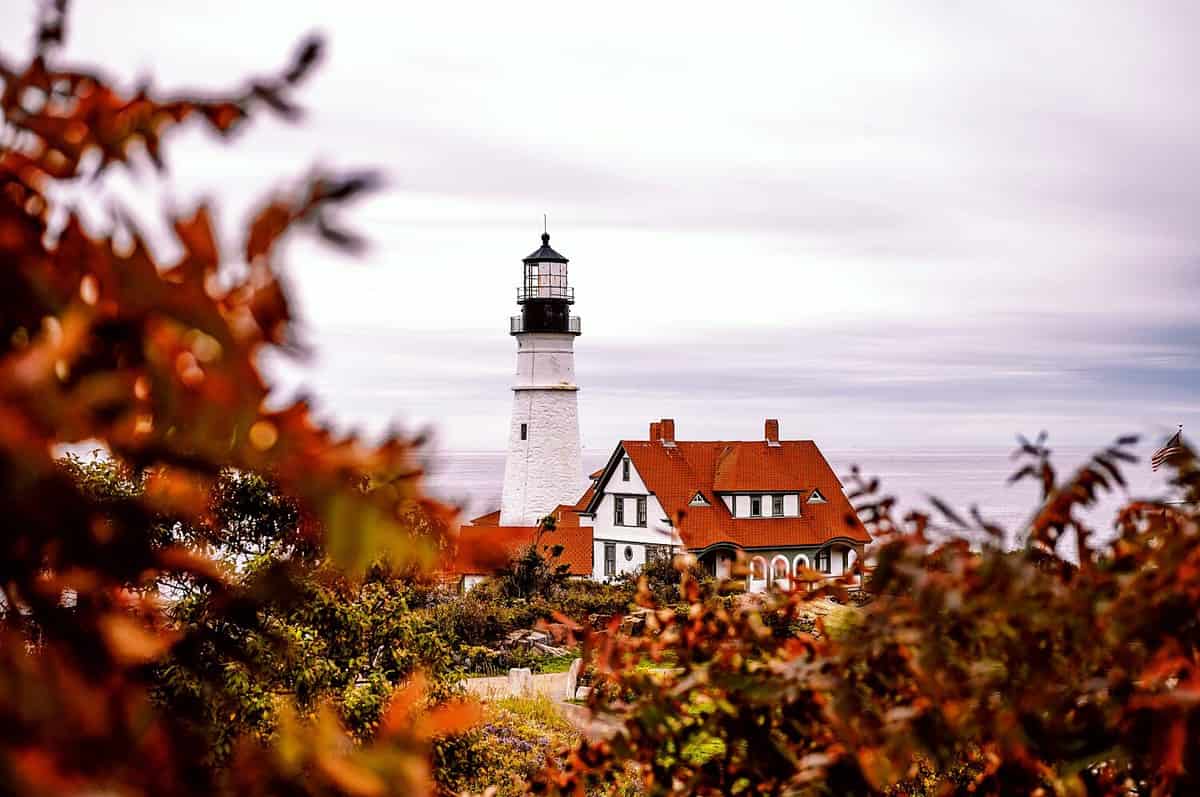 One Final Note
Maine is a gorgeous state with unique activities for visitors to participate in. Enjoy relaxing beaches or take in unique and historic lighthouses. Guests also will love the seafood restaurants, whale-watching tours, and historical museums. While in Maine, it is easy to fill your days with fun and exciting excursions that will make guests always want to stay.
When booking these expensive hotels in Maine, visitors will do luxury in style while staying at charming and history-filled hideaways. Whether you want to stay at a private waterfront or a luxury resort, there are many to choose from in Maine.
Maine Posts
The image featured at the top of this post is ©Dustin Ewy/Shutterstock.com.