If you live west of the Mississippi River, you likely love In-N-Out Burger and believe it's one of the best restaurants in the world. This highly-rated restaurant is a favorite of many, but even in a city with close to 24,000 restaurants, New York City has yet to secure this franchise. But is there hope for the future? Could In-N-Out finally expand to New York City in the upcoming years? We'll look at the moves this restaurant chain has been making in recent years and how promising a new location in NYC could be.
What's So Great About In-N-Out Burger?
If you've been hearing the rumors and you're curious as to why everyone's asking when could In-N-Out finally expand to New York City, then let us enlighten you. The In-N-Out chain was started way back in 1948 by Harry and Esther Snyder. It was one of the first burger chains in the state of California, and it changed the world of food service. Among other innovations, the creators created the original speaker system that allowed customers to order from their cars.
After a few years, the restaurant chain spread like wildfire, and now they have numerous locations across the western U.S. and Texas. In-N-Out is unique because they have a very simple menu. It has three options: a hamburger, a cheeseburger, and a hamburger with two patties. There are also french fries, shakes, and soft drinks. Over time, the restaurant also became famous for its secret menu, which has slightly different options, including a burger with four patties, a grilled cheese, and an "animal style" burger that has lettuce wrapped around it instead of a bun.
How Close is the Nearest In-N-Out Burger to New York City?
Currently, there are 394 In-N-Out restaurants in existence. They are located in 279 cities. That may seem like there should be one everywhere you look. However, until recently, the company has made it a point to stay in the western United States. In-N-Out Burgers are only found in seven states. They include:
California (271 locations)
Nevada (21 locations)
Colorado (8 locations)
Oregon (4 locations)
Arizona (35 locations)
Utah (12 locations)
Texas (41 locations)
At this time, Las Vegas, Nevada, is the city with the most In-N-Out locations. Part of the reason is that there are many people living in that area, so there are a lot of potential customers. The same could be said for New York City. There are over eight million people in the city, and many of them want a good burger joint.
So, with that much promise, why is there not a location in the city?
The Key is the Distribution Centers
One of the secrets to In-N-Out's success is that they insist on only serving the freshest ingredients. They do that by only opening new In-N-Out restaurants within 600 miles of a distribution center. They do that because they can get the ingredients, supplies, and tools that they need as quickly as possible. The restaurant is known for its fresh potatoes and burgers, and the fact that they can get those ingredients within a day or two makes all the difference.
Currently, there are six distribution centers in existence. They're in:
Baldwin Park, CA
Lathrop, CA
Phoenix, AZ
Draper, UT
Dallas, TX
Colorado Springs, CO
None of those destinations are particularly close to NYC. In fact, the closest distribution center in Dallas, TX is over 1,500 miles from New York City.
However, people in New York City who are excited about the idea of getting an In-N-Out burger received a shred of hope earlier this year when it was announced that the first-ever corporate office/distribution center would be built east of the Mississippi River in Franklin, Tennessee. A large, 100,000-square-foot office is being built that will work as a distribution center, and it will start construction in 2024. The building should be finished in 2026, and that's when new In-N-Out restaurants will be built across Tennessee.
That's a key fact for New Yorkers waiting for the restaurant to hit their city. Experts never thought the chain would spread out this far, so it could only be a matter of time before a NYC location becomes a reality. Nothing is set in stone, and it would likely take many years, but if they go as far as Tennessee, why not keep it going?
Why In-N-Out Needs New York City?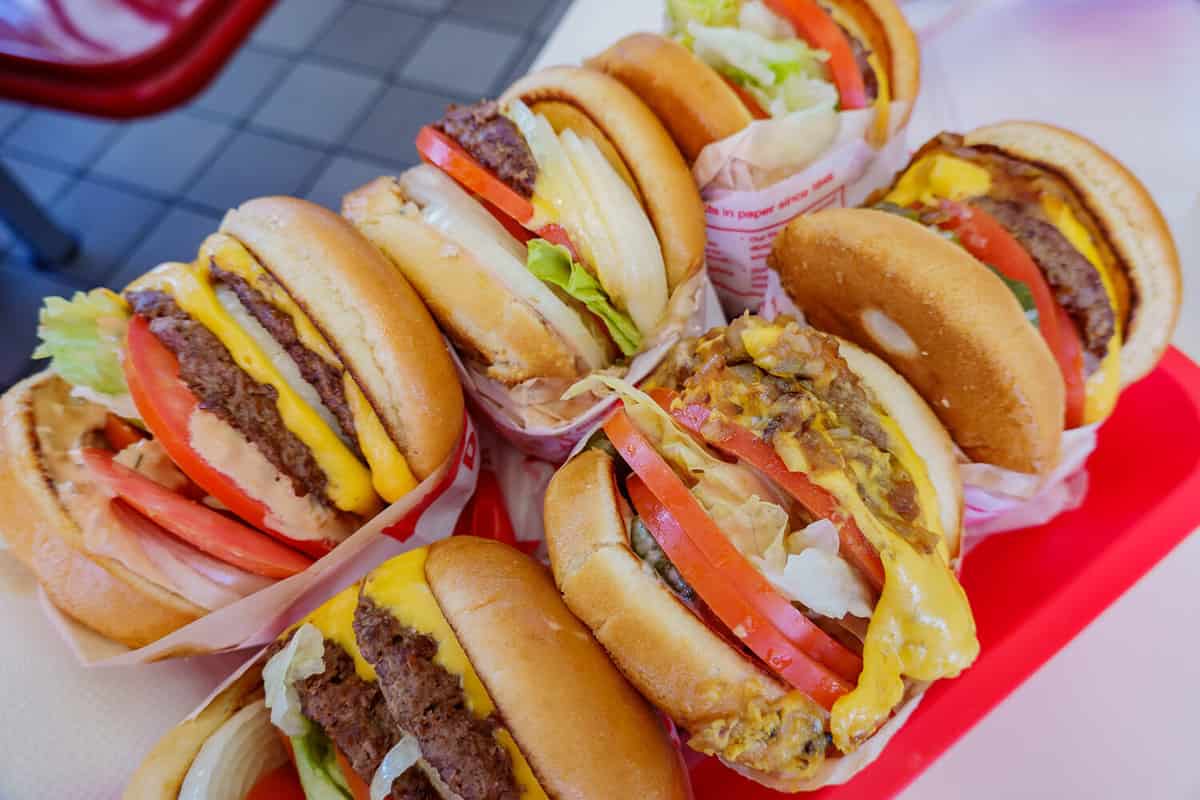 The question to the answer of could In-N-Out finally expand to New York City is, why not? There are many reasons why the franchise should open its doors in NYC, including the fact that there are eight million hungry people that could make the restaurants a hit. There are currently In-N-Out restaurants in Arizona, Nevada, Utah, Colorado, and Oregon, and there are fewer people in the entire state than there are in New York City. That alone makes it a no-brainer.
There's also a thriving workforce in New York and many people with work ethic that could get jobs at incoming In-N-Out restaurants. Management at the restaurants could pick and choose from a large employee pool, and it could be a win-win for everyone.
What's Working Against New York City?
There are a few factors working against the possibility of an In-N-Out in NYC. The first is the distance between the city and the distribution centers. Even once a new office is built in Franklin, TN, that's still a minimum of 900 miles away, which goes against the rules set forth by the founders of the restaurant. Before a new location could be opened in the city, there'd have to be a new distribution center built between TN and NY, and that could take another 5-10 years, so time is not on their side.
The other thing going against NYC is the words of the owners of In-N-Out. Earlier this year, there was some excitement in New York when a series of signs were spotted on several intersections in the East Village. Under the In-N-Out logo were the words "NYC 2023." It was a big deal, even getting attention from the local news stations. However, it didn't take long before the spokesperson for In-N-Out denied that they had any official connection to the signs. She made it clear when she said, "We do not have any current plans to open in New York City."
Other Famous Restaurants Not Yet In New York
Sadly, In-N-Out is not the only famous restaurant chain that has yet to set foot in central New York. These other eateries are still missing after all of these years:
Sonic – One of the most famous drive-in restaurants is not in NYC. These restaurants are all over the country, and they serve everything from hotdogs to chicken tenders. There are locations in New York. However, the closest to the city is the town of Chenango, N.Y.
Jack in the Box – New Yorkers may have seen the sign for this tasty eatery that sells everything from mini tacos to burgers, but they won't find one around the corner. One of the closest is in West Chester, Ohio.
Conclusion
So, when could In-N-Out finally expand to New York City? The answer is unclear. If the franchise is ever going to open doors in the famous city, it won't be for 5-10 years at the very least. Still, with the company slowly moving east, there's always a chance, so stay tuned.
The image featured at the top of this post is ©IM_photo/Shutterstock.com.