The city of Albuquerque is a wonderful place with great history. It has polite people, the annual balloon festival, and many fantastic museums. The one thing the city is missing is an In-N-Out Burger. The fast food chain has yet to put a restaurant in the state, but will that change soon? While nothing is set in stone quite yet, the possibility is not completely out of the question. Today, we'll answer the age-old question: Will In-N-Out Expand to Albuquerque next?
What is In-N-Out Burger?
Some people may read this while already being a fan of the In-N-Out burger chain. After all, this restaurant is constantly ranked as one of the top burger joints in the country. However, maybe you've only heard of In-N-Out Burger, but you're wondering what all the hype is about and why you should be excited about it coming to Albuquerque.
For the uninitiated, In-N-Out Burger is a chain that started in Baldwin Park, CA, by Harry and Esther Snyder. It started way back in 1948, and it was one of the first major burger restaurants in the state of California. This was a revolutionary restaurant that created the idea of a speaker system so customers could order from their cars.
The restaurant is also known for having a very limited menu. When you walk in, you'll look at the menu and find that you really only have three choices, a hamburger, a cheeseburger, or a burger with two patties. You can also order shakes, beverages, and french fries. There's also a secret menu that's not listed in the restaurant. With it, you can choose new and modified items, like a grilled cheese sandwich, a burger that's "protein style" which is wrapped in lettuce without a bun, and a burger with four patties, among other options. It's a great restaurant, and many people consider it to be one of their favorites.
Where are In-N-Out Restaurants Located Now?
There's hope for those who ask: will In-N-Out expand to Albuquerque. At this point, the state of New Mexico is surrounded by In-N-Out locations. Currently, there are 394 locations in the U.S. However, In-N-Out restaurants are only in a handful of states. If you wanted to visit one, you'd only have seven options:
California (272 locations)
Texas (41 locations)
Arizona (34 locations)
Nevada (23 locations)
Utah (12 locations)
Colorado (8 locations)
Oregon (4 locations)
Currently, 49 states and territories are without an In-N-Out restaurant. The fact that there are so many locations surrounding New Mexico and Albuquerque is a good sign.
The Key is the Distribution Centers
Another factor that can be promising for the city of Albuquerque is that there are also In-N-Out distribution centers surrounding the state. As a rule of thumb, the owners of In-N-Out Burger have said that each new restaurant location they open must be within about 600 miles of a distribution center. The reason is that the founders simply insist on having the freshest food possible, and that can only be a reality if the trucks don't have to drive too far to make their deliveries. There are also other supplies, including utensils, napkins, and more. The restaurant has high-quality standards, and they want everything to be in stock at every moment.
If the guideline is that a new restaurant would need to be within 600 miles of a distribution center, then Albuquerque has a chance. Currently, there are distribution centers in Baldwin Park, California; Phoenix, Arizona; Lathrop, California; Draper, Utah; Colorado Springs, Colorado; and Dallas, Texas. There was recent news that a new office will be built in Franklin, Tennessee, making it the first time the company is buying any property in the Eastern United States. It's an exciting move, which shows that the company may be looking at nationwide expansion in the far future.
While Franklin, Tennessee, would be out of range, some of the other distribution centers are well within the necessary range. Phoenix, Arizona, is about 400 miles away; Draper, Utah is just under 600 miles; and Colorado Springs, Colorado, is less than 400 miles from Albuquerque. So, if the company wanted to open an In-N-Out restaurant in Albuquerque, it's more than possible. Even better, it could technically happen at any time.
Why In-N-Out Should Come to Albuquerque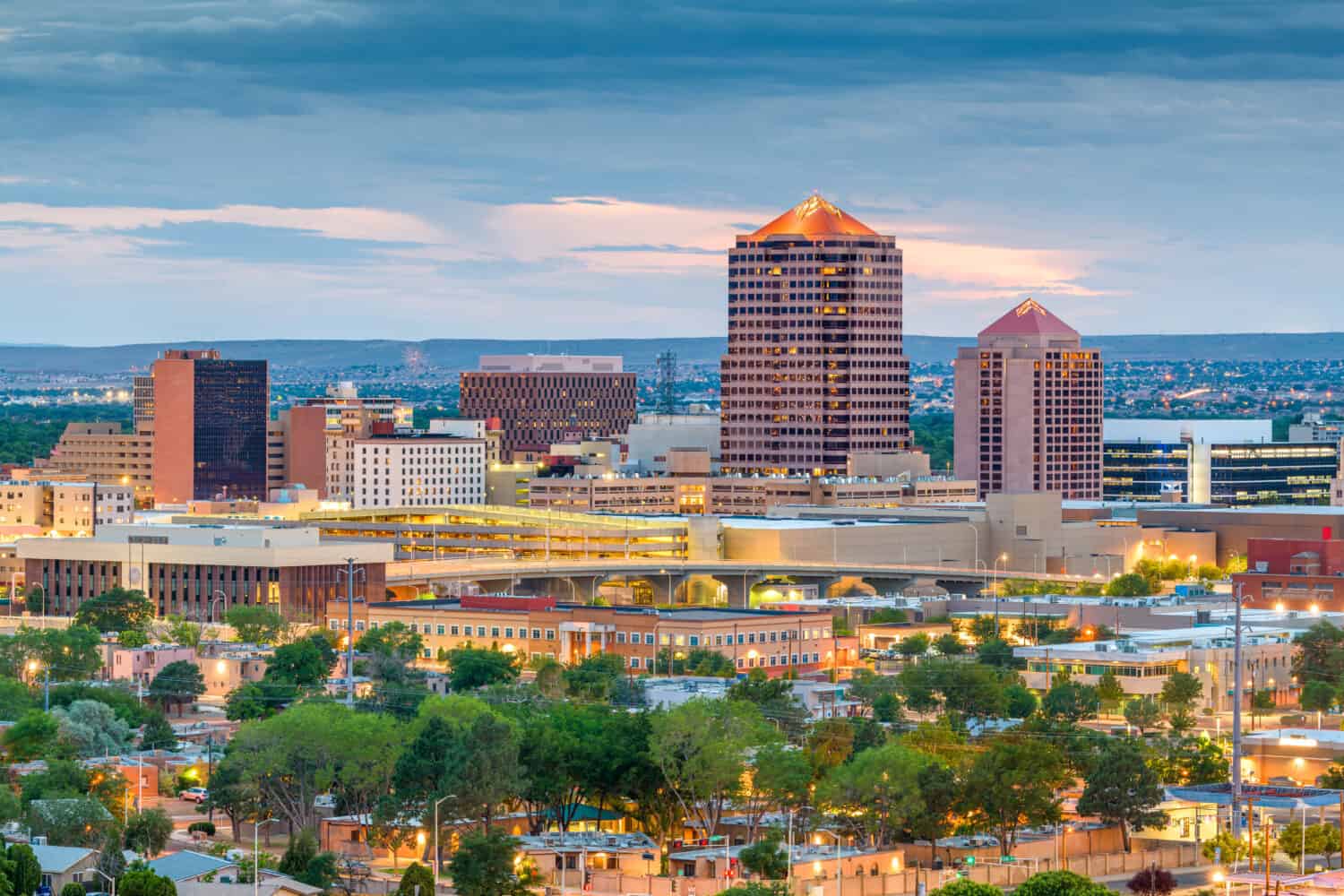 There are several reasons why the In-N-Out company should start to open at least one location in the Albuquerque area. For starters, as of 2021, the city had a population of 562,599 people. That's a lot of hungry mouths that would be happy to buy a tasty burger at least once per month. So, there's an opportunity to make money. 
Plus, the city is known for its diverse and skilled workforce, so there would be plenty of highly qualified people to work at the new restaurants. Costs are also quite low in Albuquerque, so the company could probably open numerous establishments and do so for a fraction of the cost that they pay in California and other states.
Finally, in 2022, Mike Abbate, the assistant vice president of real estate and development at the In-N-Out company, said that "there are wonderful communities in New Mexico…"
What's Working Against Albuquerque?
There are also many factors working against the idea of In-N-Out expanding to Albuquerque next. For starters, we'll share the rest of the quote from Mike Abbate, the vice president of real estate and development. "We know there are wonderful communities in New Mexico, but we don't have any immediate plans to open stores there at this time." That's not exactly the ringing endorsement that residents and fans of In-N-Out in Albuquerque want to hear. The only other new location they were considering at that time was a restaurant in Boise, Idaho.
However, that's not it. Although Albuquerque has over 500,000 residents, it's the largest city in the state. When looking at new locations, the management at In-N-Out typically look for states that have many different metropolitan areas to serve. There's also the issue about having enough land area near or within Albuquerque to place the new restaurant.
Finally, in the best-case scenario, an Albuquerque location would be about 400 miles from the nearest distribution center in Colorado Springs, Colorado. That's still pretty far to drive fresh patties and other must-have supplies.
Other Famous Restaurants Not Yet In Albuquerque
In-N-Out is just one of many tasty chain restaurants that have not set up a location in Albuquerque, New Mexico. The city needs the following restaurants to head out ASAP. If they do, maybe In-N-Out will follow suit.
Hardees – It's a similar type of restaurant that serves burgers, fries, and a great selection of milkshakes and frozen custard. It's a great restaurant with a big fan base. Unfortunately, they've yet to set up shop in Albuquerque.
White Castle – It's a burger joint that's similar to Krystal. Like that restaurant, White Castle serves very small burgers in a sack. The restaurant is currently more in the Midwest and has not yet gone to Albuquerque. Fans can often find the burgers in the frozen food section of their supermarket, but they can't go to a physical location.
Cook Out – This is a restaurant that has yet to venture to the West Coast, and so there are not any locations in Albuquerque. People in New Mexico have something similar called Sonic. They are both restaurants that you drive up to and order or walk up to a pickup window to order. There are no plans to expand nationwide at this time.
Conclusion
If you've been wondering to yourself, "will In-N-Out expand to Albuquerque," know that the answer is uncertain at this time. According to the rules set by the company, it's totally possible that the restaurant could eventually open its doors in that community, but it seems like it will be later rather than sooner. Still, residents of the Land of Enchantment have some hope to hold onto for the future.
The image featured at the top of this post is ©SweetBabeeJay/ via Getty Images.