When many people think about the state of Texas, the city of El Paso often comes to mind. The city has been around forever, and during that time, it has seen many great schools, countless incredible restaurants, and tons of fun activities for the entire family. However, El Paso is missing one important component, and that's an In-N-Out restaurant. It's surprising since there are many other instances of the popular burger chain in other areas of Texas. So, when could In-N-Out expand to El Paso? The answer is not so obvious. Let's dive deeper into this great mystery.
Why Texans Love In-N-Out
In-N-Out has had a large presence in Texas for a number of years now, and it's no surprise why. The burger chain, which opened its doors in California in 1948, has been a staple of the burger industry ever since. There are likely several reasons for its popularity in Texas. One could be that many people from California and other western states often visit Texas, and they talk about their love of In-N-Out, and so the positive word of mouth spreads like wildfire. Once the company started opening restaurants, Texas started going there in droves, and the rest is history.
The other reason why In-N-Out is so popular in the state is that the food is just that good. The restaurant separates itself by only cooking with the freshest food possible. When you order your food, you can see the employees preparing it right there in front of your eyes. They cut the potatoes, flip the burgers, and more, so you know you're getting the best food. The restaurants are able to get away with this by only having three main menu items, so they're not trying to juggle too many ingredients at once.
Where Are the Nearby In-N-Out Restaurants?
The current In-N-Out Burger restaurants are not too terribly far from El Paso. At this point, the only existing and operational In-N-Out restaurants are all West of the Mississippi River. There are 394 restaurants in 279 different cities. However, all of those cities are only within seven states. In addition to Texas, restaurants are also in California, Arizona, Utah, Colorado, Nevada, and Oregon.
As for Texas, there are 41 restaurants across the state. California has the most locations, and Texas has the second most. The current Texas locations are as follows:
Dallas-Fort Worth – 24 restaurants in this area. They are in many cities, including Dallas, Fort Worth, Frisco, Irving, and Waco, among others.
Austin Area – 7 locations in this area. These restaurants are in Austin, Cedar Park, Killeen, Pflugerville, and Round Rock.
Houston Area – 4 locations in this area. They're in Houston, Katy, Stafford, and The Woodlands.
San Antonio Area – 5 locations in the area. They're in San Antonio, New Braunfels, San Marcos, and Windcrest.
If anyone from El Paso wanted to get an In-N-Out burger, they'd have to take a road trip as many of these cities are pretty far away. San Antonio is the closest at about 550 miles away. Austin is just under 600 miles away.
In-N-Out in El Paso Is Possible
There are many states and cities that are low on the list of potential places for an In-N-Out restaurant, but that's not true for El Paso. There are many factors working in its favor, including the location of the distribution centers. The company has a rule that they will not set up any new restaurant that is not within 600 miles of one of their distribution centers. That's mostly due to the company's commitment to only serve fresh food. They don't want to wait for a truck to drive from the completely opposite side of the country. Taking that risk could mean that they get bad food or that they don't get the food at all when they need it.
Currently, the existing distribution centers are in Colorado Springs, Colorado; Baldwin Park, California; Phoenix, Arizona; Lathrop, California; Draper, Utah; and Dallas, Texas. As far as El Paso, it's over 600 miles from the Dallas distribution center. About 635 miles, to be exact. However, it's only 430 miles from the Phoenix, Arizona center. That makes El Paso within the required distance. In-N-Out management may even make an exception to service the El Paso restaurants from Dallas.
Other Factors Working In El Paso's Favor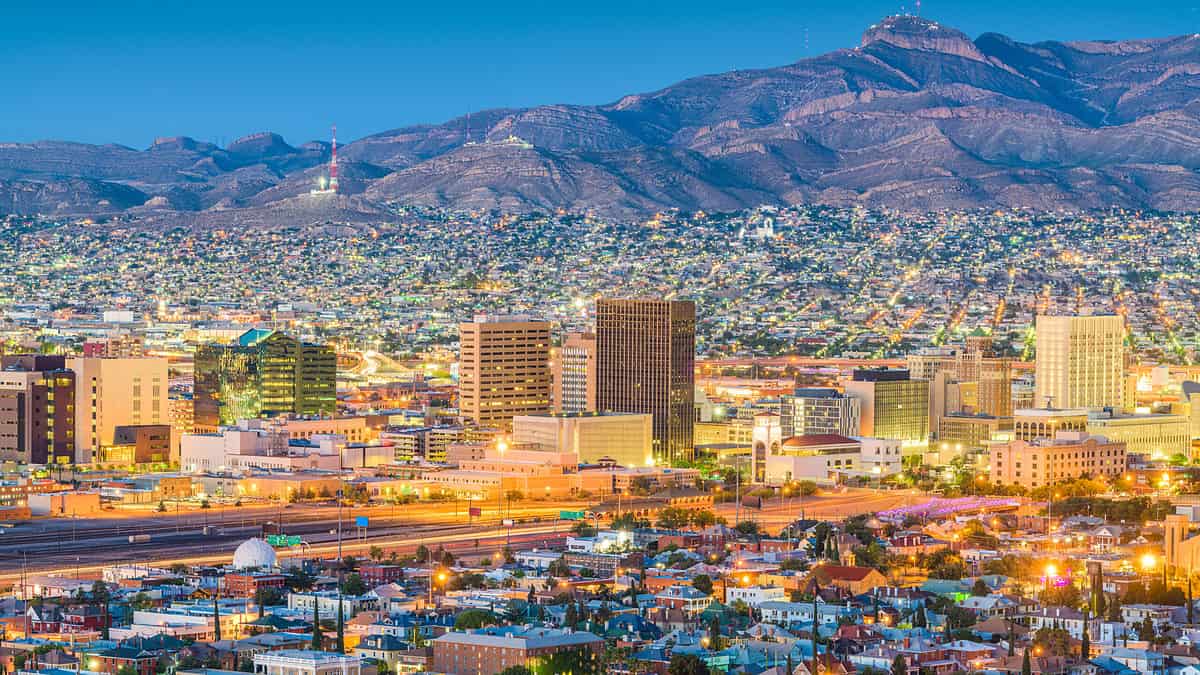 There are other factors that work in the favor of El Paso getting an In-N-Out. One is its population size. As of 2021, the city had a population of about 678,000 people. That's quite a large customer base. Compare that to the city of Las Vegas. That city has 14 In-N-Out restaurants, and their population in 2021 was about 647,000. Granted, there are a lot more tourists traveling to Las Vegas every day, but there's still plenty of people to feed in El Paso. Plus, that large population means that there are plenty of potential workers who could be supervisors, order takers, and more.
The other factor is that In-N-Out management has been making some major moves as of late. They are currently working on setting up two new restaurants in Idaho, which is a state where they have yet to have a presence. Plus, the company just announced that they are about to start plans to open restaurants in New Mexico. Perhaps most exciting is that the company is making its first foray East of the Mississippi River by building a new distribution center in Franklin, Tennessee. Once the construction of that distribution center is complete in 2026, the company will open new restaurants in that area.
When Could In-N-Out Expand to El Paso?
Since the company is working so hard on expansion on several different fronts, it wouldn't be a total shock for them to announce that they would be opening at least one restaurant in the El Paso area. Since the company just announced new restaurants in New Mexico, it may be a while until they make new announcements about additional restaurants. However, it could essentially happen at any time within the next several years.
What's Working Against El Paso's Chances?
The biggest factor working against El Paso is that the In-N-Out company doesn't seem to have any rush to get there. Back in 2021, there was a rumor that a restaurant location would be opening in El Paso, but it turned out not to be true. Carl Arena, the Vice President of Real Estate and Development for In-N-Out, said that the rumors were false and that, although El Paso was a wonderful community, they had no plans to expand there at this time.
El Paso Restaurants to Try in the Meantime
While they wait until In-N-Out comes around, there are other incredible restaurants that the residents of El Paso can try that will blow their minds.
Cattleman's Steakhouse – It's a huge restaurant with seating for 600. They have incredible steaks that are served with house chili and pineapple coleslaw.
Salt and Honey – They sell some of the best fries in the country. They're drizzled in honey and the perfect amount of salt. There are also gluten-free options. Pair your fries with a perfectly cooked salmon.
Avila's Mexican Food – This tasty restaurant has been in operation for 65 years, and they've won plenty of awards over all that time. Go here for authentic Mexican food that's miles apart from everything else.
Toro Burger Bar – The next best burgers in Texas are at Toro Burger Bar. You can build your own burger or choose from just about every combination on the menu. Plus, there are over 40 beers on tap.
Cafe Central – Go here for brunch, lunch, or dinner, and you won't be disappointed. You can try everything, from the Dungeness crab cakes to the Chilean sea bass, and eat it all with a side of perfectly flaky fries.
Conclusion
So, when could In-N-Out expand to El Paso? The real answer is unknown, but based on recent events, it could technically happen at any time. The company is expanding by leaps and bounds, so expansion into El Paso seems like a no-brainer. In the meantime, the residents can visit other parts of Texas to get their fix.
The image featured at the top of this post is ©Kit Leong/Shutterstock.com.