Different things likely come to mind when people think about the city of Portland. For some, the great schools are what they think of first. For others, it's the many adventures that the city has to offer. However, the one thing the city is missing is an In-N-Out restaurant. It can be a bit shocking, especially considering that there are currently four of the restaurants in other areas of the state. So, when will In-N-Out finally open up a location in Portland? The answer is unclear, but it's likely sooner than later. Let's dive into the details.
Why Oregon is Hungry For More In-N-Out
There are a handful of In-N-Out restaurants in Oregon. The four existing locations are in:
Medford, OR
Grants Pass, OR
Roseburg, OR
Keizer, OR
The closest of those locations is Keizer, but it's still a 44 minute drive without traffic. However, even though it's 44 miles away, the chances are good that many people from Portland and the surrounding areas have likely driven to Keizer just to get their hands on a delicious In-N-Out burger. But why?
It's because the restaurant chain is one of the most beloved burger places West of the Mississippi. Ever since it opened the doors in Baldwin Park, CA, back in 1948, the restaurant has been making a splash. It's genius in its simplicity. If you walk into an In-N-Out Burger, you'll be greeted by a menu with only three options: a hamburger, a cheeseburger, and a hamburger with two patties, which is affectionately called a "double-double." Other than that, there are fries, shakes, and a few items from a secret menu that only the biggest fans recognize.
In-N-Out is a national treasure. Besides the simple menu, the chain also insists on only using the freshest ingredients, and they prepare most of the food right there in front of the customers, so they know it's fresh. It's a great business model, and the people of Portland want it in their hometown.
In-N-Out Locations and Business Model
The idea of opening an In-N-Out in Portland is perfectly feasible, especially considering the company's current business practices. Currently, all of the existing In-N-Out restaurants are located West of the Mississippi River. Part of that is due to the fact that they were started in California, and their expansion has been gradual. As of today, there are 394 restaurants in 279 cities. Four of them are in the Oregon cities listed previously. The other restaurants are in California, Texas, Arizona, Nevada, Utah and Colorado.
The other reason why expansion further East has not yet become a reality is due to the company's distribution centers. The company has a rule that they will only open new restaurants that are within 600 miles of one of their distribution centers and that's because they want to continue to serve fresh food, and they don't want burgers to come from across the country and go bad in the process. Plus, their stores need to stay stocked with various other supplies, and it's easier to get those things when trucks don't need to drive further.
Currently, distribution centers are in Colorado Springs, Colorado; Baldwin Park, California; Phoenix, Arizona; Lathrop, California; Draper, Utah; and Dallas, Texas. There's also recent news that the company will be opening a brand new center in Franklin, Tennessee, which is the very first center east of the Mississippi. Once the center is complete in 2026, new restaurants will be opened in that area.
Why Portland Has a Chance
The good news for Portland is that they're almost within the prerequisite 600 miles. The Lathrop, California distribution center is about 635 miles away, and although it's pushing the limit, the In-N-Out company still seems eager to set up shop there.
The company first showed interest in the Portland/Beaverton area back in 2020, when they first submitted an application and attended a pre-application conference. The hope was to open a new restaurant at 10565 SW Beaverton Hillsdale Hwy.
In December 2020, In-N-Out personnel spoke to Beaverton residents about the possibility of opening their doors. The locals expressed their concerns that there would be too much traffic. If you ever drive past an existing In-N-Out restaurant, you'll likely see a line of cars around the building, so you can understand why the residents might be concerned. Currently, there's a Chick-fil-A near there, which also typically has long drive-thru lines.
In-N-Out responded to that concern by mentioning that they would establish an overflow plan for the drive-thru to ensure that the cars would not interfere with traffic.
Despite their efforts, their application was denied, not because of the traffic concern but because of a land-use issue. The reason was based on the fact that the land in question was split between two districts and one of them, the Office Commercial (OC), will not allow drive-thru restaurants. There was also an issue because some of the onsite parking would have gone against local guidelines.
Long story, short, the company's desire to be near Portland was turned down, but that's not the end of the story. Just recently, in 2023, they appealed the denied application, and they're awaiting an updated decision. The point is that In-N-Out wants to set up shop in Portland, but there's some legal red tape to get through first.
Why Portland Needs An In-N-Out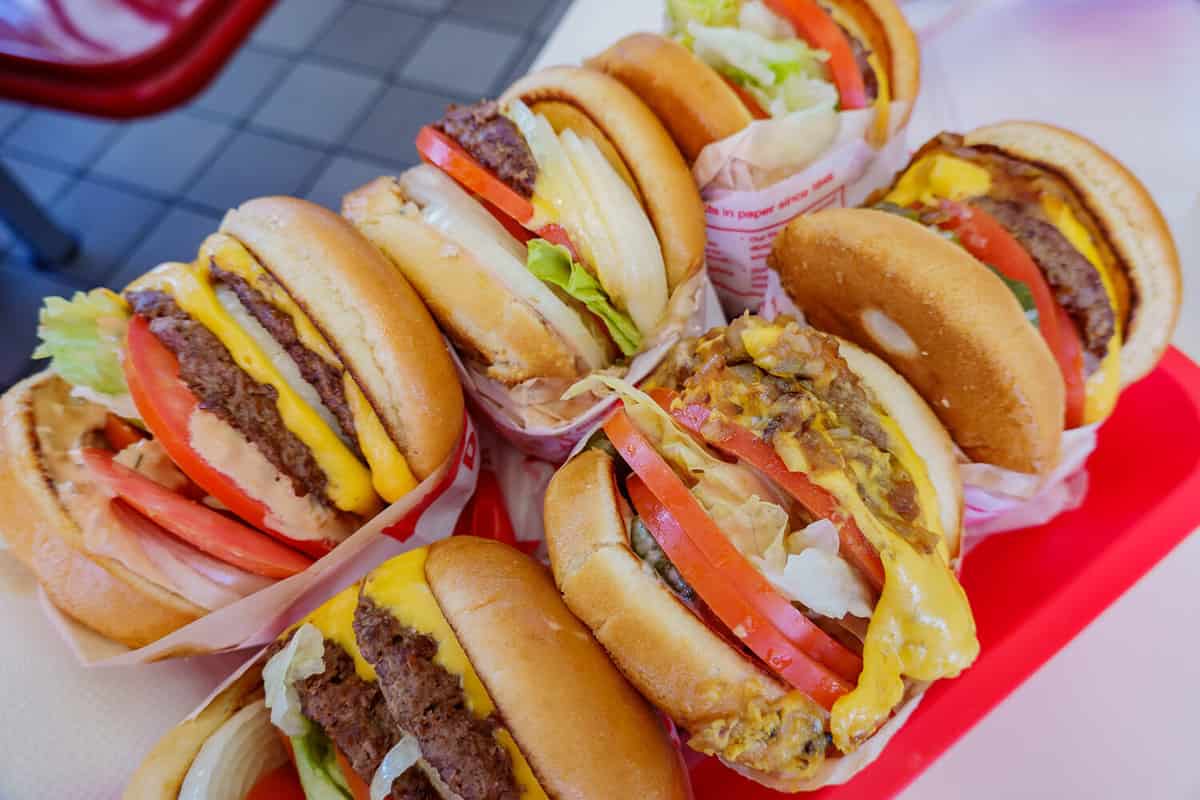 There are several reasons why the IN-N-Out company needs to win that appeal and get a restaurant in Portland.
One of them is the population size. As of 2021, there were just over 641,000 people in the city, and that's a lot of hungry customers. Many of the cities where In-N-Out already have restaurants have a lower population than that. In fact, Las Vegas has 14 locations, and that population is just under 647,000, so it's a no-brainer. With those numbers, In-N-Out should consider adding multiple restaurants to the area. Also, with that many people in town, there's a solid potential employee base, and many of the people there would make great managers, order-takers, and more.
As a matter of fact, the plan was to open three In-N-Out locations within Portland's westside back in 2021. However, the city is not doing itself any favors by declining applications and drawing out the process.
Try These Portland Restaurants
Portland residents may need to wait for In-N-Out to come around, but in the meantime, there are other incredible restaurants in the city that everyone must try at least once.
Eem – Once named Portland's Restaurant of the Year, and they serve Thai-BBQ delicacies. You can get meaty dishes, vegan, options, and more.
Angel Face – Located in Kerns, this restaurant is a great date spot with a huge cocktail menu. Plus, there's a fantastic menu of bistro items, including beef tartare and duck confit.
Cafe Olli – This place is famous for making everything right there in the restaurant. They make the bread, tomato sauce, pastries, and everything else in house. There's also tasty wood-fired pizza made with incredible stracciatella cheese.
Restaurants Chains That Still Need to Make it to Portland
There are other restaurant chains that have yet to make their way to Portland, but we hope someday they will.
Bojangles – They sell comfort food and breakfast all day. Every meal comes with hot and fresh biscuits. It's a perfect start to every day.
Biscuitville – This is another tasty breakfast place that's currently only in the South. They sell perfectly flaky biscuits and other locally sourced sausage, eggs, and coffee.
Cook Out – Located closer to the East Coast, Cook Out serves just about everything, from chicken and BBQ to hot dogs and great fries. They also offer 40 different milkshakes and many awesome desserts.
Conclusion
So, when will In-N-Out finally open up a location in Portland? The answer is a little up in the air. The company has tried to make it happen, but they've met some resistance. With any luck, an appeal will make a difference. If it does, the residents of Portland could start seeing In-N-Out restaurants within the next several years.
The image featured at the top of this post is ©James Bentley Photography/Shutterstock.com.