There are many great things about the state of Oklahoma. From its awesome museums and stellar schools, to its unique history, there's a lot to love in the "Sooner State." However, one thing the state is missing is an In-N-Out restaurant. Though there are many of these fantastic burger restaurants just a state or two away, the chain has yet to head to OK. So, when will In-N-Out finally open up in Oklahoma? The answer is not so clear, but we have some information that suggests that the move could happen in the future.
Why Oklahoma is Excited About In-N-Out
The people of Oklahoma have been buzzing about the idea of getting an In-N-Out burger in their state for years, and it's no surprise as to why. Although the chain doesn't currently have restaurants in the state, the people there know about it because many of the states near them do have In-N-Outs.
So what's the big deal? It's because In-N-Out is considered to be one of the best fast food chains in the country. It's been that way since back in 1948 when the restaurant first opened its doors. They were pioneers in the burger industry and even introduced one of the first speaker systems so customers could order from their cars. The restaurant is famous for its simplicity. Even until this day, there are only three main options on their menu, a cheeseburger, a hamburger, and a double-hamburger, affectionately called a "Double-Double."
The restaurant, which recently celebrated its 75th anniversary, also has a super secretive menu that's only viewable online. Customers who know about it can buy special meals, like a grilled cheese, a burger with four patties, and an "animal style" burger that is covered with lettuce. The other claim to fame is that they only use fresh ingredients. They don't keep anything from the public. They prepare and cook the food right in front of you, so you know you're getting something good.
How Close Are In-N-Out Restaurants to Oklahoma?
For the people of Oklahoma, the In-N-Out franchise is so close they can taste it. At this moment, the In-N-Out company only has restaurants west of the Mississippi. Although there are a whopping 394 locations in 279 cities. All of those restaurants are currently only in seven states. The current state count and percentage of all restaurants looks as follows:
California – 272 restaurants (69%)
Texas – 41 restaurants (10%)
Arizona – 34 restaurants (9%)
Nevada – 23 restaurants (6%)
Utah – 12 restaurants (3%)
Colorado – 8 restaurants (2%)
Oregon – 4 restaurants (1%)
While some of those restaurants are as far west as you can get, some states, namely Texas and Colorado, do have a number of restaurants that are only a road trip away. Many Oklahoma residents have likely been to an In-N-Out during their travels.
Why Is In-N-Out Only on the West Coast?
Although the first In-N-Out restaurant was opened in California, that's not the only reason why all of their restaurants are west of the Mississippi. There's a reason behind it, and it all revolves around the distribution centers. The company has a rule that they'll only open new restaurants that are up to 300-600 miles from a distribution center. That's because they refuse to work with anything except the freshest ingredients. They don't want to wait too long for trucks to drive from across the country to deliver meat, potatoes, napkins, straws, and everything else they need. Currently, the existing distribution centers are located in:
Phoenix, Arizona
Baldwin Park, California (1st one built)
Lathrop, California
Draper, Utah
Colorado Springs, Colorado
Dallas, Texas
Although those are the founding distribution centers, the company made news when they announced that they would be building a new center in Franklin, Tennessee. This marks the first time that the company will venture east of the Mississippi. That's pretty exciting, and it seems like one of the first moves before there are potentially In-N-Out restaurants all over the United States.
When Will In-N-Out Finally Open Up in Oklahoma?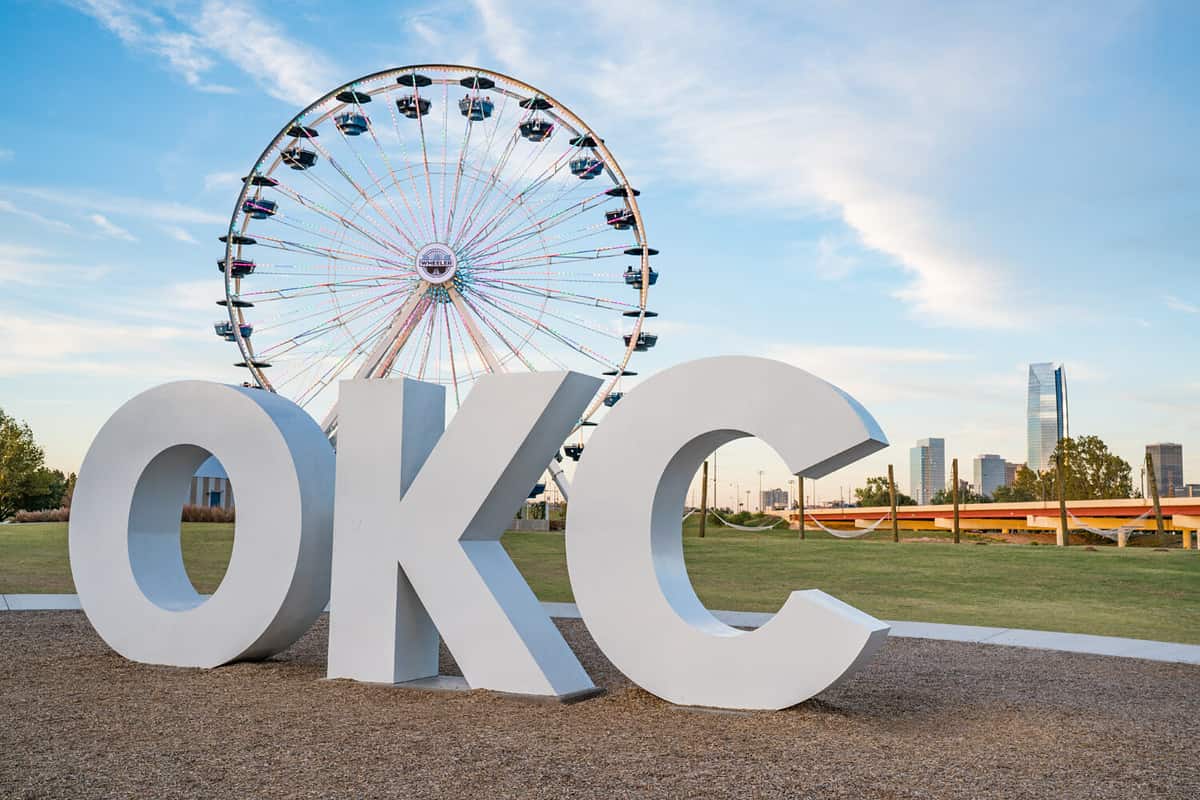 So, as to when In-N-Outs could start appearing in Oklahoma, the answer could be potentially sooner than later. When it comes to the 600-mile rule, many towns in Oklahoma fit the bill. There have been stories about how In-N-Out should open a restaurant in Oklahoma City because of its rising population and existence as one of the most well-known cities in the state.
If the company opened an In-N-Out in Oklahoma, that would be too far away for the new Franklin office. However, OKC is only 200 miles from the Dallas, Texas facility, so that's completely doable. Meanwhile, the Colorado Springs office just makes the cut at about 592 miles away. So, that's two different distribution centers that could both deliver food and supplies to the restaurants. If they opened stores further south in OK, those would be even closer to Dallas, Texas, so it seems like a no-brainer.
However, as for an actual date when a new restaurant should show up in Oklahoma, that's a different story. Construction on the Franklin office is set to start in 2024 and not be finished until 2026. It seems unlikely that the company would build two offices at once, so even if they were going to build something, it likely wouldn't be until after that. So, the people of Oklahoma would likely need to wait at least another 3-5 years until the company would even make a potential announcement.
Why In-N-Out Could Work in Oklahoma
Besides the fact that the distribution centers are within the required distance, there are other reasons why In-N-Out should consider the move. First, the population of Oklahoma is just shy of four million people as of the 2021 census. That's more than the population of either Utah or Nevada, both of which already have restaurants. So, there's more than enough people to form a respectable customer base. Plus, all of those people could be potential employees to work in the restaurants. If they set up shop in a town like Oklahoma City, they'd have just under 700,000 mouths to feed, so that's also a possibility.
What's Working Against Oklahoma?
While Oklahoma is certainly in the realm of possibility, some signs suggest that residents may not want to hold their breath. In 2018, a sign was put up in Tulsa that read "In-N-Out Burger here soon." However, it ended up being a prank. In response to the sign, company officials said that the company currently does not have plans to open a store in Oklahoma. So, there's nothing official yet. Though only time will tell.
Unique Restaurants In Oklahoma to Try Instead
Oklahoma may not yet have an In-N-Out, but there are plenty of other great restaurants to check out in the state. Try one of these great establishments if you're in the area:
Ollie's Station Restaurant – It's located in Tulsa, and it's full of great food and railroad memorabilia. The menu is full of classic dishes, from fried chicken and beans to traditional breakfast options.
Pops Restaurant – This restaurant in Arcadia is known for having the world's largest soda bottle. You can pair your meal with one of 500 different soda varieties. They also have some of the best cheeseburgers in the state.
Southern Belle Restaurant – This is another railroad-related restaurant. In fact, it's located inside of a real model railcar. The signature dish is the "Southern Belle Chicken," which is served with the house dipping sauce. 
Annie Okies Runway Café – It's in Oklahoma City, and it's right next to the airport. It used to be a place where pilots went for a quick meal, but now it's a place to get great breakfast items all day long.
Bleu Garten – Also in Oklahoma City, they serve great meals in a nice outdoor venue. While you eat, you can watch the game on the big screen. They serve steak, potatoes, and more.
Conclusion
So, when will In-N-Out finally open up in Oklahoma? The answer isn't clear, but everything is in place to make the possibility a reality. The state is west of the Mississippi River, it's within the required distance of a distribution center, and the company is currently expanding. Only time will tell.
The image featured at the top of this post is ©Kit Leong/Shutterstock.com.