Miami is one of the most popular destinations in the United States. In addition to the party scene, fantastic culture, and sandy beaches, there's also great restaurants and tons of fun for the entire family. However, while it's a city that seems to have it all, there's one thing it's missing: an In-N-Out Burger. This famous restaurant chain has yet to hit the shores of Florida, but why is that? Today, we'll try to answer the question of "how long will it take In-N-Out to expand to Miami?" by looking at how the company operates, where they are now, and what the future may hold for this great burger chain.
In-N-Out is Taking the Nation by Storm
Many people in Florida are asking, "how long will it take In-N-Out to expand to Miami?" because they have likely heard just how great the restaurant can be. The famous chain, which was started in California in 1948, has been making waves ever since it opened. While the chain isn't nationwide as of yet, many people know about it, even if they've never been to one in person.
The company is known for using the freshest ingredients and making food right there in front of the customers. They are completely transparent when the food is prepared as guests can see them cut the potatoes into fries, grill the burgers, and whip up the shakes. The company is also famous for having a very limited menu. They have three options, and they all include either a hamburger or a cheeseburger. However, there is also a secret menu with super-special items, like a grilled cheese sandwich. That kind of simplicity simply isn't common in the fast-food restaurant industry.
In-N-Out is so popular that people who have never seen the restaurant with their own eyes will want to eat at one of the restaurants simply so they can say that they've been there. It's quite a phenomenon, and the people of Miami are hungry for it.
Where In-N-Out Restaurants Are Located Today
As it stands, the current In-N-Out restaurants are a long way from Miami. Currently, there are 394 locations in 279 cities, and they're all West of the Mississippi River. To visit one of the restaurants today, Floridians would need to visit:
California
Texas
Arizona
Nevada
Utah
Colorado
Oregon
That list will grow sooner than later, as there has recently been news that the company would be expanding into New Mexico. There is also one restaurant currently under construction in Idaho and another on the way. Many of the cities with the most In-N-Out Burger restaurants are tourist hot spots, like San Diego, Las Vegas, and Los Angeles, and so the destinations where the company places their restaurants are very strategic. However, they're still very far away from Florida.
How In-N-Out Chooses It's Locations
The location of the existing In-N-Out restaurants is not random. The company started in California and started gradually making its way across the western United States. But that's not all.
The company also decides its locations based on how far it would be from one of its distribution centers. They have a rule that no restaurant should be any more than 600 miles from any existing distribution center, and that's because of their insistence on only making their meals from the freshest foods. They don't want to wait for trucks to drive from the other side of the country and risk the food getting bad during the trip. Plus, the restaurants need napkins, condiments, and other necessities, and they want them on time.
Currently, the distribution center are in:
Lathrop, California
Phoenix, Arizona
Draper, Utah
Dallas, Texas
Colorado Springs, Colorado
Baldwin Park, California
None of those are particularly close to Florida, so at this moment in time, there isn't an In-N-Out restaurant anywhere near the state or the surrounding area.
That's About to Change
For many years, the chances of any In-N-Out restaurants being opened anywhere near Florida were next to zero. However, that changed in 2023, when it was announced that the company would be building a new distribution center in Franklin, Tennessee. This is a historic moment because it marks the first time that a center would be opened East of the Mississippi. Once construction of the center is complete in 2026, the company will be opening new restaurants around Tennessee.
The most exciting part of this development is that a spokesperson for In-N-Out assured the world that there would be other locations included in this plan down the line, so that certainly opens the door for other eastern states, including Florida.
How Long Will it Take In-N-Out to Expand to Miami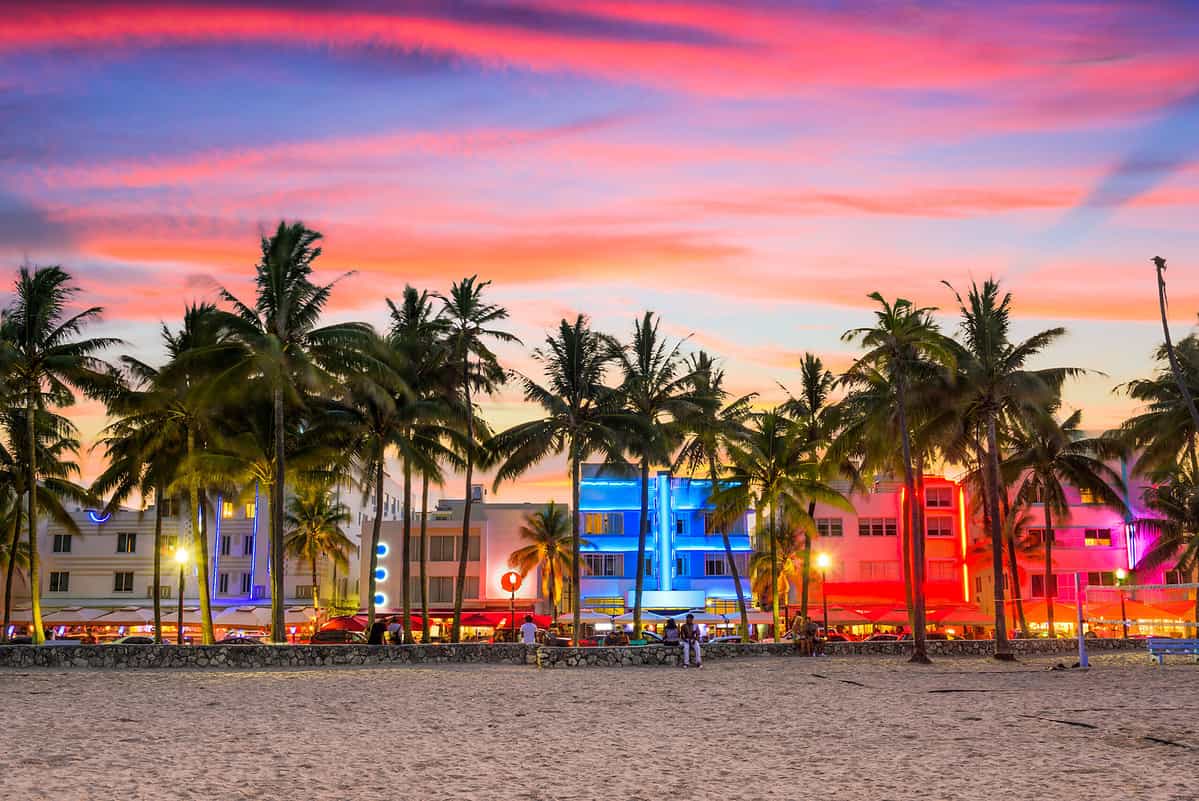 In regards to the question posed in the title, the answer is unclear. While the company is opening restaurants further east, it will take some time. As it is, the city of Miami is about 900 miles from Franklin, Tennessee, so by the company's standards, it's too far from the nearest distribution center to open a restaurant. So, they would need to build another distribution center closer to Florida. Since the company is unlikely to build two distribution centers at one time, the residents of Mami would likely need to wait at least another five years for a new center to be built to give the city any chance of getting a restaurant.
What's Working In Maimi's Favor?
One of the biggest perks that an In-N-Out restaurant could enjoy is the massive number of customers that would already be present in Miami. As it is, the resident population is already huge. As of 2021, there are over 439,000 people in the city. Compare that to the city of Tucson, which has closer to 543,000. Tucson has seven In-N-Out restaurants, and there are fewer people, so it's a no-brainer.
There's also the fact that Miami is a huge tourist hotspot. During 2022, over 50 million people visited Miami for honeymoons, family vacations, and more. That's a ton of people who would potentially eat at In-N-Out. Many of those tourists could be from the East Coast, and they may have heard of In-N-Out and would be thrilled to try it. Plus, it could be the only In-N-Out restaurant in that part of the country, which could be a big marketing opportunity. The city with the most In-N-Out restaurants in the country is Las Vegas, with 14. The city of Las Vegas only has about 647,000 people, but they're a big tourist hotspot, so Miami could have the same appeal.
Finally, there's the fact that Florida Governor Ron Desantis has had previous conversations with In-N-Out owner Lynsi Snyder-Ellingson about the potential of opening a restaurant in Florida. However, while the idea was to form a business relationship, the news was not promising. When asked, the owner thanked the Governor for the invitation to set up shop there but said that, at this time, they have no plans to expand operations to Florida.
Other Chain Restaurants Not in Miami
Believe it or not, there are other popular restaurants that still don't have a presence in Miami, though maybe someday they'll reconsider.
Yoshinoya – They're like the McDonalds of Japanese cuisine, serving beef bowls in a variety of flavors. They'd be the perfect addition to the Miami skyline.
Whataburger – Although there are locations in Florida, there has yet to be an instance of this popular burger chain in Miami.
Potbelly Sandwich Shop – It's another instance of a popular chain in Florida but not in Miami. Potbelly serves tasty sandwiches, and the people of Miami want a bite.
Fazoli's – It's Italian fast food with pizzas, sub sandwiches, oven-baked pastas, and more. There are some in Florida, but not in Miami.
Papa Murphy's Pizza – This is one of the most popular pizza chains in the world, winning many awards for its taste and innovation. There are locations in Florida, but Miami residents will need to take a drive to get there.
Conclusion
So, how long will it take In-N-Out to expand to Miami? The answer is up in the air. While there's no promising news, anything is possible. The company's expansion east of the Mississippi is a solid development, but Tennessee is not close to Florida. At this point, only time will tell.
The image featured at the top of this post is ©samroundy/Shutterstock.com.