Not only does Miami offer incredible beaches, but its city life makes it a great travel destination. Miami Beach has been awarded North America's Leading Beach Destination for 2023 by the World Travel Awards. Now that Miami has won this award, it is nominated to be in the "World's Best" category. The Miami Beach Visitor and Convention Authority (MBVCA) has been working very hard to make Miami Beach an incredible place for people to visit. They've recently launched an app called "EXP Miami Beach," where you can discover things to do with itineraries. But if you're visiting Miami and looking for some of the best places to eat, here are 10 amazing restaurants to check out.
Pollos & Jarras
Pollos & Jarras is a Peruvian restaurant that has been rated number one out of 610 restaurants in Miami on Tripadvisor. It is a mile away from the city center and serves lunch and dinner. Enjoy some of their must-try dishes like the Aguadito Canero (chicken soup), Chicharronda Bailable (crispy chicken thighs), and the Alita Del Senor De Los Milagros (chicken wings with Peruvian purple corn BBQ sauce).
CRAFT South Beach – Espanola Way
CRAFT has been rated second out of 610 Restaurants in Miami on Tripadvisor. It offers a handful of cuisines like American, Argentinean, and South American, as well as pizza. It is open and serves meals all day, from breakfast to lunch and dinner. Try dishes like their garlic shrimp, goat cheese croquettes, double bacon cheeseburger, and crispy halloumi sandwich.
INTI.MO
INTI.MO is rated third of 610 restaurants in Miami on Tripadvisor as well as first of 38 for best Japanese. It was also voted the Best Peruvian Restaurant by the Miami New Times. INTI.MO offers Peruvian cuisine with a Japanese fusion. INTI.MO is a great option if you're looking for vegetarian, vegan, or gluten-free options. Enjoy dishes like ceviche, gyoza, sushi, and more.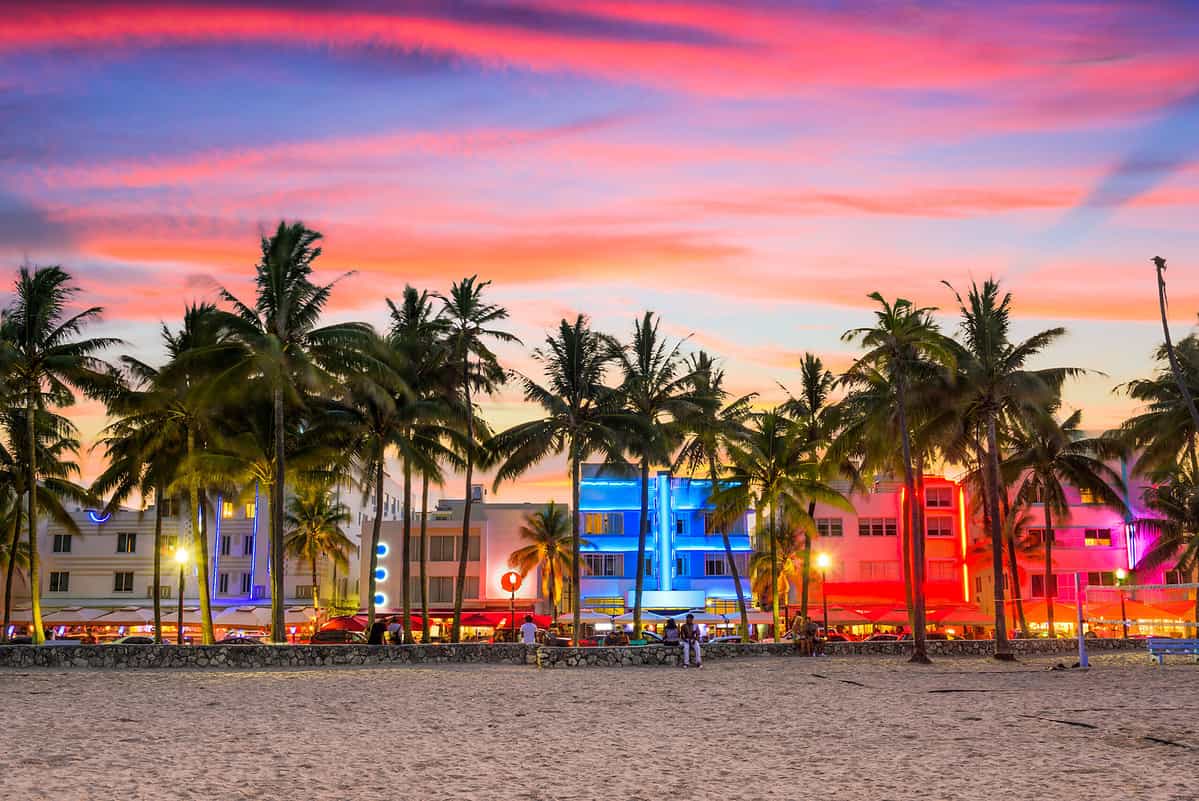 Cafe Americano
Cafe Americano was rated number one of 2,203 restaurants in Miami. They offer a handful of cuisines, including Italian, American, and Latin. With a great environment and beautiful decor, they offer different menus all day for breakfast, lunch, and dinner. They also have a happy hour with specials on food and drinks. Try dishes like tuna tostada, pesto burrata pizza, wagyu burger, branzino, and more.
Paperfish
Paperfish is fourth of 610 restaurants in Miami and was also awarded Travelers' Choice of 2023 on Tripadvisor. It is a sushi bar that offers Nikkei cuisine (Japanese and Peruvian infusion). They offer omakase, which is a course of meals to try different types of sushi. Omakase is one of the main attractions at Paperfish. Take advantage of some drink and food specials during their happy hour every day from 4 p.m. to 7 p.m.
CVI.CHE 105
CVI.CHE 105 is rated fifth of 610 restaurants in Miami on Tripadvisor. They serve Peruvian cuisine and offer vegetarian, vegan, and gluten-free options. With multiple locations, CVI.CHE 105 has been winning awards for the last 12 years. They offer a large menu with ceviches, sushi rolls, rice dishes, seafood dishes, and even family-sized entrees. Make sure to try dishes like their lomo saltado and mariscada chalaca.
Pummarola Midtown
Pummarola Midtown is rated second of 2,203 restaurants in Miami and also received the Travaelers' Choice 2023 award on Tripadvisor. Offering Italian cuisine with a focus on pizza, they serve lunch and dinner as well as late-night bites. Pummarola serves Neapolitan pizza, which is one of the most unique styles of pizza from Italy. Not only can you eat the pizza at Pummarola, but you can also take pizza-making classes!
Esquina Mexicana
Esquina Mexicana is rated sixth of 610 restaurants in Miami on Tripadvisor. They offer authentic Mexican cuisine and serve food for breakfast, lunch, dinner, and late night. If you love tacos, this is the place to be. They offer two tacos for $9.99 and also a free margarita if you spend $50. Some other notable dishes to try include the tuna tostada, birria tacos, and molcajete.
Pane & Vino
Pane & Vino is rated seventh of 610 restaurants in Miami. This restaurant offers Italian cuisine with homemade pasta and delicious wines. They've won a handful of awards, including Travelers Choice on Tripadvisor in 2018, 2019, and 2020, as well as Restaurant Guru 2022. Enjoy dishes like bruschetta, beef carpaccio, cacio y pepe, and tagliatelle bolognese.
House of Food Porn
House of Food Porn is rated third of 2,203 restaurants in Miami. They've also received the Tripadvisor Travelers Choice 2023 award. They offer a unique experience and therefore are on the pricier side ranging anywhere from $150-$2,500. Chef Francisco Antonio Blanco offers Cuban-style sushi. This restaurant offers a full tasting experience and does require a reservation.
The image featured at the top of this post is ©Daniel Korzeniewski/Shutterstock.com.