There are 34 incorporated counties within the borders of Orange County, California. Within that expanse of beautiful rolling hills and picturesque beaches, there are three Michelin-starred restaurants in Orange County. This rating by the Michelin Guide is awarded to restaurants with "high-quality cooking," that are considered "worth the stop." The other Michelin distinction we'll discuss on this list is the Bib Gourmand badge. This distinction has been around since 1955 and honors restaurants that offer quality fares at affordable prices. The Bib Gourmand rating, named for the friendly Michelin-man mascot, holds quite the weight in terms of the Culinary Award big leagues.
Some other awards you might hear mention of on this list of Michelin Star restaurants in Orange County are the James Beard Award and the Food & Wine Ranking. These awards cover multiple categories for restaurants, and James Beard honors the "Best Chef," by region. In 2023, two restaurants in Orange County made the semi-finals for that category. While there are multiple rounds of judging, even getting a nomination is an honor in the James Beard Awards circuit. These awards look at the skill of a Chef, the ethics, and values of the restaurant, and the inclusivity of the kitchen when deciding its rankings. Let's learn more about the top-honored and Michelin-Star restaurants in Orange County, California.
Michelin Starred Restaurants
These restaurants currently hold one Michelin Star. They have been awarded this place in the Michelin Guide for between 1-3 years, consecutively, or otherwise.
Taco María
3313 Hyland Avenue, Costa Mesa, CA 92626
Taco María is the project of Chef Carlos Salgado, an Orange County native with roots in both Californian and Mexican cuisines. Opened in 2013, Taco María combines his skills learned in Michelin star kitchens, with local produce and family recipes. The result is Mexican-inspired food he calls Alta California cuisine. Taco María has remained on the Michelin Guide since 2019, and Salgado has been nominated for the regional "best chef" award through James Beard since 2016. His most recent nomination came this year. Food & Wine awarded him the title of Best New Chef circa 2015, and a number of local and national publications have recognized this lovely restaurant with awards like "Most Important Restaurants of the Decade," and the "Winner of the Golden Tortilla 2019."
Michelin recommends their Prix Fixe menu which features dishes like the smoked sturgeon fish tacos served with chile ancho, or the gooseberry, fava bean, and smoked habañero grilled gallina pintada. The four-course menu costs $100 per person, but you get the opportunity to pick from options like grilled apricots with queso fresco, grilled black cod with sweet corn, dry-aged ribeye, and dessert pairings that will absolutely blow your mind. Ricotta cheesecake anyone? How about frozen melon with yogurt mousse, mulberries, and anise hyssop? It's no wonder this is one of the 3 Michelin Star restaurants in Orange County, CA.
Hana Re
2930 Bristol Street, Costa Mesa, CA 92626
Hana Re is the second Michel Star restaurant in Orange County on this list. Under the masterful eye of Chef Atsushi Yokoyama, you'll get to watch a true "chef's table" sushi performance. This is traditionally called "Omakase," and entails an up-close look into the local ingredients, techniques, and final products of these skilled sushi chefs. Some of their featured dishes include a pike eel with plum sauce, yobuko squid with fresh sea urchin, and a Japanese conch over a pureé of celery root. These change seasonally depending on the ingredients. While reviewing, Michelin recommended the cuttlefish dashi and the almond panna cotta with strawberries. The full cost of the meal is around $250+ per person. This price may change depending on if you elect to do saké pairings.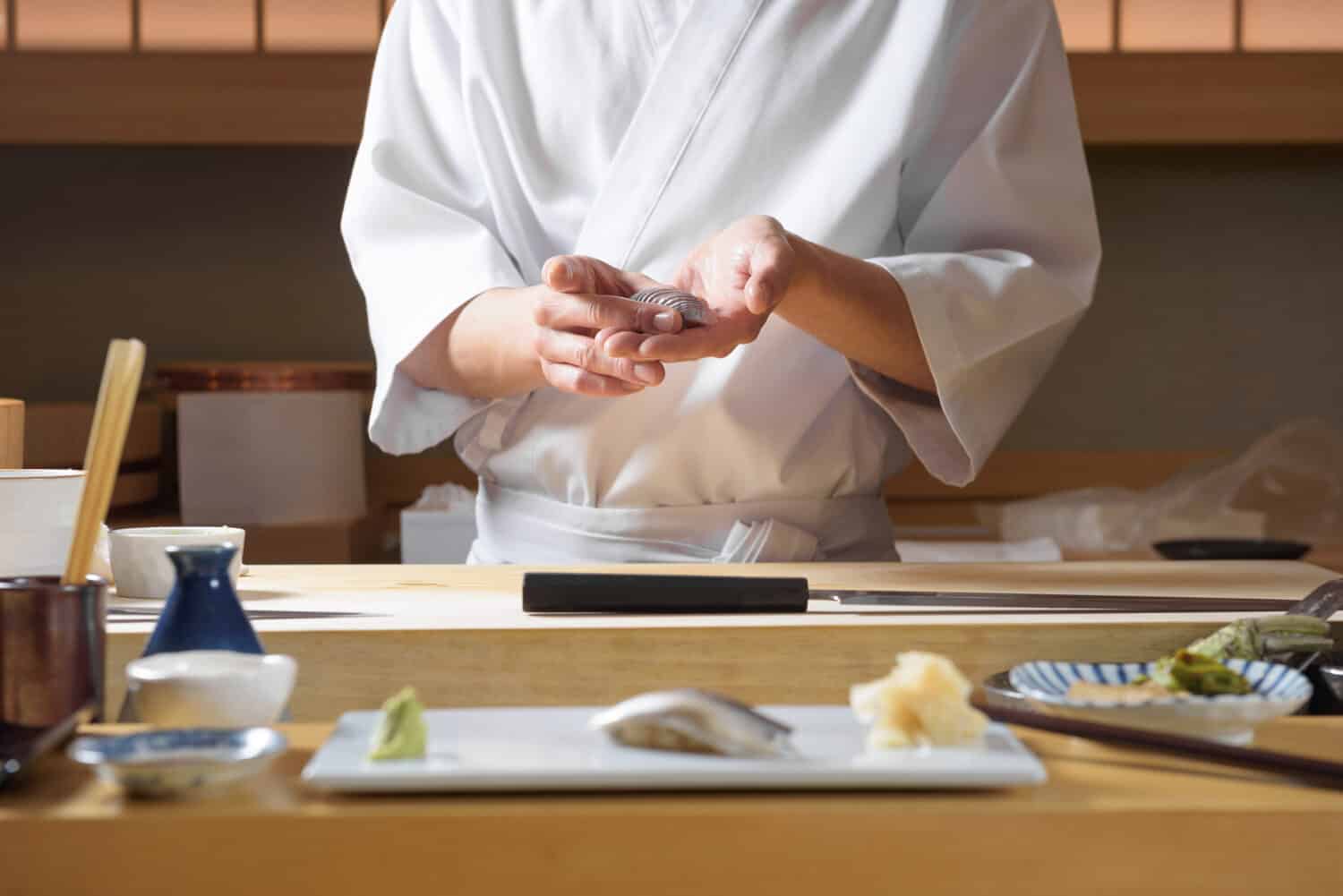 Knife Pleat
3333 S Bristol Street, Costa Mesa, CA 92626
And for the final Michelin Star restaurant in Orange County, California, we present to you Knife Pleat. A collaboration between Chefs Yassmin Sarmadi and Tony Esnault, Knife Pleat is a smaller, yet elegant operation in comparison to some of this duo's other fabulous Los Angeles restaurants. With a French-inspired menu, Michelin recommends the crisp sea bream with beurre blanc sauce and the rhubarb sorbet with a trackable meringue shell and strawberry gelée.
The current menu features caviar with oysters and a cucumber bavarois, black truffle pasta with tomato confit, and a snow pea dish with stracciatella cheese, prosciutto, and mint. Mains include butter-poached lobster and apricot-glazed lamb. Save room for the chocolate mousse with raspberry-lime coulis. Knife Pleat offers a tasting menu as well as a prix fixe menu. The prix fixe costs $295 per person. Wine pairing costs an additional $175 or there's an $85 dollar non-alcoholic option.
Bib Gourmand
The restaurants in this section have received the "Bib Gourmand" rating from the Michelin Guide. This means they are considered quality food with an affordable price range. While it's not a star, it's still a really significant rating to receive from the Michelin Guide.
Heritage Barbeque
31721 Camino Capistrano, San Juan Capistrano, 92675, USA
Heritage Craft Barbeque offers Texas-style bbq in the beautiful setting of San Juan Capistrano, California. Michelin awarded this location a Bib Gourmand rating after trying its smoked black Angus brisket, with a side of cheddar jalepeño biscuits. They have spare ribs, and tri-tip, as well as sandwiches, and tacos. Get your sides of mac and cheese, chili and queso, coleslaw, potato salad, and brisket beans. And don't forget to grab a cub of banana pudding for the road. Prices are very reasonable and they offer takeout and dine-in options at their Camino Capistrano location.
Fable & Spirit
3441 Via Lido, Suite. A, Newport Beach, 92663, USA
Fable & Spirit is a modern eating establishment with roots in Irish culture and storytelling. Storytelling through history, and storytelling through food. They offer both brunch and dinner menus in their sweet restaurant in Newport Beach, California. From its dinner menu, Michelin raves for the harissa roasted cauliflower and the day-long braised porchetta with Calabrian chilis. The latter comes with polenta, romanesco, and chimichurri sauce. Or, try their citrus salad with blood and cara cara oranges, crisped quinoa, and chevre goat cheese, in a spicy avocado vinaigrette.
There's Guinness brown bread, Hawaii blue prawns, grilled bone marrow, and wood-fired octopus. Still, need some more delightful options? Check out their numerous vegetable dishes, or larger plates like the cracked pepper bucatini with Manila clams, the chicken confit with peal onions and chorizo, or Waygu bavette with a gold potatoes emulsion sauce. For desserts, Michelin recommends the brioche bread pudding with English cream and fresh blueberry compote. There's also a larger offering of specialty cocktails for a nice meal pairing.
Phở 79
9941 Hazard Avenue, Garden Grove, 92844, USA
Phở 79 has been open since the 80s and maintains its low price point with consistently high reviews. For starters, they have classic items like crispy egg rolls, and more unique items like skewered pork balls, and shredded pork skin salad rolls. Michelin recommends their goi cuon salad roll. They have both rice noodle soups and egg noodle soups. There's even an oxtail soup and wonton soup. Add some protein with the option of fatty brisket, chicken, shrimp, pork blood, pigs feet, crab, tripe, meatballs, or just plain vegetables. If soup's not what you're after, they have a number of steamed rice plates and several desserts. This place deserves its Bib Gourmand award on the list of Michelin Star restaurants in Orange County, California. May it continue to serve great Phở for years and years to come.
Other Bib Gourmand mentions are due to Hiro Nori Craft Ramen, CHAAK Kitchen, Gabbi's Mexican Kitchen, Khan Saab Desi Craft Kitchen, and Ramen & Tsukemen TAO.
The other James Beard nominated Orange County restaurant was Poppy & Seed in Anaheim, California. This restaurant is headed by Chef Michael Reed.
The image featured at the top of this post is ©photohwan/Shutterstock.com.