There's no doubt that California is one of the best places to find unique, upscale restaurants. Like many other California cities, San Jose has a vibrant food scene that continues to grow. When you're searching for fine dining in the area, you might search for Michelin Star Restaurants in San Jose.
California does have its own Michelin Guide and as of the latest guide, there are three restaurants with Michelin Stars near the San Jose area. Additionally, there are five restaurants in the area that received the Bib Gourmand award from Michelin as more moderately priced restaurants.
If you're looking for the top Michelin-recognized restaurants in San Jose, keep reading to find some of the best options for your next meal.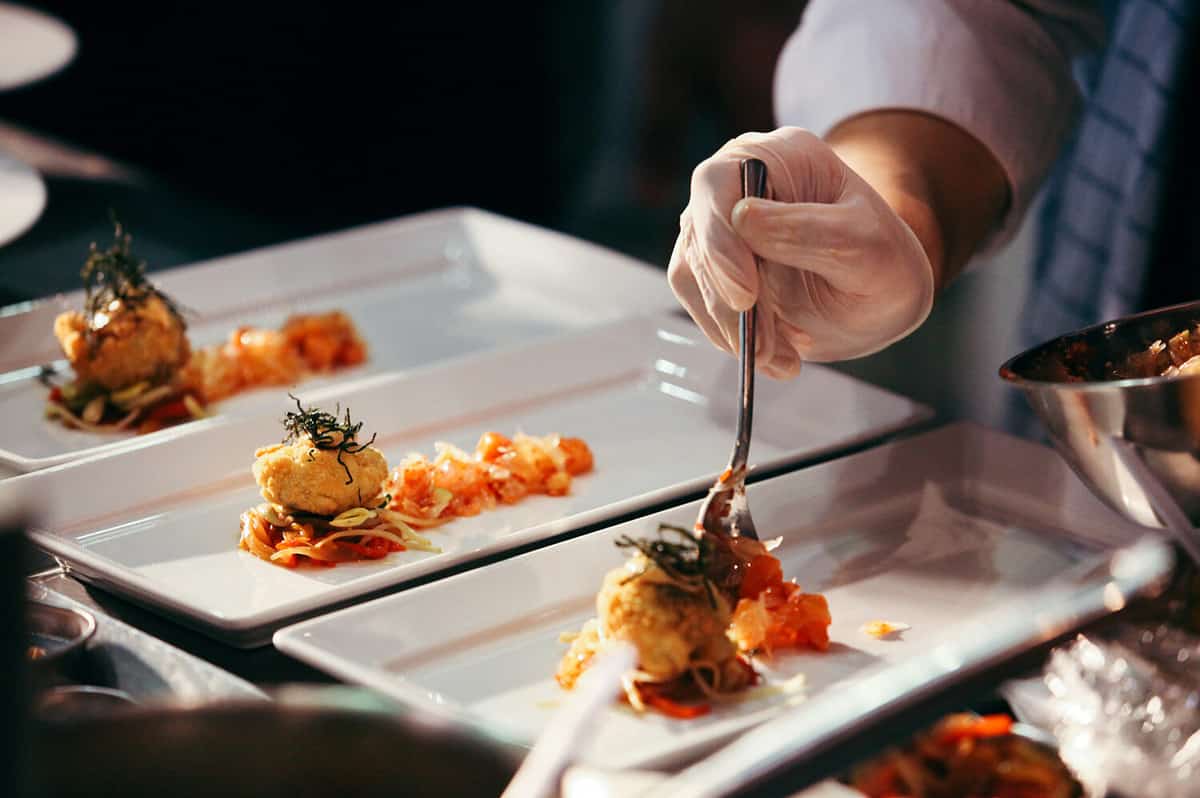 Michelin Star Restaurants in San Jose Area
Since coming to the United States in 2005, the Michelin Guide has continued to expand. By the end of 2023, the Michelin Guide in the U.S. will cover seven locations. Surprisingly, the Michelin Guide has been around since the mid-1900s, but Michelin didn't create the first U.S. Michelin Guide until over 70 years later.
Since some of the top restaurants in the country are found in places like New York and California, these were some of the United States locations to get a Michelin Guide. There are currently three restaurants near San Jose with a Michelin Star. Let's see what makes each of these California restaurants unique.
Plumed Horse
Plumed Horse in Saratoga, California brings a personal touch to elegant dining. From the time you walk into the distinguished, dimly lit dining room, you can tell you're going to experience something unique. Plumed Horse currently holds one Michelin Star, and has been recognized for its take on upscale modern cooking.
Chef Peter Armellino leads the way in this luxury restaurant. He brings over 35 years of culinary experience to the table and perfected his craft while working in some of the top restaurants in New York City.
Not only has Plumed Horse held a Michelin Star since 2008, but they've also won the Wine Spectator Award and Wine Enthusiast, Haute Living, and Los Gatos Magazine have recognized their excellence. For guests dining indoors, you'll be served the tasting menu that may include items such as the Black Pepper and Parmesan Souffle or the Bacon Wrapped Quail.
Chez TJ
Located in downtown Mountain View, this cozy and charming restaurant has earned one Michelin Star. Chez TJ is located inside a Victorian home and provides a romantic and intimate setting that includes beautiful decor and soft music.
Chez TJ serves contemporary French cuisine and many of the ingredients are sourced from the onsite garden. This fine dining restaurant has held the award of one Michelin Star since 2007 and has also held the Wine Spectator Best of Award of Excellence since 2016.
The Chef's Tasting Menu at Chez TJ changes based on the seasons and includes a multi-course experience you won't forget. Alongside the tasting menu, you can enjoy Chez TJ's wine pairing to enhance the taste of each course. You might see items on the menu like the Heirloom Carrot Terrine with mango and lime or the Poached and Seared Foie Gras with glazed chestnuts.
Protégé
With the perfect combination of comfort and luxury, Protégé is a New American upscale restaurant in Palo Alto. When you dine at Protégé, you can choose between the experience of dining in the Lounge or the Dining Room.
While dining in the Lounge, you'll order items from an à la carte menu. Start off your night with the Crab and Caviar or Fish and Chips with Japanese yellowtail and poke. If you choose a seat in the Dining Room, you'll get to experience all Protégé has to offer with the seven-course tasting menu.
The tasting menu is subject to change, but you might start off with items such as the Dungeness Crab and the Sakura-smoked Sablefish with Ossetra caviar, potato confit, and sweet onion. Your meal won't be complete without a delicious dessert like the Peach Melba with raspberry, Marcona almond, and verbena ice cream.
Bib Gourmand Restaurants in San Jose Area
Believe it or not, restaurants technically don't have to fall within a specific price to receive a Michelin Star. In fact, in places like Singapore, there are even street food stands that have achieved Michelin Status. However, in the U.S., restaurants are held to a different standard.
Most of the restaurants in America that have a Michelin Star are high-class restaurants. The good news for more casual restaurants is Michelin does have a rating called the Bib Gourmand.
The Big Gourmand Rating is a way to recognize restaurants that are moderately priced with excellent cuisine. Although it's not the same as earning a star, it's still a significant honor. In the San Jose area, five restaurants have received the Bib Gourmand rating. Here's a bit more detail about what type of cuisine you'll find at each one.
Petiscos
Like any good meal, petiscos are best enjoyed when shared with those you love. Petiscos are small plates of traditional dishes and are incredibly popular in Portugal. Named after this popular type of meal, Petiscos has a bright, casual atmosphere and is a great place to enjoy food with friends. You can dine in or enjoy take-out or delivery from Petiscos.
On the menu, you'll find items such as octopus, duck rice, or filet mignon sautéed in garlic sauce.
Luna Mexican Kitchen
If you're craving Mexican cuisine, Luna Mexican Kitchen should be your first stop. At Luna Mexican Kitchen, they pride themselves on offering items that are authentic, traditional, and made with clean ingredients. This restaurant has been recognized by Michelin as well as by publications like the San Francisco Chronicle and The Mercury News.
Their menu includes a variety of smoothies, burritos, bowls, and large plates. You can enjoy savory items like the NY Steak Con Huevos or sweet dishes like the Horchata French Toast. 
Orchard City Kitchen
Led by Chef Jeffrey Stout, this fast-paced restaurant is a great place to enjoy small plates near San Jose. While eating in the high-energy dining room is definitely a fun experience, you can also choose a more private experience by dining in the Chef's Den or the Market Room. This is a great place to book a private event or enjoy a night out.
Orchard City Kitchen has a brunch, lunch, and dinner menu available. On the dinner menu, there's a range of small plates, vegetables, and seafood. Start off with an appetizer like the Wood-Fired Artichoke before moving on to the Bone Marrow Pasta with green garlic and anchovy.
The Bywater
If you're looking for the taste of New Orleans in the Bay area, The Bywater has it covered. In addition to receiving the Bib Gourmand, this New Orleans-inspired restaurant has been recognized by Wine Spectator, Zagat, Eater, and the San Francisco Chronicle. Chef David Kinch, who was previously the chef of a three-Michelin Star restaurant, is one of the founders of The Bywater.
Whether you choose to stop by for brunch or dinner, you'll find many delicious items on the menu. On the All Day Menu, you can enjoy items such as the Crispy Fried Oysters, Fried Green Tomatoes, or the Nashville Hot Chicken.
iTalico
Whether you come out for live music or for a good meal, iTalico is an excellent place to enjoy great Italian food with friends. The five founders of iTalico were born in Southern Italy and proudly serve authentic Italian cuisine in Palo Alto. With a focus on fresh, local ingredients, this restaurant has been recognized by numerous publications for its excellent food and atmosphere.
At iTalico, you can enjoy items such as the Grilled Octopus with lemon avocado sauce or the Calamari with shrimp, sardines, and lemon.
The Best Restaurants in San Jose, California
San Jose, California is home to numerous luxury restaurants as well as many excellent casual eateries. No matter what type of cuisine you're looking for, there's something for everyone in this city.
When it comes to Michelin Star Restaurants in San Jose, there are currently three near the San Jose area. Additionally, there are several restaurants that have won the Bib Gourmand Rating. As the San Jose food scene continues to grow, there are even some restaurants that Michelin could add to their guide in the future.
The image featured at the top of this post is ©Uladzik Kryhin/Shutterstock.com.