The best places to eat in Albuquerque today include James Beard's noteworthy restaurants, classic diners, steakhouse speakeasies, and more. There's so much to do in this bustling city of New Mexico. If food is of interest, this list will provide a rundown of the best places to eat in Albuquerque during your visit. Whether you're a local or a tourist, it can be good to know where in Albuquerque is worth snagging a reservation. Some of these places have been around for ages, others are up and coming, and all of them have been mentioned by the likes of Eater, or Bon Apétit. There's a reason James Beard pays close attention to the food scene of Albuquerque. So, keep on reading as we learn more about what restaurants are worth a visit.
From steakhouses to classic New Mexican fare, you've got your organic fam-to-table options, and a food truck with a James Beard nomination as well. Stick around as we examine the menu and price points of these notable eateries. We'll take a look at the kind of food, as well as the history of the restaurants. By the end of this post, you'll be an expert in the food scene of Albuquerque. Get ready to add some great restaurants to your list of things to do in New Mexico.
La Guelaguetza
816 Old Coors Dr SW, Albuquerque, NM 87121
This classic Mexican restaurant serves an array of traditional and unique Mexican-style food. The owners and chefs of La Guelaguetza were semifinalists for a James Beard 2022 award in the regional "best chef" category. Start off with traditional plates like pizza brirria with guacamole, sour cream, and shredded beef. There are different kinds of mole served over rice, beans, meat, and corn tortillas, green enchiladas, beef flautas, tacos, and tostadas de tinga.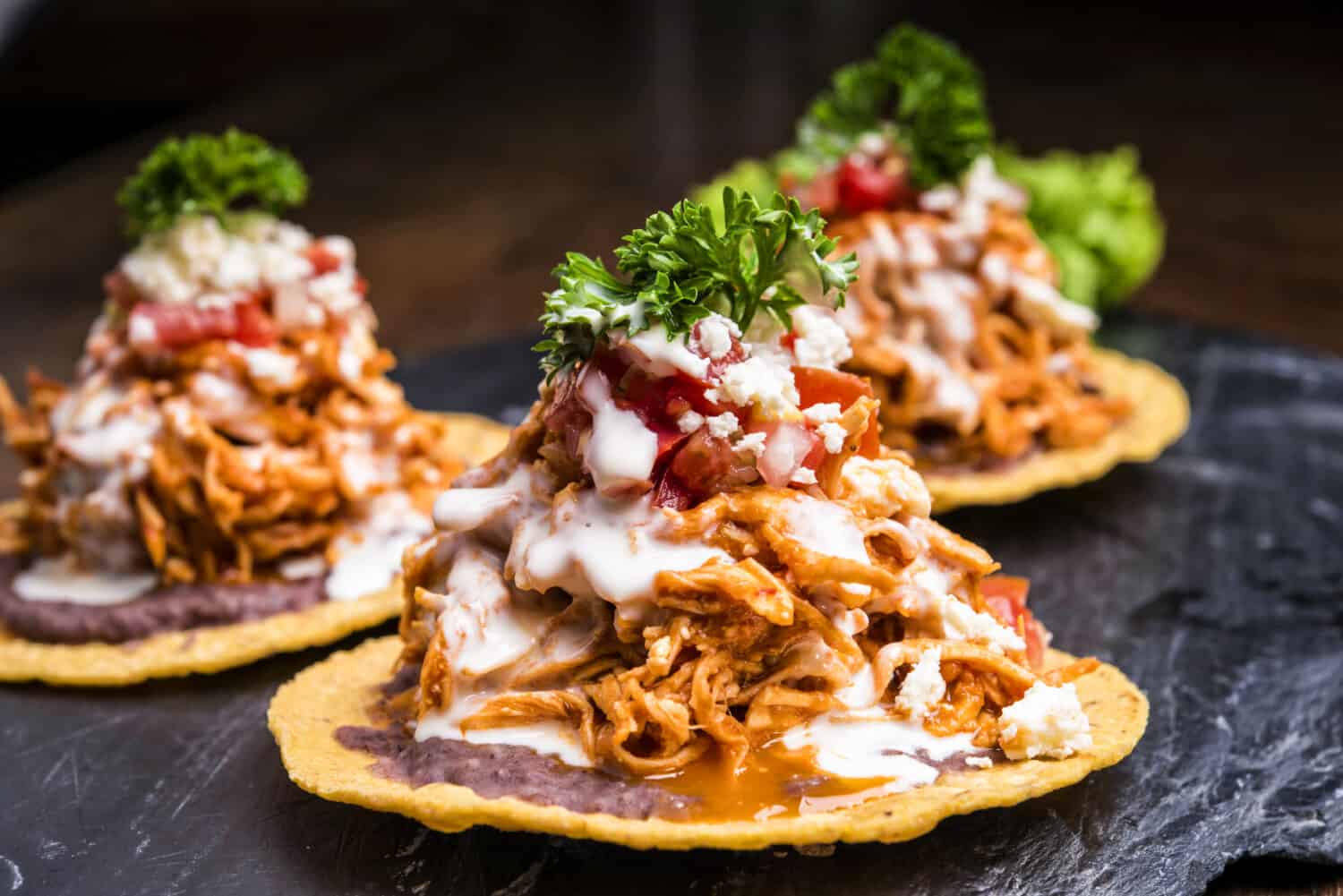 Enjoy seafood options like shrimp cocktails, quesadillas, or aguachiles. There's also shrimp tilapia broth with freshly chopped veggies. Try the tostadas de ceviche, tilapia with baked potatoes, and other seafood-based traditional dishes. They have an array of tacos, burritos, and quesadillas for customization, and be sure to save room for the desserts which feature items like Nutella chocolate cake, cheesecake, and gelatina de coco.
Tikka Spice
Marble Brewery, 111 Marble Ave NW, Albuquerque, NM 87102, USA /
Pacific Rim Food Park, 6901 San Antonio Drive NE, Albuquerque, NM 87109, USA / Civic Plaza, 1 Civic Plaza, Albuquerque, NM 87102, USA (on Fridays!)
Tikka Spice is a food cart whose chef was a James Beard semifinalist! This family-owned eatery on wheels combines the flavors of Pakistan cuisine with Indian ingredients, offering both New Mexican and American classics. Much of the menu is seasonally based, using local ingredinets and growers to provide the food they create. Start your Tikka Spice experience off with samosas, all of which come with red chutney, tamarind chutney, and cilantro-mint chutney ($7.42-$9.28). Try their chicken tikka or lahori fish tacos which come with all kinds of tasty toppings ($13.92-$15/3 tacos).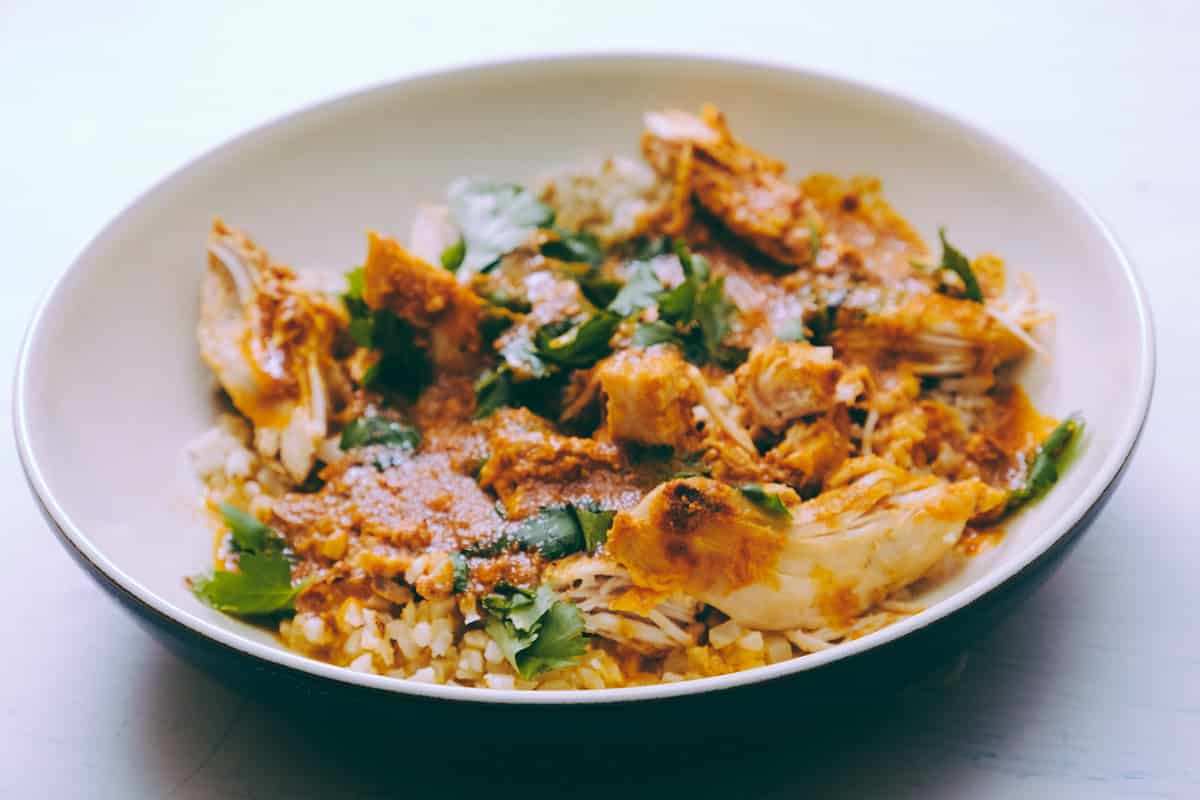 Curries feature a butter chicken bowl, or chana masala (both for $12.99). For fusion options check out the Duke City smash burger with hot green chiles, or the spicy chicken tikka sandwich with hot and sweet pickles on a local brioche bun ($12-$16). There's tikka fries, a cali burrito with chutney, samosas on a bun, and a "secret menu" featuring "the beast." For the true Tikka Spice experience, dig into a double burger with a chicken tikka patty, green chilies, a fried egg, spicy pickles, and crispy fries for $22.27. Happy eating!
Duran Central Pharmacy
1815 Central Ave NW, Albuquerque, NM 87104
Yes, you read that correctly. Duran Central Pharmacy is both a local pharmacy and one of the best places to eat in Albuquerque. First opened in 1942, this family business offers shopping, wellness, and authentic New Mexican fare. Converted from the soda fountain counter of the original pharmacy in the 1960s, it became a diner that is now known for its authentic red and green chile. They offer house-made tamales, burritos, hand-rolled tortillas, enchiladas, and burritos. Daily specials include tortilla soup, stuffed sopapillas, and a chicken tamale plate. They have vegetarian chile options available and can accommodate gluten-free diners as well. Next time you're in Albuquerque, head to this great spot!
Antiquity Restaurant
112 Romero St NW, Albuquerque, NM 87104
Specifically mentioned in Bon Apétit's "Where to Eat in Albuquerque," Antiquity Restaurant is a steakhouse with fresh seafood, fowl, veal, lamb, and other specials well worth a taste. Start with options like French onion soup ($8.95), stuffed or sautéed mushrooms ($11.95), escargot ($17.95), and beef carpaccio ($17.95). Seafood includes pan-seared crab cakes ($18.95), and shrimp cocktail ($19.95). Entrees feature flambéed chicken cashew ($28.95), salmon ($30.95), tenderloin ($32.95), and shrimp scampi ($33.95). Try their petit filet wrapped in bacon ($38.95), or a New York strip ($41.95), filet mignon (41.95), ribeye ($44.95), and chateaubriand for two ($85.95).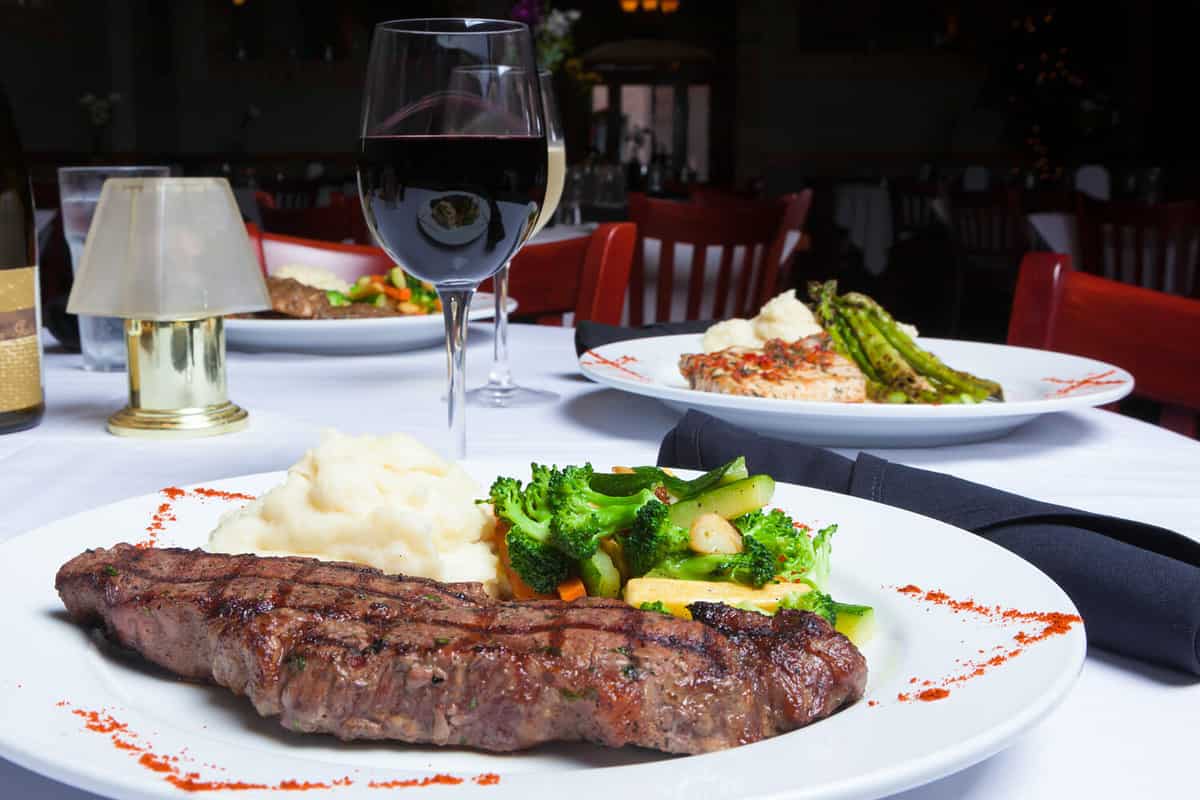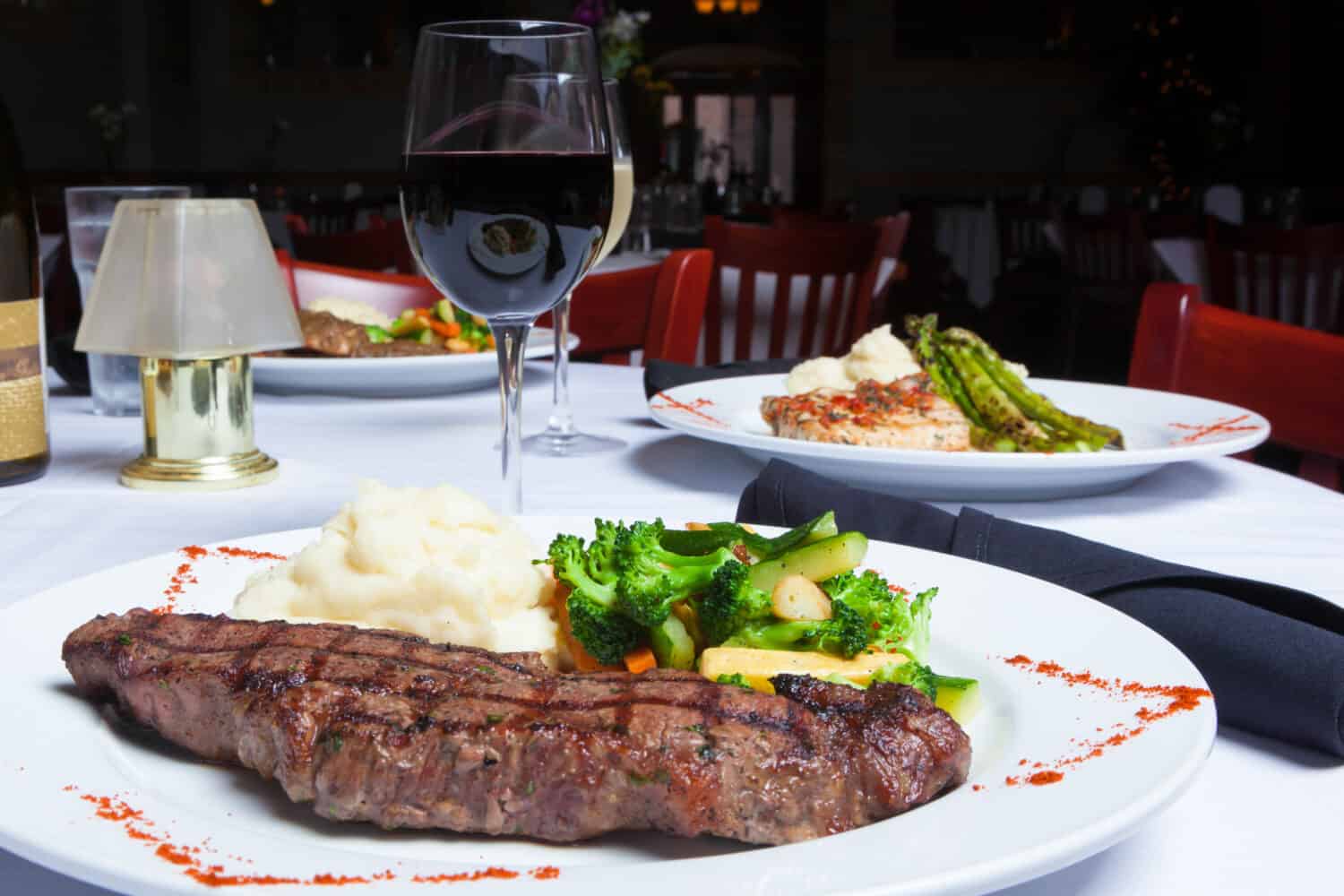 Lobster is served at market price. Save room for desserts like three cream crêpes, chocolate mousse, or crème brûlée. With desserts like that, no wonder this is one of the best places to eat in Albuquerque!
Campo at Los Poblanos Historic Inn & Organic Farm
4803 Rio Grande Blvd. N.W., Los Ranchos de Albuquerque,, NM 87107
Campo at Los Poblanos Historic Inn & Organic Farm is led by chef Jonathan Perno. Chef Perno has been nominated multiple times by the James Beard Foundation under the "best chef" category. This "casual" fine-dining experience combines seasonal organic ingredients with locally sourced fare. It showcases foods that are grown right in the Rio Grande Valley. Start with a house-made breadboard with red chile manteca ($6), or a "nosh" board of house-made charcuterie options ($20). There's seasonal soup ($12), potato salad ($10), crispy pork memela ($16), and sweet potato pierogis ($16), or ceviche ($18).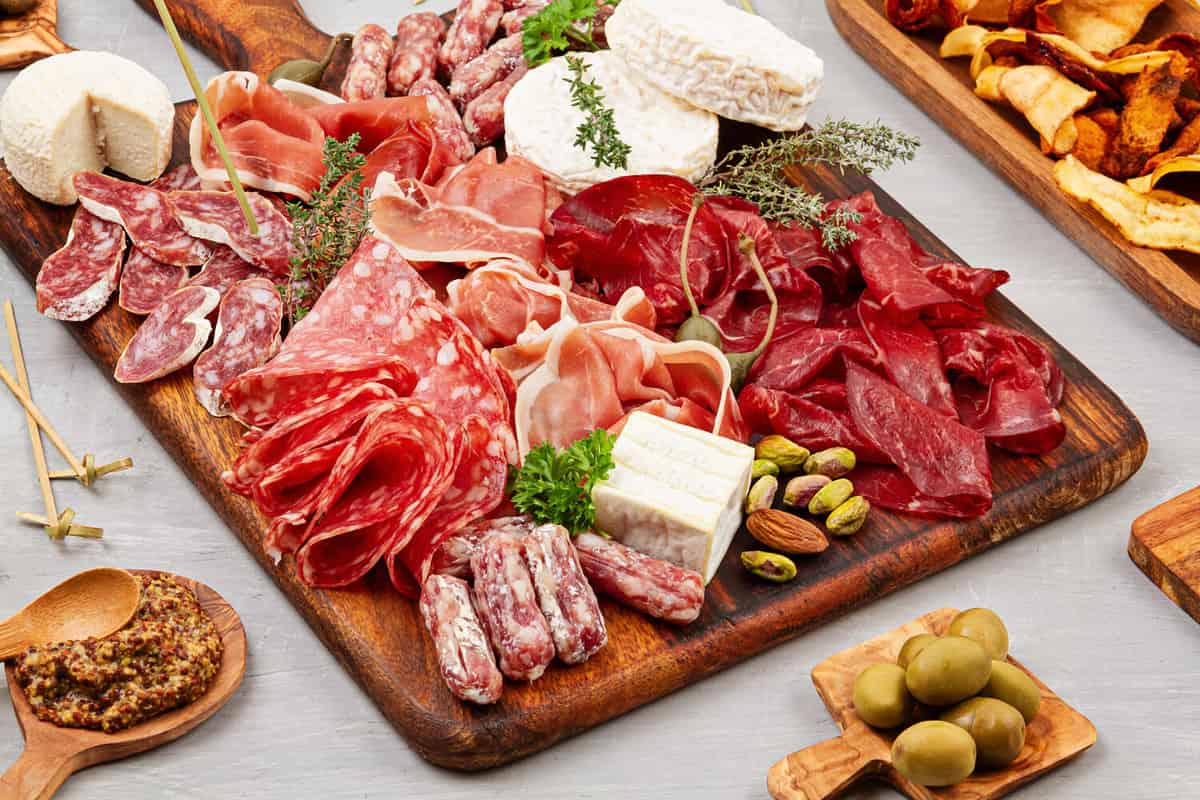 Enjoy fresh salads like lemon za'atar ($14), Pouilly fumé ($17), or a field salad with pickled beets ($14) and fresh tomatoes with basil ($12). Pastas feature carrot cavatelli ($30), roasted mushroom agnolotti ($30), and tomato leaf spaghetti ($30). For entrees, try braised lamb birria ($42), pork in red mole ($38), grilled New Mexican beef ($45/$65 depending on the cut), lavender duck breast ($38), or blistered tomato huarache with grilled squash ($32).
Mary & Tito's Cafe
2711 4th St NW, Albuquerque, NM 87107
Special mention goes to Mary & Tito's Cafe which was awarded the James Beard "America's Classics" in 2010. This gem of Albuquerque has been around since 1963 and serves its signature red chile alongside classic New Mexican cuisine. Enjoy classics like carne adovada ($8.20), Mexican pizza with refried beans ($7.20), red and green chile ($7.20), and Tito's special (refried beans, tortillas, and chile) ($5.75). There are beef and chicken tacos, all kinds of tostadas, and hand-rolled enchiladas. Try their carne or chicken flautas, or relleno dishes for ridiculously affordable prices. Daily specials include a beef combo plate, enchilada plates, huevos rancheros, guacamole salad, and chicharrones (all between $4.50-$8.25). Desserts feature Mexican wedding cake with crushed walnuts, pineapple, and cream cheese frosting ($3.75). On top of being one of the best places to eat in Albuquerque, it's also very affordable.
The image featured at the top of this post is ©OJUP/Shutterstock.com.