Mexican food is the best, from spicy birria to savory refried beans to perfectly seasoned tacos al pastor. It is one of those cuisines that people all over the world adore. From traditional dishes to Tex-Mex, there are some tasty but unfortunately unhealthy Mexican foods that you should know. Anyone who has spent any time in Mexico knows that Mexico is a huge country and the food from region to region varies, and the only way to get truly authentic Mexican food is to hop on a plane and head south of the border to start exploring the taco stands and ceviche bars to get the best the country has to offer.
Since many of us can't hop on a plane to explore Mexican food, a la Anthony Bourdain, the next best thing is to explore the Mexican restaurants near you and sample all of the amazing dishes they have to offer.
We love Mexican food and hate to admit that there are some unhealthy Mexican foods that we have to put the brakes on so we don't overindulge. We would never tell you to stay completely away from any dish, but you should be aware of some of the unhealthy Mexican foods you will find at your favorite Mexican place and give you some ideas of what to eat instead so you can satisfy your cravings but also keep from going off the rails with fried cheesy, crunchy goodness. 
10 Most Unhealthy Mexican Foods
You will find most of these foods in a typical Mexican restaurant across the U.S. Specific calories and serving sizes depend on each establishment, and we are assessing the overall dish, not a specific dish from specific restaurants or chains.
1. Supersized Smothered Burritos
Every Mexican restaurant offers some version of a smothered burrito. A smothered burrito starts with a large flour tortilla and is filled with cheese, meat, beans, rice, sour cream, guacamole and covered in a red or green sauce and even more melted cheese. This dish is often served with refried beans and rice. We are not going to lie; it's delicious. But all of those carbs are a lot for one person to process. The flour tortilla alone, depending on the size, can easily be 200 calories. The beans and rice are another carb overload.
The full-fat cheese and meat offer some protein, but they come at a high price of fat and extra sodium. And the sour cream and guacamole are just more fat. If you are lucky, they will serve it with a sprinkle of lettuce and fresh tomatoes, but those healthy goodies aren't enough to balance out this burrito. 
Instead, try a burrito bowl. Even if the restaurant doesn't have it on the menu, they can easily throw some of the insides of a burrito on a bed of lettuce and nix the sour cream and guacamole for fresh pico de gallo and avocado slices.
2. Chimichanga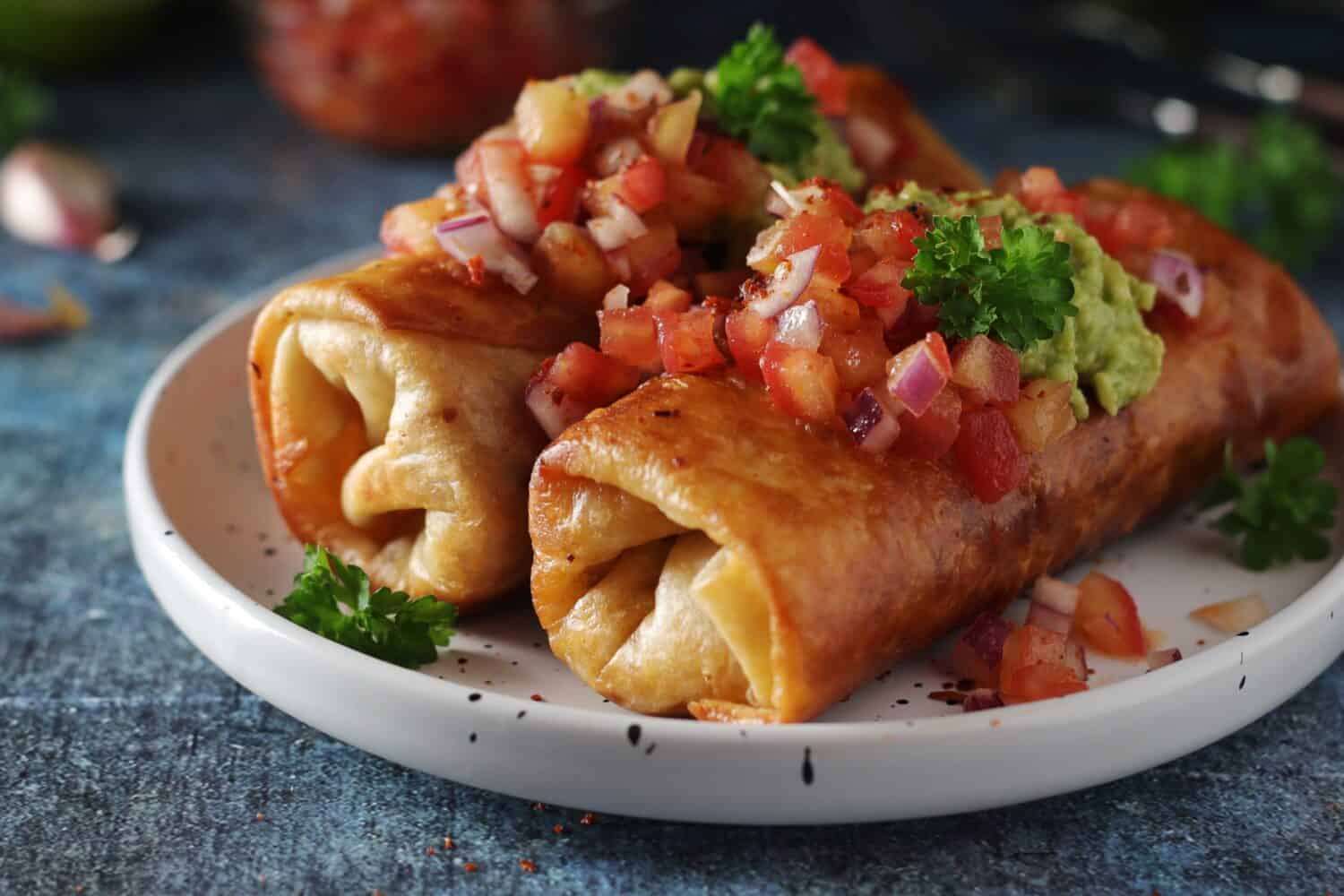 Chimichanga is a Tex-Mex favorite that is a staple on every Mexican restaurant menu. It is basically a large burrito filled with all of the same goodies as a smothered burrito, but instead of smothering it in sauce, it is deep-fried, creating a crunchy outer shell. It is a lot of calories and carbs wrapped in a deep-fried package. 
If you like that crunch but don't want the deep-fried experience, try a tostada. A tostada is a fried corn tortilla with the toppings layered on and served open-faced. You can get a choice of grilled chicken, pork, steak, or seafood served on a crunchy tostada.
3. Taco Salad
We know the word salad may fool some into thinking it's a healthy choice, but don't be fooled. A taco salad is usually served in a giant deep-fried taco bowl and layered with ground beef, iceberg lettuce, cheese, tomato, and olives, and topped with sour cream and guacamole. Unfortunately, iceberg lettuce doesn't offer much in terms of nutrition, and the cheese and sour cream add a lot of calories. But one option is to order it without the giant taco shell and swap out ground beef for grilled chicken or shrimp and skip the cheese and sour cream, or at least get them on the side. 
If you want to eat some veggies, then consider ordering fajitas. Fajitas are made with grilled peppers and onions with a grilled protein. You can choose corn tortillas rather than high-carb flour ones and get some avocado slices and pico de gallo on the side.
4. Chili Rellenos
Chilie rellenos are poblano peppers that are filled with cheese and other fillings, then given a bath in egg wash and deep fried. They are served smothered with sauce and cheese with rice and beans on the side. They are tasty, and if you have never had one, you should definitely try one, but maybe share it with a friend because it has a lot of calories. But since it is one of the Mexican dishes that isn't too common to make at home, you might want to try it once but then save it for special occasions because it packs a lot of calories and fat.
5. Queso
Queso is another Tex-Mex staple that is a version of queso fundido. It is basically melted cheese served as a dip with tortilla chips or tortillas. Sometimes, it's served with chorizo or peppers mixed in. In Texas, queso is a hot topic. Texans love their queso, and they should because it's melty, gooey perfection. But in its essence, it's a hot mess for anyone trying to watch their diet.
6. Chilaquiles
In Mexico, chilaquiles are served for breakfast. And for some, it's the only breakfast that cures the dreaded cruda or hangover. The dish is fairly simple: it's a pile of fried tortilla chips covered in either green or red sauce served with either shredded chicken or a fried egg on top and a bit of crumbled queso fresco. You could think of it like a plate of breakfast nachos. Unfortunately, it is not the breakfast of champions, and after a plate of chilaquiles for breakfast, you will most likely be the champion of your couch. We suggest you stick to breakfast tacos or order huevos a la mexicana, which are scrambled eggs with tomatoes, onion, and jalapenos.
7. Refried Beans
Every single Mexican restaurant serves refried beans. Now, you may be surprised to find them on a list of unhealthy Mexican foods because beans are a great source of healthy protein and carbs, but usually, refried beans are mixed with lard. The lard helps them get their texture but also makes them an unhealthy option. Luckily, many restaurants also offer whole beans. If you have the option, ask for whole black beans or pinto beans instead of refried beans. According to Healthline, one cup of whole black and pinot beans has 15 grams of protein. 
Healthy Mexican Foods
Don't be sad. Just because there are some Mexican foods that you should limit doesn't mean you have to give up the cuisine completely. There are a lot of healthy options, and here are a few of our favorites.
1. Ceviche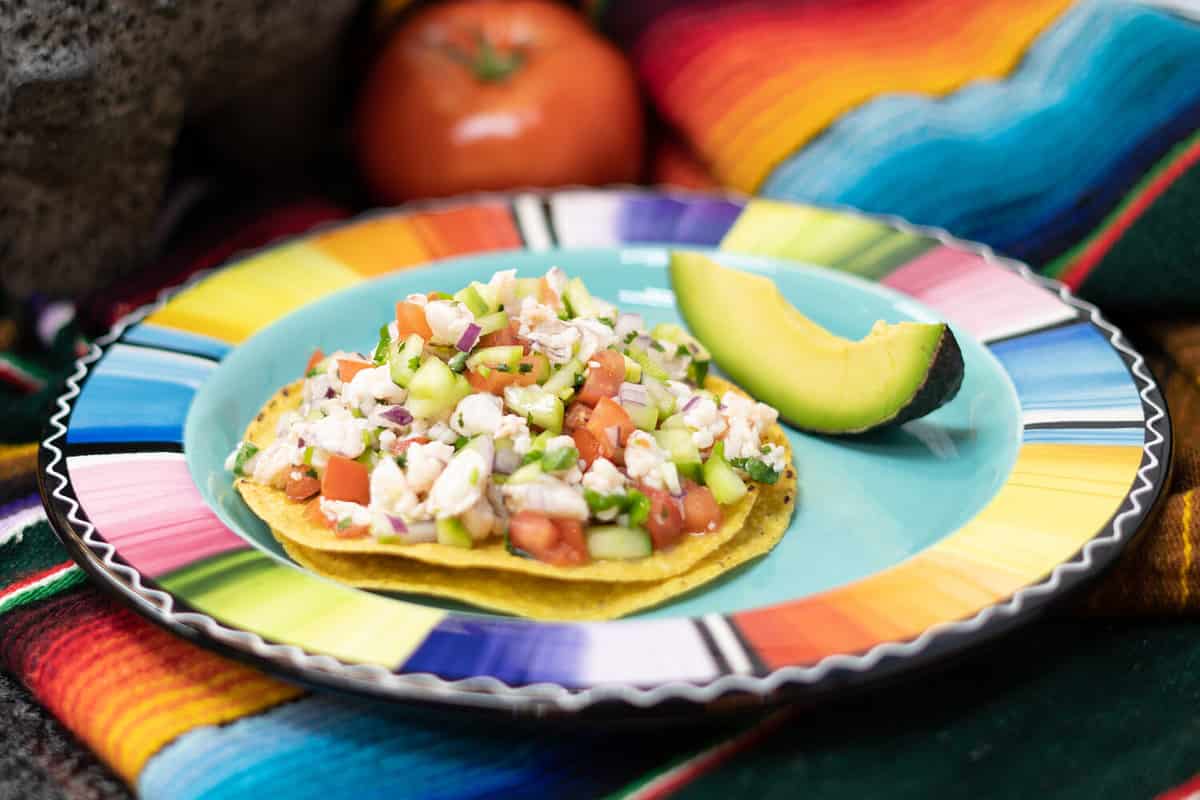 Fresh ceviche is made with fresh shrimp or seafood marinated in lime juice. It's often served as an appetizer and has a tangy, zippy taste. Traditionally, the lime juice "cooks" the fish, but many restaurants use steamed fish instead of raw for food safety. There are a lot of variations on ceviche, and some recipes use a mix of fish and shrimp, while others add in oysters, octopus, and crab. If you love to cook and entertain, we suggest learning how to make ceviche because it is a crowd-pleasing appetizer that is healthy, too.
2. Pozole
Steaming hot pozole is a Mexican soup made with either pork or chicken. It can be green or red, but the thing that makes the dish is the hominy or large corn kernels. It is served hot with sliced radishes, cabbage, onions, and avocado for each diner to add on top of their bowl. It's healthy and hearty and a great choice on a cold day when you are dreaming of a Mexican vacation.
3. Tacos
Classic tacos are always a solid choice. The way to keep it light is to order off the side dishes and get corn tortillas rather than flour. And choose grilled chicken, steak, or shrimp. Traditional tacos are served with chopped onions, cilantro, and lime wedges. Or try tacos al pastor, which is marinated pork topped with small chunks of pineapple.
4. Carne Asada
Grilled steak is a great choice. It's high in protein and low in fat and filling. Just skip the rice and beans and ask for a salad or whole beans as sides. And if you have a grill at home, try making your own carne asada at the next barbecue.
The beautiful country of Mexico has given the world many gifts, from actors like Gael Garcia Bernal and Salma Hayek to artists like Frida Kahlo and Guillermo del Toro to the rich culture of mariachi, danza folklorico, and lucha libre. But the best gift is the cuisine. Life is short, and we encourage you to try all of the dishes. Just be mindful of what you eat to stay on track with a healthy diet; your body will thank you for it.
The image featured at the top of this post is ©Larisa Blinova/Shutterstock.com.