Let's taco 'bout something seriously saucy today – a truly epic face-off between enchiladas and chimichangas! We're diving into the world of scrumptious Mexican-American cuisine, where tortillas, sauces, salsas, fillings, and flavors collide. We'll dig into the different flavor profiles of each, the nutritional properties including which dish is healthier, and substitution options for nights when you're only prepared-ish to make dinner.
Are Enchiladas and Chimichangas the Same Thing?
While enchiladas and chimichangas are both firmyl rooted in the history of Mexican cuisine, they are very distinct dishes. Think of enchiladas as the cool, saucy cousin who's all about the flavor infusion. On the flip side, chimichangas are the crispy, crunchy sibling to the burrito with a love for deep-fried indulgence. All of this to say: chimichangas are rolled and fried, while enchiladas are rolled and baked. But the differences don't stop there.
Enchiladas: Sauced, Slathered, and Straight from the Oven
Imagine this: soft corn (or flour) tortillas, wrapped around a tantalizing filling of shredded meats, beans, rice, and veggies. Now, tuck it in, all cozied up in a blanket of rich, flavorful sauce. That's an enchilada dinner for you! While the mis en place for the dish can call for a million tiny prep dishes, these are essentially a one-dish baked dinner where a little work goes a long way toward feeding everyone at your table. They're like a culinary hug that's baked to perfection.
Chimichangas: Crunchy Cousin to the Burrito
Chimichangas, on the other hand, are here to add some crunch to your munch. Imagine making a tortilla loaded with a mouthwatering filling, rolled up like a burrito's stylish cousin, and then deep-fried until it's golden and irresistibly crispy. Magic, you say? We tend to agree with you. The filling options are virtually endless, and you can serve them up with sour cream, queso, salsa, salad, or whatever else tickles your fancy.
Nutritional Differences: Are Enchiladas or Chimichangas Healthier for You?
Let's taco 'bout the nutrition nitty-gritty because making informed choices can be a game-changer for our health. Which dish is healthier for you? The most straightforward answer is the enchilada because it's not deep-fried. But it's more nuanced than that, as each dish is endlessly customizable, and all those little variables add and subtract significantly to the overall nutritional value of the recipe.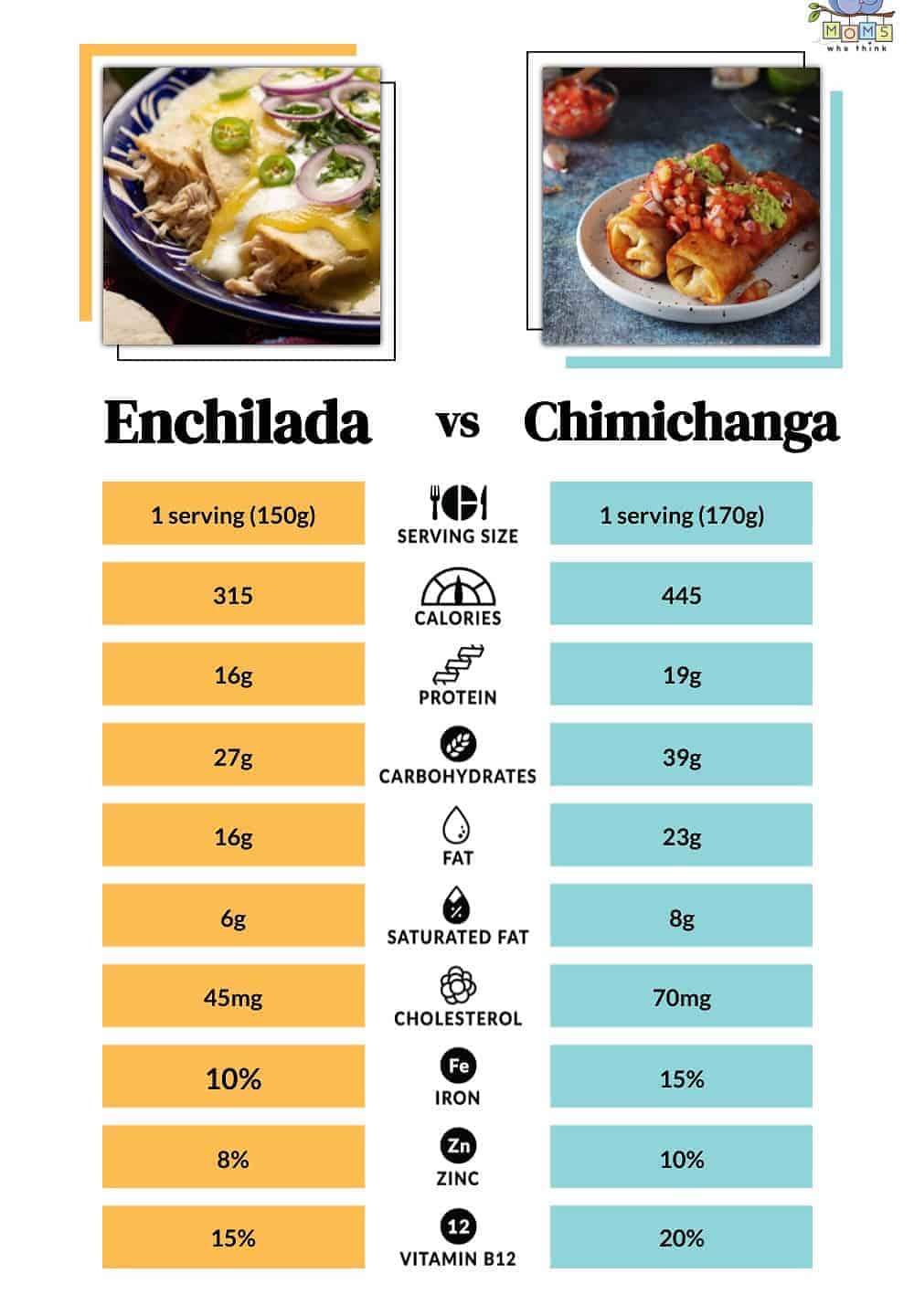 Enchiladas: Healthy Fillings with Sensational Sauces
We get the non-confrontatinoal appeal of flour tortillas. They're stretchy, they steam well, they can take a saucing without going all to pieces. But using corn tortillas in enchiladas are like inviting the friendly fiber fairies – they keep your digestion dancing and hunger at bay.
Opt for lean proteins like grilled chicken or beans as your filling – they'll give you that satisfying "yum" without the extra "yikes."
Watch the cheese and cream toppings – a little goes a long way in making your taste buds happy. If you really need that creamy mouth-feel, dial down your cheese and other dairy-based components and punch up the avocado (looking at you, guacamole) and beans, which bring healthy fats, fiber, slow carbs, and protein to the party.
Chimichangas: A Deep-Fried Delight
If chimichangas were in a popularity contest, they'd probably win the crispy, golden crown! But the reality is that deep-frying anything adds unhealthy calories and fats, and destroys the nutritional value of the dish's healthier components. As an occasional indulgence, they're the clear winner. But as a weekly dinner? They really don't serve your family when compared with some of the other fresh, flavorful food options that Tex-Mex cuisine has to offer.
Modern cooking technology really does want to save us all. Thanks to the marvel of air-frying you can consider giving your chimichangas the 20th Century treatment of popping them into your favorite countertop cooker. If you're more of a traditionalist or cannot figure out how to work your air fryer (like me), you can also bake them in your plain old standard-issue oven. Think of it as giving them a makeover without compromising their crunchy charm.
How Do You Make Enchiladas and Chimichangas Healthier?
Giving these dishes a health glow-up is pretty straightforward. As long as you aren't concerned with culinary or cultural authenticity, these modifications will get you back within the caloric and nutritional ranges that your doctor will approve of.
How to Make Enchiladas Healthier
Whole Wheat Tortillas: Swap the regular tortillas for whole wheat versions – they bring fiber and more complex, earthy flavors to the party.
Veggie-licious Fillings: Load up on veggies as fillings – they say to "eat the rainbow," and bulking your wraps up with veggies adds color, crunch, and nutrients to your dish.
Lighter Sauces: Opt for tomato-based or fresh salsa sauces instead of heavy cream or queso-based options. The flavors are brighter, they often contain an acid of some sort, and you can sneak super-health herbs into them as well.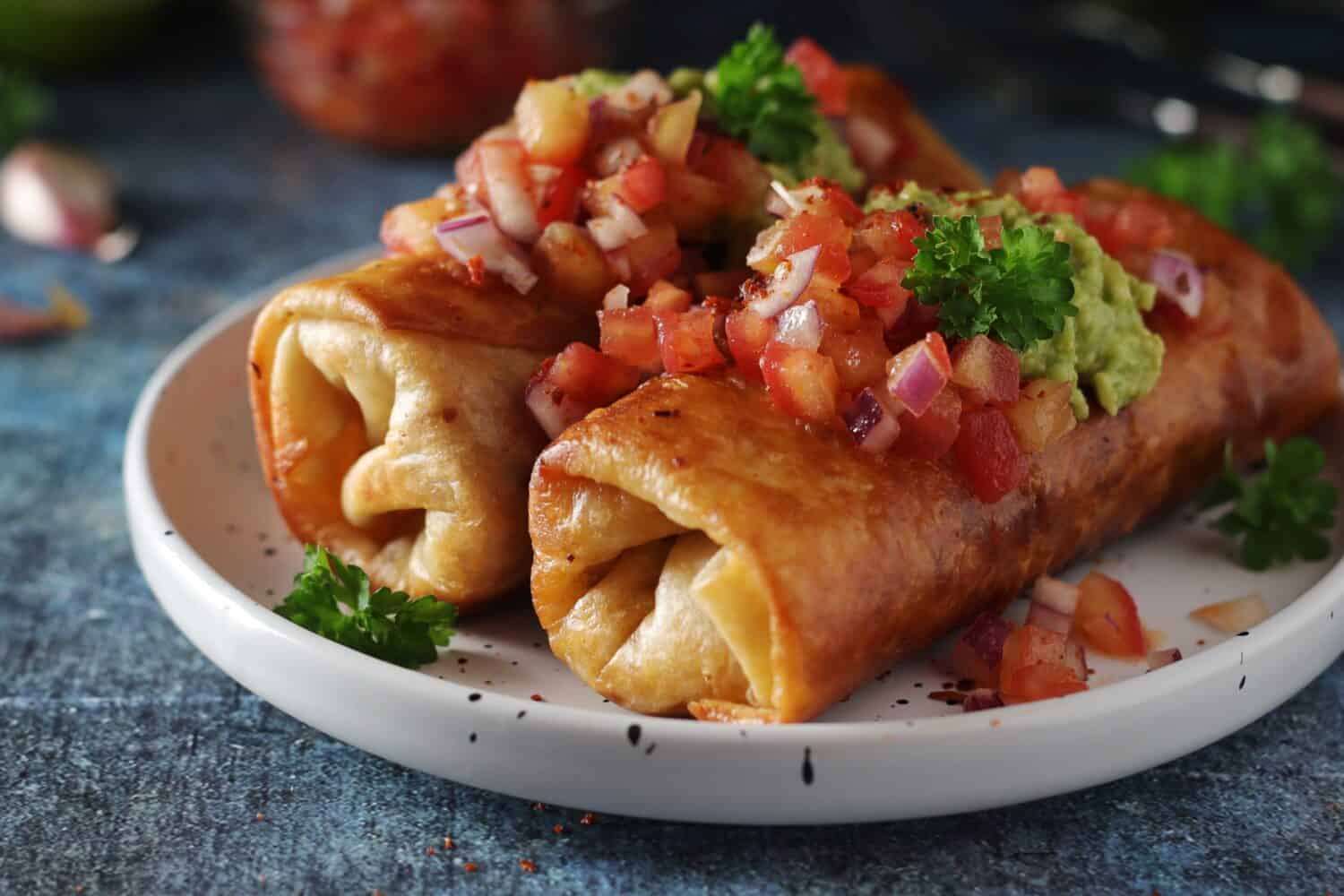 How to Make Chimichangas Healthier
Choose Lean Proteins: Whether it's chicken, turkey, or tofu, lean proteins keep the flavor high and the calorie count low, so the total caloric impact of the chimichanga is a little more balanced.
Pile on the Veggies: Give your chimichanga that extra oomph with veggies like bell peppers, onions, and spinach. Double down on this by adding the flavorful, fresh salsas we talked about above.
Baking Magic: Like we said before, you can transform your chimichangas with a bake instead of a fry. Even air-frying offers you the same crunchy texture you know and love without the added nutritional hit that deep-frying brings.
Can Enchiladas and Chimichangas Be Substituted for Each Other?
These two dishes can seamlessly switch in and out with one another; it just takes a little finesse. Keeping in mind the variances in nutritional value, dial your healthy fillings up (or down) depending on your personal preference.
Substitutions for Enchiladas
Enchilada Casserole: Imagine the delicious love child of enchiladas and lasagna. You'd have layers of tortillas, filling, and sauce baked together. Adorned with the cheese and salsa of your choice, we're willing to bet this would be a fast family favorite.
Enchilada Bowls: Who needs a tortilla when you can toss the enchilada goodness into a bowl? Top it with fresh veggies, avocado, and a spoonful of yogurt, queso fresco, or sour cream for that zing.
Substitutions for Chimichangas
Baked Chimichangas: Look, we know we're hitting this point pretty hard, but we really want to drive home the fact that this one simple swap means less guilt and more pleasure. They might not be as flaky and crispy (because some magic is exclusive to a dip in a vat of hot fry oil), but they're still a crunch-worthy delight.
Burritos: If chimichangas are the wild child in the family, burritos would be the sensible cousins. Again, this substitution makes the whole dish healthier, something we know you value.
Other Substitution Options for Enchiladas and Chimichangas
The fiesta is far from over. Here are a few more culinary creations from the Mexican menu that will satisfy your cravings if enchiladas and chimichangas aren't hitting the spot:
Tacos are versatile, crunchy, customizable, and utterly delicious. Stuff 'em with anything from beans to fish, and let the flavor fiesta begin!
Quesadillas are effortlessly cheesy and oh-so-tasty. They're a fan-favorite for a reason. Fill 'em with cheese, chicken, or even roasted veggies, and watch the melty magic happen. Don't forget to punch them up with some bright, fresh dipping sauces like salsa, hot sauce, or guacamole.
Tostadas are like tiny edible canvases, waiting for you to create your masterpiece. Top those crispy tortillas with refried beans, avocado, and a splash of salsa for a flavor explosion. Don't foget the cheese, hot sauce, and raw shaved onion — or, better yet, pickled red onion.
Best Enchilada Recipes
Best Chimichanga Recipes
Print
Baked Chicken Chimichanga
---
6 tablespoons olive oil, divided
3 pounds chicken breast, cut into bite-size pieces
1 teaspoon salt
1 teaspoon ground black pepper
1 cup onions, diced
1 cup green bell pepper, diced
2 teaspoons ground cumin
1 teaspoon cayenne red pepper
1 teaspoon dried oregano
1 cup thick and chunky salsa (medium or mild)
16 (8 inch) flour tortillas
4 cups four cheese Mexican shredded cheese
---
Instructions
1. In a large skillet with 4 tablespoons olive oil, brown the chicken on medium high heat until no longer pink. Season the chicken with salt and pepper. Place the cooked chicken in a bowl, set aside.
2. Reduce the heat to medium and add 2 tablespoons of the olive oil to the skillet. Sauté the onion, green pepper, cumin, cayenne pepper, and oregano until tender. Add the chicken back to the pan and cook until heated through, stirring often. Stir in the salsa and heat for one minute. Set the pan aside.
3. Divide the chicken mixture evenly between 2 one-quart freezer bags; seal and set aside. Place 8 flour tortillas into 2 one-quart freezer bags; set aside. Divide cheese evenly between 2 one-quart freezer bags. Place one bag chicken mixture, one bag tortillas, and one bag of cheese into each of the one-gallon freezer bags.
To Serve:
1. Remove one entrée from the freezer and place in the refrigerator to thaw completely.
2. Preheat the oven to 400°F. Spray a large sheet pan with nonstick spray; set aside.
3. For each chimichanga, place ½ cup of the chicken mixture in the center of the tortilla. Sprinkle ¼ cup of the cheese on top. Fold in the opposite sides of the tortilla over the chicken mixture. Roll up the tortilla, enclosing the mixture, and place it seam-side down on the sheet pan. Make the rest of the Chimichangas and place them on the sheet pan. Spray the tops of the Chimichangas with nonstick spray. Bake 10 minutes. Serve with sour cream.
You've just unlocked the delicious secrets behind enchiladas and chimichangas – the saucy versus the crispy, the oven versus the fryer versus the air fryer. Remember, it's all about balance. Like Oscar Wilde, we believe in everything in moderation… especially moderation.
The image featured at the top of this post is ©A-Z-Animals.com/Mallory Viscardi.