If you're looking for a tasty Mexican dish for your dinner, there's always a good chance that you're going to choose between a quesadilla and an enchilada, but what's the difference? While they are different dishes, the main difference between enchilada and quesadilla is that the enchilada is a more elaborate dish that's covered with special sauce while the quesadilla is a tortilla with cheese inside that has a simple execution. Let's discover more about the epic debate of enchilada vs. quesadilla.
Enchilada vs. Quesadilla: What are the Differences?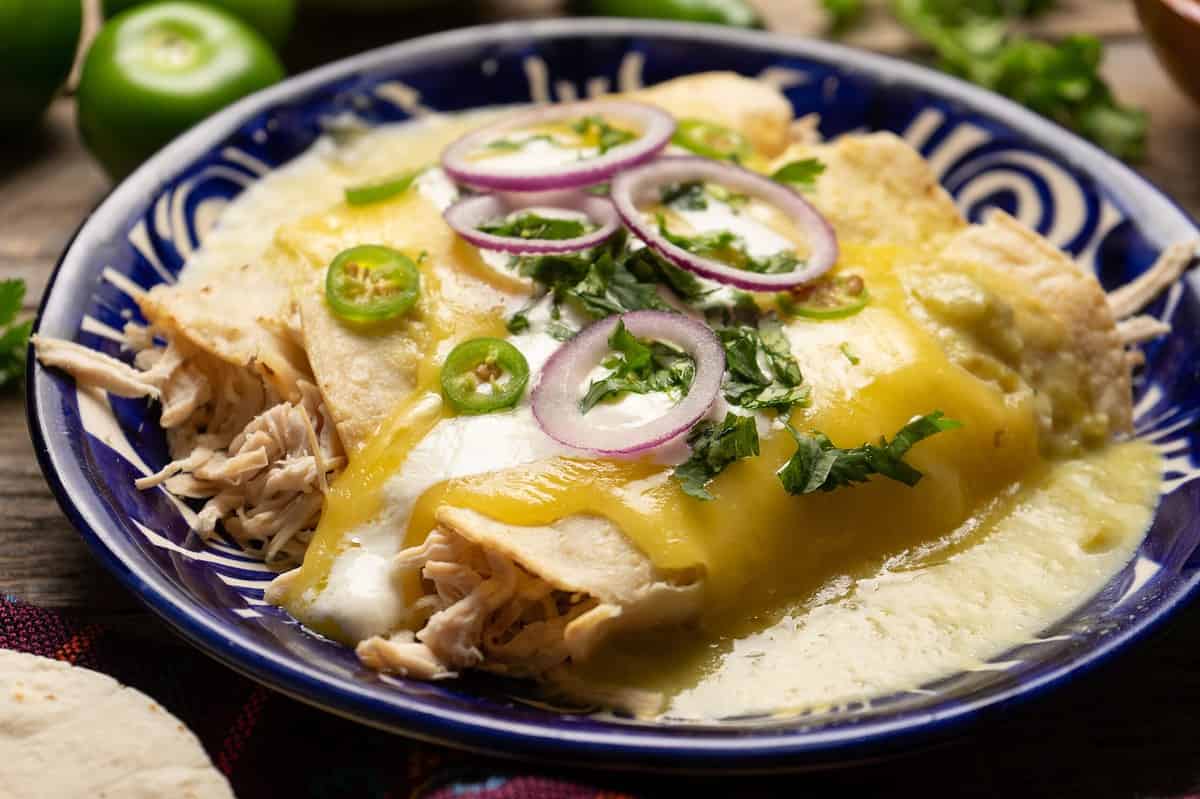 While there are several differences in the battle of enchilada vs. quesadilla, there are also some similarities and a somewhat similar flavor profile. To best understand what makes both of these meals unique, we should start with a description of each.
What is an Enchilada?
When you break it down, an enchilada is a baked tortilla that's stuffed with meat and cheese. It's then topped with more melted cheese and a tasty enchilada sauce. While the basic enchilada has cheese inside, you can pair it with any kind of meat, from pork to steak to chicken. You can also fill your enchilada with any type of beans, or you can just go with healthy vegetables.
One of the main things that defines an enchilada is the enchilada sauce that you put on top. This sauce can be made out of a combination of ingredients. You could use a cheese-based sauce, a red chili-based sauce, or anything in between.
A general recipe to prepare enchilada sauce goes as follows:
Add flour and oil into a small saucepan and then whisk in your desired spices.
On the side, prepare a stock of chicken or vegetables.
Pour the stock into the saucepan while whisking the sauce and get rid of lumps in the mix.
Bring the sauce to a simmer for 10-15 minutes or until it reaches your desired thickness.
Season it with salt.
Serve it over the enchiladas.
What is a Quesadilla?
Often referred to as the Mexican cheese toastie, what we typically call the quesadilla is a simple dish that can be made with a variety of ingredients. However, technically, all you need is cheese and a few tortillas. In many cases, it's queso menonita or Chihuahua cheese that's preferred. However, any cheese will do.
The creation of the quesadilla is completed by covering a tortilla in a lot of cheese. Then, you fold the tortilla in half to create a sandwich. Finally, you grill the tortilla to melt the cheese and give it those classic grill marks. You can stick with only cheese, or you can add other elements inside the quesadilla, including chicken, steak, pork, beans, vegetables, and more.
Core Differences
There are some notable differences in the debate of enchilada vs. quesadilla, with one of them being how many ingredients need to be included to make either a complete dish. Traditionally, enchiladas have more than one ingredient that makes up the filling. However, quesadillas taste great with just cheese, and they're typically made that way.
Another difference is the strength of the tortilla necessary to create each dish. Quesadillas are usually thin, and they can use a basic tortilla as long as it can stay crispy when grilled. By nature, enchiladas need to be tougher because they may buckle under the pressure of the enchilada sauce. That's why enchiladas typically use corn tortillas.
Then there's the topic of sauce. A big part of what makes an enchilada really become an enchilada is the sauce that's used as a bath of sorts while they cook. It's also poured on the enchiladas afterward. The sauce is part of its identity. On the other hand, quesadillas do not require sauce as part of the recipe. Of course, they do taste great when dipped in salsa or queso.
That brings us to another difference, and that's how flavorful each dish is. While it's a matter of opinion, enchiladas are often more flavorful because of the ingredients and the sauce. Most of the flavor comes from the cheese inside, so it has to be very tasty.
Finally, since enchiladas can be so large and filling, they're typically considered a family meal that can be served to a hungry table. On the other hand, quesadillas are often a more simple dish that is typically made for only one person.
Enchilada vs. Quesadilla: Similarities
Although they are technically completely different dishes, there are some similarities between enchiladas and quesadillas. One of them is that both dishes have plenty of cheese involved. Typically the star of a quesadilla is the cheese, and the enchilada has cheese inside and outside. The more cheese that you add to both dishes, the better.
Another similarity is that either dish can use an almost unlimited number of ingredients inside, so they're both very flexible dishes that you can personalize to your taste. Both enchiladas and quesadillas can be filled with meat, cheese, and vegetables. You can also get creative by adding fried foods, onions, or anything else your imagination can conjure.
Finally, both dishes are considered to be staples of Mexican cuisine, and they have become quite popular in other countries around the world. You will find both of these dishes on any menu in a Mexican restaurant around the nation, and wherever you order, they're typically cooked to perfection.
Enchilada vs. Quesadilla: Nutritional Value
A comparable serving size is one quesadilla to two enchiladas. When you compare the two, you'll see that the quesadilla typically has more calories, carbs, and higher fat content. However, the quesadilla does have the edge when it comes to some of the healthy elements, like having more iron, zinc, and vitamin D. Here is a side-by-side comparison of both dishes: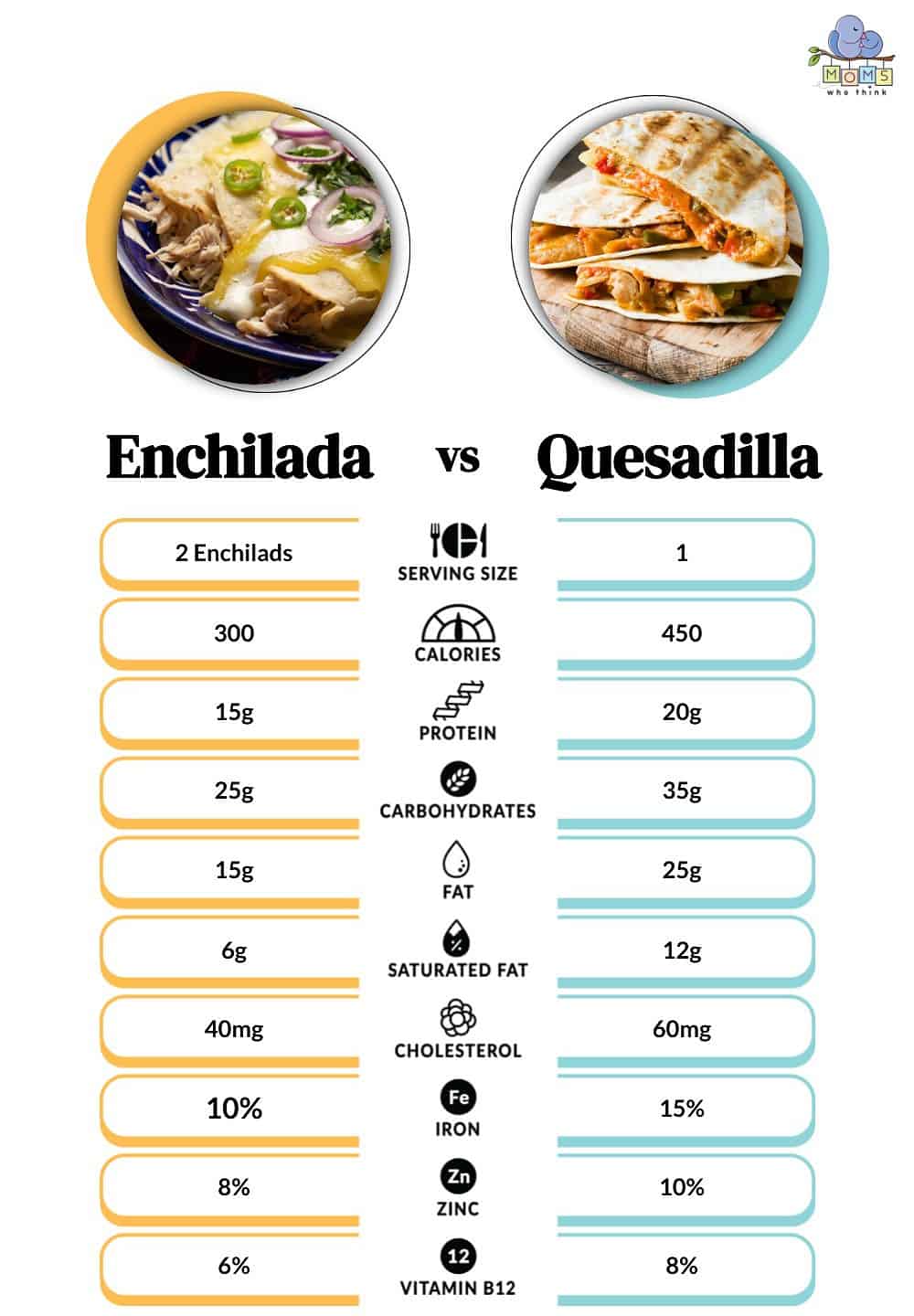 Enchilada Recipes
Although enchiladas can be a simple dish, there's a ton of tasty recipes that can bring it to a new level. Here are some of our favorite recipes:
Print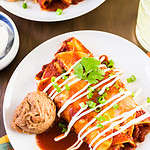 Chicken and Veggie Enchilada
---
1 pound boneless, skinless chicken breast, diced small
Salt and pepper, to taste
1 tablespoon olive oil
1 cup sliced mushrooms
1 clove garlic, minced
Zest, minced and juice of 1 lemon
1 teaspoon ground cumin
1 teaspoon ground coriander
3 cups (5 ounces) baby spinach, washed
4 scallions, diced (green and white parts)
1 (7 ounce) can diced green chiles
½ cup light sour cream
2 cups shredded Monterey Jack cheese, divided
1 (28 ounce) can red enchilada sauce
8 (10 inch) whole wheat flour tortillas
Whole black olives, optional
Chopped fresh cilantro
---
Instructions
1. Season chicken with salt and pepper. Heat oil in a large skillet over medium heat.  Add chicken and cook for 3 minutes, stirring often, to brown.
2. Add mushrooms and cook, stirring often, for 2 minutes. Cover and let cook until mushrooms start to soften.
3. Add garlic, lemon zest and juice, spices, and spinach. Stir thoroughly. Cover with lid and cook until spinach starts to wilt. Stir well and check chicken for doneness; it should be cooked through.
4. Transfer chicken mixture to a large mixing bowl. Add scallions, sour cream, and 1 cup cheese, stirring to combine. Set aside.
5. Preheat oven to 375°F. Spray an 11×17-inch baking dish with nonstick cooking spray and set aside.
6. Pour enchilada sauce into a large skillet over medium-low heat.
7. When sauce is warm, dip both sides of a tortilla into sauce, allowing excess to drip off. Place tortilla against the short side of the baking dish and fill with chicken mixture. Roll tortilla around filling, tucking in edges and arranging it seam-side down. Repeat with remaining tortillas and filling.
8. Pour remaining warm sauce over enchiladas. Sprinkle with remaining cheese. Spray a large piece of foil with nonstick cooking spray and use it to cover baking dish with the sprayed side down to keep cheese from sticking to it.
9. Bake for 20 to 25 minutes or until the sauce is bubbling. Remove foil and cook 10 minutes more to lightly brown cheese. Remove from oven and serve immediately with olives and cilantro.
Quesadilla Recipes
Quesadillas don't need a ton of ingredients, but there are several ways to elevate the dish. These are our favorites:
Similar Dishes to Try
If you've tried enchiladas and quesadillas and you love them both so much that you're eager to try other similar Mexican dishes to serve your hungry family, then you have many options. Here are a few similar dishes to consider:
Chilaquiles – This is a traditional breakfast dish that's often stuffed with avocados, onions, and fresh cheese.
Enfrijoladas – These are technically a form of enchilada and they're typically filled and topped with refried beans.
Taco – Make them hard or soft-shelled and add your choice of fillings. Start with pork, chicken, or steak, then add lettuce, salsa, guacamole, or whatever you want.
Elotes – It's a popular Mexican street food that's really just boiled corn on a cob that's then covered with butter, chili powder, garlic, mayonnaise, and more.
Chalupa – They are corn tortillas fried in oil, and then they're topped with green or red salsa. They're typically always covered with chopped onions.
Conclusion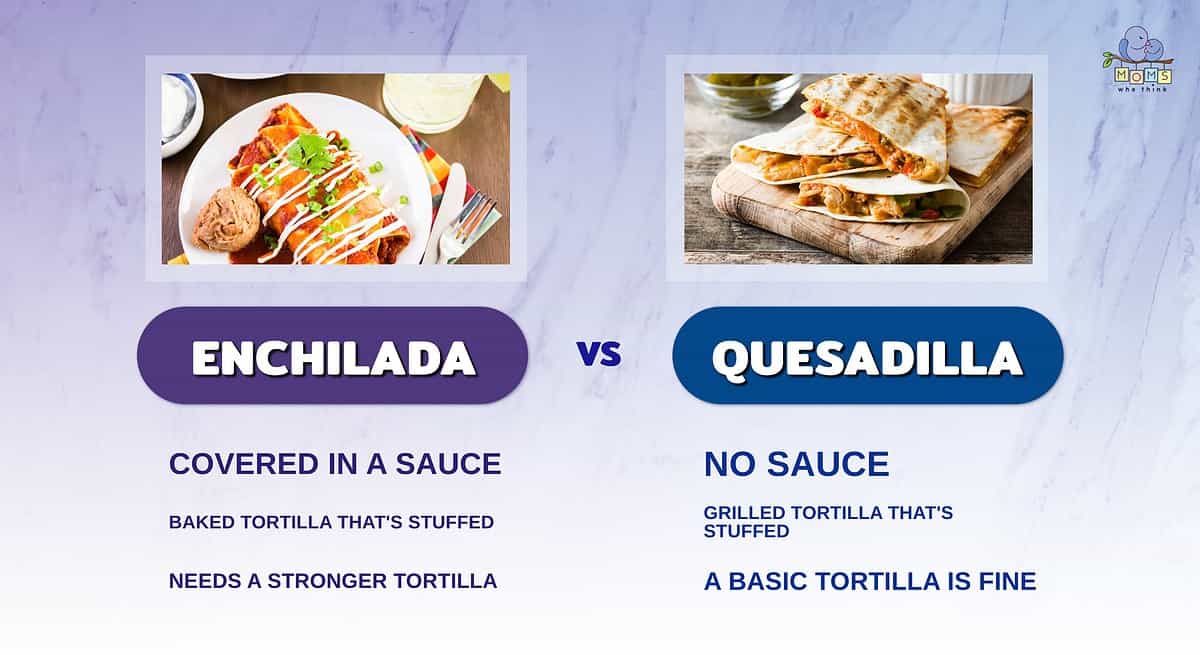 An enchilada is covered with a sauce; the sauce is a core component of the dish. Quesadillas, meanwhile, do not have a sauce on top. They may be dipped in salsa or another dipping sauce.
Both enchiladas and quesadillas are stuffed with ingredients like meat and cheese. The difference here is in the cooking method; enchiladas are baked, while quesadillas are grilled.
Because of the sauce that's poured on top, enchiladas require a strong tortilla. Quesadillas can be made with pretty much any type of tortilla.
These are the main differences and similarities in the debate of enchilada vs. quesadilla. There are no losers in this battle as they are both delicious meals that will satisfy your family. They offer a flavor pop, and they can be prepared in a variety of delicious ways, so make one for dinner tonight.