It's easy to see why people get confused about the differences between flautas vs. taquitos because they look really similar and can even have the same fillings. However, if you know what you're looking for, there are some differentiations that set these traditional Mexican dishes apart. Firstly, while the two may appear the same, flautas are typically longer because they're made with larger tortillas. When comparing flautas vs. taquitos, the differences come down to their size, shape, and the type of tortilla used, which impacts their nutritional profile. After this, never again will you confuse these two traditional dipping dishes. Even though flautas and taquitos may appear similar, you'll know exactly what to look for.
In this post, you'll learn about the history of these two dishes and how they got to where they are. We'll discuss some recipe variations, mostly in terms of filling and frying, and you'll be sure to get some inspiration. Read on to get a better idea of how they compare from a nutritional standpoint, and learn how to better customize a recipe to fit any dietary needs. Let's go!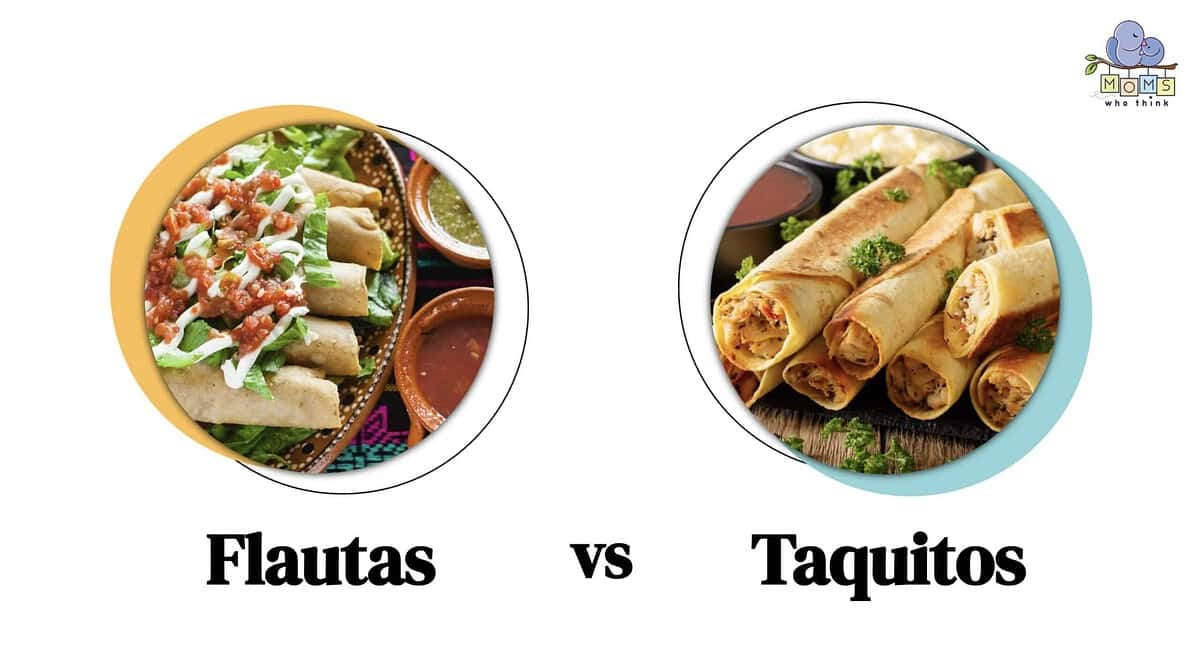 Flauta vs. Taquito: What Is the difference?
The differences between flautas vs. taquitos come down to what kind and what size of tortilla is used and how the recipe affects the nutritional content of the particular dish. While flautas can be made with flour and corn tortillas, taquitos are generally made specifically with corn. Corn tortillas, which are made with whole grain, and therefore deliver more nutrition in terms of fiber and fewer calories than flour.
What Is a Flauta?
The term "flauta" translates to "flute," which is exactly what this deep-fried dish could be mistaken for. However, it is no wind instrument. You'll find that flautas are flour or corn tortillas rolled around a traditional protein filling and deep fried. It is served with tasty salsas and dipping sauces. Classic fillings include shredded chicken, beef, veggies, cheese, fish, and shrimp. They are usually served with guacamole, sour cream, and an array of salsas or fresh cheese as a topping. They make an excellent appetizer or a main dish if they're served with the right sides and plenty of protein filling!
History and Origin of Flautas
While the exact origin of flautas is hard to pinpoint, it is considered a traditional Sinaloan dish. The Sinaloan region consists of a stretch of land along the Gulf of California, and given its rich history, a version of this dish has likely been around for thousands of years. The process of making corn and flour tortillas dates back to as far as 10,000 B.C.E. It was and continues to be a staple food of many Mesoamerican societies. The recipes no doubt included wrapping these traditional tortillas around any meat, vegetables, or fillings they could hunt or grow. Over the years, the sharing of these recipes between travelers and immigrants brought the flauta to the U.S. and into global cuisine (via Google Arts & Culture).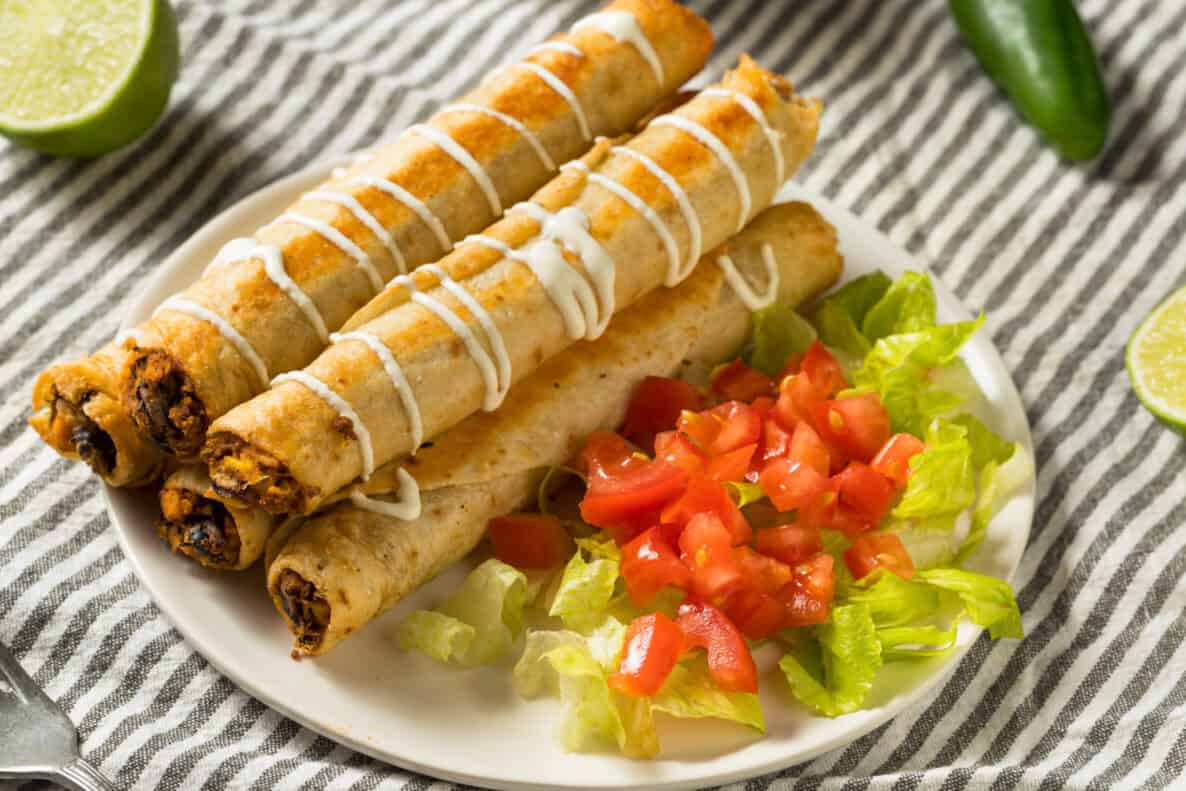 How To Make Traditional Flautas
While there are numerous recipes out there, we'll take a look at this one from Allrecipes. For this, you'll need butter, flour, oil, lemon juice, seasonings, pre-cooked shredded chicken, and eight flour tortillas. Other ingredients include chopped olives and minced onion. Now, for the actual recipe, grab a skillet to melt your butter and stir in your all-purpose flour. Add onion, and cook until softened before adding olives, lemon juice, oil, and seasoning. Stir this mixture while cooking for about 2 minutes. Add your chicken, and remove the mixture from the heat for the chicken to marinate properly.
In a separate saucepan or fryer, heat oil for deep drying. Fill your flour tortillas with the marinated chicken filling, and roll them into flute-like flautas. Grab a toothpick and pin your flauta in the right shape for frying. Fry the flautas in the oil until they're browned, for about 2 minutes. Carefully remove them to cool and serve them with sauces, salsas, and other dips of your choice!
Recipe Ideas
While there are many recipes on the interwebs for chicken flautas, which seem to be the most traditional, remember you can fill yours with any kind of protein, vegetable, or cheese combination and deep-fry them in the same way. Check out these recipe variations below:
What Are Taquitos?
Moving onto taquitos, the smaller, shorter cousin of the flauta. Jokes aside, this Mexican dish is quite similar, except that it's usually only made with corn tortillas instead of flour tortillas. The name "taquito" translates to "a small wrap," which means these are usually served as appetizers, not the main dish. Like flautas, they have all kinds of fillings delicious toppings and sauce options.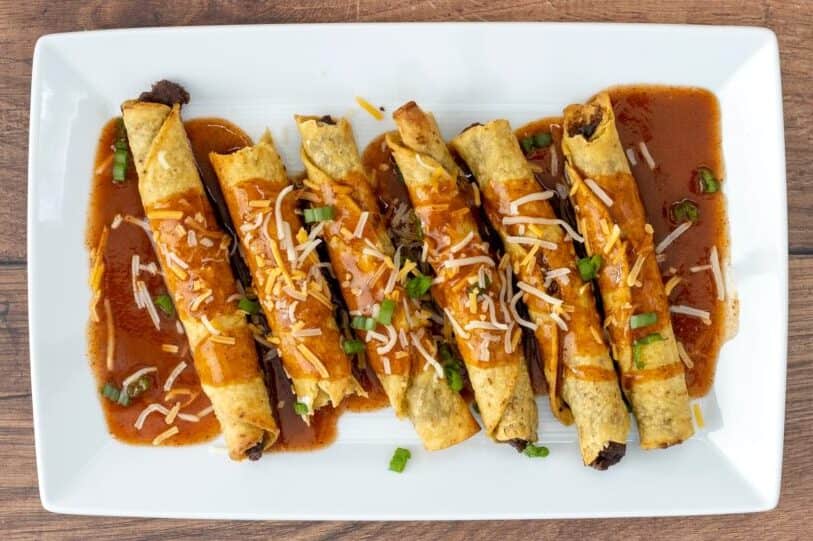 History and Origin of Taquitos
Another hard dish to pinpoint, partly because of its popularity as a street food, there's a high likelihood that taquitos are Mexican-American in origin. According to Taste Atlas, some believe that taquitos were invented in San Diego by a factory owner by the name of Ralph Pesqueria Jr. And you may be thinking, "What was the factory?" Pesqueria Jr. owned a tortilla factory! Fun facts aside, here's another difference between flautas vs. taquitos: it seems taquitos are not always rolled in the same way as flautas. They can be folded over to appear flat while containing the filling. Let's get some recipe ideas for this tasty, crunchy snack.
Recipe Ideas
There are many ways to make taquitos and so many filling ideas to try. Taquitos can be baked, traditionally fried, and even made in the wonder of the modern air fryer. Check out these recipes for variations on the classic chicken taquito:
Nutritional Value of Flautas vs. Taquitos
It's easy to compare the nutritional value of flautas vs. taquitos using this chart. As you can see, flautas clock higher for calories, protein, carbohydrates, fat, saturated fat, and cholesterol content. These differences are likely due to the size differences and the type of tortilla used in the making. As mentioned above, corn tortillas are generally healthier than flour tortillas. And deep-frying generally increases the fat content of a dish. Therefore, the deep-fried corn tortilla has slightly more nutritional value than the deep-fried flour variation. There are recipes that don't depend on a deep-fryer, and baking these dishes instead of frying them is a great way to increase the health profile of flautas and taquitos.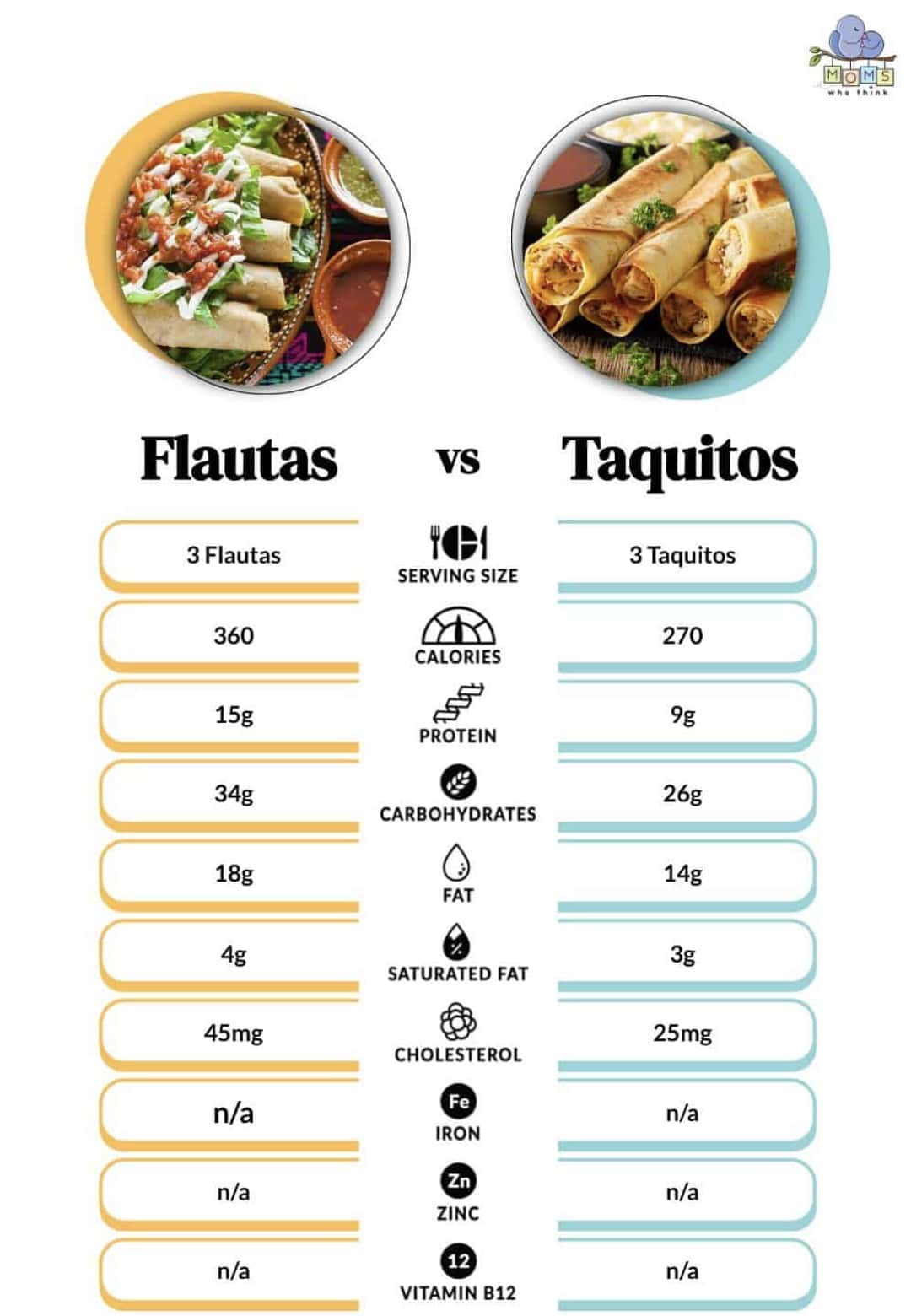 Flauta vs. Taquito: Are They The Same Thing?
Long answer short, flautas and taquitos are very similar but not quite the same thing. The size of flautas impacts their portion size, which impacts their nutritional profile. Taquitos are typically made with corn tortillas and are also smaller in size, which makes them healthy in comparison. As with most deep-fried foods, moderation is key for enjoying these flavorful Mexican dishes.
Possible Alternatives To Flautas and/or Taquitos
If you're not a fan of either of these deep-fried options, quite a few other dishes may deliver a similar spark of enjoyment. Try chimichangas, enchiladas, tamale and tamales, chalupas, and tostadas. When in doubt, you can't go wrong with a classic taco or well-wrapped burrito.
Recipe Card
Whether you believe it or not, it's possible to make your own taquitos. Here's a healthier version of the classic Mexican taquitos. Enjoy!
Print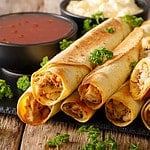 Healthy Baked Chicken Taquitos
---
Author:

Total Time:

20 minutes

Yield:

4

servings

1

x
2

cups

shredded cooked chicken

1

cup

shredded cheddar cheese

1/2

cup

cream cheese, softened

1/4

cup

chopped green onions

1/4

cup

chopped cilantro

1 teaspoon

ground cumin

1/2 teaspoon

garlic powder

1/2 teaspoon

chili powder
Salt and pepper to taste

12

small flour tortillas
Cooking spray
Salsa and guacamole for serving
---
Instructions
Preheat your oven to 425°F and line a baking sheet with parchment paper.
Mix shredded chicken, cheddar cheese, cream cheese, green onions, cilantro, cumin, garlic powder, chili powder, salt, and pepper in a large bowl.
Warm the tortillas in the microwave for about 20 seconds to make them pliable.
Place a spoonful of the chicken mixture in the center of each tortilla and roll tightly.
Place the rolled taquitos seam-side down on the prepared baking sheet.
Lightly spray the taquitos with cooking spray to help them crisp up in the oven.
Bake for 15-20 minutes or until the taquitos are golden and crispy.
Serve with salsa and guacamole for dipping.
Nutrition
Serving Size:

3 taquitos

Calories:

350

Sugar:

1 g

Sodium:

450 mg

Fat:

20 g

Carbohydrates:

25 g

Fiber:

2 g

Protein:

18 g
The image featured at the top of this post is ©AS Foodstudio/Shutterstock.com.