Today, we're diving into the scrumptious realm of Mexican-American — or Tex-Mex — cuisine, specifically focusing on two beloved dishes: tostadas and tacos. You're not alone if you've ever heard yourself saying, "Tacos? Or tostadas? Or whatever?" at a restaurant. They have more in common with each other than their similar-sounding names, but there are several important distinctions to note. Let's uncover the intriguing differences between tostadas and tacos, explore their nutritional profiles, determine their substitutability, and discover exciting substitution options for each item. Let's get started on this delicious journey!
Tostadas vs. Tacos: Are They the Same Thing?
Let's address the yummy elephant in the room. Are tostadas and tacos interchangeable? While they both involve tortillas and an array of tasty fillings, they are distinct in their preparation and presentation. Tacos are soft or semi-soft tortillas folded around a flavorful filling, while tostadas feature a crispy corn tortilla base topped with layers of delicious ingredients. So, to answer the question, they may share some similarities, but they are not the same thing!
Nutritional Differences: A Closer Look
Now, let's delve into the nutritional profiles of tostadas and tacos. While both offer a variety of flavors, the ingredients used can impact their nutritional value. Let's break it down:
Tostadas
Tostadas often begin with a crispy corn tortilla base, which is then layered with toppings such as beans, meats, vegetables, cheese, and salsa. The use of lean proteins, grilled and fresh vegetables, and fiber-rich beans makes them a nutritious choice. However, it's essential to be mindful of portion sizes and the amount of added fats (such as oil for frying the tortillas) to keep them balanced and healthy. It's easy to overeat when the meal is this delicious. Adding guacamole and fresh salsa is a great way to add an extra serving of vegetables. If you want to level up even further, try adding thinly sliced red cabbage, fresh corn, or hot chili peppers.
Tacos
Tacos, traditionally made with soft or semi-soft tortillas, offer a wide range of fillings that can vary in their nutritional content. By opting for lean proteins like grilled chicken, fish, or shrimp, paired with an abundance of veggies and a sprinkle of cheese, you can create a well-balanced meal. These little hand-held wonders are endlessly customizable, and you can feed an entire family for a very reasonable price tag.
It's important to note that the folded nature of the taco means that you can use either flour or corn tortillas. Opting for whole-grain tortillas adds a nutritional boost with extra fiber.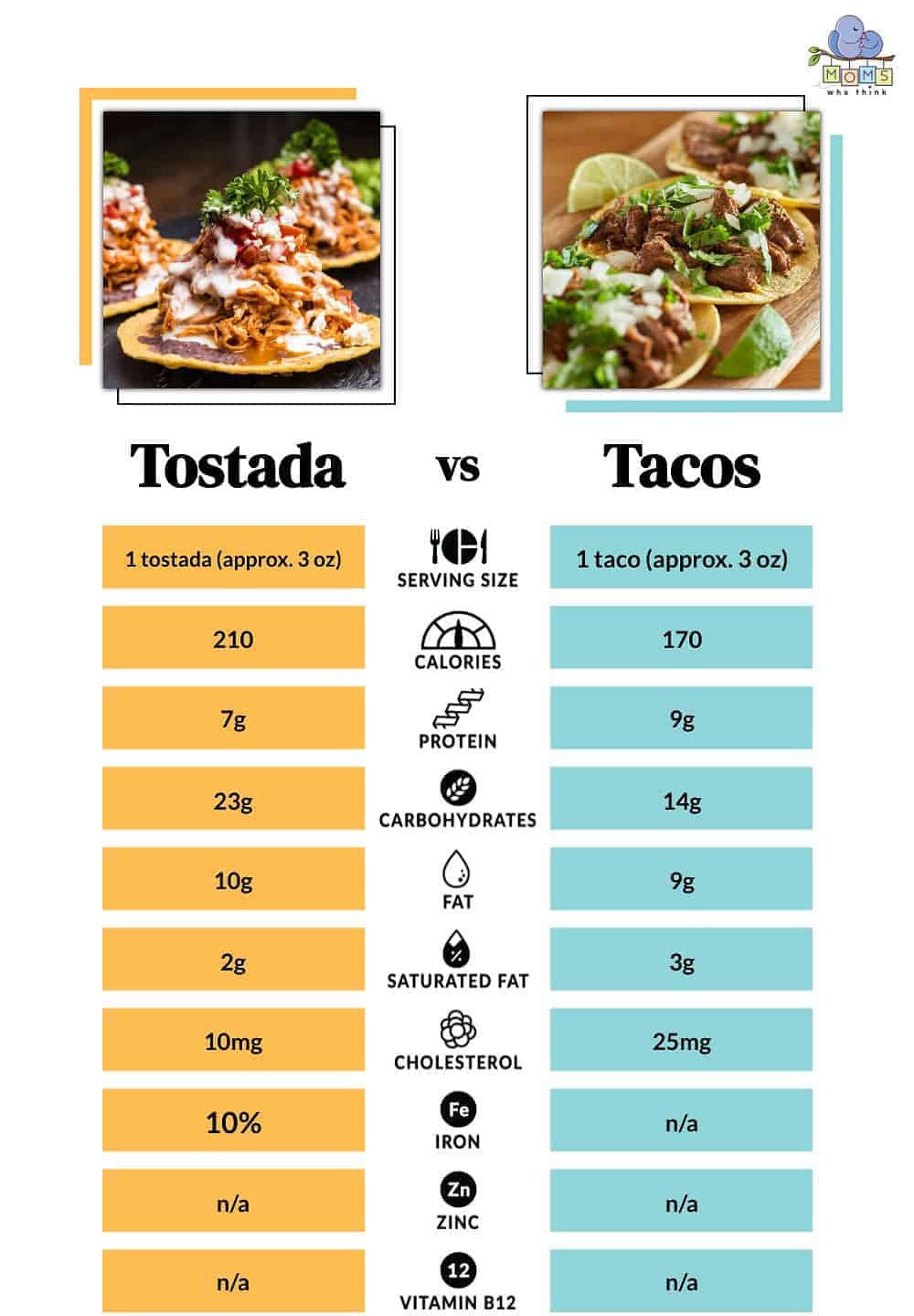 Substitutability: Can Tostadas and Tacos Be Swapped?
Now that we understand their distinctions let's discuss whether tostadas and tacos can be substituted for one another. While the swap is not a seamless transition, it's possible to get creative and adapt the flavors and textures. Here are some factors to consider:
Texture and Structure
Tacos have a soft, pliable texture that allows them to envelop their fillings. Tostadas, on the other hand, offer a satisfying crunch. If you desire the crunch of a tostada, you can achieve a similar effect by baking or toasting your tortillas until crispy before assembling your taco fillings.
Toppings and Fillings
Tacos and tostadas can showcase an array of toppings and fillings, but the approach may differ slightly. While traditional taco fillings like carnitas, carne asada, or grilled vegetables work well in both forms, tostadas often accommodate chunkier toppings such as guacamole, pico de gallo, or shredded lettuce. Remember, it's all about personal preference and creativity!
If you don't care about the shape of your taco-licious bites, you can swap one in for the other without a problem.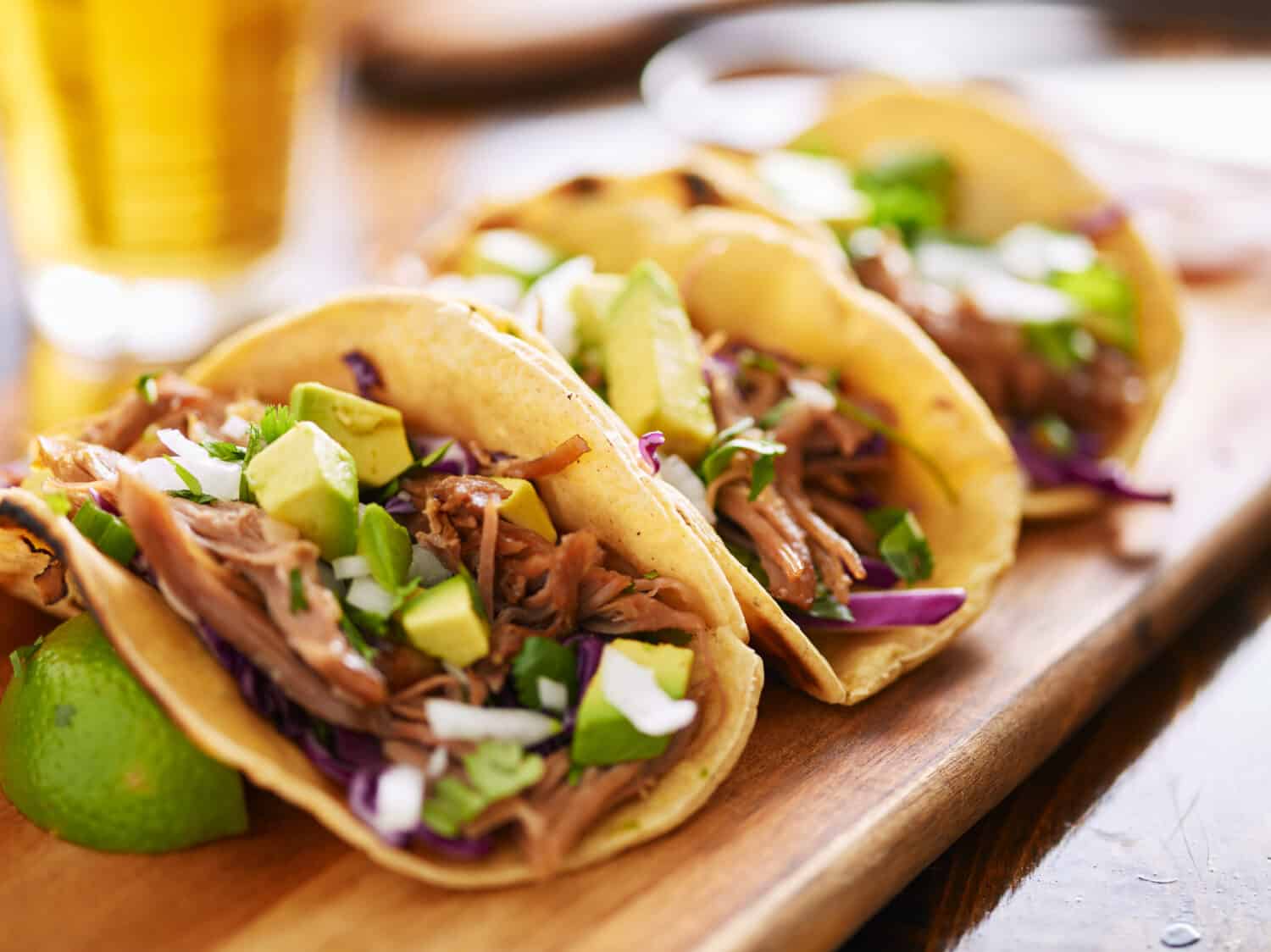 Exploring Substitution Options
Both tostadas and tortillas are relatively interchangeable with the rest of their tortilla-based Tex-Mex brethren. And despite the relatively flexible ingredient guidelines for each, you may find yourself missing a key component. In that event fear not, as there are many wonderful alternatives to consider for each:
Tostada Substitution Options:
Crispy Tortilla Salad: Swap the tortilla base with a bed of fresh greens or chopped lettuce, then layer your favorite tostada toppings on top.
Rice or Quinoa Bowl: Replace the tortilla base with a fluffy serving of cooked rice or quinoa. Add your desired protein, veggies, and garnishes for a satisfying meal.
You can never go wrong with a Burrito Bowl or a Lifestyle Bowl, which opens you up to the wider world of global flavors and ingredients.
Taco Substitution Options:
Lettuce Wraps: Wrap your taco fillings in large lettuce leaves, such as romaine or iceberg, for a refreshing and low-carb option.
Collard Green Wraps: For a heartier wrap, use blanched collard green leaves. They provide a sturdy base and add a unique twist to your taco experience.
What are some other substitution options for tostadas and tacos?
Enchiladas
This is the meal for the mom who has zero time to be a short order cook, and whose family loves a good saucy meal. You don't have to worry about the mess of multi-ingredient assembly like you do with tacos, nor the precariously high towering pile of things-just-waiting-to-spill with tostadas. Enchiladas aren't portable, but they are a one-dish dinner, and for that they're a forever favorite among our families.
Flautas
In our expert opinions, flautas are the most kid-friendly of the Tex-Mex offerings. And this is not only because we grew up eating 7-11 taquitos. These tiny tortillas are rolled around a center of shredded protein — usually shredded chicken or ground beef– and then either pan-fried or (our preference) air fried until crispy. They're the perfect size for hungry little hands to snatch and dunk into any number of sauces while they're running wild during the summer months. They also freeze very, very well.
Burritos
If you need to use up the ingredients for tacos or tostadas but also need to get your family into the car and off to practice or a game or a recital or a rehearsal, burritos (or chimichangas) are your best friend. Endlessly portable, self-contained, healthy, and hearty, you cannot go wrong with burritos. The only catch is that you have to have large flour tortillas in the pantry. The biggest benefit? Burrito recipes can be doubled, and they freeze like a dream.
Quesadillas
Quesadillas are great if your family really likes their taco meat to be buddies with melty, gooey cheese. They're almost like a tostada/taco hybrid, and can hold most of the same ingredients that a traditional taco or tostada offers. You have to be careful loading these babies up with really wet vegetables, though. Adding heat to things like onions and tomatoes causes them to give up the ghost on their juices, and quesadillas can get very structurally unstable very quickly if they're self-saucing from the inside.

Best Taco Recipes
Print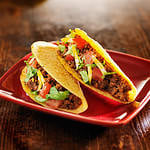 Pinto Bean Tacos
---
8 taco shells
1 (15 ounce) can pinto beans, rinsed and drained
½ cup reduced-sodium tomato sauce
1 (4 ounce) can diced green chili peppers, drained
1 teaspoon chili powder
¼ teaspoon dried oregano, crushed
¼ teaspoon ground cumin
1½ cups shredded lettuce
1 medium tomato, chopped
½ cup shredded reduced-fat cheddar cheese
---
Instructions
1. Heat taco shells according to package directions.
2. Meanwhile, in a medium saucepan, combine pinto beans, tomato sauce, chili peppers, chili powder, oregano, and cumin. Bring to boiling. Reduce heat; simmer, uncovered, for 5 minutes, stirring occasionally. Mash beans slightly, if desired.
3. Spoon bean mixture into taco shells. Top with lettuce, tomato, and cheese. Serve with salsa, if desired.
Best Tostada Recipes
Conclusion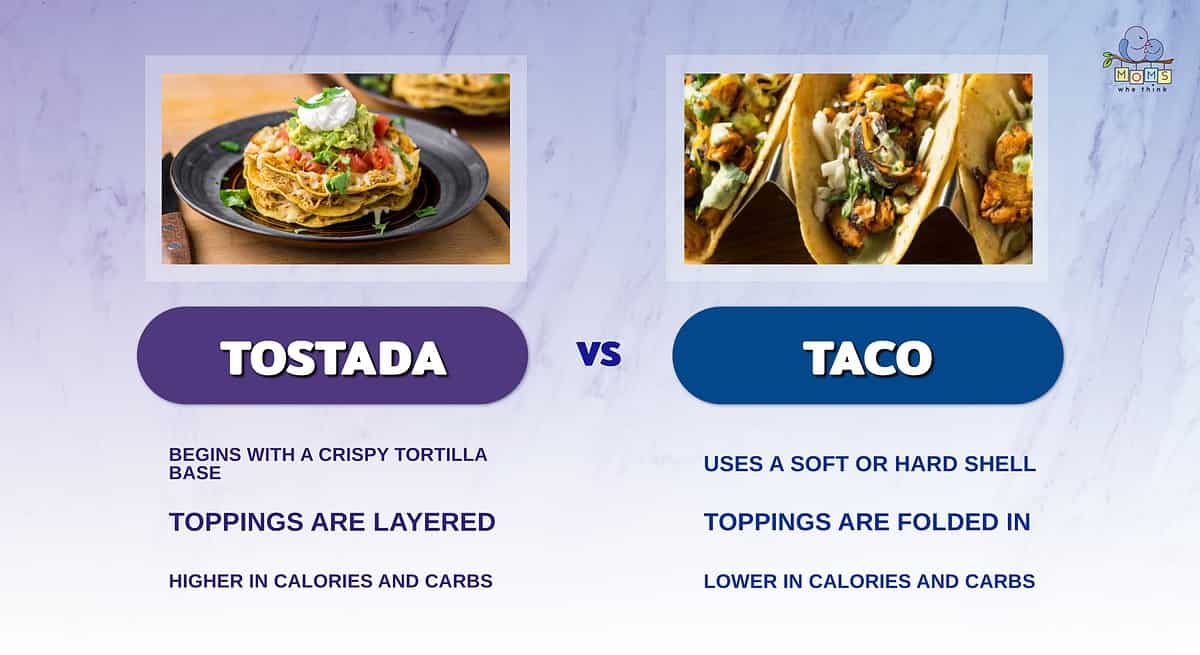 A tostada always begins with a crispy tortilla base, while a taco can use a soft or hard shell. Whether you choose a soft or hard shell is up to your personal preference.
With a tostada, the toppings are layered on the tortilla base. With a taco, the toppings are folded in.
Generally, tostadas are higher in calories and carbs compared to tacos. Keep in mind that this can change depending on the toppings used, so always pay close attention to the nutrition of your meal when preparing tostadas or tacos.
Tostadas and tacos, while sharing similarities, possess distinctive qualities that set them apart. While they may not be universally interchangeable, the realm of Mexican cuisine offers abundant opportunities for creative substitution and exploration. Whether you're craving the crunch of a tostada or the softness of a taco, remember that the true joy lies in experimenting with flavors and making these dishes your own. And honestly? If you're not sure whether one or the other would be more popular at your own dinner table, toast a couple of corn tortillas and leave the rest soft and foldable so that both options are available. Enjoy every bite, and may your kitchen be filled with delightful aromas and happy memories!