Welcome to another culinary adventure in the food world! Today, we will dive deep into the delicious debate between two beloved dishes: pizza and tacos. These iconic foods have captured the hearts (and taste buds) of family diners worldwide. Join me as we explore the similarities and differences between pizza and tacos, including their nutritional profiles, whether they can be considered the same thing, if they can be substituted for one another, and other creative substitution options for each item.
Pizza vs. Tacos: What are the Differences?
This might seem like a straightforward answer: pizza is pizza and tacos are tacos. But if you look at the formulaic breakdown of the two, they have a fair amount in common. They both have a grain-based dough that you cook for a foundation. You add a tomato-based sauce to each. They both typically include cheese, greens, and protein of some sort as toppings.
Pizza's dough is usually wheat-flour based, and whether you decide to go thin and crispy or deep and pillowy for the crust, the base is a longer-ferment yeasted dough. There's less versatility in the flavor profile of pizza sauce, with a lightly cooked pureed tomato base and traditional Mediterranean aromatics, herbs, and spices: garlic, parsley, oregano, thyme, and basil. You do have the option to load your pizza up with anything that makes your hungry little heart happy. This is especially true in American pizza culture, where anything from pineapple and ham to buffalo chicken and blue cheese are acceptable as pizza toppings.
Tacos, on the other hand, use Latin American flavors: hot peppers, onions, garlic, uncooked tomatoes, cilantro, and more. The tortillas that are used as the base are either flour or corn-based, and we personally prefer the smaller, more toothsome corn tortilla shells. Traditional Mexican tacos are filled with seasoned protein, cilantro, and white onions. There is commonly an element of heat — specifically in the form of a salsa or hot sauce elevated by the addition of a spicy pepper of some sort. Hot peppers originated in Latin America, where these flavor profiles also have their roots.
How Are Pizza and Tacos Different Nutritionally?
When it comes to nutrition, it's essential to make informed choices to keep ourselves and our families healthy. Let's take a closer look at the nutritional differences between pizza and tacos. Both dishes get a bit of a bad reputation in the nutrition department, but there are easy ways to maximize their health benefits.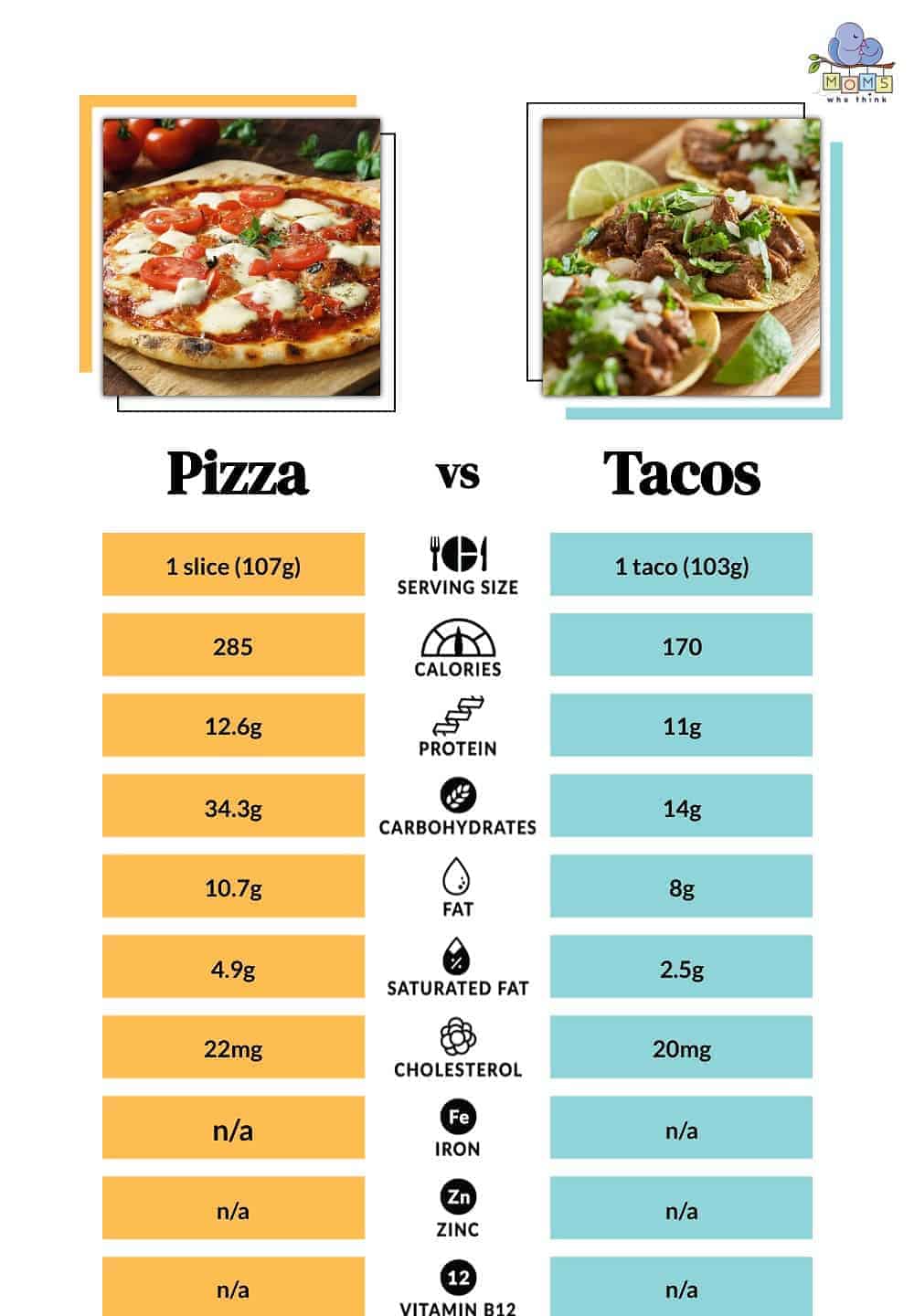 What is the Nutritional Value of Pizza?
Pizza, oh pizza, a scrumptious combination of dough, sauce, cheese, and infinite toppings. While it's undeniably delicious, it can also be a bit heavier in terms of calories and fat, and leans heavily into the carbohydrate macronutrient group. However, the beauty of pizza lies in its versatility. Opting for thin crust, whole wheat dough, and adding veggies as toppings can help make it a more balanced choice. You do get calcium from the dairy-based cheese toppings, and if you do load up with herbs and vegetables, you can end up with a very nutrient-dense dish. You can add healthy fat to the mix by drizzling olive oil over the top of your favorite slice, and if you enjoy spicy heat, you can sprinkle with crushed red pepper flakes, which align nicely with the inherent Italian flavors of pizza.
What is the Nutritional Value of Tacos?
Tacos, on the other hand, offer a lighter alternative, especially when prepared with lean proteins like grilled chicken, fish, or beans. The use of fresh vegetables, herbs, and spices in tacos adds a burst of flavor without the need for excess fat or calories. Corn tortillas, commonly used for tacos, contain less gluten and are lower in calories than flour tortillas.
Are Tacos and Pizza the Same Thing?
While pizza and tacos share some similarities, they are distinct culinary creations that delight our palates in different ways. Here's why they can't be considered the same thing:
Dough vs. Tortillas
Pizza features a yeasted dough that is rolled out and baked, resulting in a crispy yet chewy base. On the other hand, tacos traditionally use corn or flour tortillas, which are warm, soft, and foldable. The textures and flavors of these two bases are quite different, offering unique dining experiences.
Toppings and Fillings
Pizza toppings typically include sauce, cheese, meats, vegetables, and various herbs and spices. It's a customizable canvas where you can experiment with endless flavor combinations. Tacos, however, rely on fillings such as seasoned meats, beans, cheese, salsa, guacamole, and toppings like lettuce, tomatoes, and onions. The interplay of textures and layers creates a delightful symphony of taste.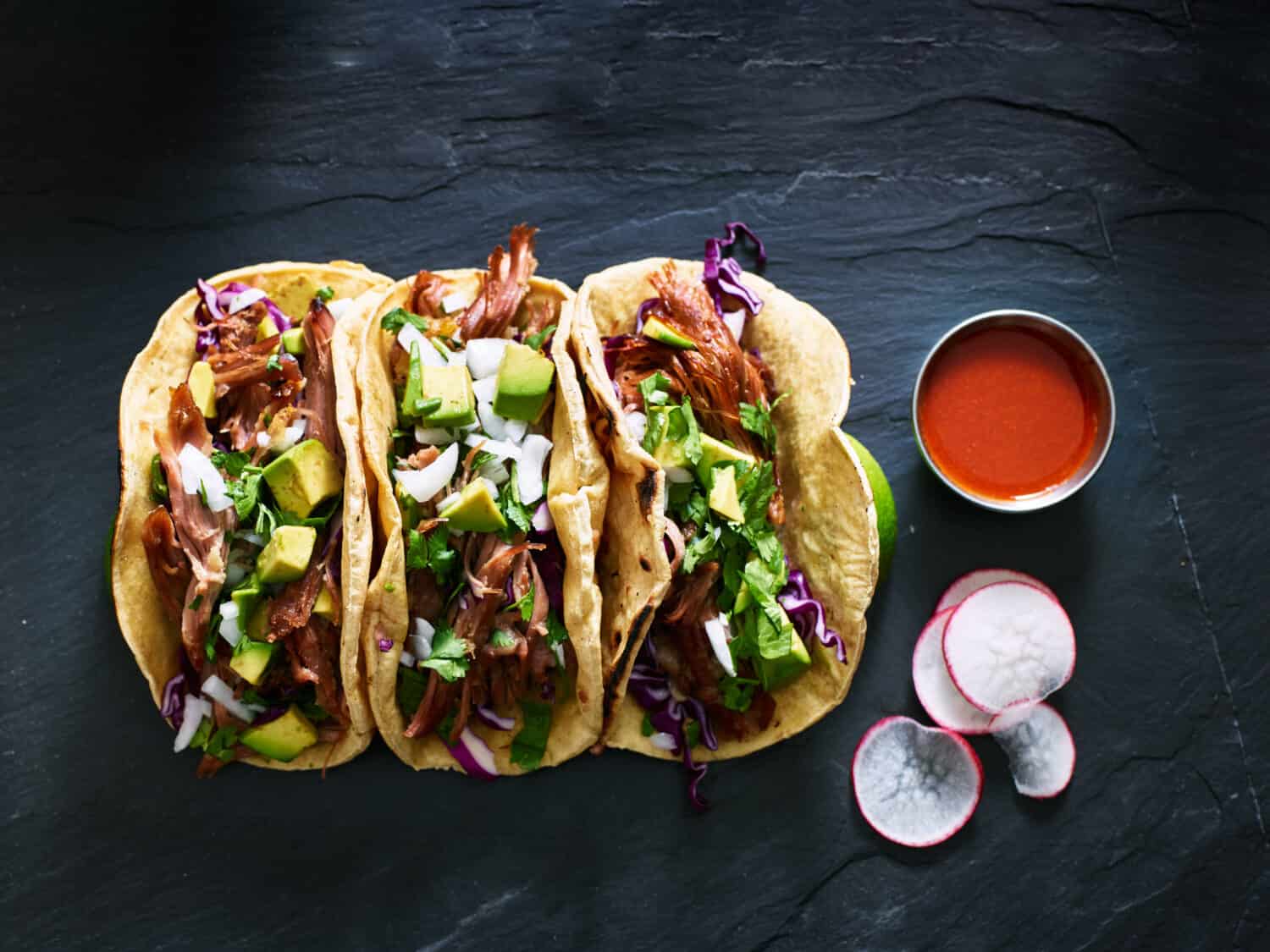 Can Pizza and Tacos Be Substituted for One Another?
Look, we're not going to pretend that pizza and tacos are even remotely close to being the same thing. But if your family is demanding one and all you have are ingredients for the other, we can help you spin up a dish that will, at the very least, technically qualify… And we all know that sometimes getting everyone fed means finding a good loophole and jumping on a technicality:
Pizza as a Taco Substitute
Craving the flavors of tacos but only having pizza ingredients on hand? You can certainly get creative! Transform a pizza into a taco-inspired delight by using Mexican-style toppings like seasoned ground beef or chicken, salsa, guacamole, and shredded cheese. Roll the pizza into a cylinder shape, slice it, and voilà—pizza tacos!v
Tacos as a Pizza Substitute
If you're in the mood for pizza but happen to have taco ingredients readily available, you can put a delicious twist on your pizza night. Start with a pre-baked pizza crust or pizza dough (which you can find in most supermarket bakery coolers). Spread a layer of refried beans or taco sauce as the base, and top it off with seasoned taco meat, diced tomatoes, shredded lettuce, and Mexican cheese. Bake until the cheese is bubbly and golden, and you'll have a taco-inspired pizza to satisfy your cravings. Finish it off with crema, salsa roja or salsa verde, and queso fresco or cotija cheese.
More Creative Substitutions for Pizza and Tacos
Sometimes you don't have everything handy to lean into these authentic dishes. Sometimes, you don't have the 12-hour window to prep pizza dough from scratch. Sometimes, you just need your family to eat what you have in the pantry without giving you too hard a time (and sometimes, that comes down to marketing). The good news is that with a little creative thinking and some loose application of the English Language, you can turn anything into a taco or a pizza, instantly making it more appealing to tiny humans who insist that either dish is the only thing they like to eat. (If you ever see me loose in the wild, ask me about Breakfast Ice Cream.)
Pizza Substitutions
Flatbreads: Swap the traditional pizza dough for a healthier alternative like whole wheat flatbreads or naan bread to create delicious, thin-crust pizzas. We love the textural element that a flatbread brings to the table — who doesn't like a good crunch with a melty cheesy topping?
Cauliflower Crust: For a low-carb option, try a cauliflower crust. It's gluten-free, lighter in calories, and still delivers a satisfying crunch. Because cauliflower is so neutral in flavor and high in fiber, you're actually checking a lot more nutritional boxes than you'd imagine. Plus, cauliflower is a blank slate in terms of adopting other aromas and flavors. You can optimize your kids' receptivity to it by loading it up with whatever flavors they prefer. In my house, it's granulated toasted garlic, granulated toasted onion, salt, fresh cracked pepper, and Paprika because my eight-year-old "eats with her eyes" first.
Pizza Tacos: We're not trying to get too meta here, but if what you have on hand are the toppings for pizza and a stack of tortillas, you can hybridize these two dishes into something that your kids will very likely demand on repeat. Now, if we're being technical, what I'm recommending is actually either a Pizza Tostada or a Pizza Quesadilla. Either way, load up the tortilla, toast it until crispy, and revel in your own brilliance as you watch little minds be blown at the sheer magic of your ingenuity. Happy crunchy noises all around.
Taco Substitutions
Lettuce Wraps: Replace tortillas with large lettuce leaves, such as romaine or iceberg, for a refreshing and low-carb option. You can also use large green cabbage leaves if you want something with a more toothsome texture, or venture into the dark leafy green space with lacinato (dinosaur) kale or Swiss chard.
Portobello Mushrooms: Grilled portobello mushrooms make an excellent taco filling for a vegetarian or vegan twist. Their meaty texture and earthy flavor provide a delightful alternative. If you want to use them instead of tortillas, you can scrape out the gills to remove excess moisture and load them up with taco accouterments.
Taco Lifestyle Bowl: A lifestyle bowl by any other name is arguably a salad. But if you have all the makings of a Tex Mex food-stravaganza minus the tortillas, there is nothing stopping you from piling the lettuce, tomatoes, avocado, onions, protein, beans, and rice into a giant bowl and dressing it with salsa, guacamole, and queso. In fact, taco lifestyle bowls are a favorite lunch because of their portability, flexibility, and versatility. (This is especially true when the only thing left in the fridge after Taco Tuesday are taco component leftovers, and I am running late out the door.)
Best Taco Recipes
Best Pizza Recipes
Print
Pepperoni Pizza Supreme
---
Author:

Yield:

6

slices

1

x
1 prebaked 12 inch thin pizza crust
1 can (8 ounces) pizza sauce
1 Tablespoon grated Parmesan cheese
1 teaspoon Italian seasoning
½ teaspoon garlic powder
½ cup sliced fresh mushrooms
½ cup chopped fresh broccoli florets
¼ cup chopped green pepper
¼ cup chopped sweet red pepper
½ cup shredded reduced fat cheddar cheese
38 slices turkey pepperoni
1 cup (4 ounces) shredded part skim mozzarella cheese
---
Instructions
1. Place crust on an ungreased baking sheet. Spread with pizza sauce; sprinkle with the Parmesan cheese, Italian seasoning and garlic powder. Top with the mushrooms, broccoli and peppers.
2. Sprinkle with cheddar cheese. Top with pepperoni and mozzarella cheese. Bake at 400° for 14 to 18 minutes or until vegetables are crisp and tender and cheese is melted.
Nutrition
Serving Size:

One slice

Calories:

244

Sodium:

698mg

Fat:

9g

Saturated Fat:

3g

Carbohydrates:

26g

Fiber:

1g

Protein:

17g

Cholesterol:

28mg
Conclusion
Pizza and tacos differ in terms of their traditional flavors; however, both are usually highly customizable. A variety of toppings can go on each!
The dough for pizza is almost always wheat-based, unless it's a gluten-free dough. Taco tortillas can be made of either flour or corn.
Pizza is known for being a fairly unhealthy food in its traditional form; tacos are definitely the healthier choice for most.
You can't beat pizza or tacos when it comes to filling up half-pint plates with food they'll love. Both have nutritional benefits that your family will enjoy. Next time you choose between pizza or tacos, remember that both are incredibly versatile. They each allow for endless creativity in the kitchen. Embrace the flavors, explore substitutions, and savor each delicious bite!