Although there are a few things that make flatbreads and pizza different, there is one main difference that sets them apart. Flatbreads call for a dough that does not contain yeast, otherwise known as unleavened dough. Pizza does contain yeast in its dough and is given time for the dough to rise and the yeast to develop. Flatbread has a heavier dough and pizza has a lighter dough.
How Different Can They Really Be?
With flatbreads being a super trendy menu item, it's easy to look at a flatbread and a pizza and think there's not much difference between the two. Flatbreads often have similar toppings as pizza do; pepperoni, mozzarella, spinach, tomatoes, etc. They're even cooked in the same ovens, a pizza oven or an open brick oven depending on the type of flavor profile that you're trying to accomplish. So, flatbread or pizza, what are all the differences and which one would you choose?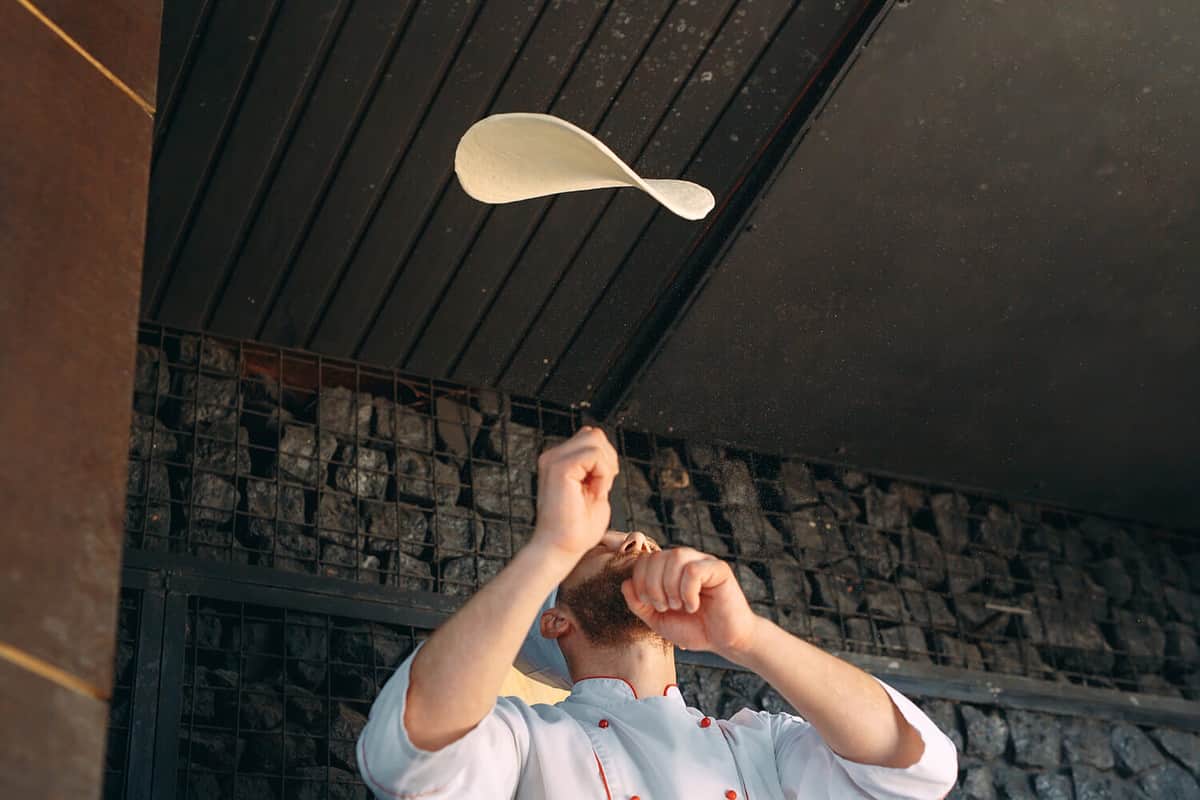 Flatbread vs. Pizza: Dough
The main difference between flatbreads and pizza is that flatbread dough does not contain yeast and pizza dough does. Although some may see this as a technicality, many restaurants nowadays don't necessarily follow this rule. Often, they are using the same exact dough for both. The dough of a flatbread without yeast is meant to be a denser dough that stays flat and doesn't rise (hence the name flatbread). The dough of a pizza that contains yeast is meant to be fluffy and rise for a more airy dough. So, if you're looking for a true flatbread experience, ask your waiter if they use unleavened dough when ordering your flatbread.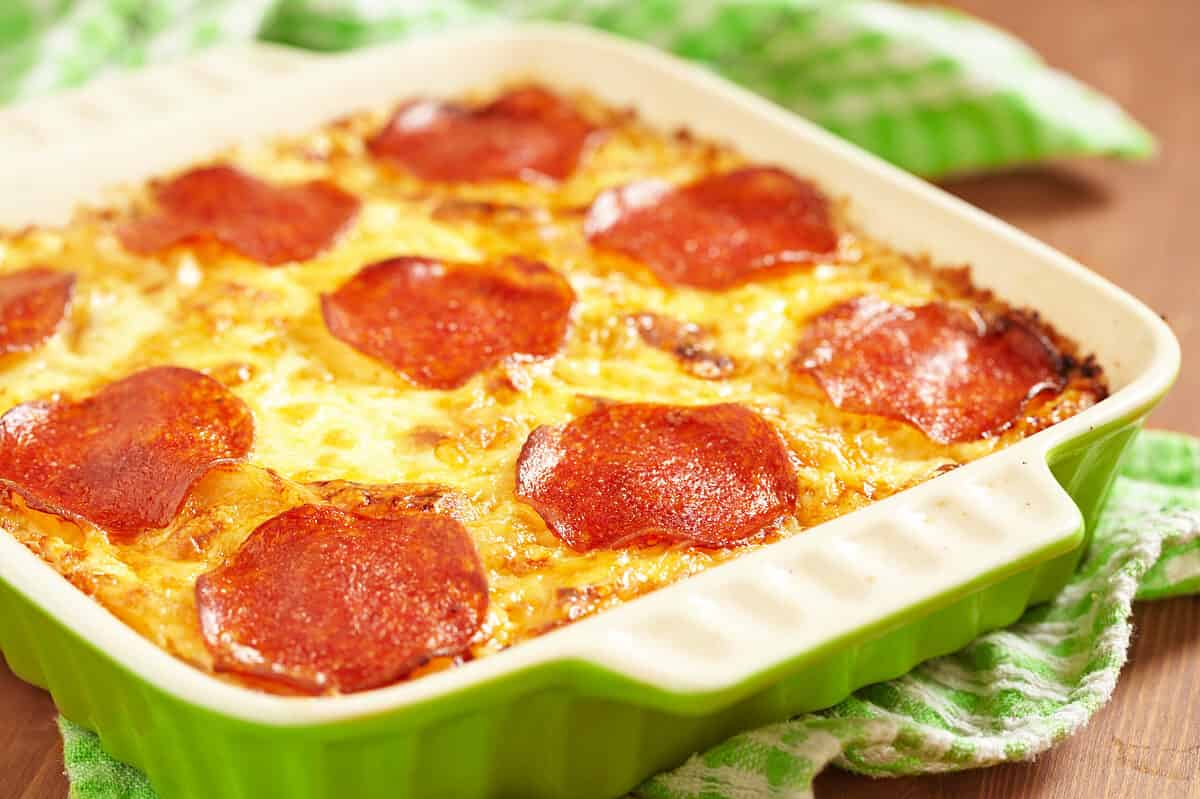 Flatbread vs. Pizza: Toppings
While flatbreads can have similar toppings as pizza, those who make flatbreads tend to get creative with their toppings whereas many stick to more traditional toppings when making pizza. Not only do we see creativity with flatbread toppings but also with their sauces! Often you can find flatbreads using alfredo sauce, barbecue sauce, olive oils, balsamic glaze, garlic sauce, and more. We also see a difference in the cheeses used on flatbreads. Pizza normally gets the classic mozzarella and parmesan, where flatbreads you can often see goat cheese, blue cheese, gouda cheese, and other exotic cheese options.
Flatbread vs. Pizza: Shape
Pizza usually comes in 3 shapes; round, square, or rectangular. Depending on the shape of the pizza, slices are cut into pie-style slices or squares. Flatbreads on the other hand are usually just thrown together and don't necessarily always have the same shape. They can be considered rustic as they usually come out looking like a rounded rectangular shape after being baked.
Flatbread vs. Pizza: Meal Placement
People typically lean towards a flatbread when ordering appetizers due to its versatility. It's a great shareable dish and you can order multiple styles to try the different flavors and taste a little of each. Flatbreads can be ordered as a main entree but are included in both categories. Pizza is typically always a main dish. Its size is substantial enough to share with more than one person to each have a satisfying meal.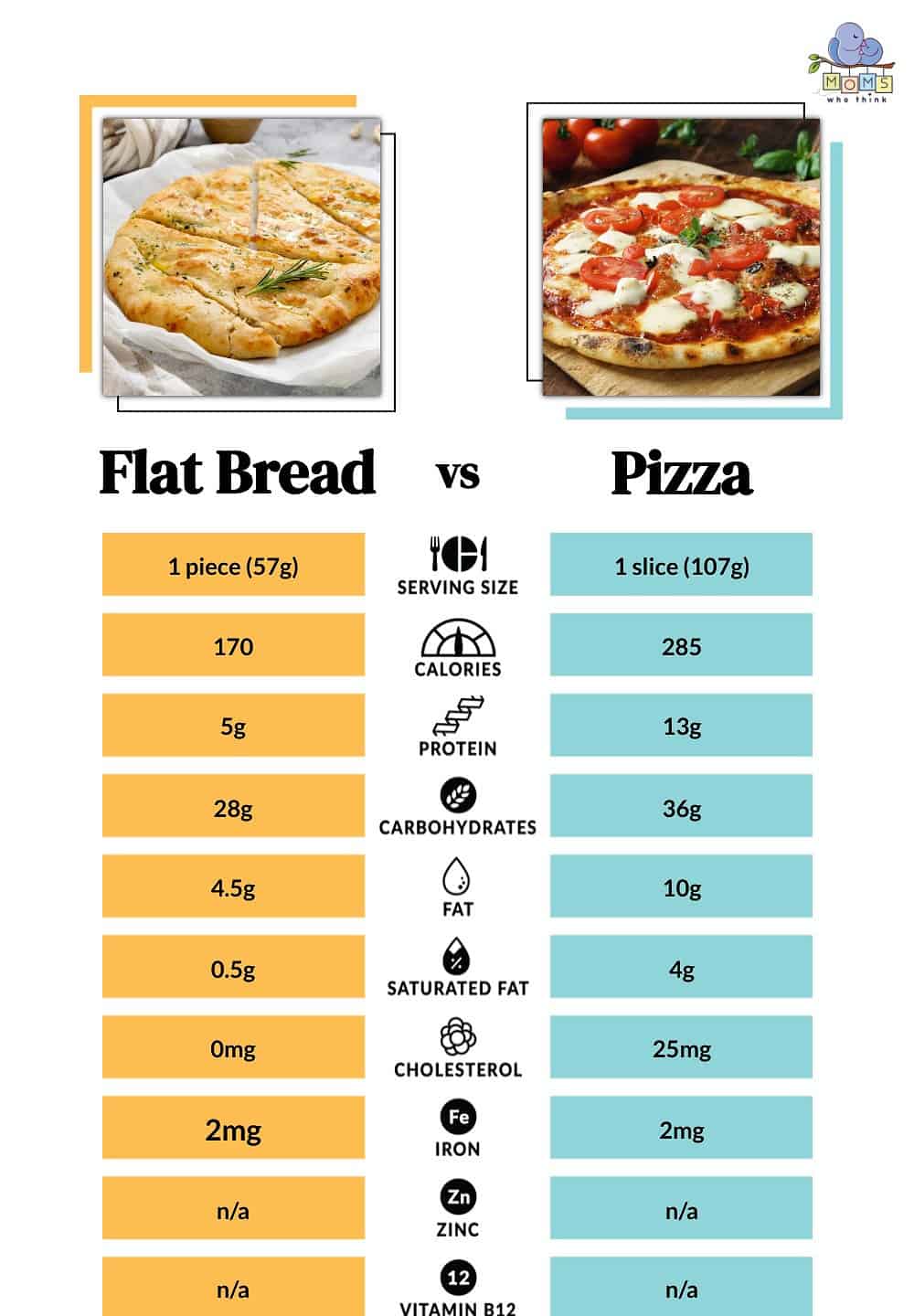 Flatbread vs. Pizza: Nutritional Value
Many people tend to think that a flatbread is healthier than pizza but that's not necessarily true. Although at an eyes glance at their nutritional values, flatbreads do look healthier but this assumption can be misleading as we have seen they often use similar ingredients. So why would one be healthier than the other? Portion size and toppings. Although flatbreads can show to have fewer calories, protein, carbohydrates, fat, and cholesterol, that's usually because a piece of flatbread is significantly smaller than a slice of pizza. So before you double your flatbread portion because you think it's a healthier alternative, think again!
A Quick Comparison of Flatbread vs. Pizza
One of the most important distinctions between pizza and flatbread is that one uses leavened dough, while the other uses unleavened dough. This means that pizza will rise, but flatbread will not. It also means that flatbread dough will be denser and heavier than pizza dough. When choosing toppings for pizza, most people tend to go traditional- think pepperoni, olives, and extra cheese as a few examples. Many people choose to use their creativity on flatbread, with lots of different sauces and toppings. Of course, there are some creative takes on pizza out there, too! How you decide to make your pizza or flatbread is entirely up to you; that's one of the great things about both of these dishes. They're highly customizable!
Our Favorite Pizza Recipes
Print
Basil and Tomato Pizza
---
1(10 ounce) thin-crust Italian bread shell
Olive oil flavored cooking spray
4 plum tomatoes, thinly sliced
1 teaspoon minced garlic
½ medium-size purple onion, thinly sliced
½ cup (2 ounces) crumbled Gorgonzola cheese
¼ cup chopped fresh basil
---
Instructions
1. Place bread shell on an ungreased baking sheet or pizza pan; coat crust with cooking spray.
2. Top with tomato and remaining ingredients.
3. Bake at 425°F for 7 to 8 minutes or until cheese melts. Cut into 8 wedges and serve immediately.
Nutrition
Serving Size:

2 slices

Calories:

349

Sodium:

592mg

Fat:

10g

Saturated Fat:

3g

Carbohydrates:

36g

Fiber:

2g

Protein:

12g

Cholesterol:

11mg