If you love pizza as much as we do, then you're probably interested in a variety of styles, and today, we dive into the argument of hand-tossed vs. handmade pizza. Though they are very similar, the differences between handmade and hand-tossed are that hand-tossed crust is thinner, homemade is often thicker and chewier, and hand-tossed tends to be crispy. We'll dive more into these differences below.
Hand-Tossed vs. Handmade Pizza: Defining Each Tasty Possibility
The differences between these two varieties are very subtle, so the best way to get a grasp on what makes them unique is to define each style.
What is Hand-Tossed Pizza?
Hand-tossed pizza is how it sounds. The chef prepares it by turning and tossing the dough in the air to create a thin and circular form that is easier to bake in the oven. Because of this process, hand-tossed pizza is often thinner and crispier than handmade pizza. This is a choice that you can make, and it can be daunting to throw food up in the air, but once you get the hang of it, you can make some really tasty pizza.
How to Prepare Hand-Tossed Pizza
The first step in this pizza procedure is to prepare your traditional pizza dough. You do that by getting a bowl and adding water, sugar, and then sprinkling yeast on top and combining it in a mixer. Then, let it sit for 5-10 minutes before stirring it with a spoon or spatula. Next, add flour, olive oil, and salt, mix it slowly, and knead for five minutes or until the dough is smooth and elastic. Then, leave it until it doubles in size. If it seems too large to toss, then take some dough away and cut what you have left in a circle.
When you're ready to toss, sprinkle some flour on the dough and your workstation. Hold your tossing hand up with your fingers splayed like you're holding a plate. Use your other hand to put the dough on your dominant hand. Start tossing it counter-clockwise. Once you have it in a good rotation, toss it up in the air a bit so it turns itself and then falls back into your hand. Repeat these steps until you have the desired shape and thickness.
After that, you would add the dough to your workstation and add the pizza sauce and toppings. Once complete, bake it for about 15 minutes at 275 degrees.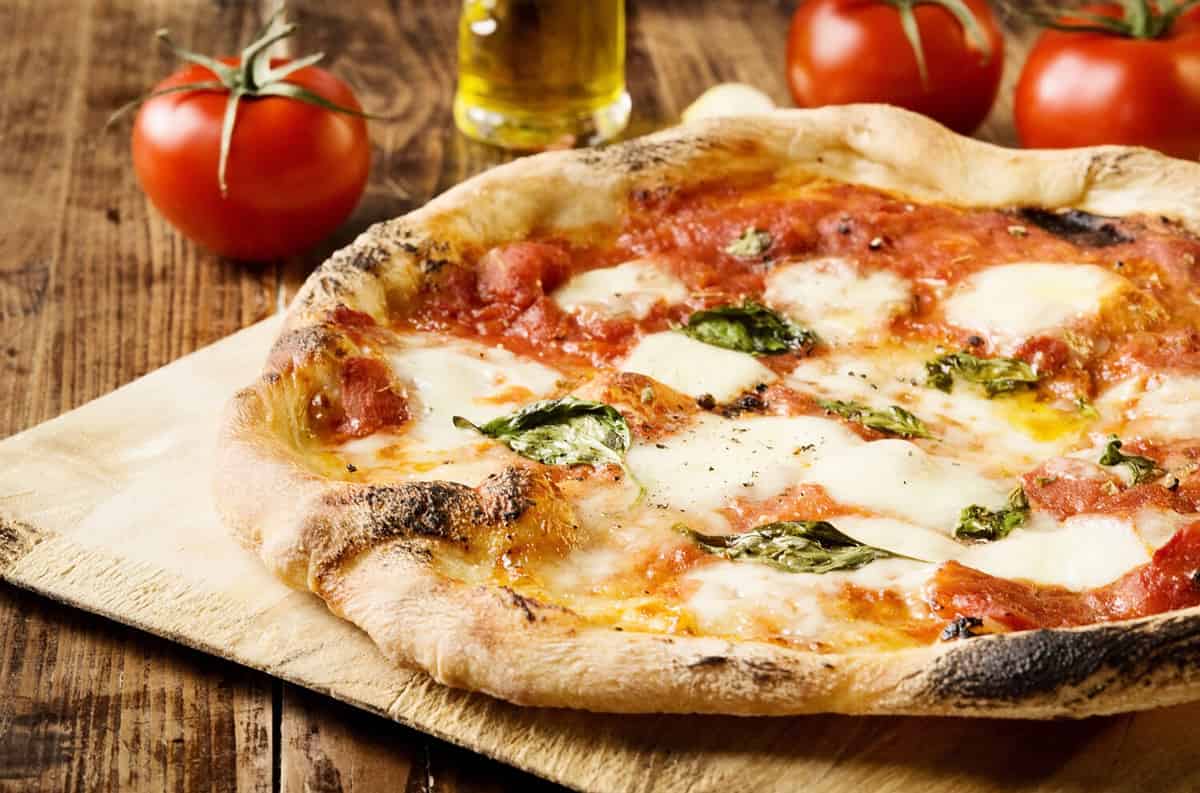 What is Handmade Pizza?
Handmade pizza takes away the tossing and instead has you form your dough into a large circle or rectangular shape and then cook it in a baking dish or a hot skillet. Once the crust is cooked, it's topped with the cheese and sauce, and then it's baked until the cheese has melted and the crust has reached golden brown perfection.
This is the type of pizza that originated in Italy, and it can come in many forms:
Chicago Style – Usually rectangular in shape with a thick and fluffy crust.
Stuffed Pan Pizza – Before cooking, stuff the crust with cheese or other toppings.
Fruit and Nut Pizza – Top the pizza with fruit or nuts instead of traditional ingredients.
How to Prepare Handmade Pizza
Making homemade pizza is similar to the steps we laid out for hand-tossed pizza, except you aren't tossing the dough in the air. You would start by preheating the oven to 500 degrees for 30 minutes. Next, sprinkle cornmeal over your pizza pan. Then, take your dough and press it out onto your pizza pan. Brush the outer edge with olive oil. Apply your toppings.
Next, put it in the oven and bake for 10-14 minutes or until the crust has become perfectly brown and the pizza is completely cooked through.
Hand-Tossed vs. Handmade Pizza: 4 Differences
Although both are forms of pizza and they have similar cooking styles, there are some differences to consider:
1. How the Dough Is Prepared – The dough for handmade pizza is typically mixed with more olive oil, so it's more moist and thick. Hand-tossed pizza has that thinner crust. Also, the crust for hand-tossed pizza is made from dough that's tossed and stretched by hand. Meanwhile, the dough of handmade pizza is typically pressed into a baking pan. Because of the differences, hand-tossed pizzas usually have crispier edges.
2. Toppings – Although it's not a hard and fast rule, typically, hand-tossed pizzas are loaded with tons of different meats and vegetables, while handmade pizzas usually have one or two types of toppings.
3. Texture – Homemade pizza tends to be more crunchy and golden because of the olive oil that's used during preparation. Homemade pizza is often also thicker. Hand-tossed pizzas are often drier and softer.
4. Taste – Because of how it's cooked in the pan, homemade pizzas often taste a bit more like a tasty loaf of bread, while hand-tossed pizzas taste more like a flatbread. However, the toppings you pick will also affect the flavor. Hand-tossed pizzas are usually less greasy because they use less olive oil.
Pizza Dishes
There are various types of hand-tossed and handmade pizza recipes to consider for your next family dinner. Here are some of our favorites:
Conclusion
There's not a lot of differences in the debate of hand-tossed vs. handmade pizza, but many people are bound to prefer one over the other. Still, if you love pizza, it's worth giving both a try!