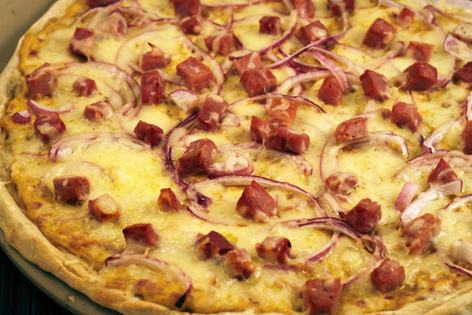 German Deli Pizza
Savory, cheesy pizza inspired by bold German flavors.
Ingredients:
Dough:
1 teaspoon caraway seeds
¼ teaspoon salt
1½ cups bread flour, plus ¼ cup if needed 
½ cup rye flour
1 teaspoon active dry yeast
⅔ cup water (110°)
1 tablespoon olive oil
Sauce:
⅓ cup chopped red onion
1 tablespoon butter
1 tablespoon all-purpose flour
1 cup fat-free evaporated milk
1 tablespoon spicy brown mustard
¼ cup shredded Swiss cheese
Toppings:
⅓ cup thinly sliced red onion
1 cup cubed fully cooked lean ham
1 cup shredded Swiss cheese (about 4 ounces)
Directions:
1. Pulse caraway seeds, salt, flours, and yeast in a food processor to combine. With the processor running, pour the oil, then the water, through the feed tube and process until a rough ball forms, 30 to 40 seconds.
2. Let the dough rest for 2 minutes, then process for 30 seconds longer. If the dough is sticky and clings to the blade, add the remaining ¼ cup bread flour, 1 tablespoon at a time, and pulse to incorporate.
3. Turn dough onto a lightly floured surface. Punch dough down; roll into a 13-inch circle. Transfer to a 12-inch pizza pan coated with cooking spray; build up edges slightly. Cover and let rest for 10 minutes.
4. Prick dough thoroughly with a fork. Bake at 400°F for 6 to 8 minutes or until edges are lightly browned.
5. Meanwhile, for sauce, in a small saucepan, sauté chopped onion in butter until tender. Stir in flour until blended; gradually add evaporated milk and mustard. Bring to a boil; cook and stir for 2 minutes or until thickened. Remove from heat; stir in cheese. Spread over crust. Top with sliced onion, ham, and cheese. Bake for 12 to 15 minutes or until crust and cheese are lightly browned.
Serves 6
Serving size: 1 slice
Per serving
Calories 330
Fat 12g
Saturated 6g
Cholesterol 36mg
Sodium 546mg
Carb 37g
Fiber 3g
Protein 19g