Are you stuck on the difference between Detroit vs. Chicago pizza? With four hours of driving between the two cities, their pizza stylings are as different as their names. Both have a thick, crispy crust. However, the Detroit pizza crust is comparable to fluffy bread like Foccacia. It also features a layer of cubed Wisconsin cheese. This cubed cheese cooks buttery in the center and crispy around the edges of the Detroit-style dough (via Serious Eats). Chicago deep dish pizza crust is more comparable to a classic pizza pie. The crust rises against the walls of the pan in the oven to form a thick, crispy crust that can handle lots of toppings! Both pizzas will deliver in terms of crunch as well as flavor. What it really comes down to is how you like your pizza crusts. Let's get more into the details of Detroit vs. Chicago pizza.
Keep reading to learn the best methods for making and where these pies came from. We'll discuss their histories as well as suggest some great recipe options. By the end of this post, you'll know the definitive differences between the two. Your next pizza night will be a breeze, especially once you can tell these two thick-crusted pizzas apart and make both in your kitchen.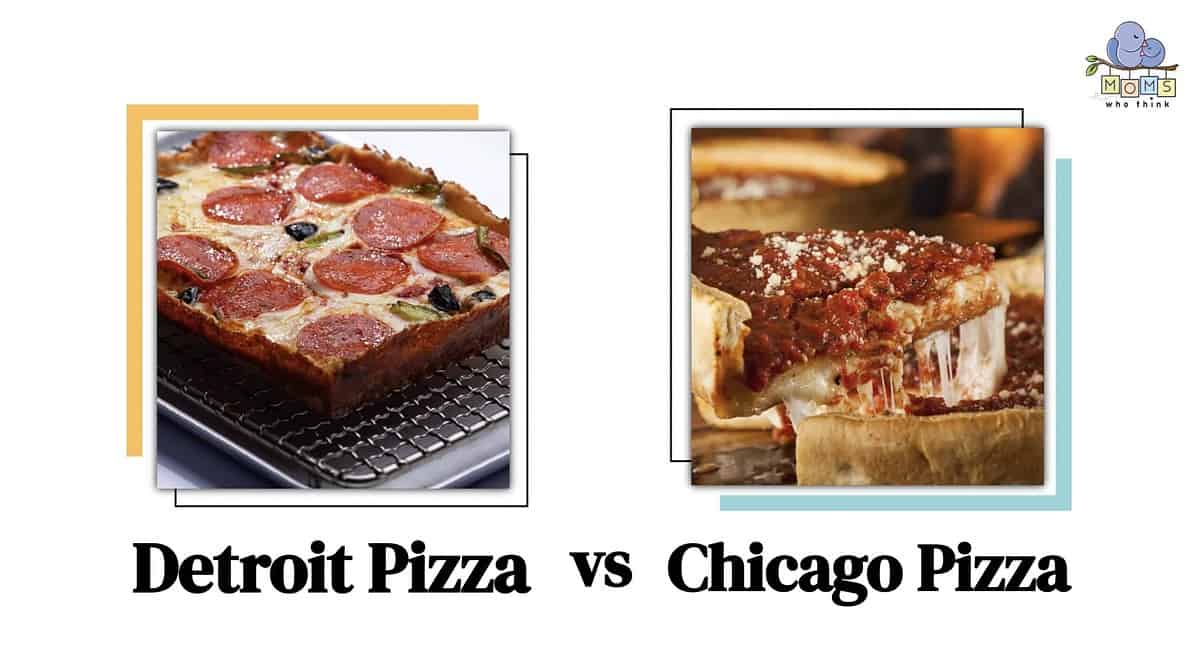 Detroit vs. Chicago Pizza: What is the difference?
When comparing Detroit vs. Chicago pizza, the differences come down to the crust and the toppings. The Detroit-style pizza crust is thick, fluffy, and typically very cheesy. Chicago Pizza also features a deep crust method. However, it doesn't include cheese in the crust, which can increase the crunch factor, depending on how long it is cooked.
What is Detroit-Style Pizza?
Detroit Pizza is a thick-crusted, cheese-coated pizza. Wisconsin brick cheese covers the sides and the middle of the pizza, with the toppings added in reverse. The cooked result is carmelized, melted, and quite simply delicious. This pizza makes the people of Michigan proud.
History and Origin of Detroit-Style Pizza
Closely tied to Sicilian-style pan pizza, Detroit-style pizza originated with Gus Guerra. Guerra opened a neighborhood bar in 1946 called Buddy's Rendezvous. In this fine establishment, he adapted the Sicilian-pan pizza to include more toppings like cubed cheese and red sauce. The iconic thick-crusted, cheesy pizza spread in popularity from there. Modern Detriot-style pizza depends on using the right pan with deep sides and a high level of heat conductivity. For this reason, pans best suited to Detroit-style pizza are typically made from thick steel or cast iron (via Michigan.org).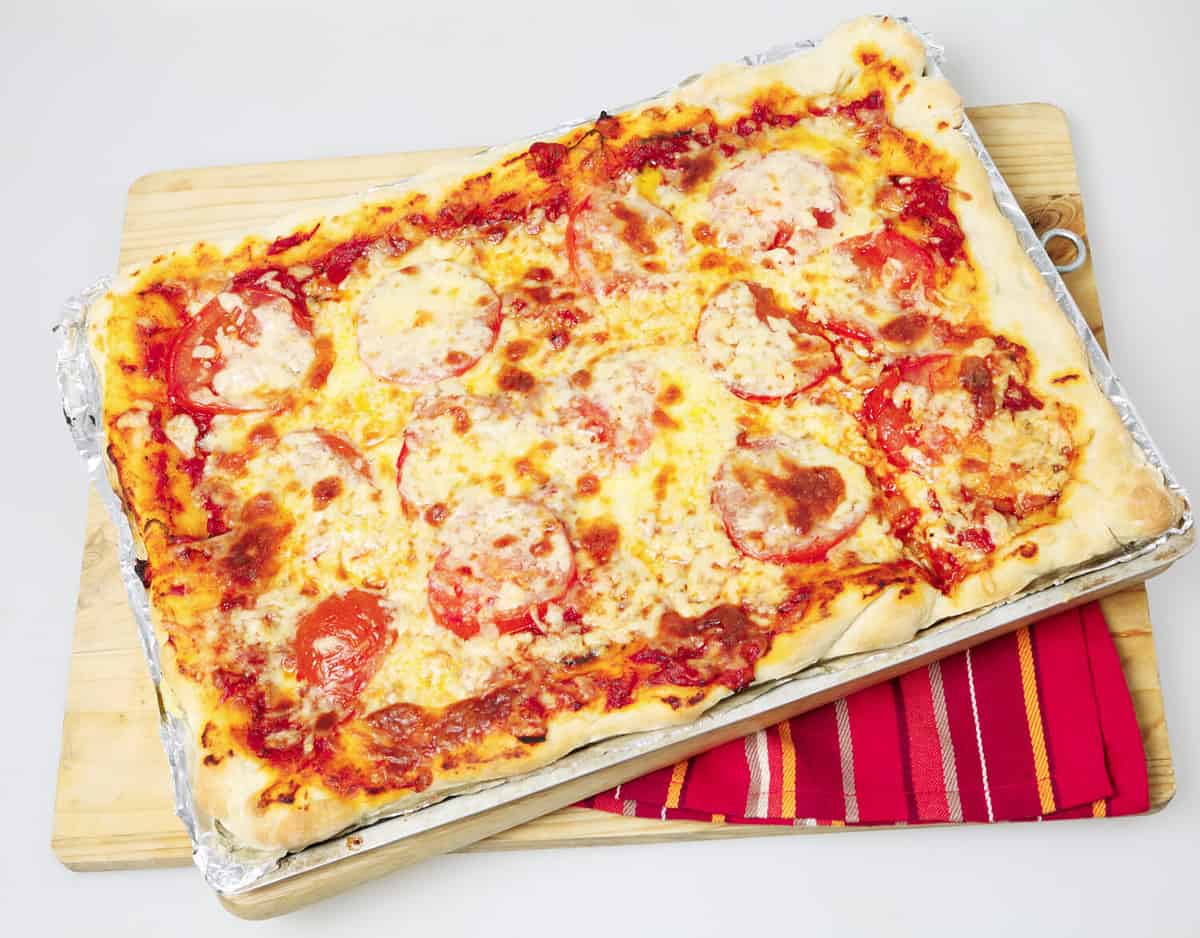 How Detroit-Style Pizza Is Made
First, take your premade or store-bought pizza. Allow enough time for the dough to rise and roll before filling it out to the edges of the pan. Top the dough with pepperoni and cubed cheese that will melt to the crust. Next comes sauce, which combines garlic, pizza seasoning, tomatoes, and sugar. Simmer until juices are evaporated and the sauce has thickened. Coat the pepperoni and cheese cubes with this sauce and add whatever other toppings best fit the needs of your particular pizza night. Cook pizza at 350°F on the bottom rack of the oven until the cheese is melted and bubbling (12-15 minutes). Once it's ready to be taken out, let it rest for at least 10 minutes before loosening it from the pan with a spatula and cutting it into neat, cheesy, crispy squares (via King Arthur Baking).
What Is Chicago Deep Dish Pizza?
Chicago deep dish pizza features a beautifully crispy, deep crust that can accommodate lots of toppings. Toppings are added in reverse pizza order, meaning meats, cheeses, and other fillings go first before the sauce is added. Chicago-style crusts are flakier than Detroit crusts, and despite being thick, they are more similar in texture to a regular pizza crust than Detroit pizza crust.
History and Origin of Chicago Deep Dish Pizza
According to the BBC, Chicago deep dish pizza was a collaboration between two restauranteurs in the early 1900s. Ike Sewell and Ric Riccardo had the idea to create a mashup of classic Italian ingredients with a thicker crust to accommodate all kinds of American toppings. They would stuff the crust with meat load it up with cheese, and other yummy flavorings. Their restaurant Pizza Uno opened in 1943 and premiered the Chicago Deep Dish Pizza. The world and Chicago would never be the same.
How Chicago Deep Dish Pizza Is Made
Chicago-style pizza can be made in a number of pans as long as the crust can be shaped against high walls to form that thick, classic crisp. Use homemade or store-bought deep-dish pizza dough and oil/flour in your pan before stretching the dough to cover it completely. Be sure to account for extra crust thickness near the edges. Preheat the oven to 425°F and allow the crust to bake alone for 10 minutes until it starts to get golden. This is according to the King Arthur Baking Company recipe, so this step may be variable depending on where you go for your deep dish recipes!
To make your sauce, combine drained cooked tomatoes, pizza seasoning, herbs of your choice, and salt to taste. You can put your meats and cheese at the bottom of the baked crust dough, add veggies, and then drizzle your sauce. Add some grated or crumbled cheese to the top, and add more olive oil. Now, put your pie in for at least 25 minutes so everything can properly cook. Remove it when everything is gooey and crispy. Allow to sit for at least 15 minutes before cutting, and be sure to handle everything carefully! It's hot!
Nutritional Value
The nutritional profile of these two pizzas comes down to the topping choices and the oil content. Adding meat will increase the protein, whereas adding salt will increase the cholesterol levels. A slice of Detroit vs. Chicago pizza compared are pretty similar. Refer to this handy chart below for an in-depth comparison. However, the short and simple is that Chicago pizza has a higher calorie, protein, fat, and cholesterol content with more toppings. Cooking these pizzas at home can help you adjust ingredients for toppings that fit your dietary needs.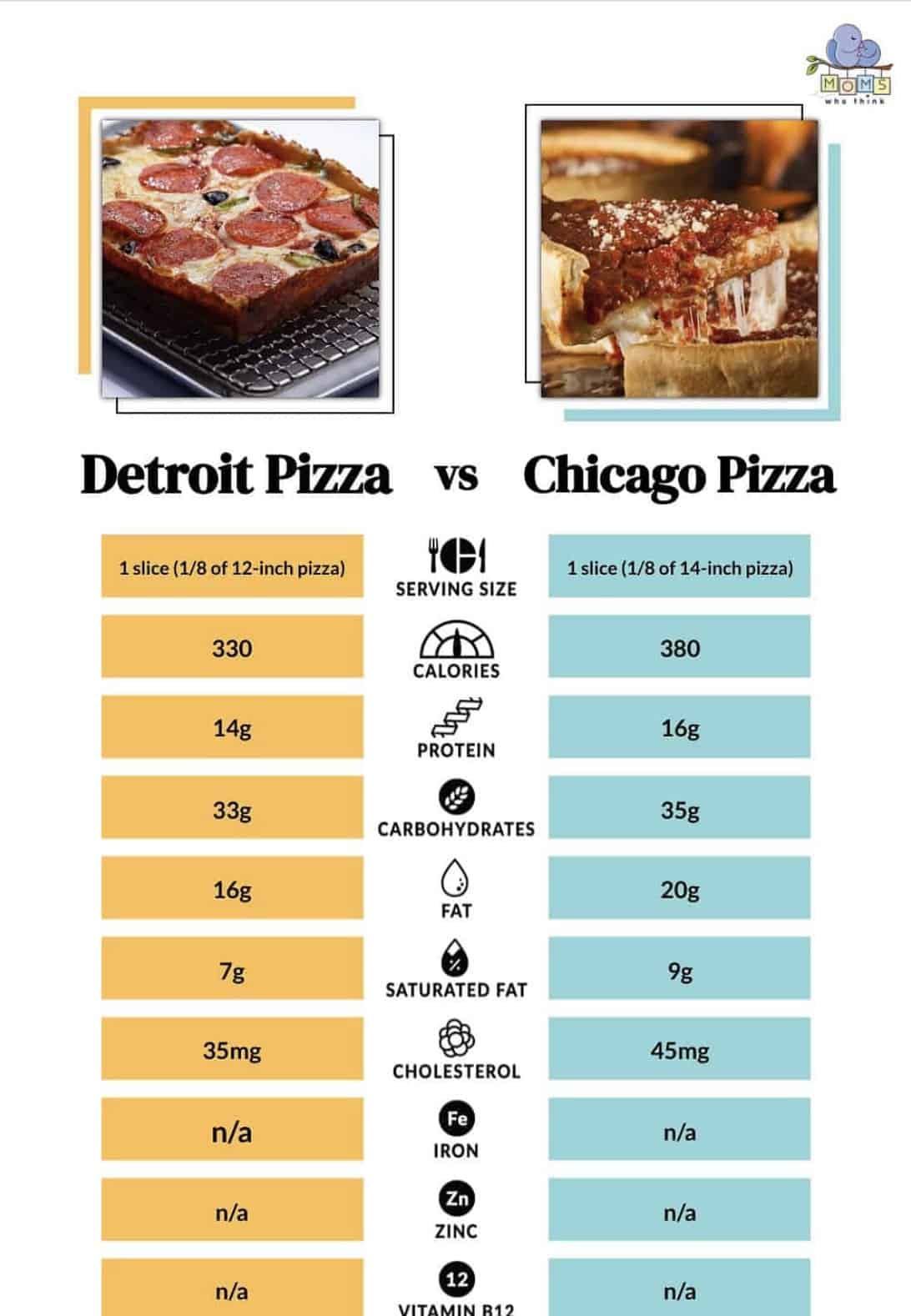 Detroit vs. Chicago Pizza: Are They the Same Thing?
Comparing Detroit vs. Chicago pizza, it's clear to see that while they have some overlap, they are, in fact, different things. They come from different places and are riffs on classic pizza but with different crust styles. While Detroit pizza is fluffier and comparable to bread in crust texture, Chicago-style pizza is flaky and more similar to classic pizza crusts. Detroit pizza uses Wisconsin cheese cubes that form crispy crusting below the other toppings. While Chicago-style pizza also uses cheese, it's typically a part of the gooey goodness in the middle of the deep-dish pizza.
Possible Alternatives To Detroit and Chicago Pizza
For alternative ways to cook your pizza, try out a steel or a stone. You can pan-cook your pizza or try hand-tossing for a thinner crust and a fun kitchen trick. Wood-fired pizza can provide a smoky, delicious pie experience for other pizza-style options. Try out New York-style pizza for thin-crusted goodness, and try out some classic flatbread for the original form of pizza! Many of these recipes can be modified to fit gluten, dairy, meat, or meat-alternative dietary needs.
Comparison of Detroit vs. Chicago Pizza
Pizza is one of those meals that just about everybody enjoys. Luckily, there are several options to choose from. While Detroit- and Chicago-style pizza are similar, I have several differences. Let's take a look at a few:
Although they have similar nutritional value, Detroit-style pizza Is slightly higher in calories than Chicago-style pizza.
Wisconsin cheese is used in Detroit-style crust, whereas Chicago-style has a regular crust.
If you enjoy a fluffier pizza, style is a good choice. However, for crispier pizza, go for Chicago style.
Print
Whole-Wheat Turkey Sausage, Pepper, and Onion Pizza
---
Author:

Yield:

8

servings

1

x
Dough:
2

–

2 1/4

cups

(11 to 12 2/3 ounces) bread flour

2

cups

(11 ounces) whole-wheat flour

1

envelope (2 1/4 teaspoons) instant or rapid-rise yeast

1 1/2 teaspoons

salt

3 tablespoons

olive oil

1 1/2

cups

warm water (110 degrees)
Sauce:
1

(28 ounce) can whole peeled tomatoes, drained, juice reserved

1 tablespoon

extra-virgin olive oil

2

garlic cloves, minced

1/2 teaspoon

salt
Toppings:
4 teaspoons

olive oil

1

onion, halved and sliced thin

1

red bell pepper, stemmed, seeded, and sliced into

1/4

-inch thick strips

4

ounces

hot or sweet Italian turkey sausage, removed from its casing
Salt and pepper

3

cups

shredded part-skim mozzarella cheese (about 12 ounces)

1/4

cup

grated Parmesan cheese
---
Instructions
Pulse 2 cups of the bread flour, whole-wheat flour, yeast, and salt in a food processor to combine. With the processor running, pour the oil, then the water, through the feed tube and process until a rough ball forms, 30 to 40 seconds.
Let the dough rest for 2 minutes, then process for 30 seconds longer. If the dough is sticky and clings to the blade, add the remaining ¼ cup bread flour, 1 tablespoon at a time, and pulse to incorporate.
Turn the dough out onto a lightly floured counter and knead it into a smooth, round ball. Place the dough in a large, lightly greased bowl and cover with greased plastic wrap. Let rise in a warm place until nearly double in size, 1 to 1½ hours, before using.
Meanwhile, prepare sauce. Pulse the drained tomatoes, oil, garlic, and salt together in a food processer until coarsely ground and no large pieces remain, about 12 pulses. Transfer the mixture to a liquid measuring cup and add the reserved canned tomato juice until the sauce measures 2 cups.
Adjust an oven rack to the lower-middle position, place a baking stone on the rack, and heat the oven to 500 degrees. Let the baking stone heat for at least 30 minutes (but no longer than 1 hour).
Meanwhile, heat 2 teaspoons of the oil in a 12-inch nonstick skillet over medium heat until shimmering. Add the onion and pepper and cook until softened, about 8 minutes. Stir in the sausage and cook, breaking up the meat with a wooden spoon, until no longer pink, 3 to 5 minutes. Season with salt and pepper to taste and transfer to a bowl.
Turn the dough out onto a lightly floured surface, divide it into 2 equal pieces, and cover with greased plastic wrap. Working with one piece of dough at a time, press and roll the dough into a 14-inch round flouring the surface as necessary. Transfer the dough to a rimless (or inverted) baking sheet lined with parchment paper and reshape as needed.
Lightly brush the outer ½-inch edge of the dough with 1 teaspoon more oil. Spread 1 cup of the pizza sauce over the dough, leaving a ½-inch border at the edge. Sprinkle with 1½ cups of the mozzarella, 2 tablespoons of the Parmesan, and half of the sausage mixture.
Slide the parchment paper and pizza onto the hot baking stone. Bake the pizza until the edges are brown and the cheese is golden in spots, 8 to 13 minutes. (Assemble the second pizza while the first bakes.)
Remove the pizza from the oven by sliding the parchment paper back onto the baking sheet. Discard the parchment paper and slide the pizza onto a cutting board. Slice the pizza into 8 slices and serve hot. Let the stone reheat for 5 minutes before baking the second pizza.
Nutrition
Calories:

520

Sodium:

1140mg

Fat:

21g

Saturated Fat:

7g

Carbohydrates:

64g

Fiber:

7g

Protein:

24g

Cholesterol:

30mg
The image featured at the top of this post is ©TMON/Shutterstock.com.