Picture this, it's pizza-making time and you can't decide between hand-tossed vs. pan-pizza style! Both have their benefits, but how exactly are they different, and what makes them unique? Hand-tossed pizzas include a physical throw of faith while preparing your dough. Meanwhile, pan pizza requires more straightforward preparation in terms of what you need to get the pizza in the oven! These two methods of cooking impact things like the crust thickness, as well as the crunch factor. These things in turn can affect how many toppings a pizza can handle. The thicker the crust, the more it can hold! So, let's get into the meat of what makes these pizza styles so specific. Here's what to consider when using them to make your pizza pie.
In this post, we'll discuss the preparation differences between hand-tossed vs. pan-pizza. You'll learn all about how these pizza-making methods came to be, and why they are still used today. Learn some recipes, learn some history, and get some great pizza ideas before you're done. By the end of this, you'll have the differences between hand-tossed bad pan pizza down to the letter. Here we go, happy reading!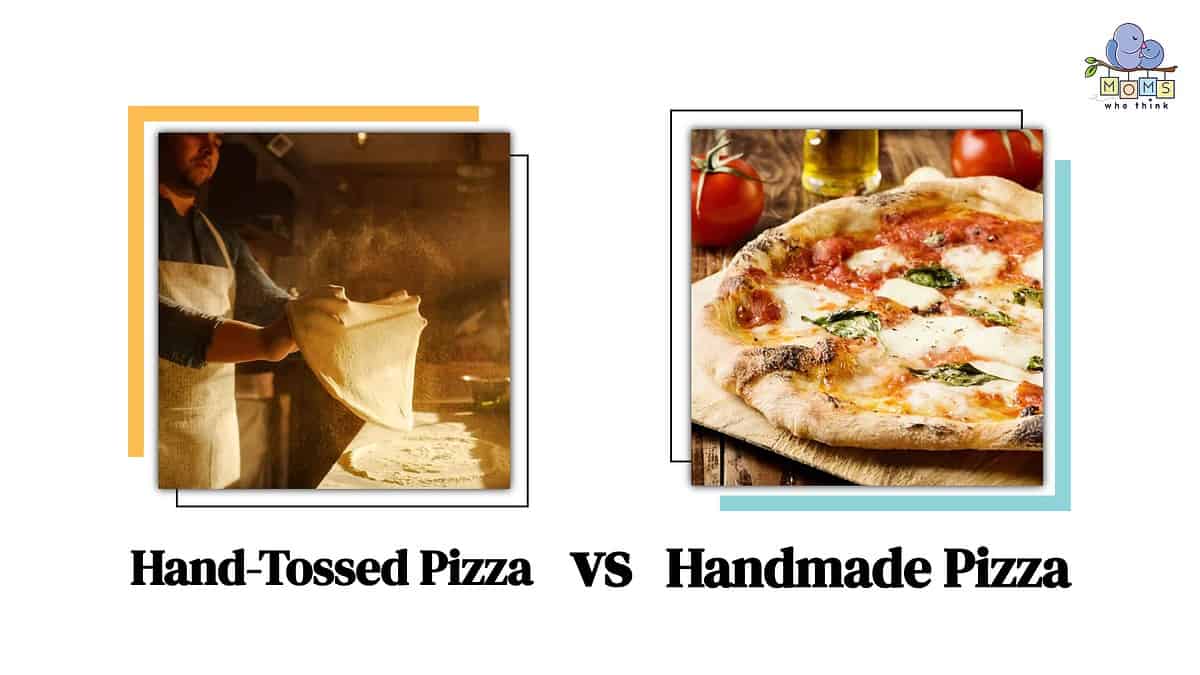 Hand Tossed vs. Pan Pizza: What Is The Difference?
The major difference between hand-tossed vs. pan-pizza comes down to their preparation and how that affects the crust. To put it simply, one is hand-tossed before being placed in the oven for cooking. The other style is cooked in the pan without being thrown into the air! Can you guess which one is which? Now, how exactly do these methods make such an impact on the overall pizza pie? Let's find out.
What Is Hand-Tossed Pizza?
Hand-tossed pizza is the technique of taking a flattened ball of dough and tossing it up in the air. This action transforms it slowly into a disk for cooking. The method for hand tossing involves spinning the dough to create a circular shape. The motion of tossing helps to keep moisture in the dough. Hand-tossed pizzas generally rise less because the air bubbles are flattened out while being tossed. That being said, this method is a fun, engaging way to create your crust. And to emulate some of the great pizza chefs!
History Of Hand Tossing Technique
Hand-tossing pizza was a method developed alongside pizza evolution. Pizza came to the States with Italian immigrants in the 19th century. However, it has existed for thousands of years in different forms and iterations (ancient Greek flatbread anyone?). Hand tossing likely developed as chefs found easier ways to create the perfect disk of pizza dough without using traditional pizza tools. It's quite the trick to practice in the kitchen. It's also an efficient way of creating pizza crust from (nearly) thin air!
How To Hand Toss Pizza
To hand-toss your pizza, you'll need a ball of pizza dough that has been given enough time to rise (you can either handmake it or buy it). Dust it with a light coating of flour and press it out until it has a defined crust and it's the diameter that you want for your pie. Next, take your hand and form a fist, place this under your disk of dough, and use your other hand to steady the dough. Toss your dough up in the air, using your free hand to spin it slightly and catch it on your fist. Each time you toss it you should turn the dough slightly (via The New York Times Magazine).
Tossing the dough can be difficult, but it's something to learn and perfect, so don't worry if you don't get it right the first time! This method will help to stretch out the dough until it's the desired size. If it tears try to repair it and assume that it's thin enough, but the crust thickness is entirely your choice.
Popular Recipes
Check out some of these recipes that could absolutely be adapted to include some tossed pizza crust action! Whether they're veggie pizzas, red sauce pizzas, or pizza with toppings galore, try your hand with hand-tossed pizza vs. pan pizza on some of these great pie recipes.
What Is Pan Pizza?
Pan pizza is pizza dough that is cooked in some kind of pan, which results in a very thick, crunchy crust. It is not tossed after the dough has risen which means that even though the dough is rolled out, it rises much more because the air bubbles are still present when the dough goes into the oven with toppings.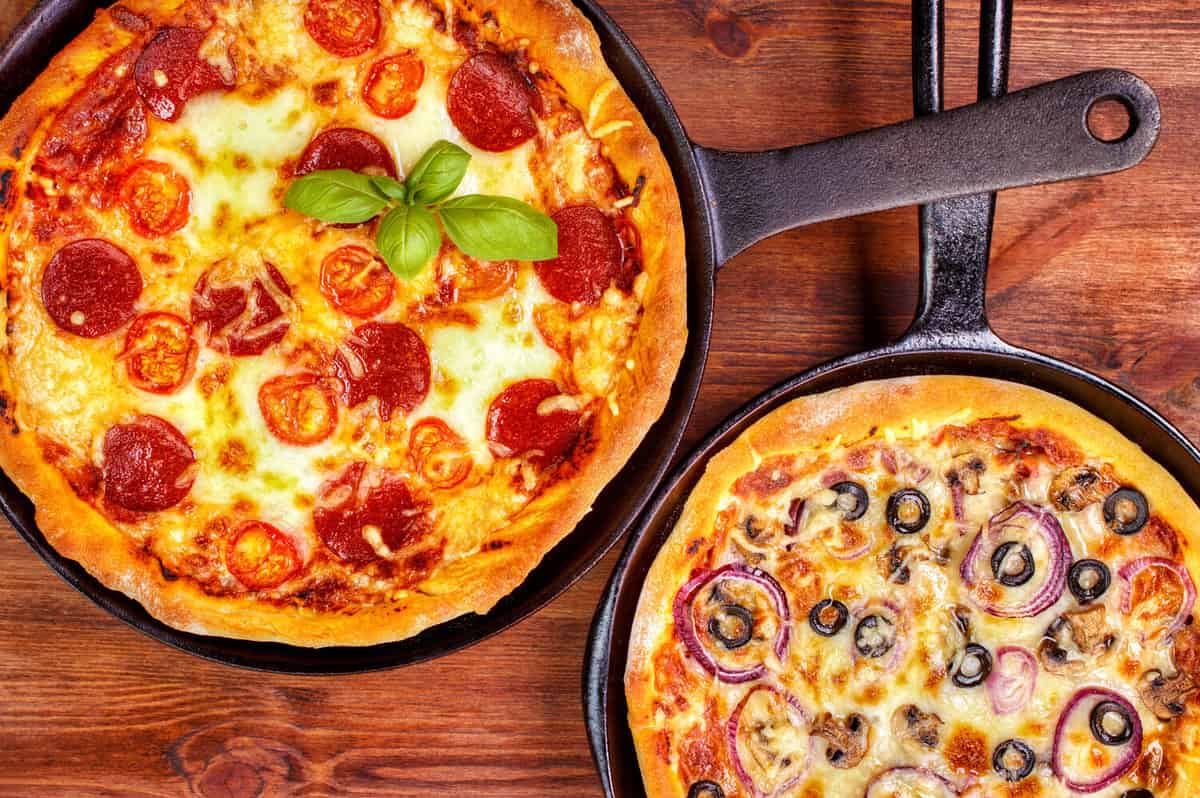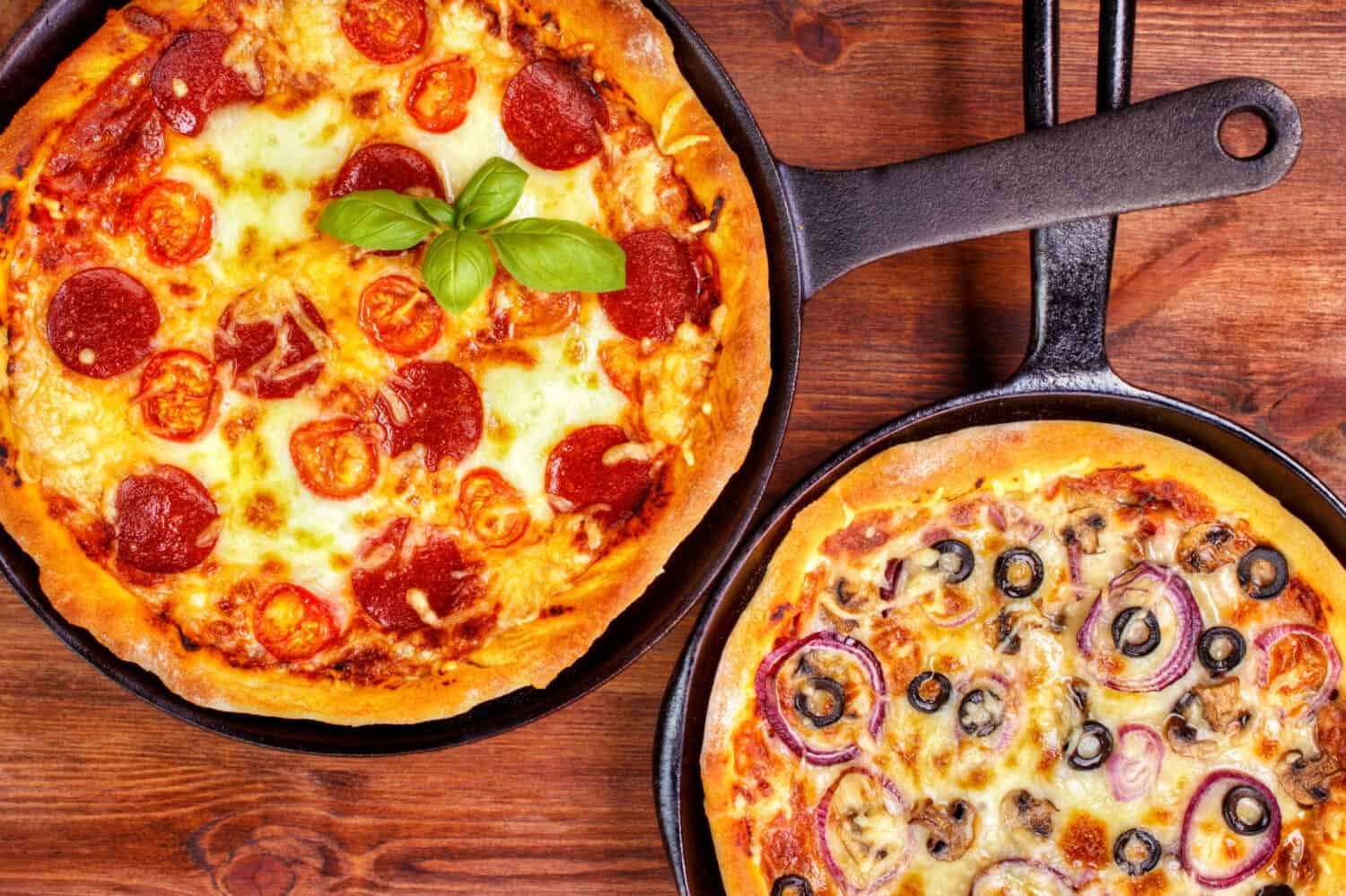 History and Origin Of Pan Pizza
Pan pizza was developed in 19th-century Italy. Families would make pizzas on a wood fire and use cast iron pans or rectangular baking trays that would conduct the heat and cook the pizza. These could be shared family style and provide delicious pizza pies for hungry, hungry families. Pizza dough was developed quite differently back then, especially without refrigeration, it took much longer for the dough to rise before it could be rolled out and put in a pan for proper cooking. These days, pan pizza is one of the easiest ways to prepare pizza, and because the crust is so thick, it holds lots of delicious toppings.
How To Make Pan Pizza
Pan pizza can be made in a couple of ways. Cast iron pans are common for deep-dish pizza, which is associated with Chicago, where it is fairly iconic. Rectangular baking sheet pizza is also called Sicilian pizza, and the resulting pizza is square, thick-crusted, and delicious. Both styles involve spreading the dough to cover the entire pan, and then you can put your toppings down. Deep dish toppings are typically inverted which means cheeses, veggies, meats, and toppings actually go on the bottom, before being covered with sauce. This method helps everything to cook evenly with so many things in one pie! Rectangular pizza also features lots of toppings that can be carried by its crunchy, crispy crust!
Popular Recipes
Check out some of these pan pizza recipes that can either use cast irons or baking pans to achieve that perfect, crispy crust:
Pizzeria Stella Sausage and Veggie Pizza Recipe
Upside-Down Deep Dish Pizza Recipe
Nutritional Value
When comparing the nutritional value of hand-tossed pizza vs. pan pizza, it's important to consider the toppings. Because pan pizza has a thicker crust, there's usually a bit more to it than hand-tossed pizza recipes. This impacts the nutritional profile comparison. As you can see in the handy chart below, a slice of pan pizza has 110 calories more, along with higher protein, carbohydrate, fat, and cholesterol content. Cooking at home allows you to be more specific with your topping additions, so you can play around!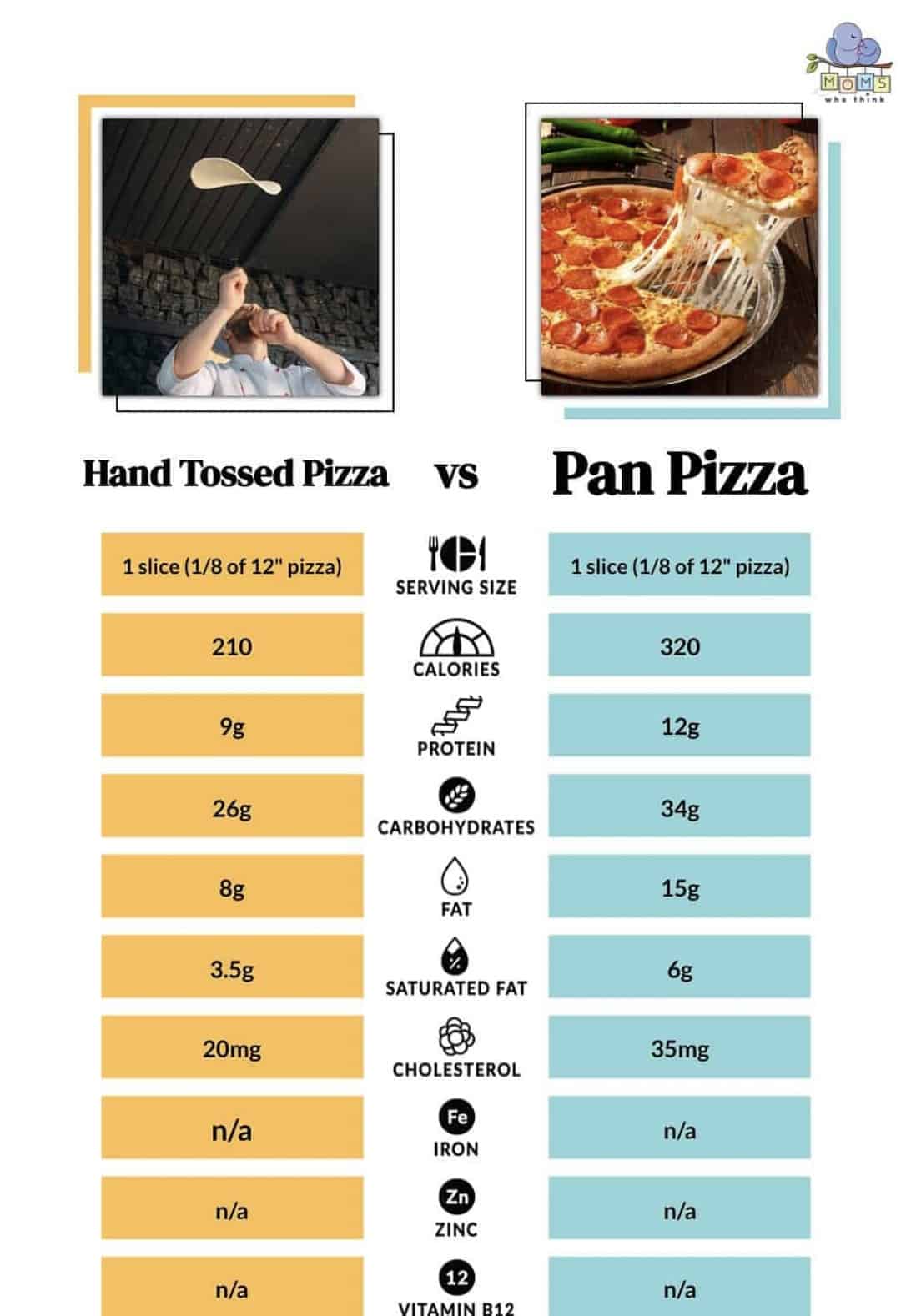 Hand Tossed vs. Pan Pizza: Are They The Same Thing?
While both hand-tossed and pan-pizza methods for pizza making result in the same delicious thing, the resulting pizzas are actually quite unique. There's some overlap in terms of toppings, and flavorings, but the crust thickness and topping capacity are directly affected by the decision to hand toss vs. pan cook your pizza pie.
Possible Alternatives To Hand Tossed And/Or Pan Pizza
If you're looking for an alternative to hand-tossed vs. pan-pizza, check out Chicago deep-dish pizza, wood-fired pizza, or cooking on steel vs. a pizza stone. It's amazing how much the way you prepare the dough and the method you use for cooking can impact the overall taste and crust of your pizza pie. Happy cooking!
Main Differences in Hand-Tossed and Pan Pizza
Pan pizza is generally denser and has a high amount of ingredients.
Hand-tossed pizza is generally lower in calories.
Hand-tossed pizza generally has a thinner cracker-like crust.
One last thing: this is a pan pizza recipe you have to try:
Print
Homestyle Beef Pan Pizza
---
13–3/4 ounces refrigerated pizza dough
1/4 pound 95% lean ground beef
3 Tablespoons finely chopped onion
1 cup pizza sauce
2 teaspoons Italian seasoning
2 cloves garlic, minced
1/8 teaspoon ground red pepper
1/2 cup sliced mushrooms
1 1/2 cups shredded mozzarella cheese
2 Tablespoons finely grated Parmesan cheese
---
Instructions
1. Preheat oven to 425°F. Lightly spray a 12-inch pizza pan with nonstick cooking spray.
2. Unroll pizza dough; press onto prepared pan, with edges slightly rolled. Prick dough all over with fork.
3. Bake 7 to 10 minutes or until lightly browned.
4. While crust is baking, brown ground beef with onion in large skillet over medium-high heat, stirring to break up meat. Drain fat.
5. Combine pizza sauce, Italian seasoning, garlic and red pepper in a small saucepan over medium heat; bring to a boil.
6. Reduce heat; simmer, uncovered, about 8 minutes or until desired consistency. Remove pizza crust from oven.
7. Spread tomato mixture evenly over pizza crust. Sprinkle with ground beef mixture and mushrooms. Sprinkle with cheeses.
8. Return pizza to oven and bake 5 to 8 minutes more, or until heated through.
The image featured at the top of this post is ©V. Matthiesen/Shutterstock.com.