Weighing your options between Chicago vs. New York pizza? You may be stuck on the differences beyond the city name; if so, let's talk about it. One of the major differences between Chicago vs. New York pizza is the crust. Chicago Pizza is known for its thick crust, often referred to as deep dish pizza. New York style, on the other hand, has a thin crust. Moving onto flavoring, Chicago deep-dish pizzas are typically topped with many kinds of cheese, lots of toppings, and often a few kinds of meat. New York pizza, however, usually has simpler toppings, though this can be variable because the crust is simply not equipped to hold the toppings. So, their differences go well beyond just the name — and set them quite apart.
In this post, we will discuss the origin of Chicago vs. New York pizza, as well as how they are made. You'll learn about some of the popular iterations, nutritional profiles, and alternatives. By the end of this, you'll know the differences beyond just the names and which type of pizza you're looking to try the next time you're craving a pie!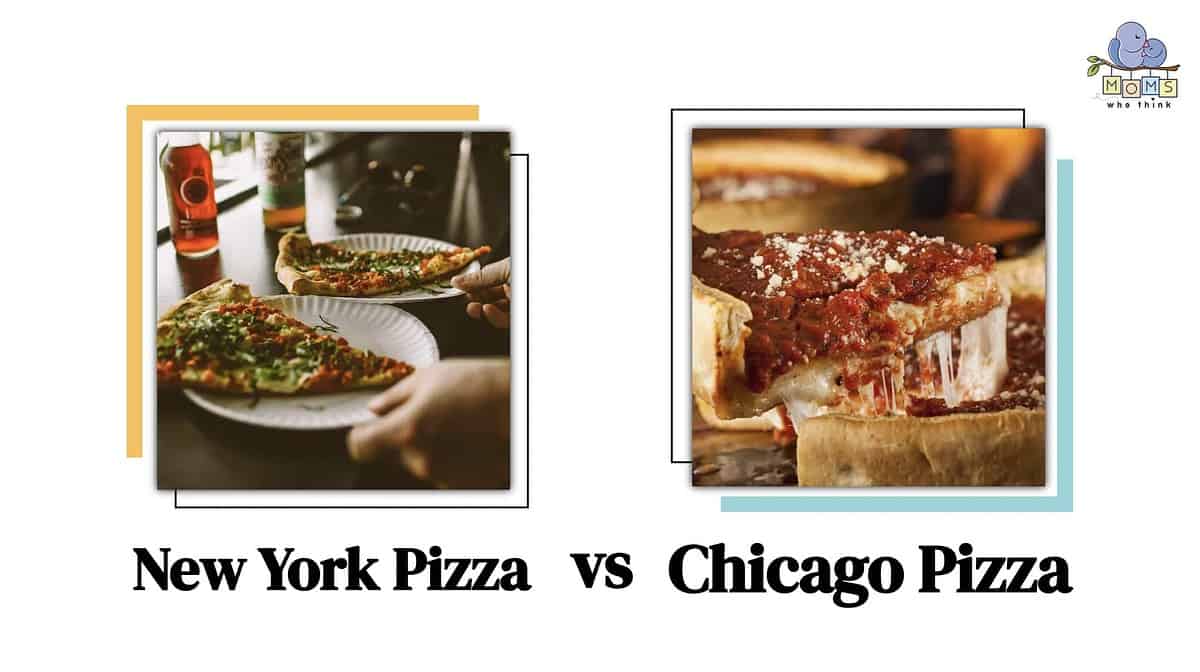 Chicago vs. New York Pizza: What Is The Difference?
Comparing Chicago vs. New York Pizza comes down to a few key differences. They have quite different crusts and unique toppings that are held up by the thickness of the crust. Overall, these two are quite discernable by their appearance and have their own flavor profiles. Also, one is historically made in Chicago vs. being made in New York. Let's get into some of these finer details.
What Is Chicago-Style Pizza?
Chicago-style pizza, also called deep dish pizza, features a thick, oily crust built to hold some amazing toppings. Deep dish dough often contains cornmeal and more butter or olive oil than other types of dough, which gives the pizza its unique grilled taste. Chicago-style pizza is often cooked in cast iron.
History And Origin Of Chicago-Style Pizza
Pizza has a history that can be traced all over the ancient world; flatbread was popular throughout Greek and Roman civilizations. A Latin text from 997 AD mentions the recipe for flatbread, with similar texts popping up in Spain and parts of Greece. These original flatbreads were topped with tomatoes from traders and olive oils or anchovies for flavor and richness. Pizza spread to the States with Italian immigrants, many of them moving to Chicago for work. In the 1900s, Ike Sewell and Ric Riccardo, combined Italian ingredients with American-style pizza, stuffing the crust, baking it thick, and filling it with delicious toppings. They opened Pizzeria Uno in 1943 on the North Side of Chicago, with this pizza as the main attraction. Thus, a Chicago-born pizza made its way to the masses alongside other iconic foods like the Wrigley Field hot dog (via BBC).
How Chicago-Style Pizza Is Made
The Chicago-style pizza features layers of toppings, meats, veggies, and sometimes multiple types of cheese, all supported by a crispy, thick crust. It can be cooked in a cast-iron pan or a cake-like pan, which is used to achieve the high walls of the deep dish crust. Coat the pan in olive oil and sprinkle with flour. Toppings are inverted, meaning cheese goes first, then meat, then tomatoes or vegetables. Think the opposite of your marinara and then cheese-topping pizza. This process helps the whole dish to cook and not burn with so much going on. The Food Network breaks down a basic Chicago pizza recipe:
Using either storebought deep dish dough or homemade dough (use cake flour or bread flour for best results), knead your dough by hand or with a Kitchen Aid hook for around 90 seconds and then allow it to sit and proof for 6 hours, or until it has doubled in size. Knead again and let settle for 15 minutes before preheating your oven to 450º Fahrenheit. Pick your pan of choice and oil the pan with olive oil or melted butter; place the dough into the pan, and spread it out to the top of the edges of the pan.
Now you get to pick your toppings, but typically, you start with mozzarella, and then some kind of meats (pepperoni, Italian sausage, etc), add your veggies and crushed tomatoes, and be sure every inch is covered. Optional addition of grated parmesan over everything before it goes into the oven for around 25 minutes. Remove, with a heat protectant, when the crust is golden brown and the toppings are sizzling. Wait to slice until the pizza has properly cooled.
Popular Iterations
While the basics of Chicago-style pizza stay relatively the same, you can have fun with the toppings you choose. Why not try out other cuts of meat or non-meat alternatives? You can add mushrooms, artichoke hearts, peppers, pineapple, red onions, spinach, and balsamic glaze. Trust that your crust can handle a lot, so why not go wild and pile on those tasty toppings?
Check out this great guide to the Pizzeria Stella Sausage and Veggie Pizza Recipe. Or, if you want to get really wacky, check out this Upside-Down Deep Dish Pizza Recipe.
What Is New York-Style Pizza?
New York pizza features a thin crust, lots of cheese, red pizza sauce, and other light toppings. It typically includes classics like basil, olives, peppers, sometimes anchovies, and thinly sliced meats. But how did New York Pizza end up with such a specific style? Let's get into some of the history of this pizza pie.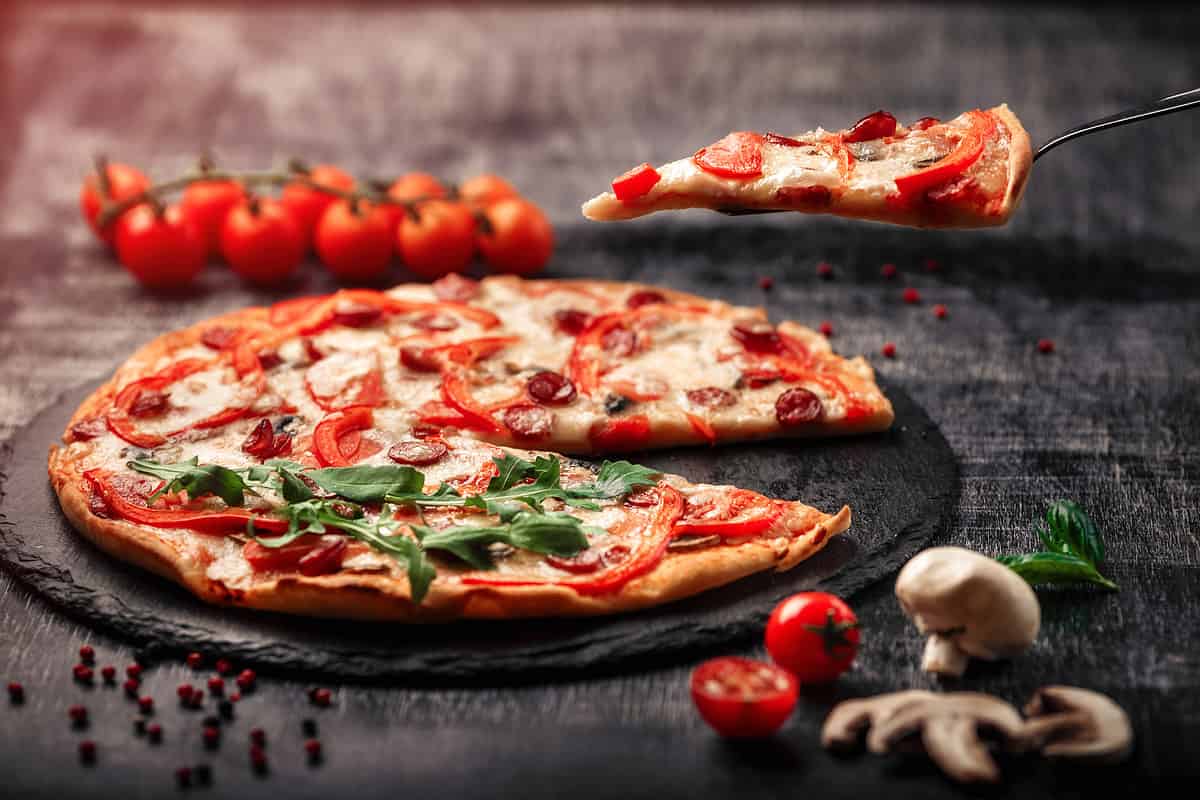 History and Origin Of New York-Style Pizza
American pizza takes inspiration from Neopolitan-style pizza pies. In 1905, Gennaro Lombardi, a New York grocer, started selling pies from his shop for only a nickel. Eventually, the demand grew so high that he opened a storefront and pizza began flooding New York City's streets. It was fast to cook, easy to make, and cheap to buy. Who wouldn't want a slice for lunch? Like its predecessor, this New York-style pizza had loads of tomato sauce, lots of cheese, and a thin, easily cookable crust.
These original pizza joints used coal ovens to cook the pizza, which resulted in a smoky crust and a fast cook time. However, once a ban on coal ovens took effect, pizzerias switched to gas ovens for cooking their thin-crust pizzas. Using a gas stove, anyone could make New York-style pizza, so hundreds of pizza parlors popped up all over the city that never sleeps (via Eatery). Easy to make, easy to eat, easy to transport, and simply delicious, the New York-style pizza continues its reign as an icon of New York City.
How New York-Style Pizza Is Made
New York pizza can be made with regular pizza dough from the store or homemade pizza dough. Be sure to knead your dough and allow it time to rise (double in size) before using. Heat your oven to 475º Fahrenheit and roll out your dough to achieve the classic New York thin crust. You can place your rolled-out dough on a pizza pan or a pizza stone for baking. Now comes the toppings; the classic New York style calls for mozzarella and romano cheeses and spices like oregano, basil, red pepper flakes, and of course, your trust red sauce layer beneath. This pie goes in for a mere 12-15 minutes as the crust won't take that long to cook. Allow it to cool for at least five minutes before slicing and serving (via Allrecipes).
Popular Iterations
Check out some of these great pizza ideas that use New York-style crusts as their base:
Nutritional Value
The nutritional value of Chicago vs. New York pizza will vary depending on what toppings are included. But you can refer to this handy chart comparing a single slice of each, assuming the classic toppings. Chicago-style pizza is often more loaded with ingredients, which can impact its nutritional content in positive and negative ways. It also depends on how they are made and cooked overall.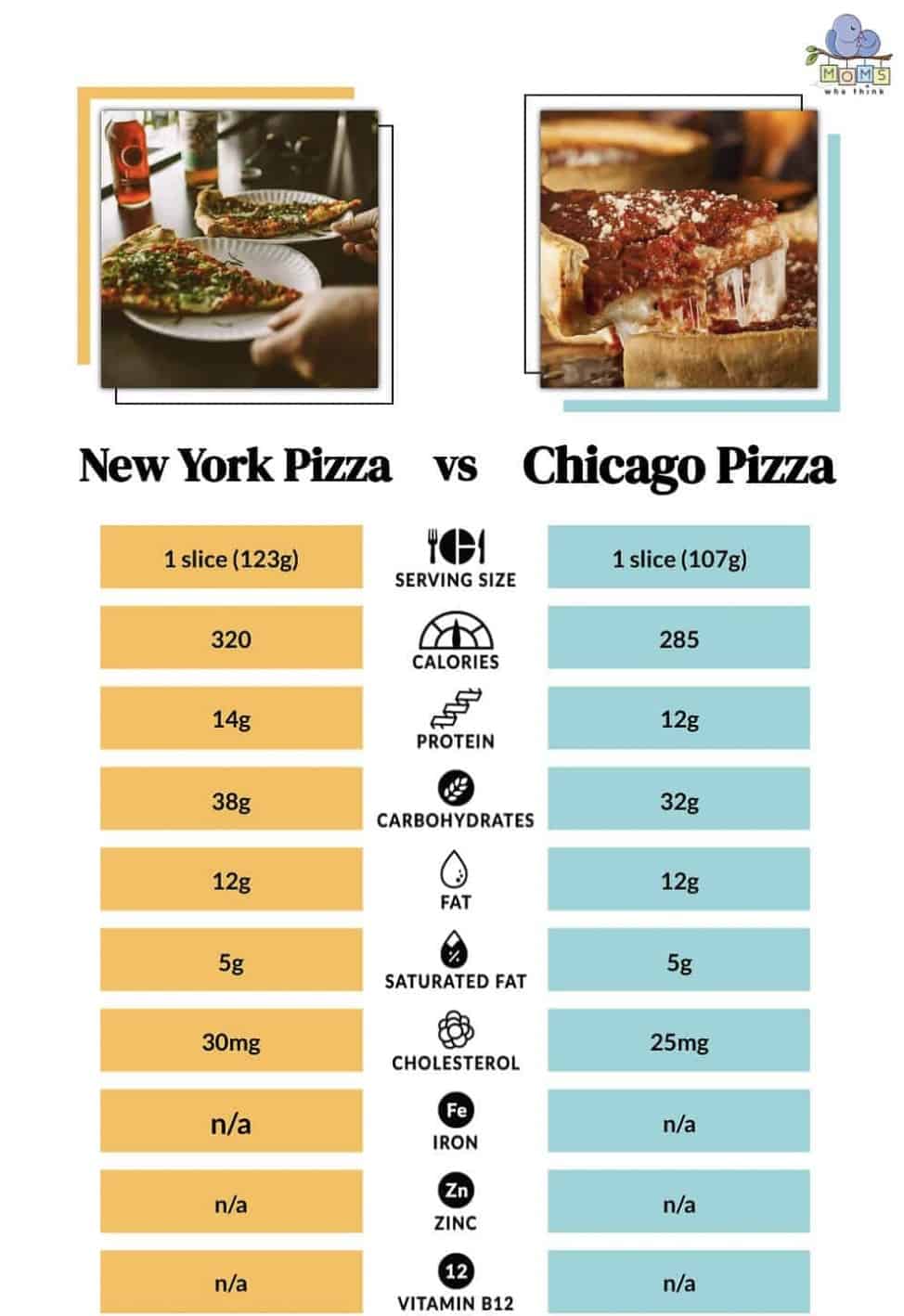 Chicago vs. New York Pizza: Are They The Same Thing?
Though these are both delicious types of pizza, that is all they have in common. Comparing Chicago vs. New York pizza is like comparing apples and oranges. They have different flavors, different ingredients, and crusts that work to hold up the classic toppings they are known for.
Possible Alternatives To Chicago And/Or New York-Style Pizza
If Chicago deep dish and New York style aren't your jam, check out San Francisoc's Wood-fired pizza. There's also pan-sheet pizza, where the crust can be even thinner, and Sicilian pizza that comes in thick-crusted squares full of meat and savory sauces. There are all kinds of pizzas; find the pie that fits you!
Comparison of New York vs. Chicago Pizza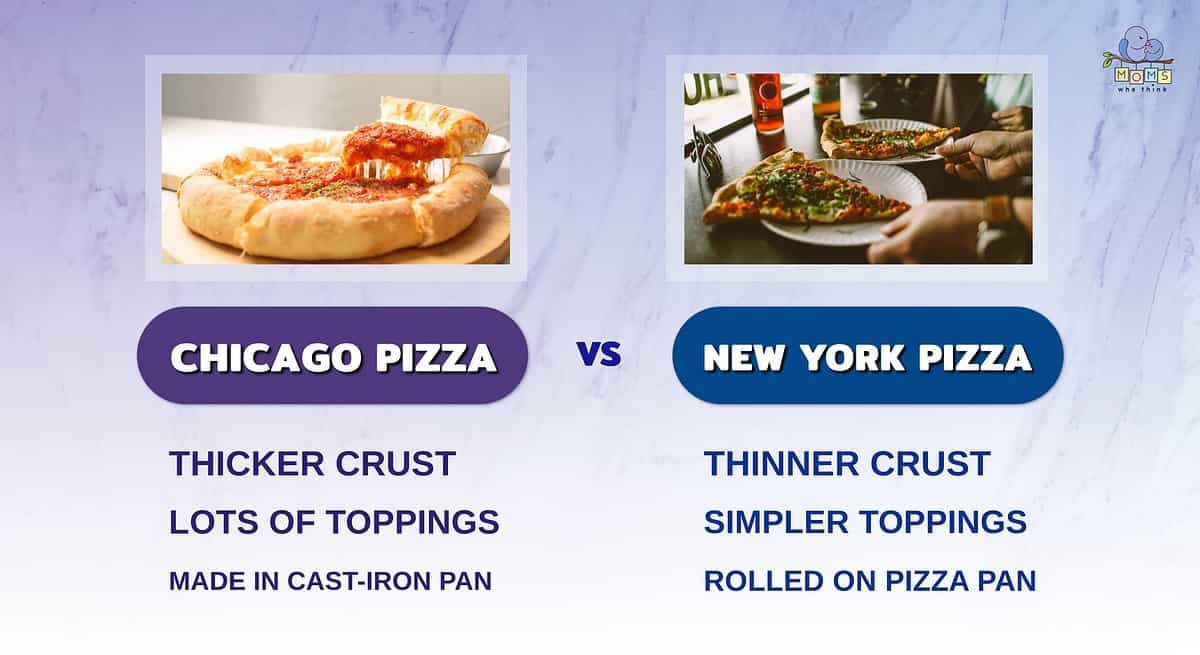 Many people are divided on which is better: Chicago- or New York-style pizza. It's uncommon to find someone who is a huge fan of both. And while they are both delicious types of pizza, there are quite a few differences between them. Let's recap what those are:
The biggest and most evident difference is the crust. Chicago boasts a thicker, deep dish crust, while New York is a thinner, pan pizza.
Surprisingly, New York-style pizza has slightly more calories than Chicago Pizza.
While you can add just about any toppings to either of these pizzas, New York-style pizza has simpler toppings, whereas Chicago tends to have more.
Print
Whole-Wheat Turkey Sausage, Pepper, and Onion Pizza
---
Author:

Yield:

8

servings

1

x
Dough:
2

–

2 1/4

cups

(11 to 12 2/3 ounces) bread flour

2

cups

(11 ounces) whole-wheat flour

1

envelope (2 1/4 teaspoons) instant or rapid-rise yeast

1 1/2 teaspoons

salt

3 tablespoons

olive oil

1 1/2

cups

warm water (110 degrees)
Sauce:
1

(28 ounce) can whole peeled tomatoes, drained, juice reserved

1 tablespoon

extra-virgin olive oil

2

garlic cloves, minced

1/2 teaspoon

salt
Toppings:
4 teaspoons

olive oil

1

onion, halved and sliced thin

1

red bell pepper, stemmed, seeded, and sliced into

1/4

-inch thick strips

4

ounces

hot or sweet Italian turkey sausage, removed from its casing
Salt and pepper

3

cups

shredded part-skim mozzarella cheese (about 12 ounces)

1/4

cup

grated Parmesan cheese
---
Instructions
Pulse 2 cups of the bread flour, whole-wheat flour, yeast, and salt in a food processor to combine. With the processor running, pour the oil, then the water, through the feed tube and process until a rough ball forms, 30 to 40 seconds.
Let the dough rest for 2 minutes, then process for 30 seconds longer. If the dough is sticky and clings to the blade, add the remaining ¼ cup bread flour, 1 tablespoon at a time, and pulse to incorporate.
Turn the dough out onto a lightly floured counter and knead it into a smooth, round ball. Place the dough in a large, lightly greased bowl and cover with greased plastic wrap. Let rise in a warm place until nearly double in size, 1 to 1½ hours, before using.
Meanwhile, prepare sauce. Pulse the drained tomatoes, oil, garlic, and salt together in a food processer until coarsely ground and no large pieces remain, about 12 pulses. Transfer the mixture to a liquid measuring cup and add the reserved canned tomato juice until the sauce measures 2 cups.
Adjust an oven rack to the lower-middle position, place a baking stone on the rack, and heat the oven to 500 degrees. Let the baking stone heat for at least 30 minutes (but no longer than 1 hour).
Meanwhile, heat 2 teaspoons of the oil in a 12-inch nonstick skillet over medium heat until shimmering. Add the onion and pepper and cook until softened, about 8 minutes. Stir in the sausage and cook, breaking up the meat with a wooden spoon, until no longer pink, 3 to 5 minutes. Season with salt and pepper to taste and transfer to a bowl.
Turn the dough out onto a lightly floured surface, divide it into 2 equal pieces, and cover with greased plastic wrap. Working with one piece of dough at a time, press and roll the dough into a 14-inch round flouring the surface as necessary. Transfer the dough to a rimless (or inverted) baking sheet lined with parchment paper and reshape as needed.
Lightly brush the outer ½-inch edge of the dough with 1 teaspoon more oil. Spread 1 cup of the pizza sauce over the dough, leaving a ½-inch border at the edge. Sprinkle with 1½ cups of the mozzarella, 2 tablespoons of the Parmesan, and half of the sausage mixture.
Slide the parchment paper and pizza onto the hot baking stone. Bake the pizza until the edges are brown and the cheese is golden in spots, 8 to 13 minutes. (Assemble the second pizza while the first bakes.)
Remove the pizza from the oven by sliding the parchment paper back onto the baking sheet. Discard the parchment paper and slide the pizza onto a cutting board. Slice the pizza into 8 slices and serve hot. Let the stone reheat for 5 minutes before baking the second pizza.
Nutrition
Calories:

520

Sodium:

1140mg

Fat:

21g

Saturated Fat:

7g

Carbohydrates:

64g

Fiber:

7g

Protein:

24g

Cholesterol:

30mg
The image featured at the top of this post is ©Ja Crispy/Shutterstock.com.