Are you a pizza connoisseur with an insatiable appetite for Italian delicacies? If so, you've probably experienced the tantalizing battle of Stromboli vs. Calzone – two delectable culinary food that frequently baffles customers with their shared characteristics and differences.
In a sense, these two types of pizza have almost the same ingredients. Both utilize either pizza or bread dough and pack them with mozzarella. These two foods often face comparisons, and both terms get easily interchanged.
To know more about their differences, make sure that you tune in as we explore the world of two different pizzas!
4 Key Differences Between Stromboli vs. Calzone
Stromboli and calzone are two classic Italian foods that have pizza-like ingredients wrapped in dough. While they appear to be identical at first appearance, there are four key differences between the two:
1. Dough
Stromboli makes use of pizza dough, whereas a calzone uses pasta dough or bread dough. Calzone dough has a more delicate and flexible texture than pizza dough due to the increased water-to-flour ratio. Also, strombolis take longer to cook than calzones since the dough is way thicker, therefore requiring a longer cooking time to spread the heat evenly inside of it.
2. Cooking Process
Stromboli, resembling pizza, is traditionally cooked in an oven. Before baking, people often coat it with oil or butter to give it a glossy appearance and enhance its flavor. People also cook calzone in the oven and occasionally deep-fry it, especially in distinct regional variations. Traditional calzones, on the other hand, are often cooked until the crust is golden brown.
3. Stuffings
A calzone normally has a tomato-based sauce stuffing, while strombolis sometimes include meats and cheeses inside. Stromboli commonly uses hard cheeses, frequently mozzarella or parmesan. The calzone can also contain the same cheeses that are found in Stromboli. However, ricotta cheese is practically usually present in a calzone. Unlike calzones, Stromboli does not make use of ricotta that often. Additionally, some stromboli includes sauce as part of the filling, while calzone is cooked with the sauce served on the side. Inside Stromboli, you'll often find a large amount of cured meats. While Italian cured meats can likely be found in a calzone, they aren't the main stuffing, so the amount of meat is significantly less when compared to the meat content to that of a stromboli.
4. Size and Presentation
Despite having distinct shapes, the two meals both employ pizza dough. A stromboli is wider and longer compared to a calzone, and it is cooked in a single piece before being sliced into pieces to serve many people. To shape a calzone, you first have to form a circle. By doing so, you can make a half-circle by folding it in half. On the other hand, you need to form an extended rectangle when you mold dough to produce a stromboli.
Generally, calzones start with a round dough, which is then folded in half, and the sides are squeezed together as if making a taco, while Stromboli gets rolled in the same way as a burrito.
What is a Stromboli?
Stromboli is a far more modern Italian-American invention compared to the calzone, which is a traditional Italian food from Naples. This Italian-American dish consists of a rectangular pizza dough with mozzarella as its topping, but you can also make use of other cheeses like cheddar cheese or mozzarella, as well as toppings such as aged meats, Italian cuts of meat, like salami, Prosciutto, and Finocchiona and vegetables, and occasionally tomato-based sauce. The basic method for making Stromboli, a close relative of pizza, is to roll up a pizza dough like a log and pinch the edges to seal it. The Stromboli often receives a coating of oil or butter after it has been formed so as to give it a shiny finish and to improve the taste. The dough is then fried or baked in the heated oven till golden brown and crispy.
Origin of Stromboli
In the 1950s, Stromboli first appeared in South Philadelphia, a traditionally Italian place known as Romano's Italian Restaurant & Pizzeria, which is still operational today. In Essington, Nazzareno Romano started a small pizzeria in 1944. Then in 1950, he asserted that he was the inventor of the filled, baked pizza. Others argue that the name originated from Hollywood. They believe that Nazzareno Romano derived the name for his incredible rolling pizza invention from Ingrid Bergman and Rossellini's 1950 film "On The Island of Stromboli," as all the components included in the pizza appear ready to erupt from a volcano.
Stromboli Variations
Meat Lover Stromboli: The recipe for the filling requires sausage, pepperoni, and bacon, but you may add, reduce, or swap anything you like. To add gooeyness and taste to the Stromboli, you can use cheeses like mozzarella, provolone, or parmesan.
Buffalo Chicken Stromboli: The ideal entertaining family supper or go-to on game day are these cheesy buffalo chicken strombolis. The creamy ranch sauce should be evenly distributed over every bit of dough before the buffalo chicken is added. On top, sprinkle mozzarella and cheddar in proportional amounts.
Italian Pizza Stromboli: This includes spicy salami, anchovies, black olives, and basil, all of which are prominent ingredients in Italian pizzerias that go well with freshly made mozzarella and a basic tomato-based sauce.
What is a Calzone?
In the shortened southern Italian dialect, calzoni is occasionally spelled as "calzone." This shape often resembled a half-moon, indicating that it likely resulted from folding over a single round of pizza dough. Calzones are a portable variant of pizza that is a Naples, Italy, specialty. It includes toppings like cheese, meat, and veggies placed on top of a flat circle of pizza dough. You can typically find Italian calzones on the sidewalk offered by vendors in a sandwich form, making it easy to munch on while walking.
Calzones were initially the same size as a sandwich, as opposed to many pizzerias today that typically serve them in medium pie sizes. While certain varieties of calzones are fried in oil, calzones are typically baked to perfection. Because most calzones come in just a single serving, you can eat and enjoy it using your hands, as if eating a pizza.
Origin of Calzone
The word "calzone" came from the term 'calze,' which means trousers or stockings in Italian. They claim that the term originates from the form of the folded dough, which resembles a closed stocking or pocket. The calzone's design effectively serves its purpose of being consumed on the go. Calzones made it possible for those busy people to get a bite of food without having to spend time at a table. Although calzoni could have incorporated more complex ingredients, people often made them with basic pizza toppings like mozzarella, tomatoes, and anchovies. People commonly serve warm tomato sauce as a side dish with calzones. It's gooey on the inside and crunchy on the outside.
Calzones Variations
Chicken, Spinach, And Artichoke Calzones: This contains roasted chicken, spinach, artichoke, garlic, heavy cream, chicken stock, and parmesan. Due to the use of healthy components, the filling is incredibly satisfying and delightfully moist and tasty. We served it with marinara and freshly chopped basil for a fantastic effect.
Philly cheese stake calzone: This is cooked with lovely steak strips, bell peppers, garlic, cheese, and other ingredients. Homemade Philly cheese stake calzones are a family staple in our house, which is why we think you're going to love them too!
Ricotta and Spinach Calzones: Calzones with Ricotta and Spinach is a wonderful twist on the traditional Italian meal. These calzones include a tasty filling of creamy ricotta cheese and sautéed spinach, making them a delicious vegetarian choice.
Calories in Stromboli and Calzones: Which is healthier?
Although Stromboli looks similar to a calzone, it has far more calories. Calzone calories might vary based on the contents used, although they are still less than Stromboli's. A large single serving of Calzone from Pizza Factory has 171g total carbohydrates, 159g net carbs, 50g fat, 92g protein, and 1490 calories. Given that calzone contains less cheese, it makes it healthier. Also, Stromboli may contain more processed meats that are higher in trans fats and salt. A single serving of Stromboli has 1610 calories, 75 grams of fat, 1.5 grams of trans fat, 141 grams of carbs, and 88 grams of protein.
In general, individuals can consume both meals in moderation as part of a healthy diet, with the healthier option being determined by the specific ingredients and cooking techniques employed.
What to Serve with Stromboli
Although Stromboli may quickly make you full, it's more enjoyable to accompany it with a few complementary sides.
Pesto Zoodles: A hearty layer of homemade basil pesto elevates zoodles to an entirely new level of deliciousness. You're in the clear after you add some fresh Parmesan. The pesto zoodles may offer a zingy and bright component to the dish when eaten alongside stromboli pizza, which frequently has a savory and occasionally acidic taste profile.
Eggplant caponata: This traditional Sicilian aperitif or side dish is ideal for late summer dinners and pairs nicely with hearty and flavorful dishes like Stromboli. Caponata, a delectable relish or salad from Sicily, consists of tomatoes, onions, celery, and eggplant, with an added enhancement of tart capers and olives.
Roasted Vegetables: With just olive oil, balsamic vinegar, and fresh herbs, you can make wonderful and simple roasted veggies as a side dish. This can give your meal some color and taste while also improving your tasting experience in general by adding a blast of smokiness and sweetness to the pizza's savory elements.
What to Serve with Calzones
When serving calzones, you can make a complete dinner by providing them with a choice of delectable sides. Here are some fantastic options for enhancing and complementing the flavor of calzones:
Potato Salad: Complemented by a range of other dishes, including steak, roast chicken, sausages, and calzone, making potato salad is remarkably easy and adaptable. While you may serve it with any food, calzones are its ideal food match.
Spinach Artichoke Dip: To make it, just mix the cheese, mayo, basil, thyme, mozzarella, spinach, artichoke hearts, and parmesan together. An additional coating of cheese would also give it a final touch. Then, lastly, add freshly chopped parsley and serve your dip after baking it until it is hot and melted.
Caesar Salad: The renowned Caesar salad is a must-have for any side dish with an Italian flair! This is the kind of salad that complements calzones so perfectly. The dressing's acidity will serve as a knife to cut through the calzone's rich filling.
To Wrap Up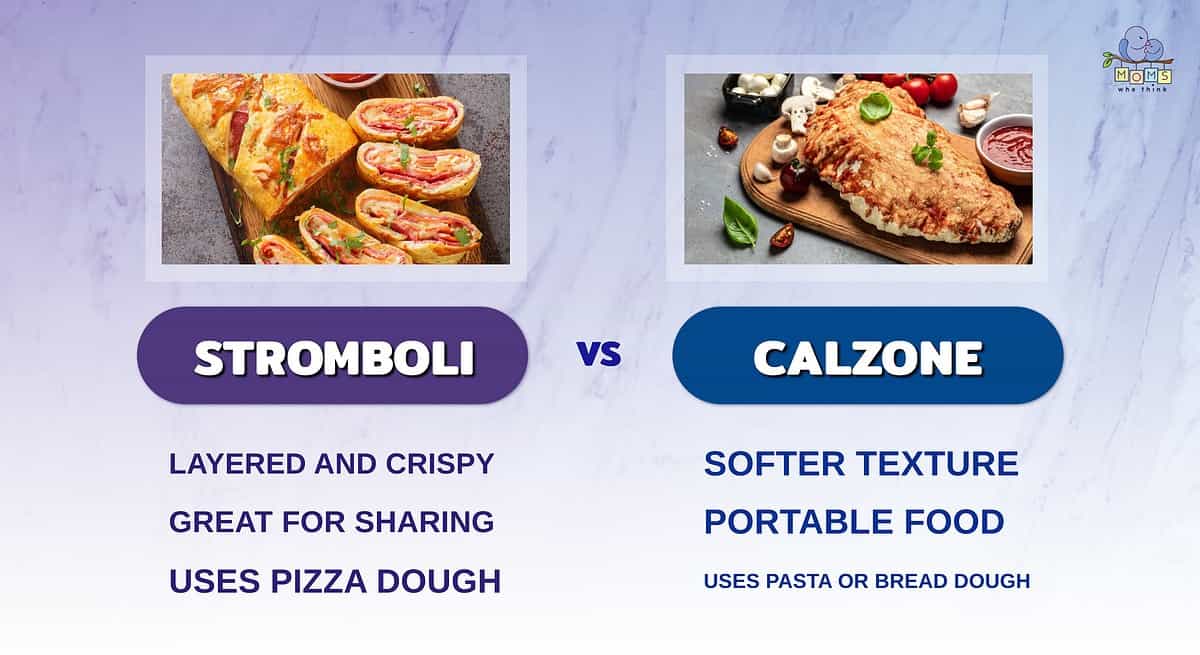 In the end, the choice between Stromboli or Calzone is just a matter of personal taste and texture preferences. Stromboli provides a more layered and crispy texture, making it excellent for sharing at parties or as a delightful snack. A calzone, however, has a more studded and softer texture on the inside, making it a quick, portable lunch with a delectable blend of tastes. Stromboli is made with pizza dough, while you can use pasta or bread dough to make a calzone.
So, the next time you have a longing for delectable Italian food, remember the four key differences and let your taste go on a savory adventure. Find the right Stromboli or Calzone to satisfy your hunger, and let these delightful foods transport you to the streets of Italy. Buon Appetito!
You need to try this ham and cheese stromboli:
Print
Ham and Cheese Stromboli
---
Author:

Total Time:

40 minutes
11 ounce

tube refrigerated French bread

1/4

– to 1/2-pound of cooked ham, thinly sliced
Small onion, diced

8

bacon strips

2 cups

mozzarella cheese
---
Instructions
Cook bacon until crisp; crumble. Reserve 2 tablespoons bacon fat.
Saute diced onion until translucent.
Unroll dough on a greased baking sheet.
Place ham over dough to within ½-inch of edges.
Sprinkle evenly with onions, bacon and cheese.
Roll up, Jelly-roll style, starting with the long side.
Pinch seams to seal and tuck ends under.
Place seam-side down on baking sheet.
Bake at 350 degrees F for 20 minutes, or until golden brown.
Allow to stand 10 minutes before slicing.
Serve warm.
Prep Time:

10 minutes

Cook Time:

30 minutes
The image featured at the top of this post is ©AS Foodstudio/Shutterstock.com.