Most people know that college is an expensive endeavor and that it's getting more costly by the year. We pay tens of thousands of dollars to achieve higher learning, and the schools are getting rich in the process. Today we'll talk about Nevada and its emerging school system. We'll tell you about the richest schools in Nevada, the fun facts that make each of them successful, and the reasons why your kids may want to attend them while trying to earn their degrees. 
Sierra Nevada University
999 Tahoe Blvd, Incline Village, NV 89451
One of the richest schools in Nevada is Sierra Nevada University. It's a private university that's located in Incline Village. Attending SNU is not cheap. The yearly tuition hovers right around $35,000 as of the 2022 academic year. This also makes it one of the most expensive colleges to attend in the state. 
Students who attend the school can earn a degree in numerous different programs, from fine arts and humanities to science and technology. Until 2020, the school was named Sierra Nevada College. It received its current name after it merged with the University of Nevada Reno. Some of the notable alumni of the school include:
Laura McCullough – poet
Tea Palic – Olympian
Patricia Smith – Poet
Carolee Schneeman – Filmmaker
University of Nevada – Las Vegas
4505 S Maryland Pkwy, Las Vegas, NV 89154
Next on our list of the richest schools in Nevada is one of the most distinguished schools in the state, and it's the University of Nevada – Las Vegas or UNLV. If you are a Nevada native and you attend the school, you'll pay around $9,000 for tuition. Out-of-state students can expect to pay upwards of $25,000 for their tuition. As of 2022, UNLV had a yearly endowment of $367.6 million.
The University of Nevada – Las Vegas is a public land-grant university that's located in the aptly named Paradise, Nevada. It's a huge 332-acre university that has a major focus on research. In fact, the school spent $83 million on development and research in 2018 alone. The school accepts around 10,000 students per year. This university is considered one of the best in the country, especially because of its creative writing and business programs.
Notable alumni of UNLV include:
Jimmy Kimmel – Comedian
Chris Cox – Musician
Guy Fieri – Chef
Suge Knight – Musician
John Ensign – Former U.S. Senator
Kenny Mayne – Journalist
Eric Whitacre – Composer
University of Nevada – Reno
1664 N Virginia St, Reno, NV 89557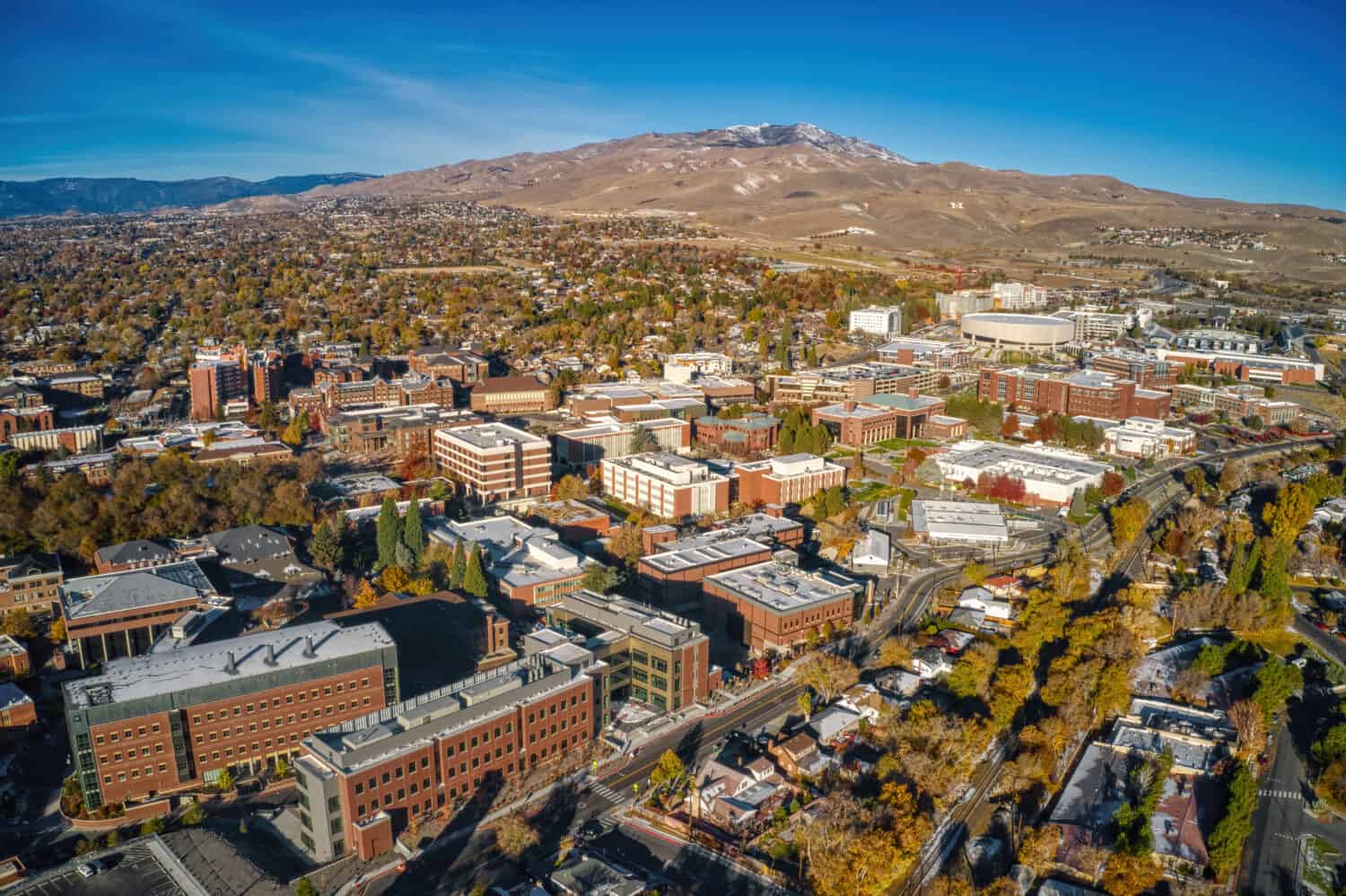 A sister site to UNLV is the University of Nevada – Reno (UNR). If your student lives in Nevada and attends the school right now then you can expect to pay around $8,500 for tuition. Out-of-state students will pay closer to $24,700 as of the time of this writing. This is another of the wealthiest colleges in the state with an endowment of $458 million as of 2022.
This is another public land research university, and it's also a very old school that was founded way back in 1874. The school has many different colleges and schools, including a college of engineering, a school of journalism, and a school of nursing. In 2022, the school was ranked as the 184th best school in the country by Forbes. This school is loaded with great features, from huge libraries to a fitness center and a stadium. There are also many sports programs, including some for football and basketball.
Notable alumni of UNR include:
Walter Van Tilburg Clark – Author
Gabriel Damon – Actor
Peter Epstein – Musician
Francine Rivers – Novelist
Helen Delich Bentley – Congresswoman
Catherine Cortez Masto – U.S. Senator
Corky Miller – Baseball player
Kirk Snyder – Basketball player
Morrison University
10765 Double R Blvd, Reno, NV 89511
Morrison University is a smaller school, but it's also much more affordable than many other private for-profit four-year colleges in the nation. As of the 2022 academic year, the annual tuition is just over $6,000. Technically, this is 7th most expensive of the four-year schools in the state. There are no dorms or campus housing at this university, which accounts for the lower cost.
College of Southern Nevada
6375 W. Charleston Blvd. Las Vegas, NV 89146
While UNLV has the most students out of all the major colleges in Nevada with 30,679 students, second place goes to the College of Southern Nevada with 29,942. When you include the cost of books, room and board, and loan fees, folks who live in Nevada will pay about $20,500, and out-of-state students will pay over $27,000.
This is a relatively smaller school compared to some of the others on this list as there are around 30,000-$35,000 at this time. CSN is a public community college, and it's located in Clark County, Nevada. It was founded in 1971, and it has three main campuses. Students here can learn about 70+ different programs, and they can earn their bachelor's degree or transfer their credits elsewhere. There are several athletics programs at CSN, including baseball, volleyball, and soccer programs.
Notable alumni of CSN include:
Bryce Harper – MLB Player
Phil Bickford – MLB Player
Ryan Reeves – WWE Wrestler
Jacky Rosen – U.S. Senator
Western Nevada College
2201 West College Parkway, Carson City, NV 89703
Students attend Western Nevada College to earn their undergraduate degree. Students who reside in the state can expect to pay around $4,000 in tuition while out-of-state students will pay closer to $12,000. This is a public college that's located in Carson City, Nevada. As an interesting fact, until 2007, the school was called Western Nevada Community College. Students who attend WNC can take part in many different educational programs, including those in nursing, liberal arts, and technical education.
Touro University Nevada
874 American Pacific Dr, Henderson, NV 89014
Touro University Nevada is a private, not-for-profit school that's located in Henderson, Nevada. Technically, it's a medical school where students can earn their doctorate degree. As of 2023, the cost to earn your undergraduate degree is just over $10,000 for tuition, and the cost of a graduate degree is almost $50,000. This is a very small school with only about $1,400 undergraduate and graduate students.
Technically, Touro University Nevada is a branch of the larger Touro University California. It's a Jewish-sponsored private school that originally opened its doors in 2004 with only 78 students. There are many different degree programs, including those in nursing, physical therapy, osteopathic medicine, and more.
How to Choose the Best College
Many of these colleges may appeal to you, so which one do you choose? When it comes to deciding on which college to attend, you need to think about many factors, including the proximity to your home, the programs that they teach, the price tag, and the financial aid awards that are available. Once you have that information, create your shortlist. If possible, visit those schools and take a tour so you can see what you do and don't like.
It's also worth looking into what the schools do to help you find a job after you graduate. Many schools will sponsor job fairs and on-campus interview opportunities, and those opportunities can be instrumental in your success when you look for a job. If you're rejected by a school that you really like, don't despair. Try the next school on your list, and you may have more success.
Conclusion
This was your rundown of the costliest and richest schools in Nevada. Keep in mind that Nevada is not as populated as many other states, so schooling here is generally less expensive than in other places. Still, these are great institutions that can help your kids accomplish their professional dreams.
The image featured at the top of this post is ©Kit Leong/Shutterstock.com.