Vermont is a fine state that's famous for maple syrup, autumn splendor, and senator Bernie Sanders. However, with a current population of under 650,000 people as of 2023, it's also the second least populated state in America. Even Alaska has more people. With that said, the state also has fewer colleges and boarding schools than many other states. However, the schools they have are quite remarkable, and many are also very wealthy. Today, we'll tell you about the 12 richest schools in Vermont, including just how much money they bring in, what makes them most unique, and more.
Richest Schools in Vermont – Boarding Schools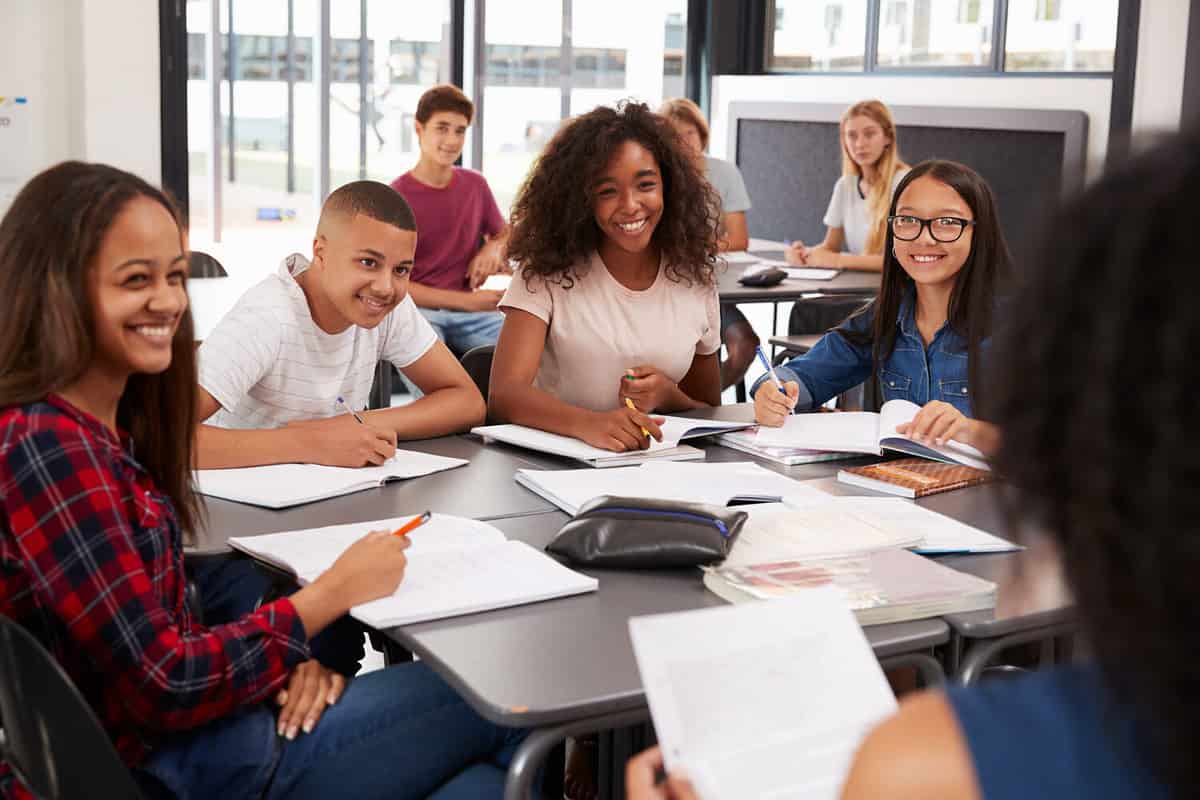 Vermont is a smaller state, but it's home to many high-caliber boarding schools that teach the youth of the state the skills they need to excel in college and beyond. Here is a select list of the richest boarding schools in the state.
The Putney School
418 Houghton Brook Road, Putney, VT 05346
The richest of the boarding schools on this list is The Putney School, which has an endowment of just shy of $25 million. Students who learn and board at the school will pay about $70k per year. There's a summer program that costs $8,400. This is a progressive school with about 225 students. There's an acceptance rate of 63%, and there's typically about 12 students per class.
As an added bonus, the school is located on 500 acres, which includes a working dairy farm, so kids can learn about being sustainable and learn many important life lessons. A select list of the notable alumni includes:
Tea Leoni – Actress
Tim Weiner – Pulitzer Prize Winning Journalist
Wally Shawn – Writer, Actor, Director
Errol Morris – Documentary Filmmaker
St. Johnsbury Academy
1000 Main Street, St. Johnsbury, VT 05819
Next on the list of the richest schools in Vermont is the St. Johnsbury Academy boarding school, which received an endowment of $20 million. Yearly tuition at this school will cost the kids $61,400 per year. This is a much larger school than the other boarding schools on this list because it has about 924 students. The school was founded in 1842, and it continues to be a diverse place of learning until this day. There is a very large curriculum of 220 courses for the kids in grades 9-12. In addition to their academic life, kids can also select from 20 intramural sports, 60 organized clubs, and 45 interscholastic teams.
St. Johnsbury Academy has many famous alumni that have passed through the doors, but one of the most famous and notable is former President Calvin Coolidge.
Vermont Academy Boarding School
10 Long Walk, Saxtons River, VT 05154
Then we have Vermont Academy, a boarding school in Saxtons River. Recently, this academy received an endowment of $7.3 million. The yearly tuition is just over $64k. The school serves students in grades 9-12, and there are about 220 students overall. This is also a very culturally diverse school with students hailing from 13 different countries. The perk of this school is that it's located on 450 acres of hilly and forested land, and kids are encouraged to explore and learn more about themselves.
Notable alumni from Vermont Academy include:
Joe Perry – Aerosmith Guitarist
Paul Percy Harris – Founder of Rotary Club
Florence Sabin – First female student at Johns Hopkins medical school
Lyndon Institute
168 Institute Circle, Lyndon Center, VT 05850
Recently, Lyndon Institute received a $11 million endowment, which makes sense considering that the yearly tuition is $47,500 for boarding students. The school accepts about 450 students and serves those in grades 9-12. This incredible school was founded in 1867, and they currently offer a 150-course curriculum. This school is on a 130-acre campus that's loaded with 34 buildings, including a gymnasium and six dormitories. There's also a fine arts program where students can learn music, theater, dance, graphic design, and more. Many students have graduated to be state champions.
Notable alumni include:
Andrew Johnson – Olympic Athlete
Judi St. Hilaire – Olympic Athlete
Walter H. Cleary – Chief Justice of the Vermont Supreme Court
Richest Schools in Vermont – Colleges
There are also many different universities to choose from in Vermont. The intuitions below are highly regarded, but beware, tuition can be a bit costly. Here are some of the richest in the state.
Middlebury College
9 Old Chapel Rd, Middlebury, VT 05753
The richest college that we could find in Vermont is the incredible Middlebury College, which boasts a massive endowment of $1,133,644,000. Students who hope to attend this prestigious university will have to pay just under $84,000 per year as of 2023. That's the cost of tuition plus room and board and miscellaneous expenses. It sounds expensive, and it is. Luckily, there are grants and scholarships available, and about 51% of students are able to secure those grants.
So, why is Middlebury College so expensive? In addition to being a school for undergraduate degrees, students can also take graduate programs for exciting majors in international studies, literacy, science, and more. The school was founded way back in 1800, and it was the first college in the state of Vermont. There are currently about 2,773 students in attendance and there is at least one representative from each of the 50 states. In 1823, Middlebury College became the first American institution to award a bachelor's degree to an African American. The school boasts an incredible list of alumni, with a select list including:
Eve Ensler – Playwright
Ari Fleischer – Former White House Press Secretary
Roger Easton – Inventor of GPS
Jim Douglas – Former Governor
Dan Schulman – CEO of PayPal
Lado Gurgenidze – 17th Prime Minister of Georgia
Norwich University
158 Harmon Drive Northfield, VT 05663
Next on our list of the richest schools in Vermont is Norwich University, which is much further down on the wealth list when compared to Middlebury College, but it still received an impressive endowment of just over $216 million. With classes and room and board, students will be looking at a cost of just under $70k per year. Instead of being a school that focuses on general studies, Norwich University is a private senior military college, and it's the oldest one in the United States.
The school was founded in 1819, and it is considered to be the birthplace of the ROTC (Reserve Officers' Training Corps) program. The college was founded by Captain Alden Partridge, who was the former superintendent of West Point, which is another impressive school. He also founded 16 other military institutions over the years. Throughout the decades, this institution has inspired many other military colleges. The school has many impressive buildings and residence halls, and there's also a great emphasis on sports. Norwich University has football, rugby, ice hockey, and more. Notable alumni include:
Amanda Conway – NHL Player
Mike Thomas Brown – Wrestler
Pierre Garçon – Football Player
Allen Doyle – Golfer
Horatio Seymour – Former Governor of New York
Various Esteemed Military Personnel
Saint Michael's College
One Winooski Park Colchester, VT 05439
Further down the pike is Saint Michael's College, which recently had an endowment of just over $77 million. The endowment might be less than the other two colleges, but the tuition will still cost students $67k for classes and room and board. Of course, if you get financial aid, then the cost could be half of that. In 1904, priests from the Society of Saint Edmund fled from France and started this school with an initial investment of $5,000. The tuition back then was only $105, but that was still a lot for those days.
At this point, the school consists of two colleges. Plus, there's recreational halls and athletic fields. The school typically has about 1,600 students, and 80% of them are from out of state. This is a school that takes pride in being very sustainable, and it was considered to be the first fair trade school in the state of Vermont. There are also many awesome extracurricular activities, from the traditional sports to a fire and rescue team for an extra thrill. The school has a host of notable alumni, including:
Tom Caron – Newscaster
Thomas E. Delahanty II – Superior Court Judge
James Fallon – Neuroscientist
Tom Freston – Former CEO of Viacom
Bennington College
One College Drive Bennington, VT 05201
Next on the richest list is Bennington College, which recently had an endowment of $50,508,464. Although this is a wealthy college, it takes on a relatively small student load. Currently, there are less than 1,000 total undergrad and graduate students combined. This is a private liberal arts college that was founded in 1932. Back then, it was created as a women's college. It became a coeducational college in 1969. Being a liberal arts college, there are a number of areas of study. They include dance, drama, music, visual arts, and music, among others. The school has an impressive 70% graduation rate.
The school is ranked #84 on the list of best national liberal arts colleges. Part of that success is due to the intimate classes since 88% of the classes have less than 20 students, and most have about 13 students. The school also offers internships and writing seminars. The students get plenty of time to hone and perfect their craft while they're at the school. There's also a lot of fun stuff to do at the school, from rock climbing walls to soccer fields and a tennis court. As you may imagine, there are many famous artists and actors who graduated from this school, including:
Alan Arkin – Actor
Carol Channing – Actress
Justin Theroux – Actor
Peter Dinklage – Actor
Betty Ford – Former First Lady of the United States
Champlain College
163 S Willard St Burlington, VT 05401
With an endowment of just under $24 million, you have Champlain College, which is another of the richest schools in Vermont. Tuition at this college will cost you about $63k when all is said and done. This is a private institution that also has an online counterpart. The 2,200+ students at this school can excel in more than 80 subject areas.
The school was founded way back in 1878. Back then, it was designed to prepare young men for the world and teach them about business and life. In 1884, the school became coeducational. The college has moved a few times as it has evolved. The average class size is about 16, so there's an intimate setting. There are students who attend the school from 18 different countries. Famous alumni include:
Steven Crowder – YouTube Personality
Rusty DeWees – Entertainer
Donald H. Turner – Member of the House of Representatives
Landmark College
19 River Rd South Putney, VT 05346
The most recent endowment for Landmark College was just over $22 million. The tuition after room and board is about $75k. This is a very unique school because it's designed exclusively for students who learn in different ways. Students will have dyslexia, autism, ADHD, and other function challenges. This is a relatively new school that was started in 1985, and it was the first higher learning to cater to those with dyslexia.
Before it was Landmark College, the space where it sits was the old Windham College. When that old college went under, the land could have been used for a conference center or a prison. Instead, it became what is now: Landmark College.
This is considered to be the 50th most expensive college in the country. The good news is that scholarships of up to $30,000 are available. The better news is that many students graduate within three years and go onto great jobs. There are some notable alumni, including Ennis Cosby, son of comedian Bill Cosby.
Sterling College
16 Sterling Drive Craftsbury Common, VT 05827
In the past year, Sterling College received an endowment of just over $1 million. The tuition at this university is just about $54,000 per year for school and room and board. This is another unique school that typically has about 120-130 students. The reason for that is because this is a private work university that focuses on ecological thinking and environmental studies. The school was established in 1958 as an all-boys school. In 1997, it became an accredited university offering four-year degrees.
Since it's a work university, only part of the time is spent in the classroom. The university also has managed gardens, a woodworking shop, and a working livestock farm with two barns so the students can learn in real-time. The food that is produced in the farm and during the classes is consumed by the students in the dining hall. Overall, the campus sits on about 130 acres.
Goddard College
123 Pitkin Road Plainfield, VT 05667
Our final college on the list of the richest schools in Vermont is the smaller institution known as Goddard College. Recently, the college received an endowment of $816,691. There are currently about 370 undergraduate and graduate students, and tuition will run them about $38k for the semester. This school has three locations in the U.S. The college began in 1863, when it was called the Green Mountain Central Institute, and it went through many changes to become what it is today.
Notable alumni from the school include:
Anna Lee Walters – Author
Cara Hoffman – Novelist
Geraldine Clinton Little – Poet
Trey Anastasio, Oliver Foot, and Jon Fishman from the band Phish
Conclusion
This concludes your list of the richest schools in Vermont – boarding schools and colleges. These are all fine institutions that will teach your kids a lot about the world and their chosen fields. Consider them if you like the idea of a Vermont education.
The image featured at the top of this post is ©Katherine Welles/Shutterstock.com.