People live in and visit New York City for a plethora of reasons. It's the capital of industry, there's all kinds of diversity and culture, and it's a place where you can have any kind of job in just about any industry. To get the dream job, you can attend one of the best schools in the area. While not every school in New York is perfect, the selections on this list are pretty good. What you may not realize is that some of the best schools are also some of the richest schools in New York City. Let's look deeper into these educational institutions and talk about how much money they have, what you can learn at these schools, and some of the alumni that once called them home.
What Makes These The Richest Schools in New York City?
In most cases, the criteria that make the schools on this list the richest in the city of New York is their yearly endowment. Essentially, an endowment is an aggregation of assets the school invests in its education and students. The endowment amount typically comes from donors as gifts, but they can also come from corporations. Many alumni also provide money as a way of giving back to the school that gave so much to them. The schools on this list have the largest endowments in the city.
THINK Global School
Boarding School
1460 Broadway Street #4027, New York, NY 10036
This boarding school is one of the richest schools in New York City and it's a great institution that can prepare your kids for college and a professional life beyond. To prove its wealth, the school has a $50 million endowment. The yearly tuition for boarding students at the THINK Global School is $94,000. That's a lot of money. However, when you realize that there's only currently 57 students in attendance, then it changes things a bit. The school has a 15% acceptance rate, and kids here are in grades 10-12.
THINK Global School is more than just an expensive high school. It's an advanced boarding school with a challenging curriculum that allows the students to set up their educational journey. They learn a mix of real-world education and gain experience with project-based learning. This is also a traveling high school, which means that the students live in four different countries during the course of the year, so they can learn from the cultures.
Richest schools in New York City – Colleges
The rest of the schools on this list are colleges that are very wealthy. They're all situated in New York, New York, and thousands of students attend them every year. Consider these schools if you're looking for a first-class education.
Columbia University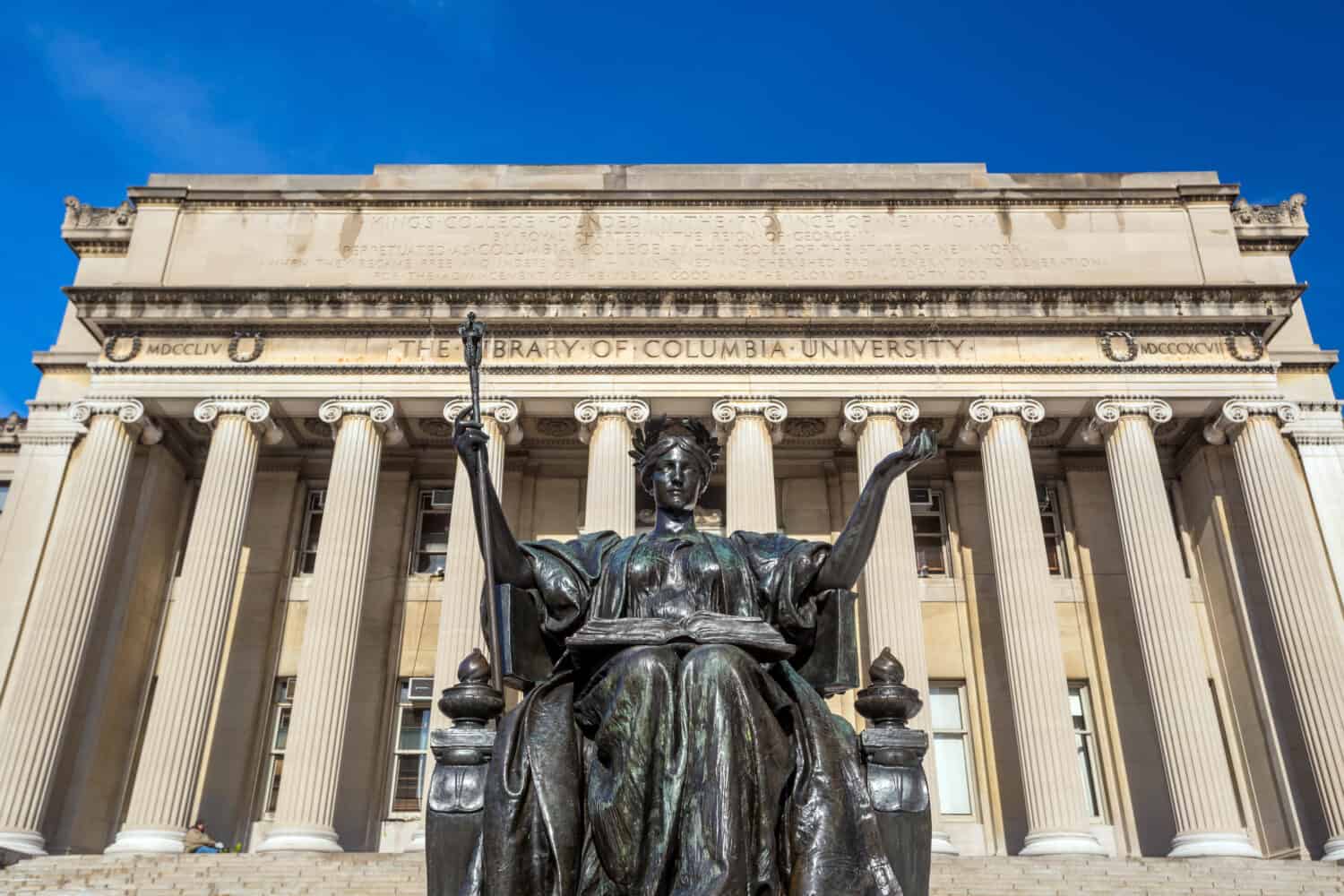 West 116 St and Broadway New York, NY 10027
This is one of the most famous schools in the country, which is why it has an endowment of over $11 billion. Columbia is a huge school of about 33,700 students in the undergraduate and graduate programs. The cost to attend the school is over $83,000 per year for classes and room and board before financial aid kicks in. Columbia is a private, not-for-profit school that's located right in the middle of New York City.
The Columbia system was originally founded way back in 1754 by King George II who ruled England. It's the oldest institute in the city. Back then, it was called King's College, and it started out small, operating out of a schoolhouse. As an interesting fact, the school had to close down during the American Revolution when the British occupied New York. The school has an incredible list of former alumni, including:
Alexander Hamilton – Founding Father
John Jay – Founding Father
Franklin D. Roosevelt – Former President
Theodore Roosevelt – Former President
Barack Obama – Former President
Warren Buffett – Investor
J.D Salinger – Writer
New York University
70 Washington Sq South New York, NY 10012
Next on our list of the richest schools in New York City is New York University, which has an endowment of $4.5 billion. This is another huge school with over 58,000 students. That number is split between the undergraduate and graduate programs. All students pay about $78,000 per year as of the time of this writing. Typically known as NYU, this incredible school is a private research university that was chartered back in 1831 by the New York Legislature.
When it opened its doors, it started as an all-men school and taught a secular education. When we say the college is huge, we're not being hyperbolic. That's because NYU is the largest private university in the country when it comes to enrollment. Many bright minds were included in the creation of NYU, including founding fathers James Madison and Thomas Jefferson. Like Columbia, there's an impressive list of alumni of NYU, with some of them including:
Jack Dorsey – Former CEO of Twitter
Robert Mueller III – Public Official
Alan Greenspan – Economist
Martin Scorsese – Director
Spike Lee – Director
Alec Baldwin – Actor
Lady Gaga – Musician
Angelina Jolie – Actress
Woody Allen – Director
Adam Sandler – Comedian
Anne Hathaway – Actress
The Juilliard School
60 Lincoln Center Plaza New York, NY 10023
The Juilliard School is a famous institution that's known for the arts, and it has an endowment of just over $1 billion. Because of its focus, the school is relatively small and has just under 1,000 students. To attend, they'll pay just under $77,000 per year. This school, which is considered to be one of the most prestigious performing arts schools, was formed 1905. It started as just a music school, but over time, it added dance and drama programs.
The school is very hard to get into and has one of the lowest acceptance rates for a college in the country. The students who have attended the school over the years have won a combined 62 Tony Awards, 105 Grammy Awards, 47 Emmy Awards, and 24 Academy Awards. Many alumni have also won the Pulitzer Prize and Classic BRIT Awards.
Since the school has been around for so long, there is a long list of alumni. The list features many famous actors and singers from the past and modern times. A select list of alumni includes:
John Williams – Film Composer
Yo-Yo Ma – Cellist
Kevin Kline – Actor
Kelsey Grammer – Actor
Robin Williams – Actor/Comedian
Kevin Spacey – Actor
Val Kilmer – Actor
Adam Driver – Actor
Jessica Chastain – Actor
The Cooper Union for the Advancement of Science and Art
7 East 7th Street New York, NY 10003
As the name suggests, the Cooper Union has a focus on science and art, among other subjects. It also happens to be one of the richest schools in New York City with an endowment of $867,509,372. This is another smaller school with less than 1,000 students who will pay just under $66,000 when they attend this year before financial aid. Technically, this private college is located at Cooper Square in New York, and it was founded in 1859. The school was based on the idea that anyone from any background should be able to attend and get a good education.
The school has been the background of many famous moments in American History. In 1860, the basement of one of the buildings, the Great Hall, was the setting for a famous speech by President Abraham Lincoln. If you visit the city, then check out the building located at 41 Cooper Square, which is a marvel of modern architecture and is filled with classrooms, laboratories, art studios, and more. Notable alumni of The Cooper Union for the Advancement of Science and Art include:
Jonas Mekas – Filmmaker
David Shapiro – Poet
Lebbeus Woods – Architect
Raimund Abraham – Architect
William Arnold Anthony – Physicist
Yeshiva University
500 W 185th St New York, NY 10033
With an endowment of $474,508,000, we have Yeshiva University, which is a private Orthodox Jewish university in the heart of New York City. It's a medium-sized school with about 5,500 students that will pay about $71,000 each per year in 2023. Technically, the school has four campuses in New York, and they teach a variety of subjects. The school was founded in 1886 in Manhattan as an elementary school.
In 2020, Yeshiva University was rated to be the 97th best National University, and it's been given high marks in Forbes magazine. There's a great athletics program that features baseball, basketball, and more. The teams have won many different championships. Notable alumni of Yeshiva University include:
Chaim Potok – Author
Ryan Turell – NBA Player
Nicolas Muzin – Republican Strategist
Howard Dean – Former Governor
The New School
66 W 12th St, New York, NY 10011
The next entry on our list of the richest schools in New York City is The New School. This is a larger school with about 10,493 students. The institution has an endowment of $393,478,000. This is a private research university that was founded in 1919 with the original name of The New School for Social Research. The idea of the school is that it's for progressive thinkers, and they can learn about a variety of subjects.
Many of the buildings on the campus are quite stunning, and a number of them have won awards, including The Sheila Johnson Design Center, which has attracted a lot of media attention over the years. There are also numerous libraries on campus with thousands of books. The school has a long list of notable alumni, including:
Ruth Westheimer – Therapist (Dr. Ruth)
Tennessee Williams – Playwright
Rod Steiger – Actor
Jack Kerouac – Novelist
Rob Zombie – Musician
Kevin Smith – Director
Tom Ford – Fashion Designer
The New School has also had many famous faculty members that have taught the young minds that have walked through the doors. Some of the notable faculty members include:
Eleanor Roosevelt – First Lady of the United States
Woody Allen – Filmmaker
Robert Frost – Poet
Barnard College
3009 Broadway New York, NY 10027
Next, with an endowment of $359,579,000 is Barnard College, a small-medium sized college that costs about $85k per year to attend before financial aid. This is a private women's liberal arts college that was founded in 1889 by activist Annie Nathan Meyer. The students who attend this school can choose from 50 different degree programs. Barnard College was originally opened as an answer to Columbia College, which only allowed men for the first 229 years of operation. Barnard College was a place for women to go to get their education. The school recently made deadlines when it was announced that they would allow transgender women to attend.
Barnard College has had many bright women from various backgrounds walk through the doors and graduate. A few of the notable alumni include:
Martha Stewart – Businesswoman
Lauren Graham – Actress
Joan Rivers – Comedian
Greta Gerwig – Director
Cynthia Nixon – Actress
Pace University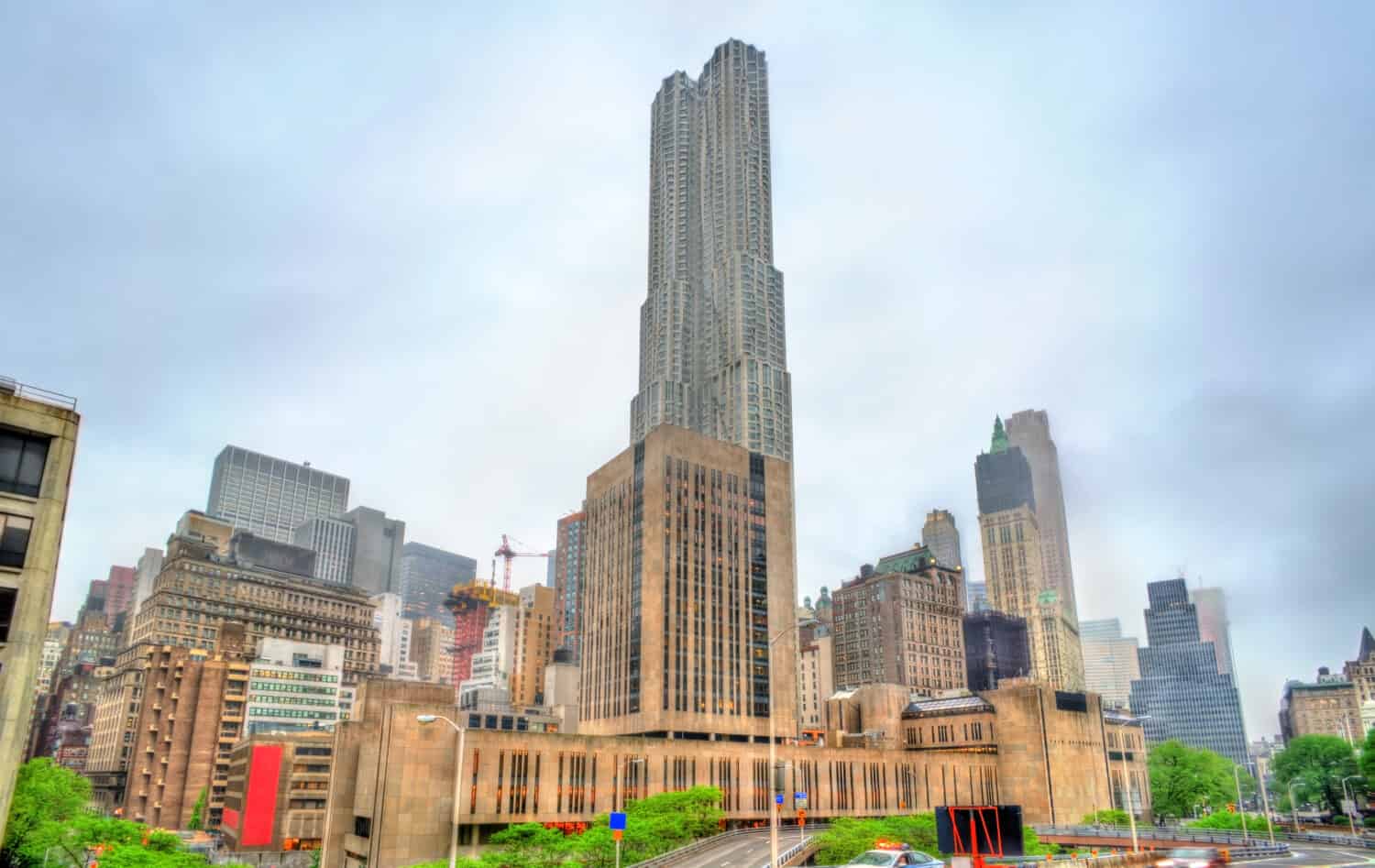 1 Pace Plaza New York, NY 10038
Pace University has an endowment of $193,827,052. It's a large school with about 13,500 students, and most of them pay over $70,000 per year to attend before financial aid. This is a private university that technically has three campuses in New York. The many students who attend can choose from about 100 different majors. One of those areas of study is a Master of Fine Arts. They teach kids through their Actors Studio Drama School. And in fact, this is where the show Inside the Actors Studio airs to this day.
The school was first founded in 1906 by two brothers who took out a loan for $600 so they could rent a classroom. The two brothers personally taught the very first class of 13 students. Of course, the school has grown by leaps and bounds since that time. In 2017, the school underwent a major renovation project which added more to the already incredible One Place Plaza, adding 67,000 additional square feet of space. Sadly, the school, which is located just four blocks from the World Trade Center, was directly involved in the attacks on September 11, 2001, and four students lost their lives. Immediately after the attack, the school grounds were used as a triage center for the other victims of the attacks.
There are many notable alumni of Pace University, including:
Mike Adenuga – CEO of Globacom
Stephanie Andujar – Actress
Telfar Clemens – Fashion Designer
Joseph Ianniello – President of CBS Corporation
Rachael Ray – TV Cook
Felix Sater – Successful Real Estate Developer
Touro University
50 West 47th Street New York, NY 10036
Finally, with an endowment of $42,400,000, we have Touro University. This is a decently-sized school with about 11,000 students who pay about $37,000 per year for classes and room and board before financial aid kicks in. Touro University is a private Jewish university that is headquartered in New York City. There are many branches of this school throughout the U.S. and the world, with students also in Russia and Israel. Although it is a Jewish university, they allow students from diverse backgrounds from around the country. The school was first chartered in 1971, and since then, it has expanded and now has a law center and a nursing school. Like the other schools, there some esteemed alumni of Touro University, including:
Kenneth LaValle – Politician
James J. Malloy – Former Vice Admiral in the United States Navy
Boyd Melson – Boxer
Dmitry Salita – Former Boxer
Conclusion
This has been your list of the richest schools in New York City, and it's quite the impressive list. All of these schools bring a lot of prestige, and they're a great choice if you have children looking to continue their education in the New York area. Consider a visit to these institutions if you get the chance.
The image featured at the top of this post is ©Golden Dayz/Shutterstock.com.