It's a typical rule of thumb that the less populated a state may be, the fewer number of colleges there are likely to attend. At the time of this writing, North Dakota comes in fourth place as far as smallest populations in the United States. They're just a bit more populated than Alaska and just a bit less populated than South Dakota. Still, the colleges they do have are very high-quality, and during their stay, your kids can learn a lot about their chosen field. Today, we'll be talking about the richest schools in North Dakota. We'll talk about their wealth, fun facts you should know, and some of the incredible alumni that once called the colleges home.
What Makes These the Richest Schools in North Dakota?
When we talk about the richest schools in the state of North Dakota, we're mostly looking at the endowments they've received and the tuition that they charge the students who attend. The schools in North Dakota won't compete with those in more populated states, like New York, but they provide a great education to those who need it. While there are major universities on this list, there are also smaller schools that focus on bible studies or cater to those in the Native American community. Whatever way you look at it, North Dakota is a great state with a lot of rich history, and it's worth a visit.
University of Mary
7500 University Dr, Bismarck, ND 58504
The University of Mary is without a doubt the wealthiest of the richest schools in North Dakota due to its recent endowments of $55-56 million. This school educates about 3,794 of North Dakota's finest, and they'll pay about $33k per year for tuition and room and board. Not only is this the wealthiest college, but it's also the largest degree-granting institution, at least in western North Dakota. Students can learn in ND, or they can study abroad at the campuses in Rome or Peru.
This is a private school that is considered a Benedictine university that's been endorsed by the Newman Guide to Choosing a Catholic School. It's famed for its awesome programs that teach kids everything from business to education to nursing. In fact, this school is so important to the nursing profession that it was rated as #1 when compared to 2,061 other nursing programs in the nation.
The school was founded way back in 1878 by Benedictine sisters. The school grew by leaps and bounds over the next 70 years. In 1959, it was called Mary College, and it was a women's college. In the 1960s, it became coeducational. Today, the campus is located near Bismarck, and the campus contains 24 buildings. The school has many notable alumni who are professionals in their fields, including:
Michael Wobbema – Senator
Tim Miles – College Basketball Coach
Mary Wakefield – Former United States Deputy Secretary of Health and Human Services under President Obama
Todd Hendricks – NFL Player
Kevin Cramer – North Dakota Senator
University of Jamestown
608 6th St NE Jamestown, ND 58405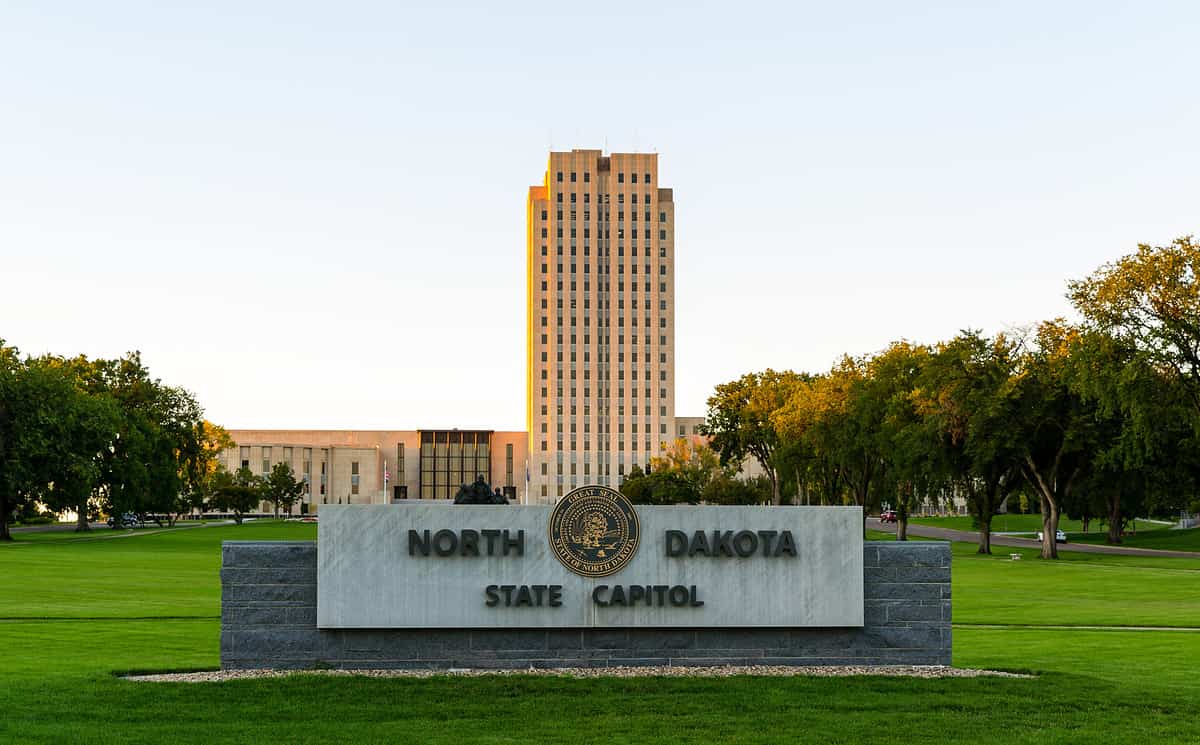 With an endowment of just over $37 million, the University of Jamestown is the second entry on our list of the richest schools in North Dakota. There are about 1,276 undergrad and graduate students at the university. Comprehensive tuition comes in at $34,398 per year as of recent numbers.
University of Jamestown is a private Christian university that was founded back in 1883 by members of the Presbyterian Church. This one of the rare older colleges (established in 1883) that has been coeducational since its inception. Until 2013, the school went by the name of Jamestown College. The school started from meager beginnings but kept the doors open until 1893, when they had to close the doors during the depression of that year. It reopened in 1909, and has been going strong ever since.
Students at the college get a great education, and they can major in many different programs. There's also a great athletics program, and the school does exceptionally well with its hockey team. Like all great schools, University of Jamestown has some well-known alumni, including:
Ron Erhardt – Former Coach of the New England Patriots
Cory Mantyka – Canadian Football Player
David Nething – North Dakota Senator
Kurt Schork – Reporter
J. J. Syvrud – Football Player
Turtle Mountain Community College
10145 BIA #7 Belcourt, ND 58316
Turtle Mountain may be a community college, but it has a great reputation, and it finds itself on the list of the richest schools in North Dakota with a recent endowment of just over $3 million. The school has about 472 students at the time of this writing, and the cost of tuition will run students just under $19,000.
This institution is a private tribal land-grand community college. It's located in Belcourt, which is about ten miles from the U.S.-Canada border. The school was founded in 1972, and it was chartered to the Turtle Mountain Band of Chippewa Indians. In 1994, the school was designated to be a land-grant college. The campus isn't large, but it's big enough on its 123 acres. The college is partially powered by a wind turbine that was built in 2008. 
This school does offer associate and bachelor's degree programs and six-year associate degrees in seven subjects and counting. There's also a great athletics program.
Trinity Bible College and Graduate School
50 6th Ave S Ellendale, ND 58436
With an endowment of just over one million dollars, we have the Trinity Bible College and Graduate School. This is another smaller school that has about 279 students in their undergraduate and graduate programs. Tuition here is relatively affordable at just under $30k per year.
This institution is a bit different because it's a bible college that is affiliated with the Assemblies of God. The school was founded back in 1948 in the town of Devil's Lake, but it made its way to its current town of Ellendale in 1972. The college is located in what used to be the old North Dakota State Normal and Industrial School. Here, students can learn about biblical studies in addition to taking classes in business, ministry, music, and teacher education among others. The college also has a pretty good athletics program with teams that compete in the National Christian College Athletic Association (NCCAA). There are basketball, cross country programs, and more.
United Tribes Technical College
3315 University Drive Bismarck, ND 58504
The final entry on our list of the richest schools in North Dakota is United Tribes Technical College, with about 474 students at the time of this writing. The school recently received an endowment of $691,037. The cost of tuition for a year is $13,999. 
United Tribes Technical College is a private land-grant community college. The school was founded in 1969 when the United Tribes of North Dakota Development Corporation chartered it. In 2003, the school became the first tribal college to become accredited to offer online programs. The school offers two-year and four-year degrees in 20+ areas of study.
This awesome school serves the five Tribal Nations that are completely or partially located in North Dakota, which include:
Spirit Lake Nation,
Standing Rock Sioux Tribe
Sisseton-Wahpeton Oyate
Three Affiliated Tribes of the Fort Berthold Reservation
Turtle Mountain Band of Chippewa
Conclusion
These are the richest schools in North Dakota. They are all fine schools that serve a great purpose in the state, and every student has a place where they can go to be comfortable and learn the skills necessary to excel in their lives. Consider these schools if you live in the area.
The image featured at the top of this post is ©Mehaniq/Shutterstock.com.