Are you curious about the richest schools in Virginia? If so, the schools on this list will blow you away. When it comes to this state, Virginia has a rich history as a colony, dating back to 1607 when Jamestown was founded. However, it wasn't until 1788 that it became the 10th state of the United States of America.
Even before it was a state, this land was home to many people and tribes, such as the Cherokee and the Powhatan.
Additionally, it is in Virginia where the life of Pocahontas began.
Fun facts about Virginia include it being the state where the first English colony was formed in North America, and its state dog (yes, there's a state dog!) is the American foxhound.
Aside from the rich history and interesting tidbits, Virginia has many educational options and opportunities for children.
The Richest Schools in Virginia
When looking at educational choices for your child, there are plenty of questions to ask. Do you choose a public school? On the other hand, how about a private school? Moreover, what type of private school should you choose, whether it be classical to Montessori? By all means, there are many options.
Although money doesn't necessarily mean the school is better, having more access to funds means the schools may have a broader range of options for your child. With this in mind, this list provides some of the richest schools in Virginia, what their tuition and endowments are, what opportunities they offer to children, and more. Now, let's take a look at the richest schools in Virginia.
Episcopal High School
1200 North Quaker Lane Alexandria, VA 22302
Tuition: $66,360
Endowment: $214 million
Endowment per Student: >$600,000
As one of Virginia's most expensive private schools, the Episcopal High School has a very high yearly tuition of $64,900. First, the school offers education to grades ninth to twelve, with an average class size of 11 students. Furthermore, the acceptance rate is relatively competitive, with only 35 percent of applicants being accepted.
Not only was the Episcopal High School founded in 1839, but ultimately, it first began as a school for 35 men. It has since grown into a school that helps students become individual thinkers while preparing them for higher education. 
Of course, experiences are important while attending this school. That is why Episcopal High School also offers various extracurriculars and sports. These include the following: 
Asian Awareness Association
Book Club
Embody Love Movement
Robotics Team
Mental Health Awareness Club
Students Investment Group
SWELL
Women in STEM
Young Republicans Club
Young Democrats Club
EHS Art Pod
Gospel Choir
Grill & Chill
Baseball
Crew
Cross Country
Rock Climbing
Soccer
Ultimate Frisbee
Winter Track
Wrestling
Furthermore, these extracurriculars and sports only cover a small portion of this private school's offerings.
Also, the average student-to-teacher ratio is five to one, allowing teachers to focus on individual learning and strengths. 
In addition to the extras that Episcopal High School offers, there are 62 honors and advanced placement classes that are equally important factors in helping students attain the goals they have set for themselves. Moreover, among the notable alums that have attended here are Senator John McCain and Gaston Caperton. 
Woodberry Forest School (All Boys)
898 Woodberry Forest Rd Woodberry Forest, VA 22989
Tuition: $63,450
Endowment: $450 million
Woodberry Forest School is an all-boys school that was founded in 1889. It is also a top boarding school in the United States. The campus itself is on 1,200 acres and provides students with various activities and outlets to explore who they are. These include sports, fine arts, and extracurriculars.
Woodberry Forest School has 19 sports to choose from and 30 extracurriculars; these include:
Baseball
Rock Climbing
Winter Track
Wrestling
Lacrosse
Mountain Biking
Basketball
Admission Ambassadors
Chess Club
Investment Club
Model United Nations
Outdoors Club
Drone Club
Swing Dance Club
Young Democrats
Young Libertarians
Young Republicans
There are also many more extracurriculars to choose from at this school.
The mission of Woodberry Forest School is to help students develop humility, empathy, and thoroughness.
Similarly, instilling self-confidence in students is consistently a goal here, along with encouraging moral views.
Additionally, the Woodberry Forest School for boys has an acceptance rate of 49 percent, an average class size of 10 students, and a student-teacher ratio is six to one. In a like manner, the extracurriculars and opportunities provided to the students at this school pave the way for future success.
Chatham Hall (All-Girls)
800 Chatham Hall Circle Chatham, VA 24531
Tuition: $61,425
Endowment: $64.5 million
Chatham Hall is an all-girls boarding school that was founded in 1894. At its start, the purpose of the school was to give girls a stringent education that prepared them for the future. With this in mind, being extraordinary and looking forward to the future is a goal of the Chatham Hall School. Markedly, one of the notable alums includes Georgia O'Keeffe, who became a prominent artist during the 1900s.
Confidence and individual passions are at the forefront of Chatham Hall. With this intention, the school encourages students to look inside themselves, push past what they are comfortable with, and pursue their dreams.
The average class size is seven students, and the student-to-teacher ratio is four to one. Furthermore, there are 15 AP courses, 13 sports, and 26 extracurriculars here. Some of these include:
Basketball
Tennis
Track and Field
Volleyball
Dance
Altar Guild
Bit' n Spur
Cultural Perspectives
Dance Club
Sustainability Club
Student Council
French Club
These are just a few of the clubs and extracurriculars that Chatham Hall offers. As can be seen, stepping out of your own limitations and into a remarkable future is the goal of this boarding school.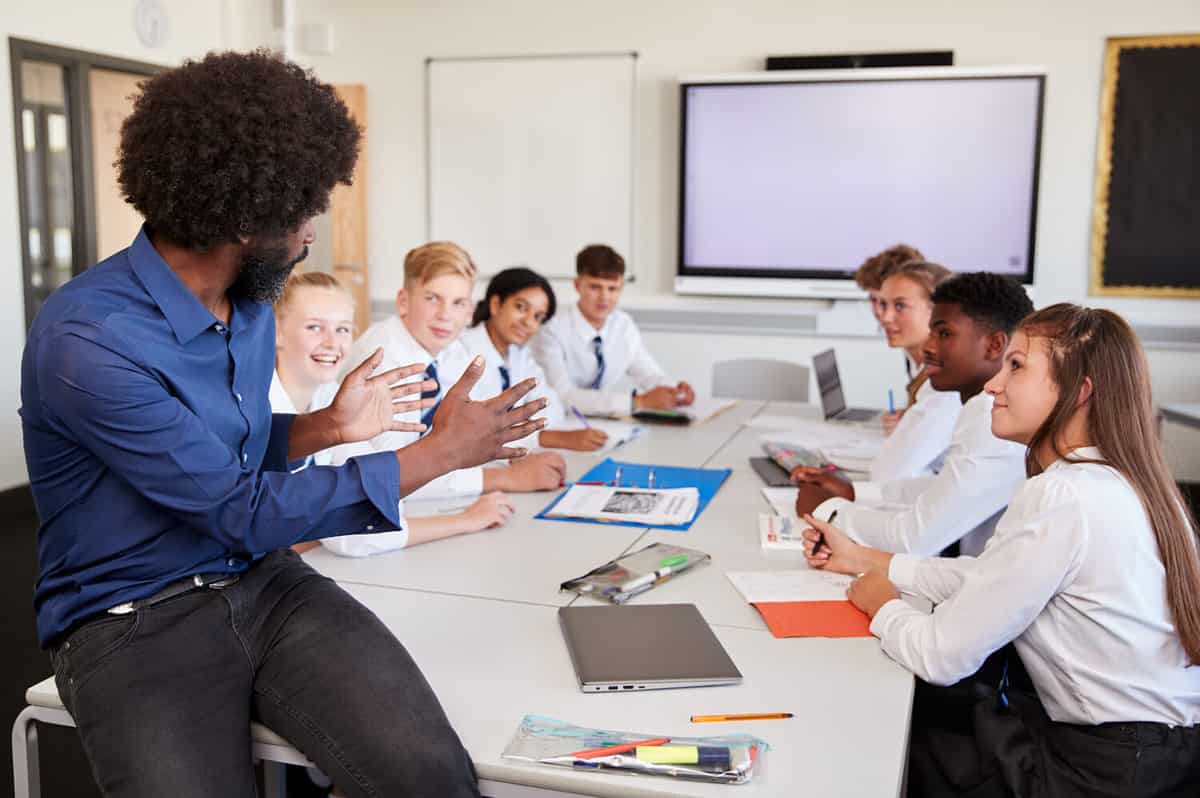 Richest Colleges in Virginia
Some of the richest schools in Virginia include colleges. Therefore, if you are searching for great universities to attend with abundant opportunities, below are the richest ones in Virginia. 
Washington and Lee University
204 West Washington Street Lexington, VA 24450
In-state tuition and cost: $82,990 (without aid)
Endowment: $1.9 billion
Endowment per student: $941,260
Washington and Lee University was first founded in 1749. Originally it was named Augusta Academy. Then it was eventually located at its current site after a few moves and was renamed Washington and Lee University.
This school's rich history and endowment date back to 1796 when President George Washington made Washington and Lee University (Known as Liberty Hall Academy) a beneficiary of James River Canal Company stock. In short, Washington believed it was important that "a plan of universal education ought to be adopted in the United States" (per Washington and Lee University website). Washington's passion for education and the immense gift he bestowed upon this school has meant students for more than two centuries have gone on to create extraordinary futures for themselves. They have also made contributions to the greater good of society as a whole. 
Washington and Lee University ranks tenth among the best small colleges in America. Moreover, it has a competitive acceptance rate of 19 percent and a student-faculty ratio of seven to one. Equally as important, the most popular major is business, with economics coming in second. In the long run, this historic college offers students incredible opportunities to push toward their goals and make their dreams come true for a brighter future.
University of Richmond
410 Westhampton Way University of Richmond
In-state tuition and cost: $81,320 (without aid)
Endowment: $3.3 billion
Endowment per student: $838,533
The University of Richmond was founded in 1830. Not to mention their mascot is the spider! This is fitting because spiders are social, and the students at the University of Richmond are encouraged to engage with one another, build connections, and push themselves out of their comfort zones. 
This college is ranked number 23 for best liberal arts colleges in America. Also, business is the number one major taken here, followed by liberal arts and humanities. At the same time, the University of Richmond offers students a wide range of opportunities to participate in and grow to their fullest potential.
One Last Note
Although cost and money do not always mean that the school is better, the fact that these richest schools in Virginia have abundant resources may bode well for future students. In fact, the more resources a school can access, the more in-depth and individualized an education a child can receive. So, whether you are looking for a great school to send your student to or enjoy researching the richest schools in the United States, these richest schools in Virginia will blow your mind!
Virginia Posts
The image featured at the top of this post is ©Kiselev Andrey Valerevich/Shutterstock.com.