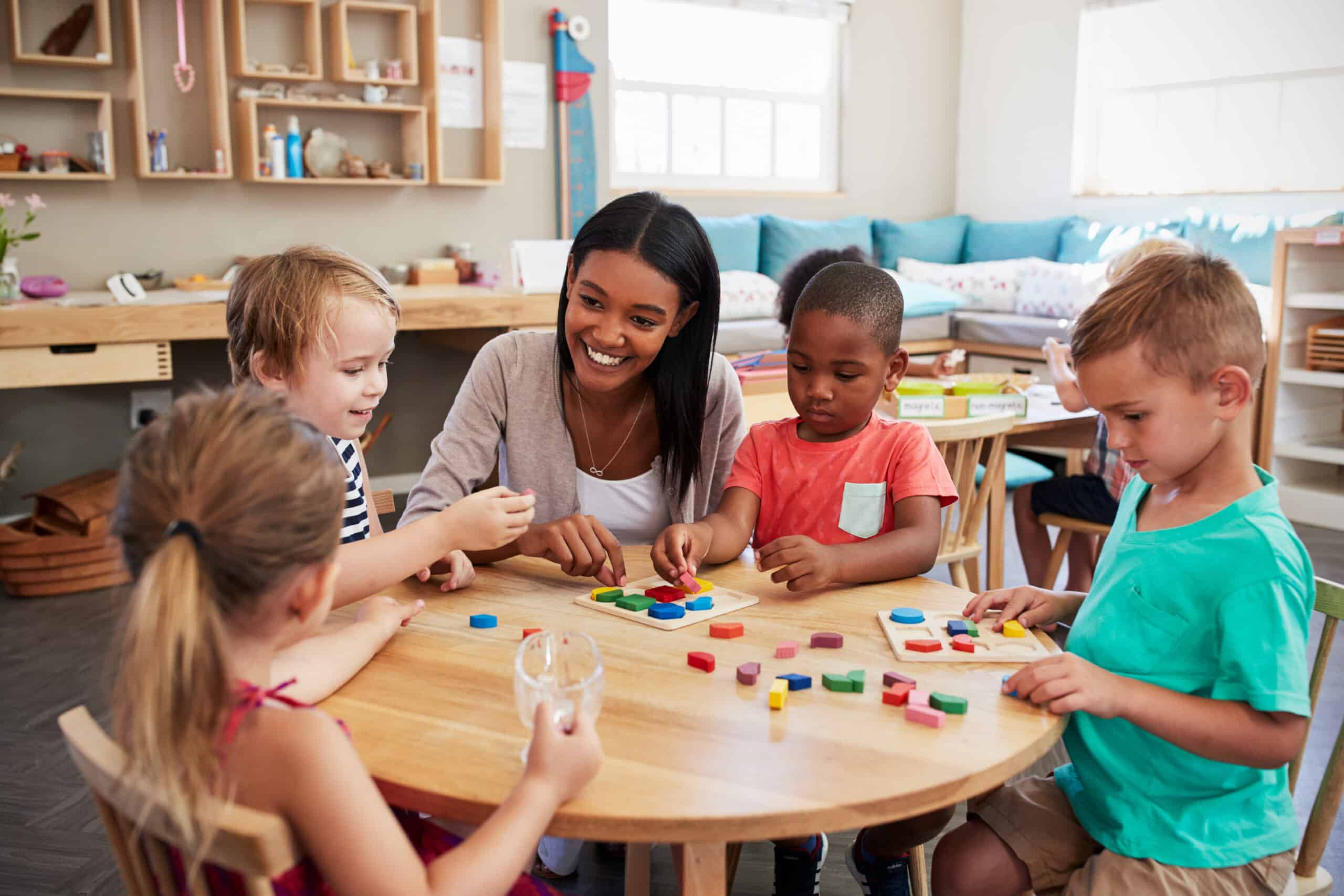 Montessori vs. private schools: How do they compare?
Though the majority of Montessori schools in the U.S. are private schools, for this comparison the private schools to which we will be comparing Montessori are ones that employ more traditional education models, with a focus on those that use the direct instruction approach.
Private schools that use direct instruction include religious/parochial schools, private schools with no religious affiliation, special education schools, virtual (online) schools, home schools, and boarding schools. Two-thirds of the 32,500 private schools in the U.S. have religious affiliations, enrolling three-fourths of all private school students. The majority of private schools in the U.S. are located in suburbia (38 percent), closely followed by metropolitan areas (34 percent). And the model that two-thirds of these schools employ is direct instruction.
So, how is this model different from the one Dr. Maria Montessori conceived over 100 years ago (c.1906)?
Montessori vs. Private schools: Direct Instruction
The term direct instruction may not be familiar, but the model surely is. Direct instruction is a teacher-centric approach to education in which the teacher is responsible for creating the content and the structure of the lesson. Lesson presentation follows a pattern in which a teacher:
stands in front of a class of students presenting a lecture
assigns classwork, aka guided practice
assigns homework, aka Individual practice
evaluates, aka gives a test or other metrics for determining comprehension
gives feedback aka a number or letter grade.
Sound familiar? It should. Direct instruction is the most common education modelm in the U.S. So how is direct instruction different from Montessori? Let's break it down.
Teacher Roles
As a teacher-centric model, teachers play an integral role in classrooms that use direct instruction. They are the dispensers of information, imparters of wisdom and knowledge, role models, authority figures, mediators, counselors, caregivers, and surrogate parents. Teachers are responsible for not only educating their students but also keeping them safe and calm.
Montessori teachers' roles are notably different from those in more traditional settings. In Montessori classrooms, teachers are gentle guides who are responsible for providing their charges with the tools of learning, though it's the children themselves who will determine how to use those tools.
Dr. Montessori understood that children were capable teachers, able to teach themselves, as well as other children. One of the hallmarks of Montessori's method is the mixed-age classroom, in which younger students learn from older students through modeling and observation. There are no lectures or class assignments.
And though Montessori teachers are responsible for keeping their students safe, their classrooms are anything but calm!
On the contrary, Montessori classrooms buzz with happily occupied children. Though there are periods of pensive introspection, they are not the norm and certainly never required
The direct instruction approach to learning is teacher-centric, while the Montessori approach is child-centered.
Montessori vs. Private Schools: Curriculum
Curriculum is defined in various ways but it is generally considered to be a sequence of planned experiences in which students practice and achieve proficiency in the content. Private schools rely on a variety of different curricula from faith-based initiatives to whole language models. Implementation of these methods is explicit, implicit, and/or null.
Explicit implementation examines information – facts, figures, and real-world examples, while implicit applications emerge from the beliefs, attitudes, and culture, specific to the school, and/or the personal agenda of the teacher. Null curriculum is defined as the information that is not taught – the concepts and perspectives that are often purposefully omitted. For example, a biology lesson in a religious school might very well omit any references to Darwin's theory of evolution.
The curricula encountered in private schools are as vast and varied as the schools themselves. Faith-based to college preparatory and everything imaginable in between, the content may be different, but the means of delivery is the standard direct instruction method. The direct instruction model lends itself quite nicely to implicit and null applications.
Montessori schools do not have curricula. Children at Montessori schools are the designers of their own curriculum. But even non-curriculum is subject to implicit and null manifestations, from age-appropriateness to family-of-origin values to school culture. So, while there are many splendid reasons for a lack of curriculum, not having one is not a guarantee against bias or subjectivity.
Testing
Testing is another way in which Montessori schools diverge from direct instruction in private schools. In the direct instruction method, the test is the goal post. It signifies either victory or defeat. It is the sole metric by which students are evaluated. Passing or failing is, presumably, an objective means of determining how well the information presented in class settled as knowledge in the student.
Testing is a fine means for determining some students' knowledge of a subject, however, depending on a variety of external and internal stimuli testing is not the best or most accurate measure of what some students actually learned or know. Learning differences such as dyslexia and dyscalculia do not lend themselves to traditional pencil-to-paper testing, but verbally quiz students with these diagnoses, and they will give you a new perspective. This is but one example; there are many.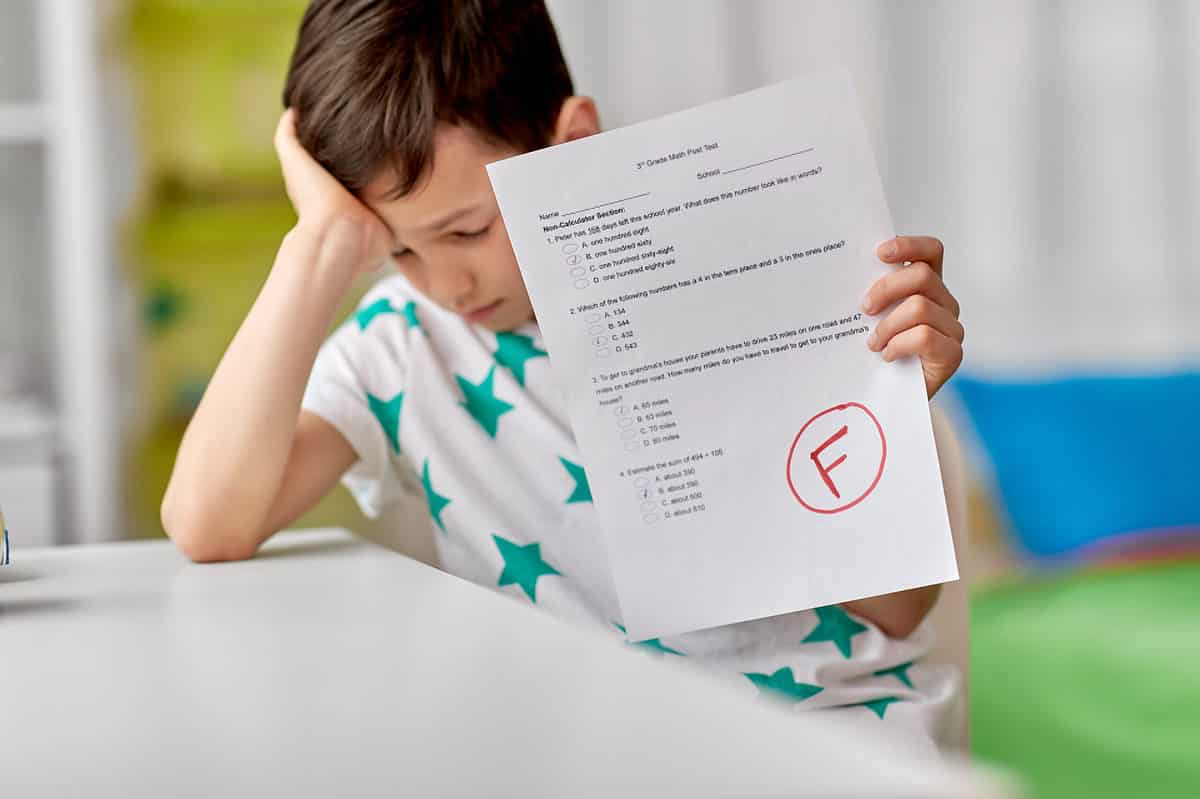 Montessori schools do not give tests. Dr. Montessori observed that testing was not a definitive measure of a child's ability or knowledge. She also knew that poor test performance could lead to internalized feelings of inferiority and failure. Conversely, she recognized that passing test grades did not affect a student's abilities or efforts in the long term.
Evaluating Montessori students' abilities and knowledge is through teacher observation and quantified in written narratives discussing the child's perceived strengths and weaknesses, offering more insight than the numbers and letters of traditional tests and report cards.
Montessori vs. Private Schools: Conformity
Conformity is at the heart of many a private school. Some private schools are founded on the basis of a shared belief, attitude, or culture. Therefore, it shouldn't be surprising that those schools would expect student conformity in alignment with their founding principles.
From school uniforms to mandatory participation in team sports, private schools can be cesspools of conformity. It's their nature. Is such conformity inherently bad or dangerous? A certain adherence to norms is probably a best practice, like wearing weather-appropriate clothing, for example. Being expected to, and understanding the expectation to conform from an early age can quash individuality, imagination, and self-expression. The danger is in stigmatizing normal, valid, human conditions and actions to the point that students feel a need to suppress themselves, or refuse to seek help.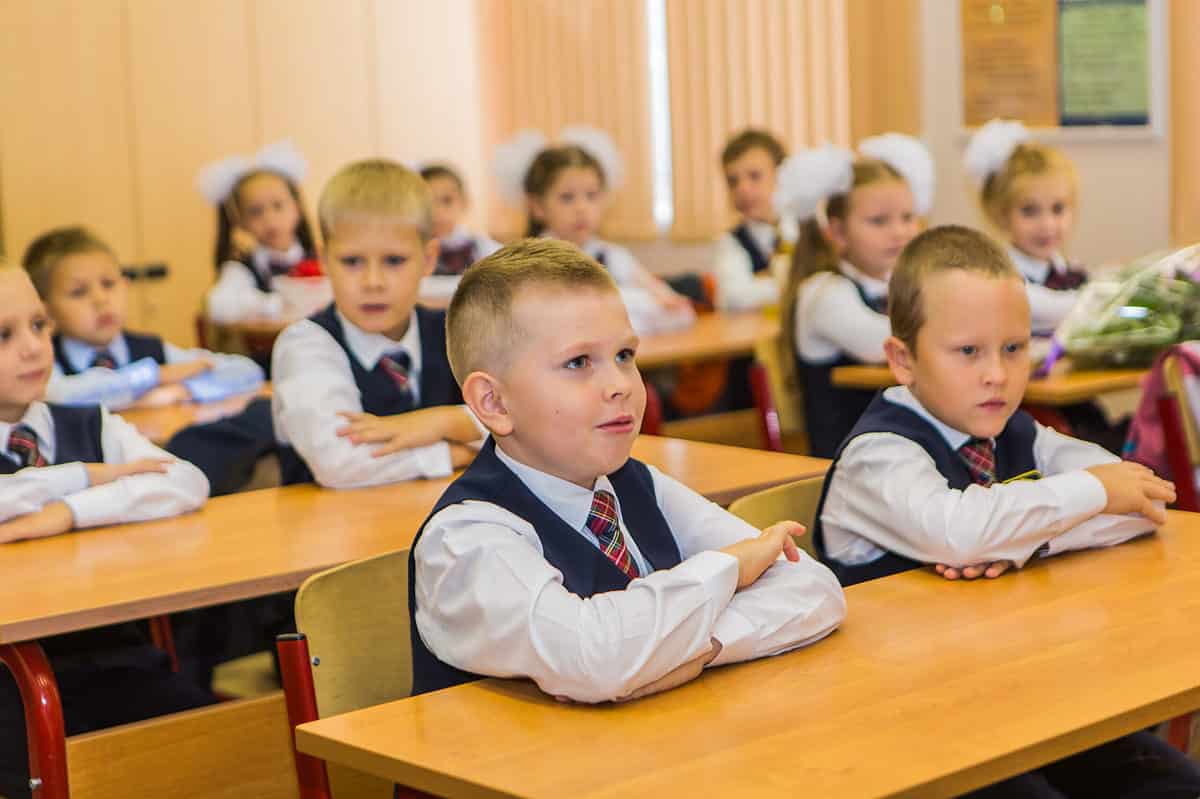 If anything is suppressed at Montessori schools it's conformity. Children at Montessori schools are free to be their authentic selves, fully and freely without fear of rejection or expulsion. Montessori's education model fosters individuality while nurturing the child's innate desire for understanding and respect.
Montessori vs. Private Schools: Class Size
A final difference in the case of Montessori vs. private schools is the average class size. And the ratio is not what you might expect. On average, private schools have a ratio of 9/1 or one teacher per nine students. Montessori schools have much larger classes, however. Maria Montessori suggested that the number of students should fall between 25 and 38. Montessori schools continue to have far larger classes than their private school counterparts. Thanks largely to individual state guidelines and regulations, most Montessori classrooms now have two guides. On some campuses, these individuals regard each other as co-teachers, while at other schools the second guide is an assistant.
When choosing a school for your child, look for one that is a good fit for your family's beliefs, attitudes and culture. Regardless of where you send your children for their education, keep an open, ongoing dialogue with them so that if/when concerns arise you're aware of them and prepared to help.
Up Next: