Maria Montessori, an Italian doctor and educator introduced a new educational philosophy at the turn of the 20th century that gave children agency over their learning in some of Rome's poorest communities.
Montessori preschools to high schools can now be found all over the world, with more than 5,000 in the United States. However, while the educational approach has spread significantly around the world, it has not always been an option for the communities for which it was originally designed.
In this article, we'll look at what exactly Montessori schools are, along with the benefits and drawbacks for children and their families.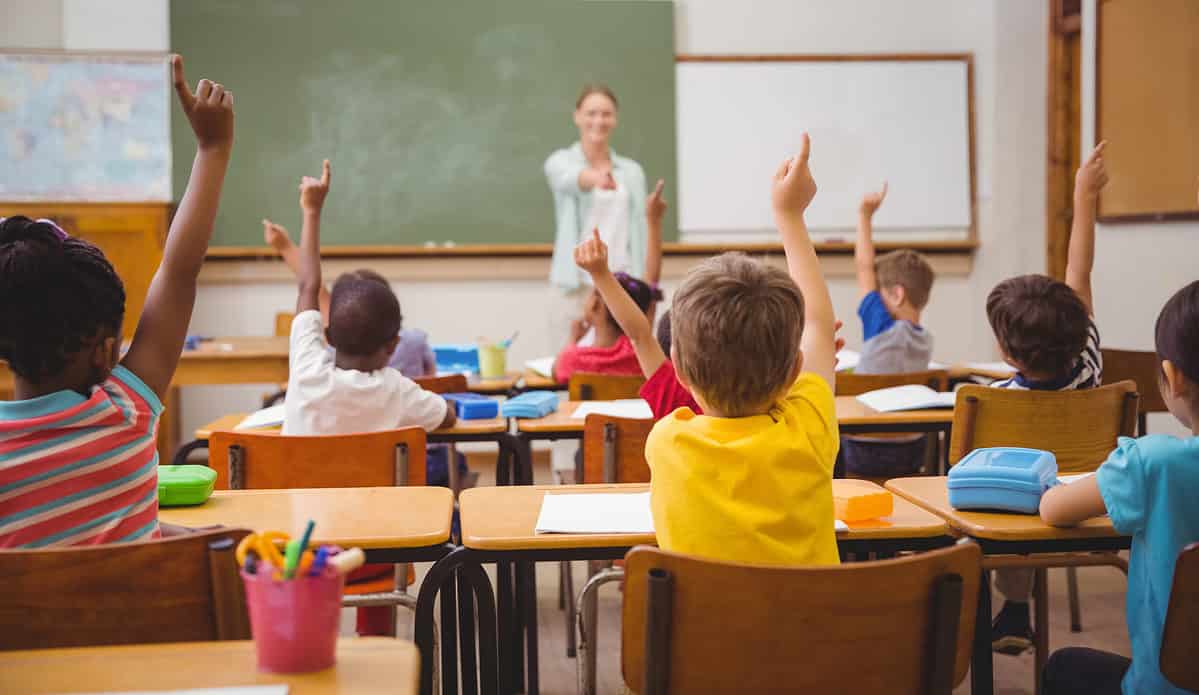 History of The Montessori Method of Education
Dr. Maria Montessori, an Italian educator, scientist, and physician, developed the Montessori education model, or the Montessori method, more than a century ago. In 1906, Dr. Montessori was asked to establish and manage a childcare center in a low-income neighborhood of Rome for the city's most vulnerable children. Many people assumed that the children here couldn't be educated. The Casa dei Bambini, or "Children's House," opened its doors to the children of the area early the following year.
After a while, the children began to show an interest in hands-on activities such as puzzles, interactive games, and domestic "chores" such as meal preparation and cleaning up after themselves. They practiced deep concentration for extended periods and improved their behavior, becoming calmer and more respectful. Dr. Montessori observed this and created unique learning materials that aided children's development in various areas.
The success of the school quickly spread around the world, inspiring other educators to implement the new Montessori education model. Dr. Montessori published her first book, The Montessori Method, in English in 1909. Many Montessori schools sprang up all over the world over the next few years, with the first Montessori school in the United States opening in 1911.
There are approximately 5,000 Montessori schools in the United States today, with thousands more worldwide. Montessori education is still a popular choice for many parents!
Fundamental Principles of Montessori Education
A Montessori education is based on a set of principles derived from philosophical perspectives on how children learn and think. Among these principles are the following:
1. Professional Montessori-trained Teachers
A significant part of a Montessori education is having teachers/directresses/guides who have been specifically trained in the Montessori method and thus know how to operate a Montessori classroom and support children in the most effective way that facilitates their developmental growth.
Montessori teachers spend time observing children so that they know when and how to guide them to age-appropriate learning materials and activities that the children express an interest in.
These teachers are knowledgeable not only about Montessori philosophy and theory but also about the proper and accurate use of Montessori materials. They have the observational skills needed to challenge and guide their students, as well as a solid foundation in human growth and development and the leadership skills required to foster a nurturing environment that psychologically and physically supports learning.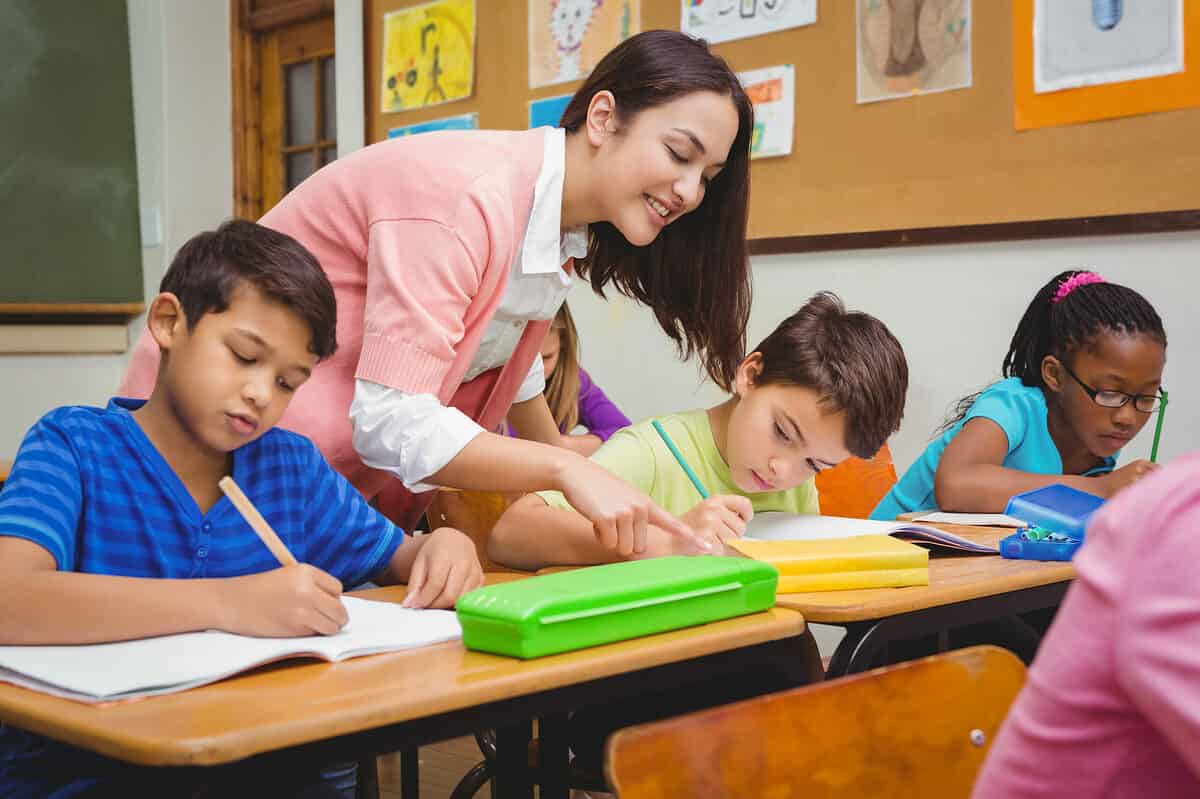 For a Montessori teacher to be qualified, they should hold credentials in the age group they teach from one of the Montessori organizations listed below:
2. Child-directed "Work"
A Montessori school is built on the foundation of respect for children. This founding principle has its origins in Dr. Montessori's early years of work. So, how do Montessori school teachers show their students respect?
The demonstration of respect is not interfering with their concentration, desire to express themselves, or pace of learning. A teacher's primary responsibility in any Montessori private or public school is to support the children. Montessori teachers guide the children in their chosen "work" rather than "teach" them.
"Work" in Montessori terms means "purposeful activity." It is essentially any activity chosen by the child that the teacher believes will allow the child to develop specific skills. Teachers motivate students based on their needs and desires because each child learns at a different pace and in different ways. In a Montessori classroom, there is no one-size-fits-all approach.
The logical, predictable flow of the classroom space encourages children to experiment with a variety of tasks at their own pace and comfort level.
3. Work Periods Without Interruptions
Children not only get to choose the activities and materials they want to work with at a Montessori school, but they also get to work for long periods on their own (or with other kids); this is the "free choice" or "uninterrupted work" period.
Remember that Montessori teachers are there to guide students to what they are most curious about and want to learn, not to "teach" in the traditional sense.
The Montessori method relies heavily on uninterrupted work periods. They instill in children a sense of self-motivation, responsibility, and maturity, as well as a stronger ability to concentrate.
Free periods also allow children to concentrate on their abilities and interests at their own pace, rather than the pace of other students.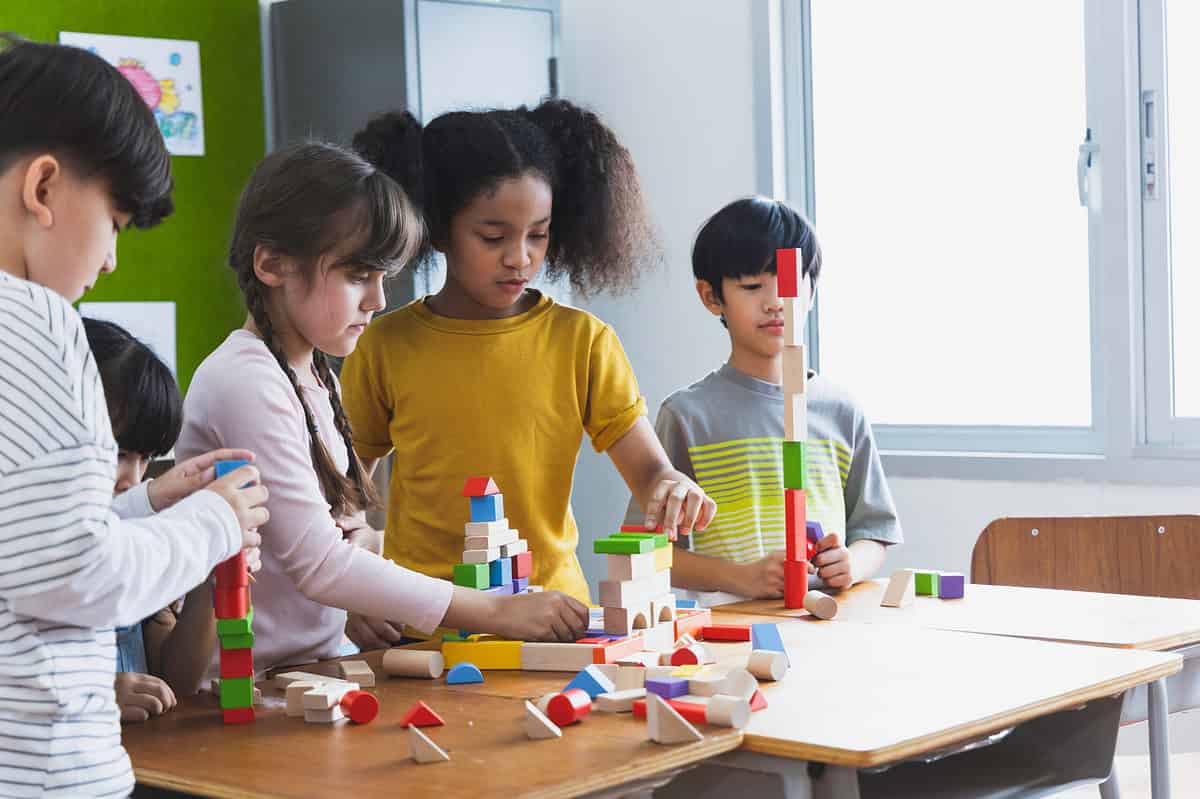 The length of this free choice period varies according to the students' ages:
Infants and toddlers: two hours per day
Early Childhood and Elementary: two to three hours per week, four to five days per week
Secondary: Two hours per subject (English, math, history, science, foreign language)
4. The Absorbent Mind
This principle is based on the fact that children learn all the time simply by interacting with their surroundings. They are taking in information and interpreting it based on their real-life experiences. As a result, a Montessori school or those who adhere to this educational method allow children to absorb information from their surroundings.
Consider the activity of reading. What methods do Montessori schools use to teach reading? Children in a Montessori school learn to write first, then read. As it happens, children can learn to string letters together to form words based on how they sound, which is nothing more than interacting with their surroundings.
This happens before they can interpret or write a word. The process fully capitalizes on the fact that children are like sponges and learn more quickly through hands-on experiences.
5. Multi-age Classes
Montessori classrooms have a mix of ages and skill levels. They are typically divided into year groups of three (e.g., 3 to 6-year-olds, 6 to 9-year-olds). Montessori schools encourage peer learning because the younger children learn by watching what their older friends do. The older children also benefit from this by gaining valuable leadership skills earned by passing on the knowledge they have and solidifying this knowledge.
While Montessori schools are most commonly associated with younger children, Montessori middle and high schools are also available.
6. A Well-Prepared Learning Environment
Maria Montessori referred to what most people think of as the classroom as the prepared environment. Montessori classroom design allows students to be independent and learn in the most effective ways possible.
What is the layout of a Montessori classroom? Here are some examples of what you might see in the prepared environment:
There should be enough room for students to move around.
Simplicity, focus, and organization
Several work areas for students, including rugs, cushions, and tables
Prepared learning activities that are within the child's reach, often on low shelves
A dedicated location where students can prepare their meals or snacks.
Sinks and counters at student height
You can't do Montessori without a prepared environment, and one of the most important duties of a Montessori teacher is to prepare the environment.
7. Study Materials
Montessori materials are made of natural materials such as wood. Most activities combine natural elements with pleasant or interesting sensory experiences. Smooth stones and beads, for example, are part of teaching math.
What you will not see is a lot of bright colors or plastic items that are bright for no reason. There is also not a lot of technology. Maria Montessori did not take a position on the use of computers in the classroom, but most schools reserve that for third grade or later, and it is not at the center of the classroom.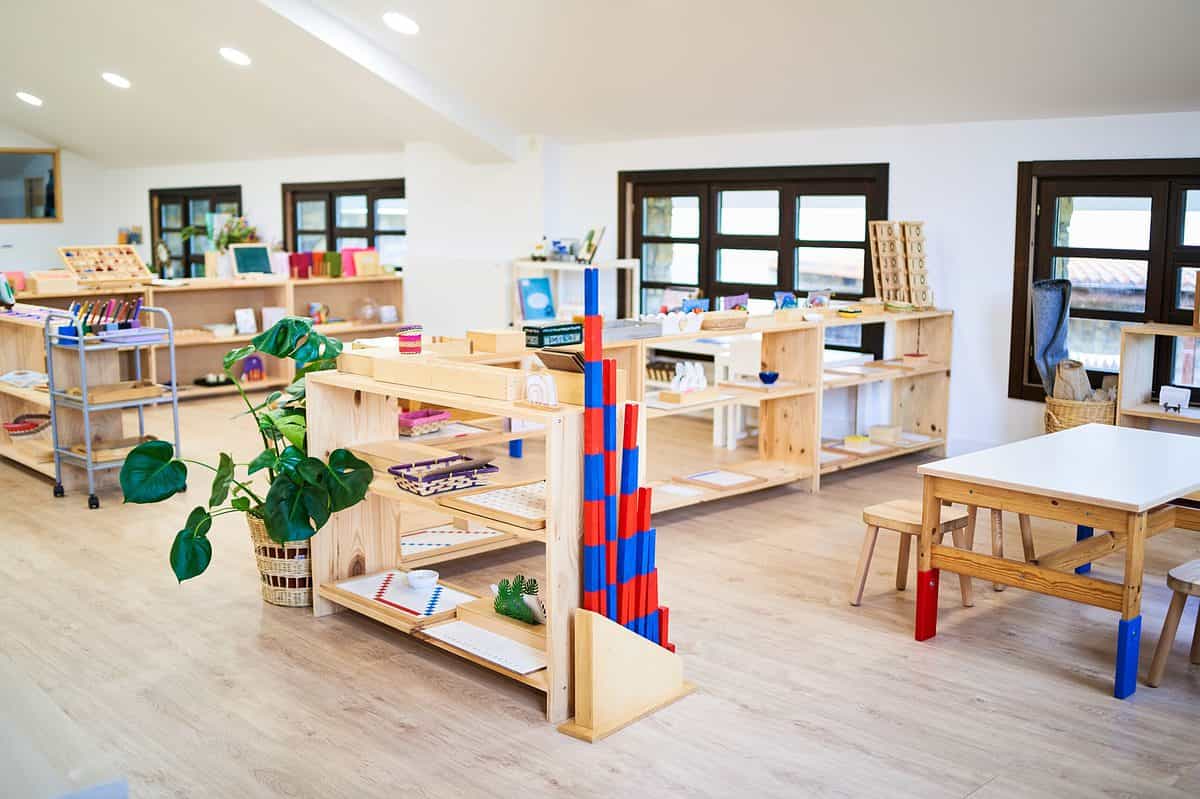 As a result, Montessori classrooms are welcoming and calm. Their senses are not stimulated for the sake of stimulation, allowing students to focus on their work.
Overview of the Montessori Curriculum
The curriculum in a Montessori classroom has the intent to broaden children's awareness of their surroundings, as well as their uniqueness and independence.
To achieve these objectives, the curriculum in Montessori schools focuses on five core areas:
Language
Students are naturally good at remembering the phrases and words they hear every day.
The Montessori language curriculum is based on this concept, which allows students to learn language skills naturally from their surroundings.
Practical Life
As the name implies, practical life entails honing and teaching real-world, practical skills that children require to live a full, independent life.
This includes daily activities such as interacting with peers, preparing meals and food, handwashing, and dressing.
Math
As students progress from concrete to more abstract mathematical concepts, they have the freedom to master skills at their own pace.
Sensorial
Hands-on activities bent on developing the little ones' senses are another important aspect of education in Montessori schools. Here, children actively manipulate not only things they can touch, but also see, hear, smell, and taste.
Culture
The emphasis here is not only on different cultures around the world but also on how each child fits into the world around them. Science, history, geography, art, and music are all possible topics.
Montessori teachers carefully select the materials they use to implement the aforementioned curriculum. Dr. Montessori emphasized the significance of materials made from natural resources that are developmentally appropriate for a specific child.
The idea is that a hands-on approach requires children to have adequate materials (that they can easily manipulate) to carry their learning from the concrete to the abstract, while also considering cosmic education.
The Montessori Method of Teaching
Montessori teachers are highly qualified and trained to be the classroom's guiding hands. Typically, they begin with state teaching credentials and then complete a certification program to become Montessori method experts.
Prospective teachers can choose from a variety of certification programs. These specialized programs prepare teachers and teaching assistants to successfully implement the Montessori method in the classroom.
This includes:
How to give students freedom of choice and independence in the classroom
When should you observe students and when should you intervene? (this is for specific instances)
How to respect children for who they are as individuals
A thorough understanding of the developmental stages and abilities of children
How to set up the classroom to provide the best learning environment for their students
How to guide a student on their path to self-development rather than leading them
The Benefits and Drawbacks of Montessori Schools
Pros
Many experts have praised Montessori learning, so let's find out why. One of the most significant advantages is that it offers hands-on and independent learning. Teachers emphasize natural light and natural learning to encourage children to make full use of their surroundings when learning. Montessori education also encourages children to collaborate and socialize with one another.
The learning environment is designed to encourage peer collaboration, and students are typical of varying levels and ages. Children can learn from one another, but they can also have a lot of creative freedom and independence.
Cons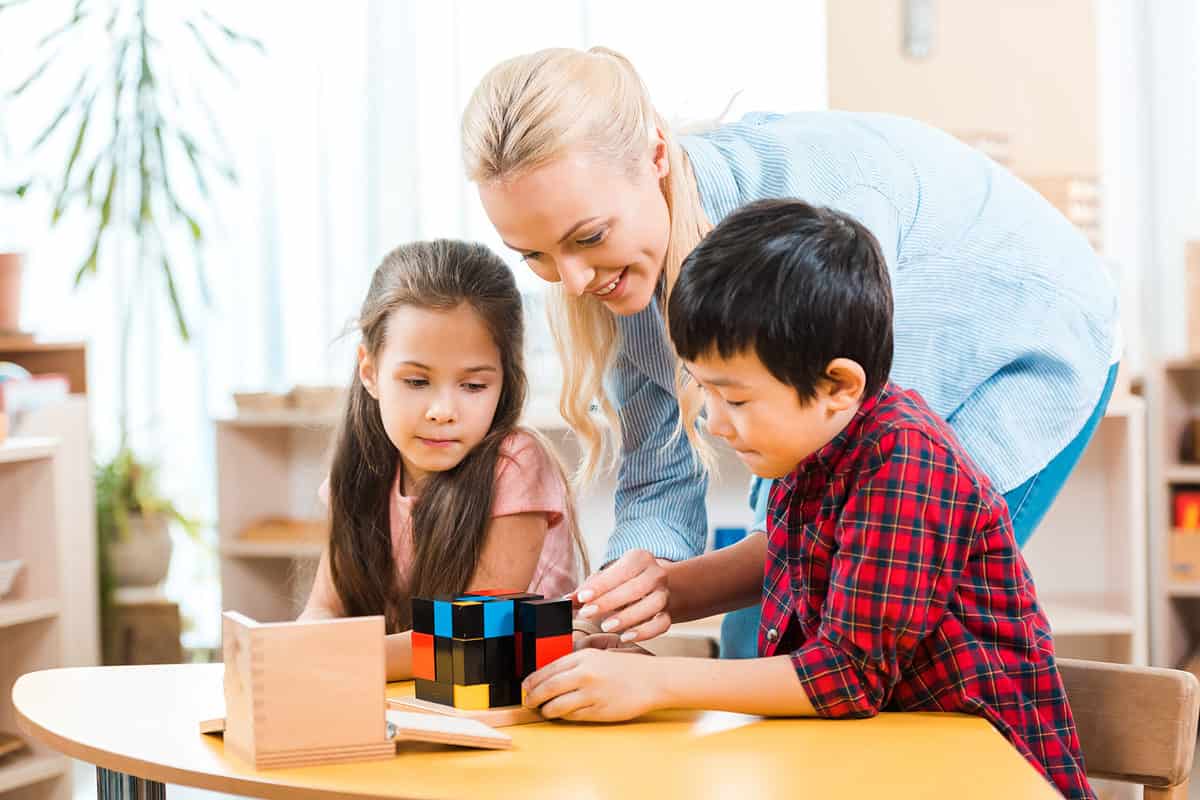 When there are advantages, there are always disadvantages, and it is critical to consider both. One disadvantage to consider is that not all public schools offer Montessori as an option, which means that parents must consider a private school, which will cost the family money. A Montessori education is not cheap, and there are only a few institutions that can provide such individualized attention.
Furthermore, after experiencing the Montessori method, a student may find it challenging in later years to adjust to the fixed structures of traditional education. Many students who have been in this system for at least three years struggle to follow the rules and expectations.
While some parents may be fine with this, it is important to note that Montessori does not use standardized testing, and parents may be concerned about their child transitioning to more traditional schooling later on. These are all things to think about if you want to give your children a Montessori education.
Another disadvantage is that there are no restrictions on the use of the term "Montessori," and there are no specific guidelines or definitions that schools must follow to use this name. This means any school can call itself a Montessori school, and it is up to parents to do their homework on potential educational institutions.
Montessori Schools in the News
On July 19, 2023, Count on 2 News reported that Malcom C. Hursey Montessori School will not be moving to their new campus on time. The brand new campus was supposed to be ready in time for the 2023-24 school year, but weather caused delays in construction. The lack of an HVAC system means that the new campus isn't ready for use yet. School officials are currently working with the district to find an alternative for students and staff until the new campus is ready.
On July 11, 2023, Eastern Shore Post reported that a new Monessori school is opening in New Church, Virginia. The school is slated to open August 14, 2023, and will welcome students in grades first through sixth. Emily and Nick Counts are the individuals opening the school; Emily is a fully-certified Montessori elementary teacher. This Montessori school will be the first in Accomack County, and the second in the Eastern Shore region of Virginia.
On July 14, 2023, the Everett Herald reported that parents in the area decided to undertake the ambitious plan of starting their own Montessori school after the one their children attended announced its closure. These parents had planned on their children attending Montessori school through the end of high school, and were at a crossroads regarding how to handle the situation. After discussion, they decided to try their hand at running their own Montessori school. Everett Montessori Academy is set to open in the fall of 2023.
Conclusion
Montessori schools are about developing independent, confident lifelong learners who have the cognitive, practical, emotional, and social skills needed to care for themselves and their community. This is the goal of many schools with various educational methods for children, but Dr. Maria Montessori backed it up with scientific, evidence-based practices, which is the true heart of Montessori's philosophy.
It comes as no surprise, then, that the methods she outlines over a century ago are still effective for teaching children today.
The image featured at the top of this post is ©Lordn/Shutterstock.com.