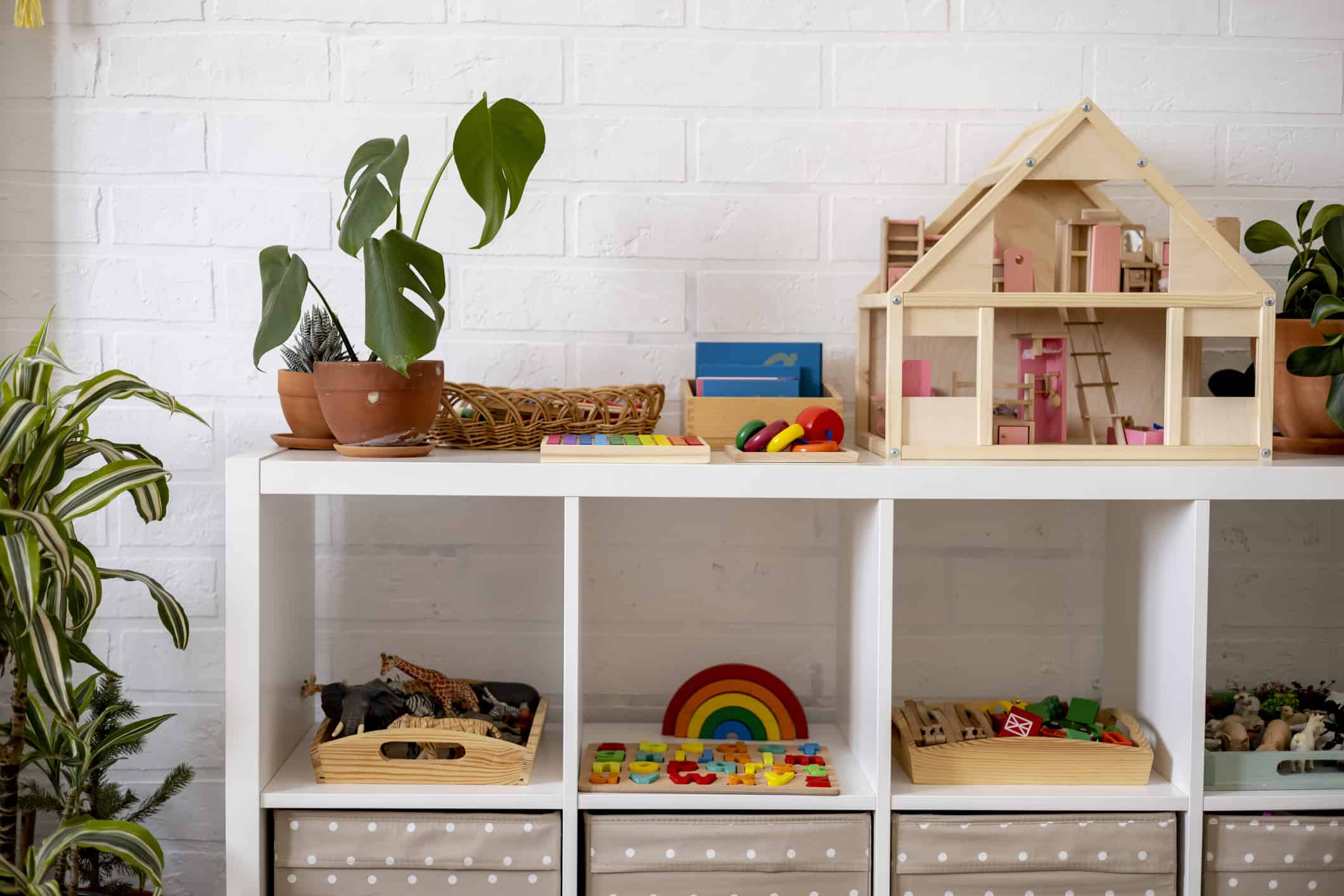 If you've ever searched for a Montessori school in your area, you've likely heard of Guidepost Montessori.
Guidepost Montessori is a network of Montessori schools. They have over a hundred brick-and-mortar Montessori schools in the United States, Asia, and Europe. Guidepost Montessori also has a virtual school and homeschool program.
Whether you're considering a Guidepost campus for your child or are simply curious to know what they're about, let's look at what Guidepost Montessori is and how they got started.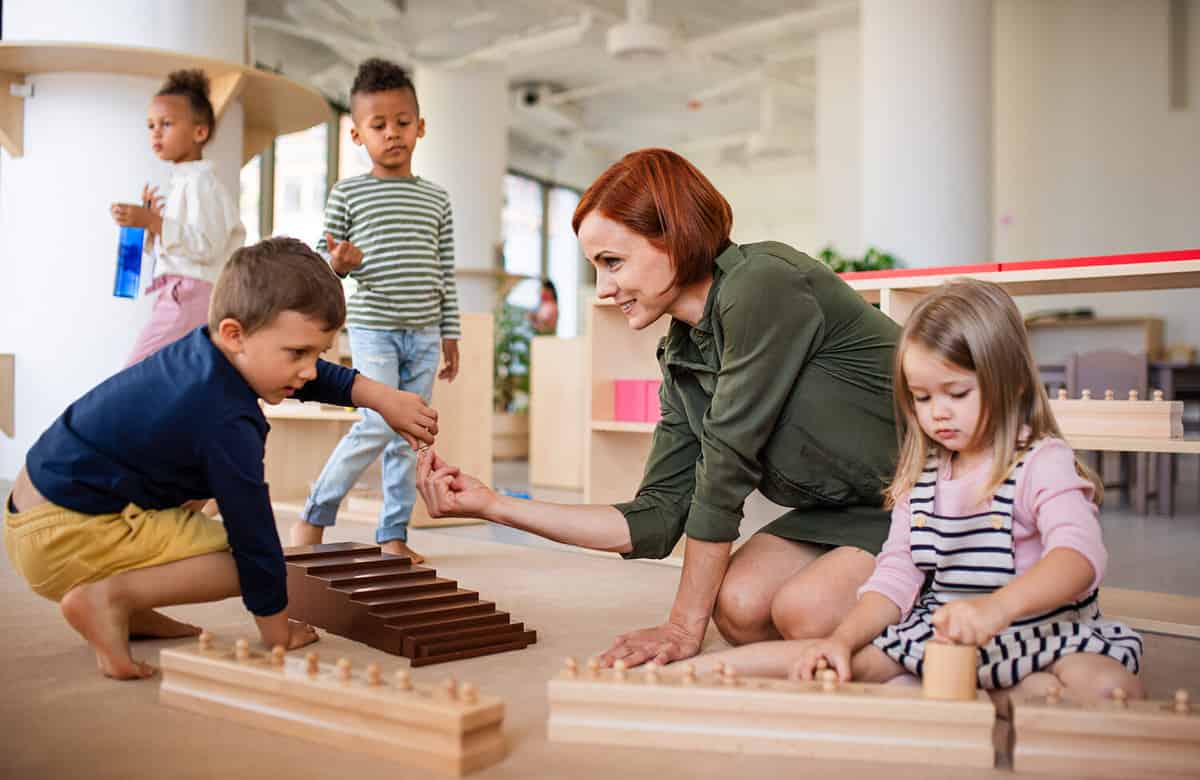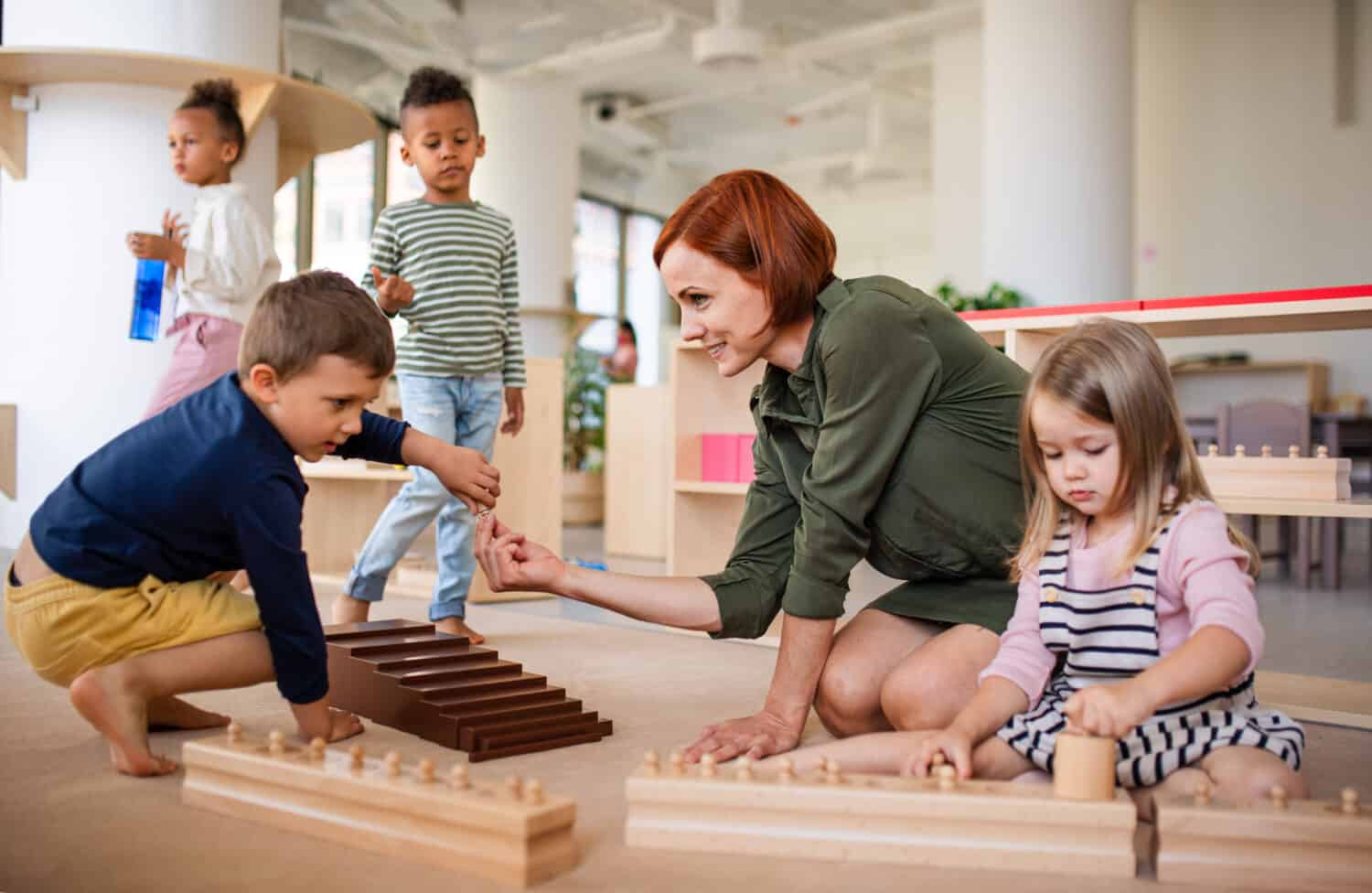 What Is Guidepost Montessori?
Guidepost Montessori is the largest network of Montessori schools across the globe. Their network includes brick-and-mortar schools, virtual schools, and homeschool communities. Overall, they have 110 Montessori school locations across the United States, Asia, and Europe, educating thousands of students using the Montessori method.
The programs available vary by location. However, most Guidepost campuses include a nido, toddler, and children's house program, enrolling children from 6 weeks to 6 years old. A smaller number of campuses have an elementary, middle, or high school program. Some locations also have programs such as a Spanish immersion program and a summer camp program. Since a different administrative team manages each school, the programs depend on the area and specific campus.
Who Is the Owner of Guidepost Montessori?
With such a large network of Montessori schools, you might wonder who's behind it all. Higher Ground Education owns the Guidepost network.
Higher Ground Education started when a group of educators and business leaders decided to mainstream and modernize the Montessori movement. They are a team of professionals who aim to redesign education from the ground up. As part of their strategy, they partner with investors, childcare operators, and property owners to spread the Montessori movement across the globe. In addition to Guidepost, they own and operate the Academy of Thought and Industry, a network of Montessori-inspired middle and high schools.
Is Guidepost Montessori Accredited?
Accreditation is part of what helps parents ensure a school offers an authentic Montessori environment. As the Montessori method continues to grow in popularity, there are numerous schools popping up that claim to use the Montessori method or be Montessori-inspired. However, without accreditation, it's difficult to know which schools truly offer the main tenets of Montessori education.
According to the American Montessori Society (AMS), there are 5,000 Montessori schools in the United States. The AMS recognizes five core components that every quality Montessori school should have, which include:
Trained Montessori teachers
Multi-age classrooms
Montessori materials
Student-led and directed work
Uninterrupted work periods
Guidepost Montessori School campuses are accredited or in the process of becoming accredited by Cognia, the American Montessori Society, Middle States, the National Association of Education for the Young Children, and the Western Association of Schools and Colleges.
Are Guidepost Montessori Teachers Montessori Certified?
Montessori schools are unique compared to other private or public schools. There are some elements that might vary from one Montessori school to the next but the atmosphere, environment, and teaching methods in authentic Montessori environments will look pretty similar.
General teaching experience or education doesn't necessarily equip a teacher to become a guide in a Montessori school. That's why many Montessori schools require teachers to have or work on obtaining a specific Montessori certification. Guidepost Montessori keeps their schools authentic by sponsoring a Montessori training program for their teachers that is accredited through the Montessori Accreditation Council for Teacher Education (MACTE).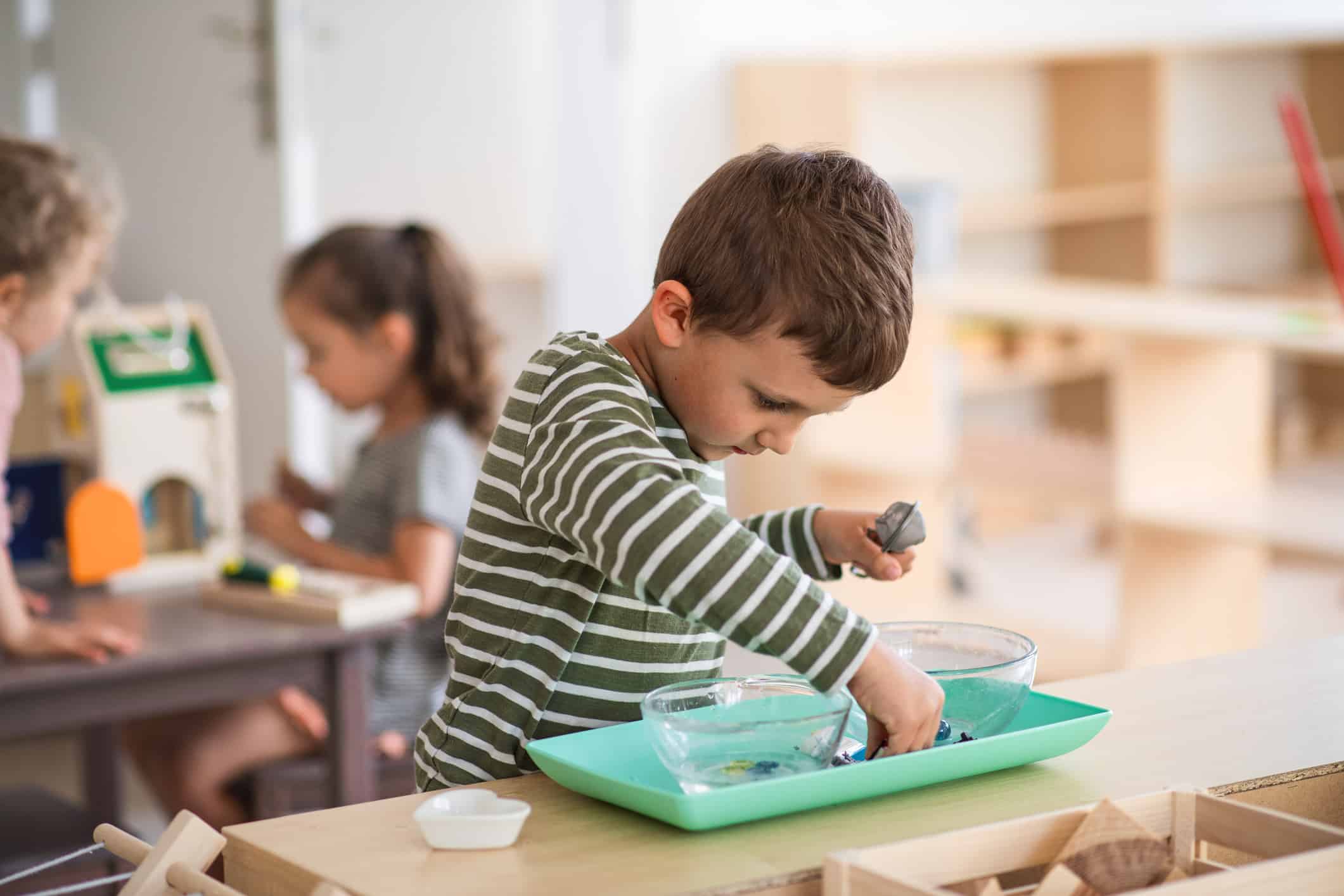 What Is the Montessori Method?
You may have heard about Guidepost Montessori but haven't enrolled your child in a Montessori school before. So let's take a step back and talk about the Montessori method. Montessori education has been around since Dr. Maria Montessori, an Italian physician and educator, started the first Montessori school in 1907.
One of the major differences between Montessori and traditional education is the Montessori approach is child-centered. Instead of the teacher being the central focus of the classroom, teachers are guides to help the children learn independently and at their own pace. Children are given freedom with limits within the classroom and spend time exploring, playing, and discovering through an indoor and outdoor environment. While no type of education is one-size-fits-all, studies have shown that Montessori education has numerous benefits for young children.
What Is the Guidepost Montessori Virtual School?
Montessori education isn't a high-tech method, but even some Montessori schools have taken on digital aspects to teach children how to properly use technology and accommodate families in unique situations. One way Guidepost does this is through their virtual Montessori school.
Guidepost Montessori Virtual School is an online education program that offers the benefits of a Montessori education while allowing children to learn from their own homes. Unlike a homeschool curriculum, the Guidepost Virtual School is led by certified Montessori guides who work with your child full-time, Monday through Friday.
Since children enrolled in the Guidepost Virtual School don't attend school in a physical classroom, parents receive unlimited support to help establish a Montessori classroom at home. Guidepost includes the Montessori materials necessary for the learning environment in the cost of tuition and ships them to your household.
The goal of the online education program is to create a hybrid experience for children. Setting up a Montessori space for your child at home is necessary to ensure their success in the program. Each day, they'll participate in guided physical exercises and activities to keep them moving and engaged.
What Is Guidepost Homeschool?
For parents who want to homeschool their children but don't want to start from scratch, Guidepost Homeschool is a Montessori homeschool framework that empowers parents to implement a Montessori education at home.
Parents who sign up for Guidepost Homeschool receive a curriculum bank with over 2,000 Montessori lessons for children up to age 12. For younger children, you can use the lessons as a foundation for guiding your child, and older children can work through the lessons independently.
The team at Guidepost Montessori created the homeschool program as a way to simplify the Montessori method for homeschool parents and provides families with all the resources they need to plan ahead and track their child's progress. It also gives parents a sense of support and community through weekly mentorship sessions and network gatherings.
Montessori vs. Traditional Schools
There are many differences between Montessori schools and public schools. These differences include class sizes, school environment, and available materials in the classroom. Schools like Guidepost Montessori typically have smaller class sizes than public schools and offer a more personalized approach to learning. Every authentic Montessori school has a carefully prepared environment that includes a calm, peaceful classroom space children can safely explore.
Many Guidepost campuses accept children as early as 10 weeks old and some go up to 18 years old. This structure leads to a consistent and well-balanced experience for students so they can reach their full potential.
Is Guidepost Montessori Right for You?
If you're looking for a brick-and-mortar Guidepost Montessori school in your area, there are locations all across the globe. They have schools in 27 states and 4 different countries, including the United States. Navigating their website is easy when you want to find a location near you.
Choosing the right school for your child can be a challenge. Considering the cost of tuition for Montessori schools, you might wonder if it's worth the price. For Guidepost Montessori, the cost varies by location, but tuition ranges from $15,000 to $35,000 annually.
The benefit of choosing a well-known name like Guidepost is they're already a well-established school. Instead of choosing a new school, you're able to look at the history, standards, and operating procedures of Guidepost Montessori. On the other hand, each location will vary slightly. It's important to tour the campus and look at reviews before you decide what's best for your child.