Los Angeles is one of the most expensive cities in the United States. According to the 2022 Worldwide Cost of Living Survey by the Economist Intelligence Unit, Los Angeles is the fourth most expensive city in the world to live in. Only New York, Singapore, and Tel Aviv are more expensive than Los Angeles, which shares fourth place with Hong Kong.
Naturally, expensive cities draw wealthy residents, many of them searching for the best schools for their children. Parents moving to LA should know that California divides its grade levels differently than many states. Instead of having elementary, middle, and high schools, the state has few freestanding middle schools.
Therefore, a child may attend an elementary school for K-6, then high school for grades 7-12. Other public and private schools in Los Angeles are designated for grades K-8, with students moving to another school for grades 9-12. Other private school students remain on one campus from kindergarten through high school graduation.
School choices abound when tuition fees are no object. Here are some of the most expensive schools in LA today, including the priciest colleges in the area.
Elementary Schools
| School Name | Tuition |
| --- | --- |
| Berkeley Hall School | $37,750-$41,850 |
| John Thomas Dye School | $38,900 |
| Center for Early Education | $36,920 |
Berkeley Hall School
16000 Mulholland Dr., Los Angeles, CA 90049
Berkeley Hall School is the oldest private co-ed elementary school in LA. It offers students an award-winning visual arts program, STEAM labs, and over 30 sports teams. Tuition is divided by grade level: $37,750 for K-5, $41,170 for grade 6, and $41,850 for grades 7-8.
Berkeley Hall boasts a 66-acre campus with seven buildings, a swimming pool, and an amphitheater. The student/teacher ratio is 8:1, and 54% of the student body represents cultural diversity.
John Thomas Dye School
11414 Chalon Rd., Los Angeles, CA 90049
John Thomas Dye School is a traditional elementary school with an 11-acre campus in Bel Air. Students wear uniforms, call teachers by their last names, and enjoy a student/teacher ratio of 7:1. Tuition is $38,900 for grades K-6.
Students of color make up 46% of the student body, and the school's "Collage" program helps ensure that diversity is honored. Electives include music classes held in an outdoor amphitheater called the Hollywood Bowl. Famous alumni include Monica Lewinsky, Tori Spelling, and TikTok Head of Operations Adam Presser.
Center for Early Education
563 N. Alfred St., West Hollywood, CA 90048
The Center for Early Education is one of the most coveted schools among Hollywood's power parents. Tuition is $36,920 per year, and prospective parents should anticipate a lengthy application process that starts a full year before the student will attend school. Famous former pupils include Adam Levine and Jake Gyllenhaal.
The student/teacher ratio is 15:1, and 56% of the student body are students of color. An Innovation Center ensures children embrace STEM subjects. The campus' city location eliminates the classic schoolyard, but students still enjoy recess on rooftop playgrounds.
High Schools
| School Name | Tuition |
| --- | --- |
| The Archer School for Girls | $50,475 |
| Milken Community School | $49,950 |
| Harvard-Westlake School | $46,900 |
The Archer School for Girls
11725 Sunset Blvd., Los Angeles, CA 90049
The Archer School for Girls was founded in 1995 by three women who believed in the benefits of single-sex education for girls. Housed in a 1931 Spanish Colonial Revival building in the Brentwood neighborhood, the school aims to create an educational environment that feels more like a home than an institution.
Annual tuition and fees for girls in grades 6-12 total $50,475, including transportation and a laptop. In-depth visual arts, music, engineering, fitness, and wellness coursework supplement a strong core curriculum. Environmental, financial, and media literacy is emphasized, and girls enjoy FLX Block workshops in everything from animation to yoga.
Milken Community School
15800 Zeldins' Way, Los Angeles, CA 90049
Milken Community School is a Jewish day school that serves 700 students in grades 6-12. Middle and high school students occupy two separate campuses, but both levels pay a $49,950 tuition fee.
The school is grounded in Jewish values and traditions, including academic excellence, community building, and nurturing the soul. Students can access an MIT-inspired Fab Lab and the Milken Architecture + Design Institute. Performing arts and service learning projects are additional electives meant to create a well-rounded student prepared for life beyond graduation.
Harvard-Westlake School
3700 Coldwater Canyon Ave., Studio City, CA 91604
Harvard-Westlake School is a co-ed college prep school for students in grades 7-12. All students pay an annual tuition of $46,900. The school boasts an 8:1 student/teacher ratio despite having 1,600 students on two campuses.
Harvard-Westlake's student body is quite diverse, with 62% self-identifying as students of color. The school offers over 300 classes and over 100 on-campus clubs and activities. Like many expensive Los Angeles schools, this one offers extensive fine art classes and hosts over 40 plays, concerts, dance recitals, and other performances each year. Famous alumni include Jamie Lee Curtis, Bridget Fonda, and MLB player Max Fried.
K-12 Schools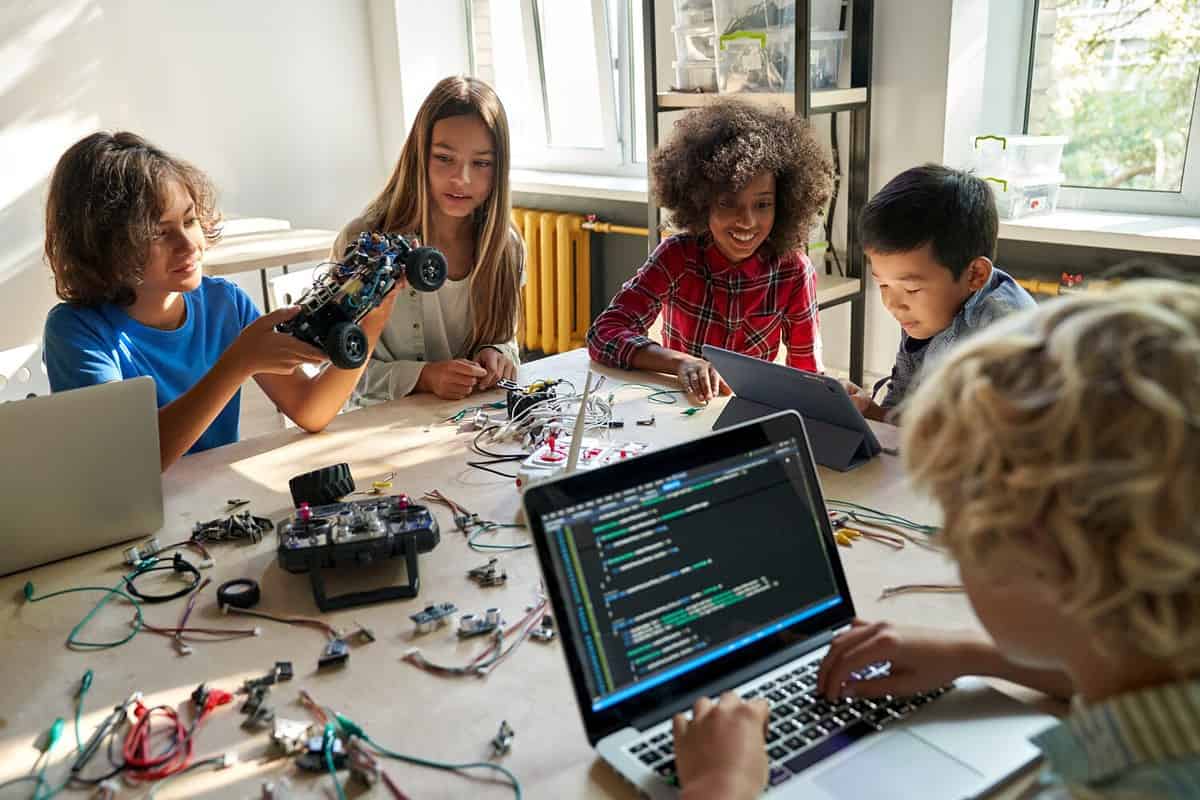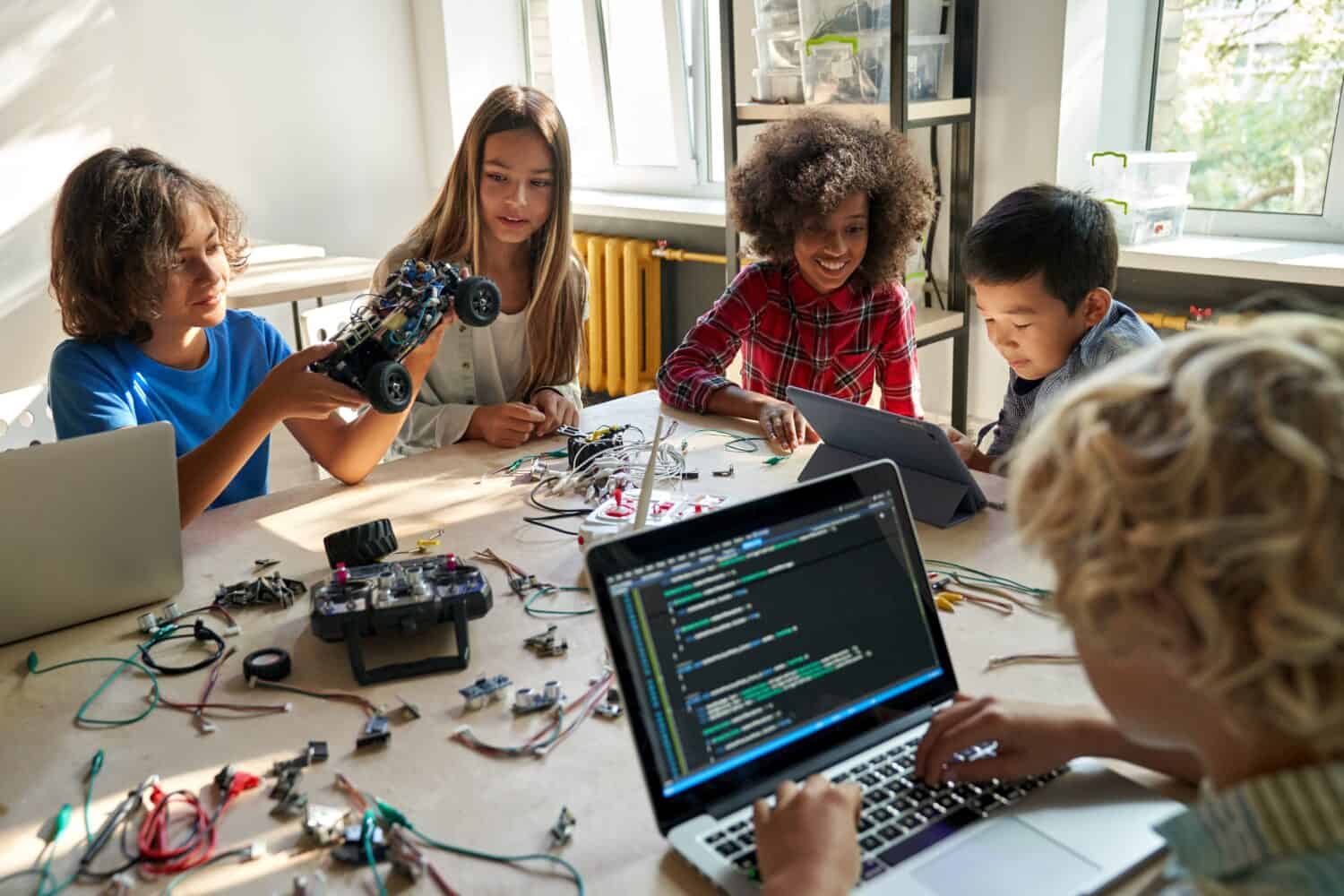 | School Name | Tuition |
| --- | --- |
| Brentwood School | $43,430-$50,880 |
| Crossroads School for Arts and Sciences | $42,152-$50,092 |
| Oakwood School | $41,350-$49,360 |
Brentwood School
12001 Sunset Blvd., Los Angeles, CA 90049
Brentwood School occupies an impressive Mediterranean-inspired hillside campus on legendary Sunset Boulevard. Its annual tuition is $43,430 for grades K-5 and $50,880 for grades 6-12. The core curriculum is supplemented by innovative programs such as the 6th Grade World Language course, a yearlong rotation of studying Latin, French, Spanish, and Mandarin Chinese. Once a child is accepted into elementary school, they are guaranteed a spot all the way through their senior year, barring any problems.
Jazz band, sculpture, robotics, filmmaking, and coding are just some of the electives Brentwood students enjoy. Famous alumni include actors Fred and Ben Savage and members of the band Maroon 5.
Crossroads School for Arts and Sciences
1714 21st St., Santa Monica, CA 90404
Crossroads School has an impressive list of former students, including Seth Rogan, Jack Black, and Kate Hudson. Tuition is comparable to other elite Los Angeles schools: $42,152 for grades K-5 and $50,092 for grades 6-12.
Crossroads students enjoy a challenging yet casual environment where teachers are called by their first names and classrooms are named after famous artists and scientists. Social justice is emphasized at all grade levels, and electives include life skills, outdoor and environmental education. High school seniors choose a three-week immersive project and go on a nature retreat with their peers.
Oakwood School
11230 Moorpark St., North Hollywood, CA 91602
Oakwood is an expensive Los Angeles school that boasts seven art studios, eight jazz bands, and 100% of its seniors accepted to college. K-6 elementary tuition is $41,350, while secondary school tuition is $49,360 for grades 7-12.
Committed to sustainability and environmental awareness, the school recently opened a new playground featuring elements made from recycled materials. Oakwood is deeply devoted to fostering diversity, inclusion, and self-awareness through various programs at all grade levels. Famous alumni include Adam Goldberg, Noah Wyle, and Breckin Meyer.
Colleges and Universities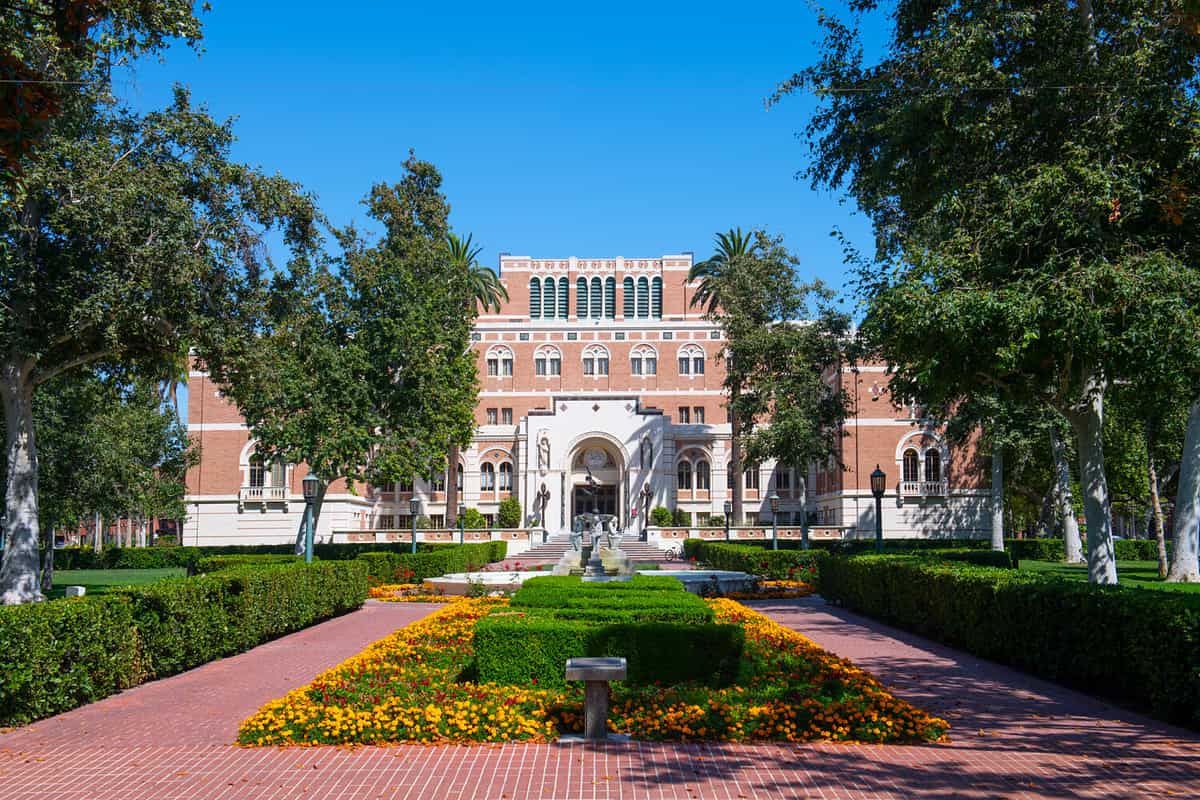 | School Name | Tuition |
| --- | --- |
| University of Southern California | $63,468 |
| Pepperdine University | $62,390 |
| California Institute of Technology | $60,864 |
University of Southern California
University Park Campus: 3551 Trousdale Pkwy., Los Angeles, CA 90007
USC is a private, not-for-profit university with the same tuition for in-state and out-of-state students: $63,468. It is one of the world's leading private research universities, with two huge LA campuses serving 49,000 undergraduate, graduate, and professional students. USC is considered a global anchor for technology, arts, and international business education.
Pepperdine University
24255 Pacific Coast Hwy., Malibu, CA 90236
Pepperdine University is a private research university located in Los Angeles County. It is one of LA's most expensive colleges, with a tuition fee of $62,390. Students can choose from over 43 fields of study, including fine arts, communications, international studies, religion, social science, and natural science. It is also home to the Graziadio Business School and the Caruso School of Law.
California Institute of Technology
1200 East California Blvd., Pasadena, CA 31125
Caltech, or CIT, serves over 2,300 students in Los Angeles County. The school focuses on science and engineering and provides six academic divisions, including biology, chemistry, planetary sciences, physics, and mathematics. Its graduates have earned 46 Nobel Prizes. Annual tuition at Caltech is $60,864.
Are expensive schools always better?
In a city where brands, labels, and appearances matter greatly, attending expensive Los Angeles schools is a status symbol. But a high tuition rate doesn't always equal a better educational outcome. It's wise to compare statistics before signing a contract for something as valuable as an education.
Up Next:
The 18 Worst Schools In Los Angeles Today
5 Things California Schools Absolutely Nailed
The 11 Richest Schools In California Will Blow You Away
The image featured at the top of this post is ©Monkey Business Images/Shutterstock.com.