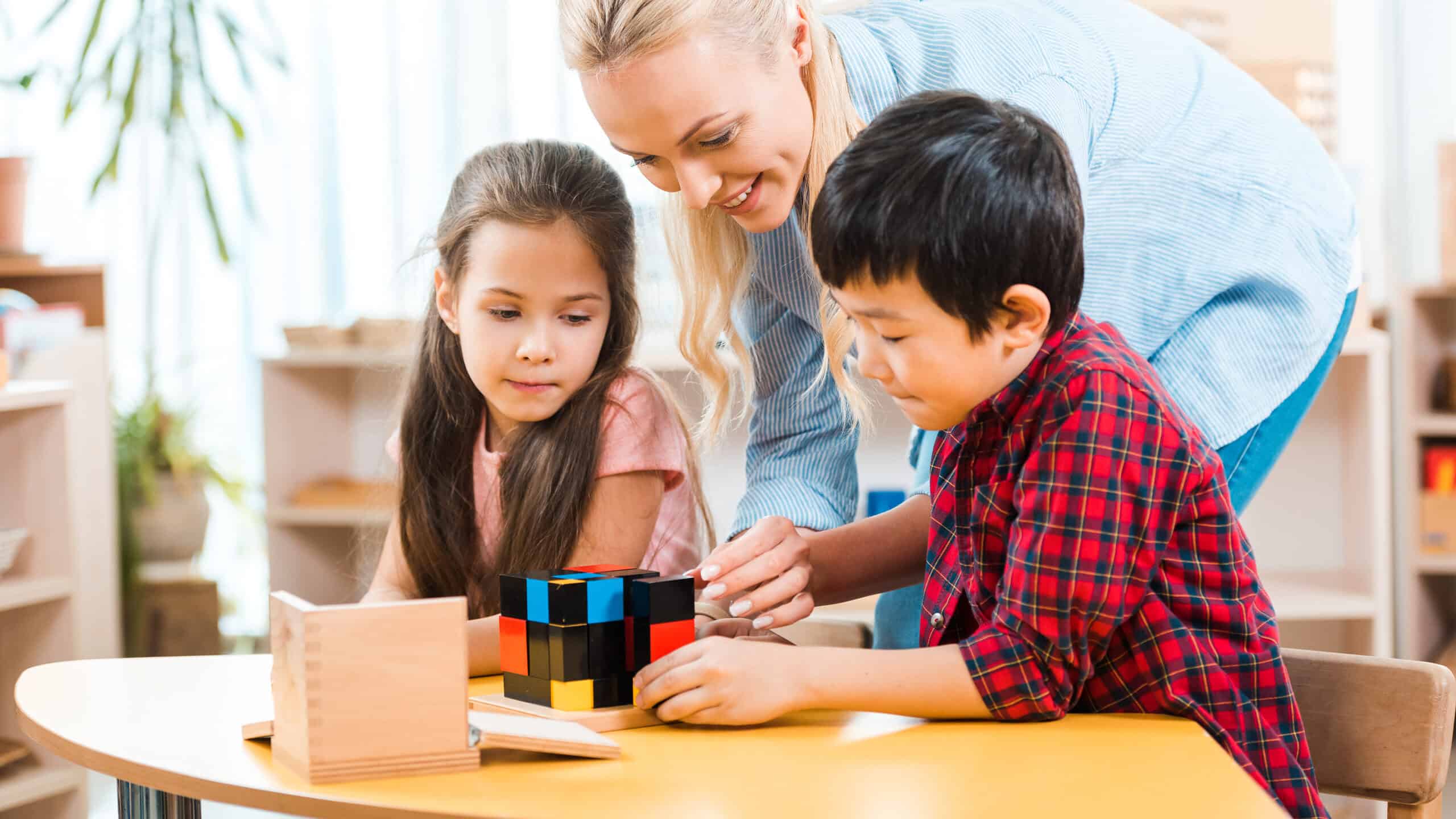 If you are reading this, chances are you have heard of the Montessori method of education, and you may be well-versed in this approach. However, there is also a chance you may be a beginner. Regardless of your knowledge of the Montessori technique, you are probably a parent or teacher researching the best Montessori methods to use in your classroom. Whatever the case, these four Montessori books for teachers can deepen your understanding of why this structure of education works. These books can also give you tools and guides to create a thriving Montessori atmosphere for your students. These four books are well-reviewed and can help you get started in the direction you want to go, whether you are a beginner, just looking for a few new ideas, or want to dust up on the basics of Montessori.
Who Was Maria Montessori?
Maria Montessori was an Italian educator and physician. She used the education and experience she had received to help create the foundations for Montessori. Educating children as whole children who can be self-directed is the stepping stone she encouraged. Maria believed children were born with the natural desire to learn and grow. The idea that we need to set exhaustive standards and dictate what our children learn was a belief Maria rejected.
It is important to remember that all children grow at their own pace. No two children are the same. When you spend the day with two or more children, it will become apparent just how different they can be. It also becomes clear how children have different learning styles as well. Each child has a unique learning style. Some children learn best when they are read to. Others need a hands-on approach. Still, others are visual learners. Maria understood this concept. That is why child-led learning is the building block of Montessori education. When a child can choose what they are learning, their engagement will expand. When a child fully engages in what they are discovering, they grasp what they need to know. They will become excited about what they are understanding and realize that learning can be fun!
Maria Montessori charged parents and teachers with the responsibility of creating a thriving and stimulating environment for children where choices by the child are paramount. To do this, Montessori believed creating spaces for growth, exploration, and confidence building was the best course. As a result, Maria Montessori's foundations of education have grown in popularity.
The Growth of Montessori Classrooms
Montessori classrooms have been on the rise. The philosophies of Maria Montessori are intriguing to many parents and teachers. The motto of Montessori is to "follow the child." This means observing what the child's desires and interests are when it comes to learning.
The popularity of the Montessori classroom continues to grow because of the emphasis on independence and having trust in children to grasp ideas without adults' intervention.
Teachers can set up their classrooms for optimal growth with a refreshing environment. In doing so, children will grow in confidence in their abilities. They will know that their education is in their hands, what they are interested in matters immensely, and the teachers in their lives will give them the freedom to explore at their own pace. These are just a few reasons the Montessori classroom is growing in popularity.
How is a Montessori Classroom Different Than a Traditional Classroom?
When you walk into a Montessori classroom, you will immediately notice that it looks different than a traditional classroom. Montessori classrooms are designed to be calm and natural. In addition, the bookshelves of a Montessori classroom will be open and close to the ground so children can access whatever they want.
In a Montessori classroom, teachers are guides. They come alongside students to encourage them on their learning journeys. Children work together in group areas which encourages their social skills by exposing them to diverse personalities. Areas are also set up for independent work because some children thrive best when working alone.
Active and hands-on learning is one of the foundations of a Montessori classroom. The focus is on something other than textbooks and memorization. Instead, children have opportunities to explore the world around them and learn through experience, social interaction, and hands-on projects that foster a sense of curiosity in each child.
The Top Four Montessori Books for Teachers
Montessori education focuses on hands-on learning because Maria Montessori believed each child was born intelligent, curious, and capable. Respect for the child is the most important element in their education journey. As a result, a Montessori classroom's enriching atmosphere is immensely different from what you may see in a traditional classroom. Suppose you are considering becoming a Montessori teacher or looking for ideas on setting up your classroom. In that case, these four Montessori books for teachers will give you the foundations you need to get started.
Montessori in the Classroom: A Teacher's Account of How Children Learn
Written by Paula Polk Lillard, Montessori in the Classroom takes a deep dive into what a Montessori classroom will look like. Questions like: what teachers teach, how children learn, and how to use Montessori materials are all answered in this book. This book was written by a teacher and provides a glimpse into her classroom. This read can be a helpful tool for designing your Montessori classroom.
The Tao of Montessori: Reflections on Compassionate Teaching
This book can refresh your perspective daily if you are looking for inspiration in your Montessori classroom. Written by Catherine Mctamaney, takes the verses of Lao-tzu's Tao Te Ching and relates them to teachers. This is an excellent read to help teachers reframe their mindset and focus on what Montessori education truly is. Reviewers boasted this book is simple, easy to digest, and inspiring, making it a fantastic one for teachers and parents.
Montessori's Own Handbook
The best place to start researching a method is from the person who created it. In Montessori's own words, she describes why her approach works and the principles behind it. Although this book is not a how-to guide, it can help teachers better understand Maria's development of Montessori's education.
Montessori: A Modern Approach: The Classic Introduction to Montessori for Parents and Teachers
When starting out learning about a new method of education, it's normal to have plenty of questions! Paula Polk Lillard answers these questions in this text. Easy to understand and straightforward, as a teacher, you will gain a clearer understanding of the Montessori method. A couple of reviewers were concerned with the author's speaking more "old school" and not being careful with how she phrases expressions. Overall, this book is helpful for a deeper understanding of the Montessori method as a teacher.
In Conclusion
The Montessori method is a fast-growing form of education. It's no surprise because the Montessori education philosophies appeal to children, educators, and teachers alike. The emphasis on child-led education and an immersive atmosphere makes learning the Montessori way engrossing. The Montessori classroom is different than the traditional classroom because teachers are not the reinforcers of education. Instead, teachers are a guide. They move along with the children and foster a sense of confidence as they go on their educational journey. Children are born whole people capable of learning all they need to know. Following their interests and going at their own pace will make learning fun for the students in your classroom. These four Montessori books for teachers are fantastic places to start as you set up your Montessori classroom.