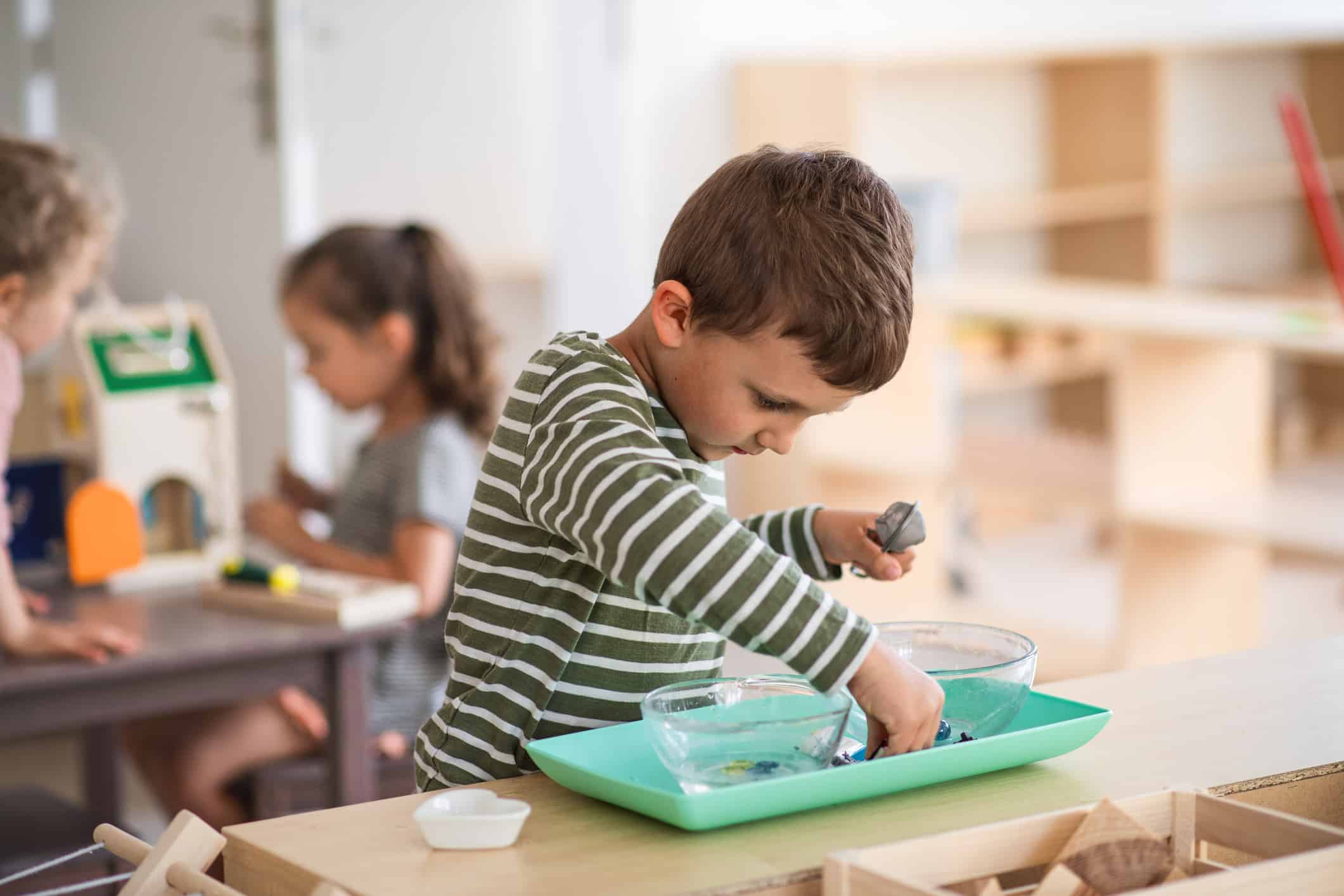 What Is A Montessori Education?
Are you looking for the best Montessori toys for 5-year-olds? But first, what exactly is a Montessori education? Is it specifically only for classrooms, or can you implement it in your home? Also, are there benefits of using Montessori in your home? These questions may come up when you first hear of Montessori. So, let's talk about it!
Maria Montessori created this philosophy of education with the basic idea that all children are whole children and the entire child deserves to be educated. Additionally, the concept of Montessori is to create an engaging and stimulating environment for children to learn at their own pace. Parents and teachers are considered guides to help create an environment where children can thrive. The idea that children are motivated to learn on their own when they are placed in the right hands-on environment is the backbone of Montessori.
Did you know you do not have to keep Montessori only in the classroom? It's true! You can create a Montessori environment directly in your own home. One of the best ways to do this is with Montessori toys. We are going to take a look at what the best Montessori toys are for 5-year-olds. However, let's first talk about how to create a Montessori home!
Creating a Montessori Home
To begin creating a Montessori home, you can start by viewing it as a way of thinking. When you start seeing your child as a whole person capable of learning independently, it becomes easier to see areas you can provide your child with natural ways to learn.
Maria believed in providing children with simple and natural materials that can ignite their imaginations. She also did not think children needed all the extra noise and stimulation that so many toys on the market today have. Some simple examples of Montessori play toys are:
Blocks
Knobs
Chunky puzzles
Pretend play like food and kitchens
The point of toys is to engage, not entertain. Therefore, Montessori toys should be made from natural materials and be open-ended. This allows children to stretch their creativity and imagination.
Benefits of Using Montessori As a Parent
There are many benefits of using Montessori as a parent. When you offer your child simple materials and give them stimulating environments, they will be ready during their sensitive periods, times when they are primed to learn a new skill. Also, here are some great ways to prep your home and start using Montessori as a parent:
Keep it simple, view toys as engaging, not entertainment
Keep toys and books to a minimum. This allows them not to feel distracted and overwhelmed
Say no to noisy toys with flashing lights
These are just a few tips to help you create the Montessori home you want!
The Best Montessori Toys for 5-year-olds
Magnetic Building Stick Block
This magnetic building sticks set puts a new spin on the classic magna tiles! With 64 pieces, your child will have plenty of creative freedom to expand their imagination. They can also create anything their mind desires with these excellent building sticks. It comes in several shapes, is strong enough to hold while your child explores, and has solid magnetic capabilities. Your child will love creating with these fun blocks! However, there are small parts involved, and are choking hazards. So, remember to keep away from small children.
UREC Magnetic Building Sticks
Magnetic sticks come in a pack of 64
Increases creative freedom and imagination
Several different shapes
Solid magnetic capabilities
We earn a commission if you make a purchase, at no additional cost to you.
Three-Pack Hexagon Wooden Puzzle
These hexagon wooden puzzles come in a three-pack and provide your child with a creative way to expand their problem-solving skills. The material is also non-toxic and smooth, making it safe for hours of play. Your child can practice their creative talents with these colorful puzzles. These puzzles help children develop fine motor skills as well!
Musical Instruments
These musical instruments by LOOIKOOS come with several choices for your child to engage with. From percussions, drums, bells, and a cymbal, there are many ways for children to explore music with this toy!
Made from safe and non-toxic natural wood, these musical instruments will provide hours of fun for your child. In addition, your child can work on their eye-hand coordination, working together, problem-solving, and many more skills that are needed as they grow.
LOOIKOOS Toddler Musical Instruments
Pack of several musical instruments, including percussions, drums, bells, etc.
Non-toxic natural wood
Eye-hand coordination, problem-solving, and collaboration skills
We earn a commission if you make a purchase, at no additional cost to you.
Wooden Rock Stones
These wooden rock stones are made from safe and non-toxic materials. They provide children with hours of fun and creative freedom. Additionally, there are 30 rock pieces, and it comes with a cotton bag for storage. So whether your child loves to build or pretend for hours, these rock stones are the perfect Montessori toy.
We earn a commission if you make a purchase, at no additional cost to you.
Montessori Screwdriver Board Set
Do you have a child who is interested in building? They can work on their skills with these toys by Panda Brothers! This screwdriver board set has seven different screws that your child can explore. They will also be able to work on their hand-eye coordination, fine motor skills, and grasp.
The wood is safe and non-toxic for children. It is also long-lasting and will provide your child with years of fun playtime.
We earn a commission if you make a purchase, at no additional cost to you.
Magna Tiles 100 Piece Set
The classic magna tiles are perfect for providing children with hours of imaginative play. This set comes with 100 durable, safe, and colorful magnetic tiles. These tiles are also 3D and come in a few different shapes and sizes. Your child can spend hours creating and imagining with these magnets while working on fine motor skills, creativity, and spatial skills. So, if you want an open-ended toy to encourage your child's imagination, these magna tiles are perfect!
Magna-Tiles 100-Piece Clear Colors Set
Encourage imaginative and creative play
100 durable, safe, and colorful magnetic tiles
3D tiles with various shapes and sizes
Work on fine motor, spatial, and creativity skills
We earn a commission if you make a purchase, at no additional cost to you.
Who was Maria Montessori?
So, we have talked about the best Montessori toys for 5-year-olds. Now let's talk about the woman behind Montessori. An Italian physician, Maria Montessori, believed in children being capable human beings. She believed children are born with all the curiosity they will ever need. She also encouraged teachers and parents to give children room to grow, explore, and stimulate their minds. Here are the philosophies of Maria Montessori:
Respect the child as a whole person
Children desire to learn and succeed and do not need adults to tell them what to know
Instead, children need a stimulating environment, time, space, and to be encouraged
We start the learning environment as soon as our child is born
Simple toys promote an open-ended environment in that children can thrive
What Can Montessori Method Teach Us?
The Montessori method helps parents remember that children are perfectly capable of learning on their own. They need a stimulating environment and do not need to be forced to learn something. Children go through sensitive periods where they are ready to grow and learn a new skill. Each child goes through these sensitive periods at different times and places.
When we give our children engaging and stimulating materials that encourage their curiosity, motivation, and desire to learn, they will! Hands-on toys that engage and inspire children in their learning styles are a great place to start as parents.
One Final Thought
Montessori is a lifestyle. You can create a stimulating environment for your child by providing open-ended toys. The open-ended toys on this list give children the creative freedom to explore at their own pace and use their imaginations while also working on skills like fine motor and creativity.