Is your child 2 or turning 2? Being 2 is such a fun age! Now your child is learning that they are their person with their minds. You may also see the power struggle starting to come out. You may have heard the term terrible twos. The truth is, when your child is 2, it is not terrible! They are learning so many new concepts, how to express their thoughts, and also need the security of their parents. We can encourage many new skills with fun, engaging activities and these awesome toys for 2-year-olds. If you want the best toys for your toddler, this list will get you started! 
What to Look For When Shopping For Toys for 2-Year-Olds
Every 2-year-old grows at their own pace. The best place to start is with what skills your child rapidly gravitates toward. Do they enjoy working on fine motor skills? Do they enjoy hopping and climbing? No matter what they love doing, there are so many toys on the market that your child will adore!
Be sure to consider small parts. Some 2-year-olds still like to put things in their mouth. Look for toys that do not have small parts that are choking hazards. Also, check out the quality of the toy and its function. If the toy is too frustrating and challenging for a 2-year-old to grasp, they may become irritated and want nothing to do with it. With that said, so many top-rated toys are on the market today.
Considering your child's interest is important too! Do they enjoy playing with imaginative toys? Imaginative play toys like a kitchen or grocery store would be fun for them! Do they enjoy playing with babies? Buying accessories they can use with their baby dolls is a great route to go. Fine motor toys like puzzles or magna tiles create many free-play options for your toddler!
What a 2-Year-Old is Learning Right Now
2-year-olds are learning so many new skills right now! Every day your toddler wakes up and learns something new. Their brains constantly take in additional information to benefit them as they grow. Here are some important skills your 2-year-old is working on right now.
Gross motor skills! Your toddler may be running at a swift pace now. They may also enjoy practicing hopping, jumping, and balancing. Some toddlers are more reserved, while others jump in with both feet with everything they are learning! Go at your toddler's pace and give them safe spaces to practice these fundamental skills.
Your toddler is starting to gain a large vocabulary! Every day their brain picks up important information and stores it away until it is ready to use. That includes language! Keep talking to your 2-year-old about everything and watch their language skills advance throughout this year.
Your toddler may be fully engaging in playing make belief. Join them in their creative play and watch their imaginations flourish.
The 2-year-old stage is often known as the "terrible twos" because they are now learning that they like and don't like things, how to express their displeasure, and trying to assert independence. This stage may be challenging, but it is a necessary step to teach your toddler important skills. Take this time to encourage your toddler in their newfound mastery!
What to Encourage When Your Child Is 2
Continue to encourage language skills with your toddler. They can better express their desires and what they are trying to communicate with you when they have the language to do so. Everything you say to your toddler is stored away, regardless if they use it now or not. Their minds are sponges!
You can also work on fine motor skills with fun activities encouraging using those crucial muscles in their fingers. You can give your child items to manipulate, like utensils, pom poms, or even pipe cleaners. Gross motor skills are essential as well. Provide opportunities for your child to practice balancing, coordination, and safely using their whole body.
Best Activities to Encourage Gross Motor Skills
Are you looking for great ideas to encourage gross motor skills? There are so many options! Here are some great ones:
Find somewhere to practice jumping, like a trampoline or in a puddle. Just remember their rain boots!
Playgrounds are a great place to practice gross motor skills, especially with all the climbing equipment at their fingertips.
Practice throwing a large ball back and forth.
Playing on fun climbing equipment is a great way to spend the afternoon.
Playing a full-body game with their siblings, like tag or hide and seek, is a wealth of skill development.
Gross motor skills are important during your child's development. You can give your toddler many opportunities to work on these skills and still have a wonderful time!
Best Activities to Encourage Fine Motor Skills
Toys are an excellent way for toddlers to work on fine motor skills. Here are some fun ones!
Play with chunky puzzles.
Two-piece puzzles are also excellent for this skill development.
Use small pom poms to pick up and drop in a cup. This is especially fun when it comes to sorting colors!
Snake a pipe cleaner through a pre-made hole. You can do this by cutting a hole in a cup or a piece of cardboard.
These fun and simple activities can help your toddler improve their fine motor skills. Are you looking for more ideas? Below are the best toys for 2-year-olds to practice gross, fine, and imaginative skills!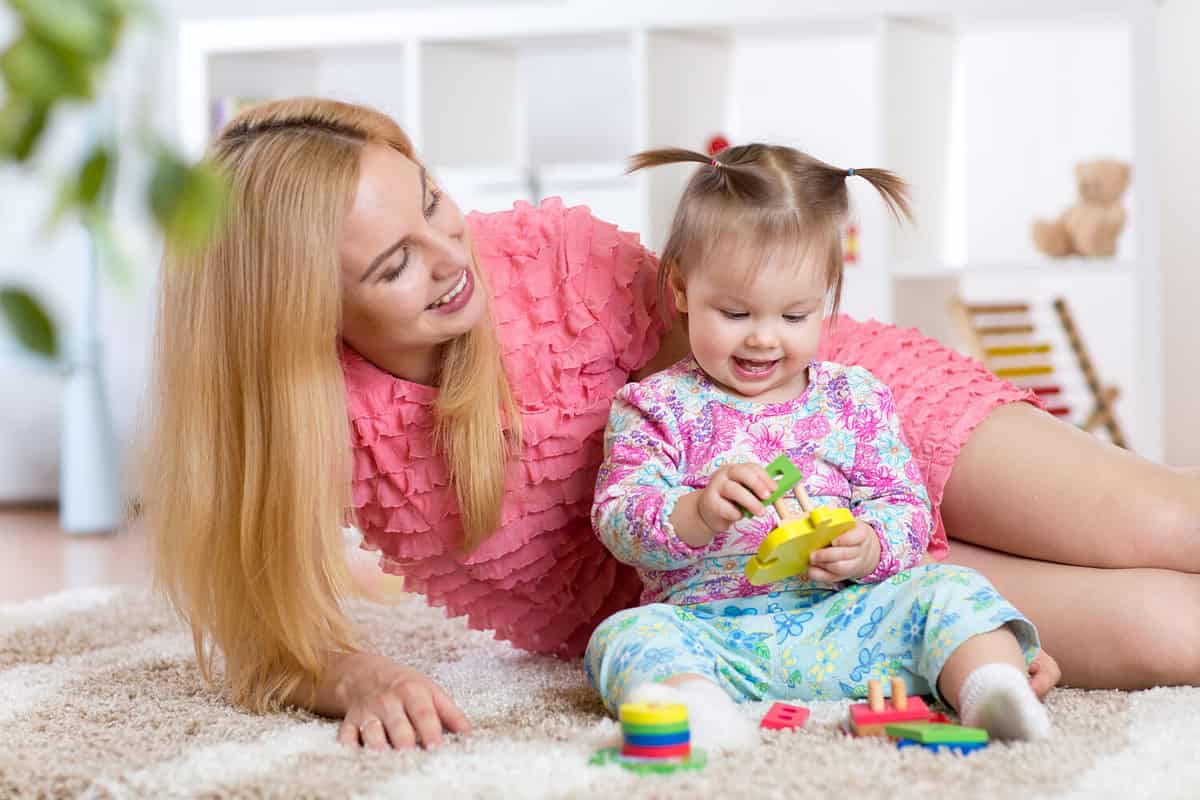 Best Toys For 2-Year-Olds
Now let's get started looking at the best toys for 2-year-olds! There are so many options to choose from. We have narrowed down the best ones that allow your toddler to work on several skills, including fine and gross motor skills, creativity, and imagination. Let's take a look below!
30 Pcs Building Blocks
Building blocks are a great way to encourage fine motor skills and hand-eye coordination and ignite their imagination. These building blocks come in a group of 30 and are fun colors and shapes that engage toddlers while playing. These blocks also come with a bag for easy storage and can be transported on the go. These building blocks are also BPA-free and non-toxic, making these an excellent toy for your 2-year-old to explore their imagination with open-ended play.
Wooden Number Puzzle
Chunky wooden puzzles are great toys for toddlers! They encourage working on their grasp while also developing problem-solving and critical-thinking skills. Also, this wooden number puzzle will help your toddler start recognizing numbers and shapes while having fun with independent play.
20 Pcs Farm Animals Toy
Does your toddler love farm animals? This 20-piece farm animal toy is an excellent toy to gift them! The toy comes with ten different colored barns and ten animals. This toy also encourages color recognition with bright colors and matching opportunities. Your toddler will likewise be able to work on hand-eye coordination and fine motor skills. The toy is made of high-quality material and is durable, providing hours of fun play for toddlers!
VTech Spin and Learn Color Flashlight
VTech comes out with some of the most fun toys, and this one is no exception. Your toddler will be fully engaged in this toy with music and sounds. The flashlight has over 50 songs that explore concepts like animals and numbers. The toy is interactive and engaging with colors and sounds. This toy does need AAA batteries. However, if you want an engaging toy your toddler will love, this is it!
VTech Chomp and Count Dino
The VTech chomp and count dino is a great toy that encourages fine motor skills in your toddler by putting the "food" into his mouth. The dino toy explores concepts like food, shapes, and colors. This toy also counts and reinforces numbers with your toddler. Additionally, this interactive toy has a string that allows your toddler to "walk" their dino. It requires AA batteries. If you want an engaging and interactive toy, this dino does not disappoint.
The Learning Journey: My First Match It – Head and Tails
Puzzles are an excellent way for toddlers to explore the concept of problem-solving. The My First Match It puzzles gives toddlers a perfect chance to use puzzles with only two matches. They are simple enough for toddlers but complex enough that they will be able to work on their skills. The different animals also give engaging visuals to children and help them learn what the animals are. The more your toddler works on this puzzle, the stronger their confidence and hand strength will become!
Monobeach Princess Tent
Play tents are fun for children of all ages! This one is shaped like a castle and is pink with fairy lights. The tent can be opened up and is durable and roomy, 55 x 53 inches, perfect for a toddler! If your toddler loves to play pretend, this fairy tent can be the ideal addition to your playroom!
Montessori Mama Wooden Toddler Puzzles
This wooden puzzle fits together uniquely and is quite fun for toddlers! The fantastic fit is perfect for working on fine motor skills. With four different animal puzzles, your toddler will enjoy these colorful puzzles daily. The material is durable and BPA-free. The colors are engaging and fun for kids. Whether your child loves puzzles or animals, these are excellent and engaging toys.
Hide N Side 6ft Crawl Through Play Tunnel
Play tunnels are fun for toddlers because they can practice their crawling skills! They are also fun for playing hide, seek, and chasing with their siblings. Additionally, this toy is easily stored and can travel with you. This tunnel is great for playing with other kids or even by themselves. 
Mellisa and Doug Broom Set
The Melissa and Doug broom set is excellent for encouraging gross motor skills! Your toddler will love pretending to clean with you with a wooden broom, dustpan, and mop. Imagination play boosts self-confidence in your child. These high-quality and durable toys provide your child with hours of fun pretend play.
15″ Realistic Soft Body Baby Doll
If your toddler loves dolls, this baby doll is perfect! It is 15 inches with realistic features and a soft body. In addition, the doll has accessories like bottles, a pacifier, and clothes. So, whether your child loves to dress the baby or pretend like they are a mommy, this doll is an excellent gift for your 2-year-old!
One Final Note
2-year-olds are at an excellent age where they are absorbing so much information! Their minds are sponges, and they are storing away vital information to use later. So, you can encourage growing their skills daily by providing an engaging environment. Toys are also an excellent way to do this! This list has great toys for your 2-year-old, including chunky puzzles, pretend play items, and toys that encourage gross motor skills, like a tunnel!
The image featured at the top of this post is ©Ground Picture/Shutterstock.com.