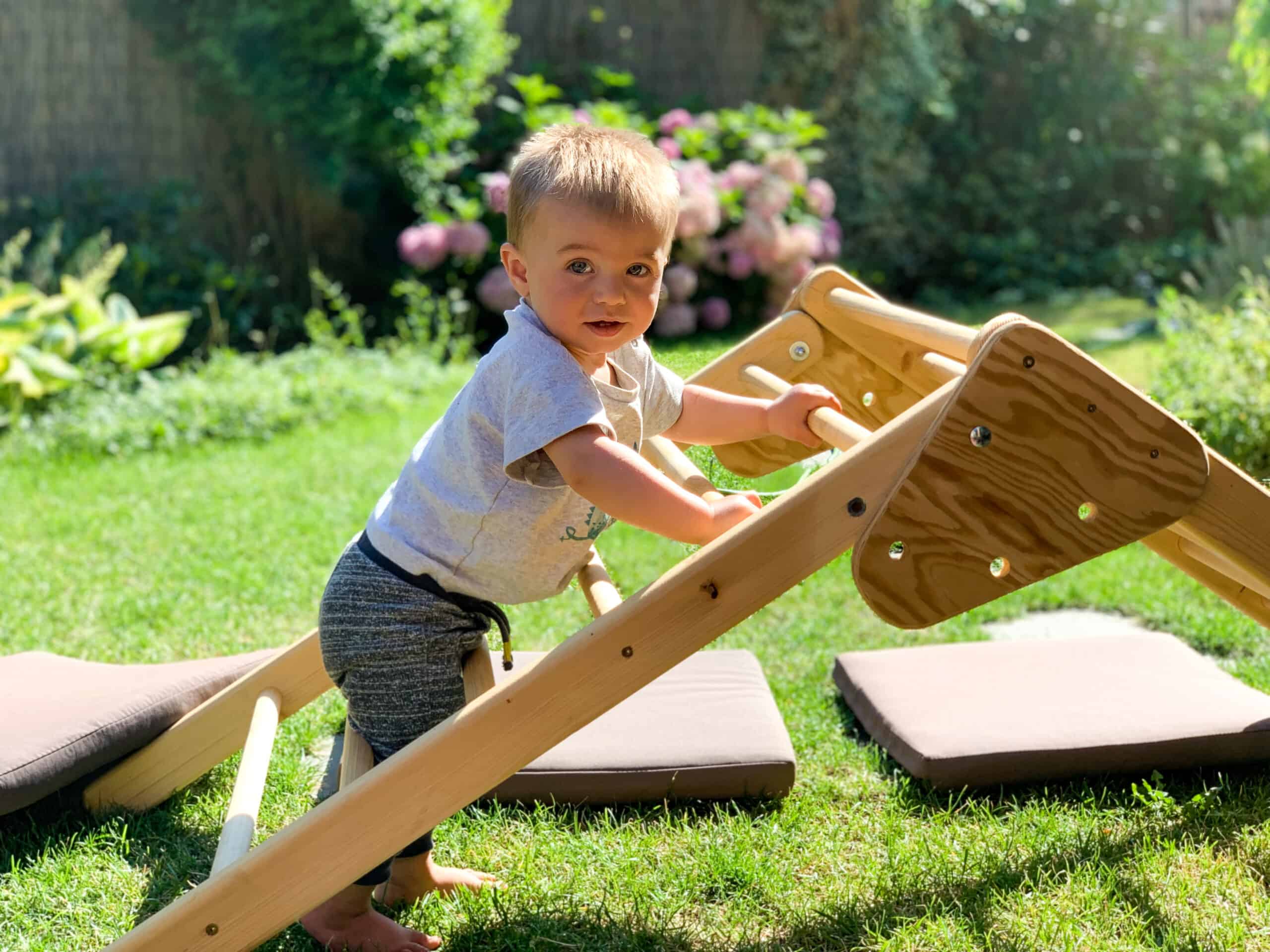 Is your 2-year-old constantly climbing on furniture? Maybe they love the thrill of climbing high, or perhaps they know no fear! Whatever the case, the truth is most toddlers love to climb! 2-year-olds have learned that their body can do amazing things they didn't know about a year ago. They want to explore what they are capable of doing. Many toddlers have no fear; they are still learning to climb structures safely. As a result, as parents, we want to give our kids the ability to climb safely and explore what their bodies are capable of doing. One of the best ways to provide your 2-year-old this experience is by giving them a climbing toy to play with! This list has the best climbing toys for 2-year-olds, so your child can explore to their heart's content, and you can feel confident when your child is learning new skills. 
What to Look For When Shopping For Climbing Toys for 2-Year-Olds
When shopping for a 2-year-old's climbing toy, there are many factors to consider. The first one is what your child is capable of doing now. Do they understand how to climb? Are they working on their gross motor skills and seeming like they have control of their balance and coordination? You will also want to consider the size of your child.
The climbing toy should be the correct size. Too small, and they may grow bored or accidentally break the structure. If the climbing toy is too big, your child may become overwhelmed or frustrated if they cannot master a few new skills. With this in mind, a perfect climbing toy will be in the middle. Finally, you will want to look for a climbing toy that is challenging enough for your child and can encourage the development of their gross motor skills. This list is full of climbing toys that are top-rated by parents! 
What a 2-Year-Old is Learning Right Now
If you have a 2-year-old, you will notice that they are learning many new skills right now!
Your toddler's gross motor skills are developing, and they are learning what their bodies can do. Such as jumping, running, and climbing! According to KidsHealth, their gross motor skills have increased greatly by the time a toddler is 2 years old, and most toddlers can run and climb stairs.
Their vocabulary is increasing! Now your child may be putting together three to four-word sentences that are easy to understand. They may be able to dictate to you what their desires are. 
Many 2-year-olds explore playing make-believe, especially if they are around other children. They will mimic what the children around them do. 
2-year-olds are also learning what they like and don't like and how to express their dislike to others. 
What to Encourage When Your Child is 2
If you have a 2-year-old, there are specific skills you can encourage in your toddler. First, continue to talk to them using a wide variety of words. Your toddler stores away the phrases you use in their mind, such as why a term is used when you don't want to do something or simple things like moo means cow. Even if your child is not expressing yet what they are learning, they are still storing all that information in their ever-growing minds! 
Provide opportunities for your toddler to practice fine motor skills. Give them items they have to grasp with their pincher fingers or something as simple as utensils.
Continue to provide your toddler with activities that encourage gross motor development. Take them places where they can run, hop, and climb!
Best Activities to Encourage Gross Motor Skills
Some great activities that encourage gross motor skill development are: 
Jumping on a trampoline.
Playing on a playground.
Throwing a ball back and forth.
Pushing play cars around outside.
Playing Twister with their siblings.
Climbing on play equipment!
Climbing toys offer an excellent opportunity for your toddler to work on their gross motor skills. Regardless of where they are at in their development, your toddler will have a great time exploring what their bodies can do with these awesome climbing toys! 
Best Climbing Toys For 2-Year-Olds
The climbing toys on this list are all top-rated and loved by kids. They offer climbing opportunities in a variety of ways. Additionally, you will be able to find something that will work for your toddler. Let's take a look at these awesome climbing toys below.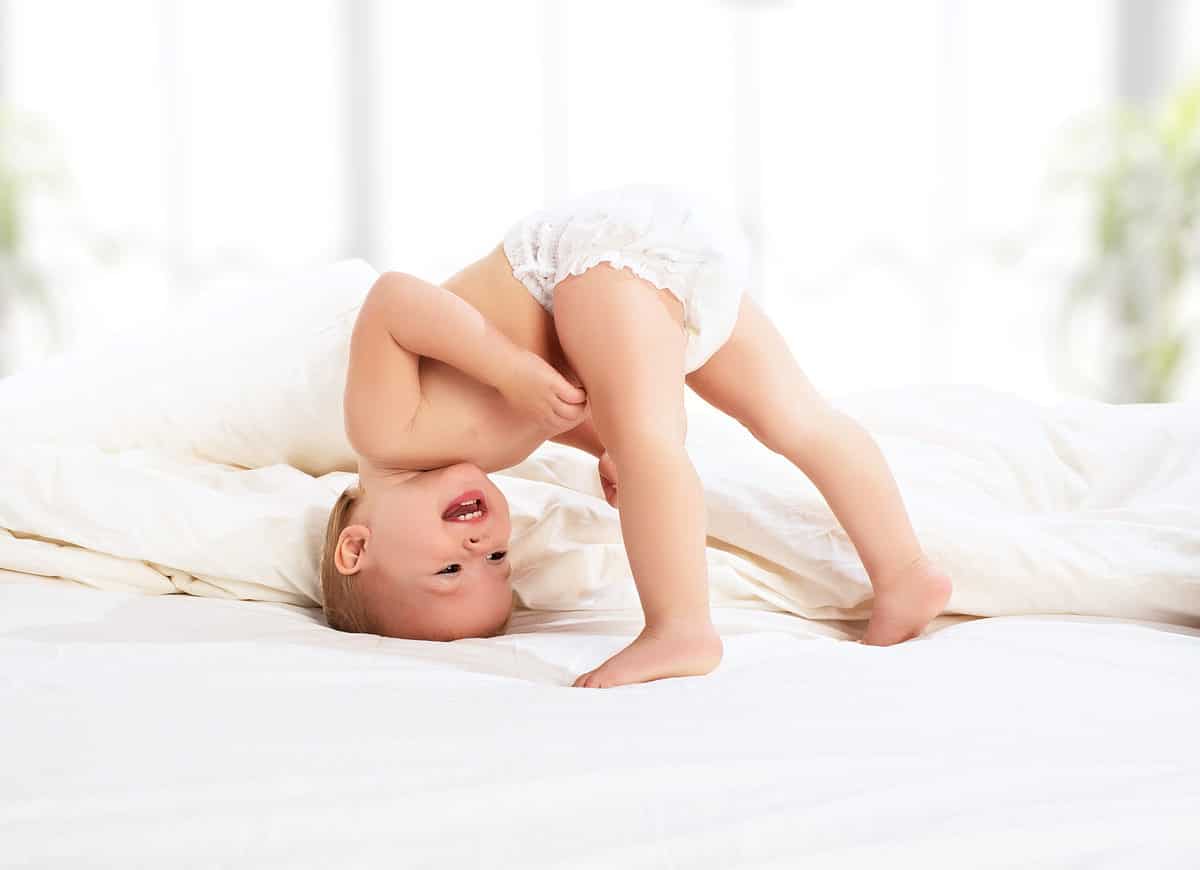 4 In 1 Pikler Triangle Gym, Montessori Foldable Climber with Ramp
This Pikler Triangle Gym is an excellent option for children who love to explore using their imagination. Change this gym into four different structures to help your toddler develop gross motor skills.
The wooden gym is natural poplar and beech, entirely safe for young children, and carries no odors. The edges do not have any sharpness that can harm a child. You can use this structure outside and inside! Create a safe and fun space for your child to develop their skills, strength, and coordination. Parents love this climbing set because it is sturdy and has excellent quality, and children love it! 
3-in-1 Montessori Wooden Arch Climber Ladder Structure
Use the Wooden Arch Climber in three ways: as a rocker, climber, or arch. Natural birch wood makes this climber safe and durable for children to play with. This allows you to encourage many skills with this climber! Your toddler can work on gross motor skills through climbing, building, and rocking.
The wooden arch climber provides hours of fun play that encourages the use of their imagination! This climbing set comes with a blue pad that can cushion the climber when used as a rocker. Parents love this climbing set because it is small enough to move around yet sturdy enough for children. 
Climb Foam Play Set
Climbing foam sets are a soft option for children who love to climb but also want that added padding! The surface is smooth and durable, making recovering from falls easier for your toddler. In addition, you can clean this foam play set easily because it is stain resistant and made of soft leather.
Encourage your child to work on gross motor skills and coordination with this fun playset! You can create a fun climbing area that is also soft and safe for your child indoors. Also, your child can change the structure in several ways, igniting their imagination. 
OLEO Kids Rocking Play 2-in-1 Arch Rocker Board
The OLEO Kids Rocker is non-toxic and made from birch and beech wood. The edges are smooth, preventing your child from getting hurt by rough edges. The colors of this rocker are fun for kids, and the rocker can be played with in two different ways.
This rocker allows your child to work on their climbing skills whenever they desire to! It is perfect for the inside and is small enough to be moved. Therefore, parents loved this rocking set because it encourages imaginative play and is sturdy for climbing! 
Swedish Ladder – Wooden Play Structure 
The Swedish Ladder is fun for children up to age 6! Also, this is a 5-in-one play structure that is used indoors. It has a triangle ladder, climber, rings, ramp, monkey bars, and slide! All of the climbing options encourage skill development and problem-solving as well.
The wooden play structure is easy to put together and is made of safe and non-toxic materials. Furthermore, parents and kids love this set because it's sturdy, durable, colorful, and small enough for young toddlers to start practicing skills! 
In Conclusion
No matter what type of climbing structure you are looking for, 2-year-olds have many options! If your toddler is ready to start developing more of their gross motor skills, coordination, and balance, an excellent place to start is with a climbing toy! These are the best climbing toys for 2-year-olds, and do not disappoint!