Was your child born curious with a climbing gene? Perhaps it seems that no matter what you do, they are trying to climb something every time you turn around! Some children are born more curious and active. Do not fret; these Montessori climbing toys make it easier for your child to explore and stay safer. 
You may be an expert in all things Montessori; however, if this is one of the first times you have heard of the Montessori method, this article will briefly explain the genius behind the concept! Maria Montessori is the pioneer behind the Montessori method. She was a children's educator in the early 20th century. She held fast to the belief that all children are born curious; we can see that truth with our little climbers! With this curiosity, children can explore the world around them and, in turn, develop creativity and autonomy and direct their educational journeys. 
One thing that all of these Montessori climbers have in common is that have safe and natural materials, mainly wood. Furthermore, one of the key elements of Montessori is how each product given to children is natural and non-toxic. Montessori believes children do not need entertainment toys with all the flashy lights and noisy toys. Instead, simple toys made from natural materials like wood are the best way to go.
The Best Montessori Climbing Toys
Let's take a look at the best Montessori climbing toys below. If you have a climber, chances are they will enjoy one of these fun and interactive climbing toys!
Beech Pikler Triangle Set 5-in-1
The Beech Pikler Triangle Set is a great climber for kids and toddlers alike! It is all-natural wood, the age limit is six years old, and it can hold up to 220 pounds. This means that children can play together!
In addition, this Triangle Set is a five-in-one. The interactive elements of this toy mean children can change the angles and positions or choose which part to play with. Whether they enjoy rocking, climbing the triangle, or sliding, there are many ways to play!
Best For Climbing
We earn a commission if you make a purchase, at no additional cost to you.
Costzon Triangle Climber
Sometimes, simpler is better. This Costzon Triangle Climber is similar to the triangle climbing set. However, it narrows the aspect down to just the triangle climber. 
Toddlers and kids can practice their gross motor skills and test their coordination and balance while playing!
The climber contains pine, beech, and birch wood, making it all-natural, non-toxic, and safe for kids. Kids can increase the difficulty level of the triangle climber. Doing so will encourage mastery in new skills. 
Costzon Triangle Climber, Wooden Climbing Toys for Toddlers
This climber is made of pine, birch, and beech wood.
It comes with three different difficulty levels for children to increase their skills.
Encourages gross motor skills, coordination, and balance.
This climber can support up to 135 pounds and is completely non-toxic and safe for children.
We earn a commission if you make a purchase, at no additional cost to you.
Indoor Jungle Gym
Kids love to play with one another, and if your child has siblings, they will enjoy this indoor jungle gym! Being active doesn't have to just be reserved for the outdoors.
The indoor jungle gym is a six-in-one activity set. Additionally, it has a swing, monkey bars, and a rope ladder. The different choices mean your child will continuously engage in their fine and gross motor skills. Watch as they master these important skills and become more and more confident.
Best Overall For Kids
Avenlur Magnolia Indoor Playground 6-in-1 Jungle Gym
Climbing wall jungle gym with monkey bars, slide, and swing.
This 6-in-1 play gym is perfect for children ages 2-6.
Continue to develop gross motor skills and work on balance.
Encourage muscle and control development.
Made from natural grade quality wood.
Parental supervision is always required with climbing equipment.
We earn a commission if you make a purchase, at no additional cost to you.
Swing N Slide Triangle Rope Ladder Swing
As your child grows, they will want to engage in more challenging activities. Yet, their love of climbing most likely won't disappear! The swing and slide triangle rope ladder keeps children engaged while giving them room to work on their mastery and skills.
The rope ladder swing can hold up to 115 pounds; however, it doesn't come with an anchor for the bottom. The swinging motion can feel fun for some children. However, others may prefer for the swing not to move. If so, simple bottom anchors are on Amazon for this climber! 
Rocking Play 2-in-1 Arch Rocker
Some children love to climb and rock! The Play Arch Rocker is an excellent option if that's your child. 
First, they can practice their gross motor skills and climb to their heart's content. Next, after climbing, flip the rocker over and enjoy rocking back and forth.
The rocker contains birch and beech wood and is non-toxic and safe for children. Children will work on coordination, gross motor, and climbing skills while playing! Another perk of this climber is the fact that it is so colorful, making it even more appealing to children. 
Portable Rocker
YOLEO Kids Rocking Play 2-in-1 Arch Rocker
This climbing rocker is colorful and cute! Children love to climb and rock with this toy.
Allow your child to work on their coordination and climbing skills within the comfort of their home.
This rocker is non-toxic and made of birch and beech wood, making it safe for children.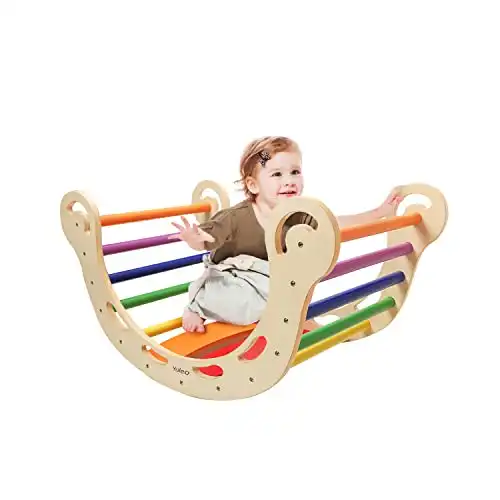 We earn a commission if you make a purchase, at no additional cost to you.
Which Climber Is Right For Your Child?
Climbers can be a fun addition to your toy collection. Children who love to climb will enjoy the many outstanding characteristics of each of the climbers on this list! However, sometimes, it can take effort to figure out exactly which one to purchase for your child. While all these are excellent choices, the best thing you can do is figure out what your child loves to do before narrowing down your choice.
Does your child enjoy climbing with their friends, or are they more of a one-person show? Do they prefer the rocking motion or simply climbing? How about having multiple options versus one simple repetitive challenge? When you narrow your child's interests, figuring out which one to purchase is much easier!
The image featured at the top of this post is ©anastasiaromb/Shutterstock.com.