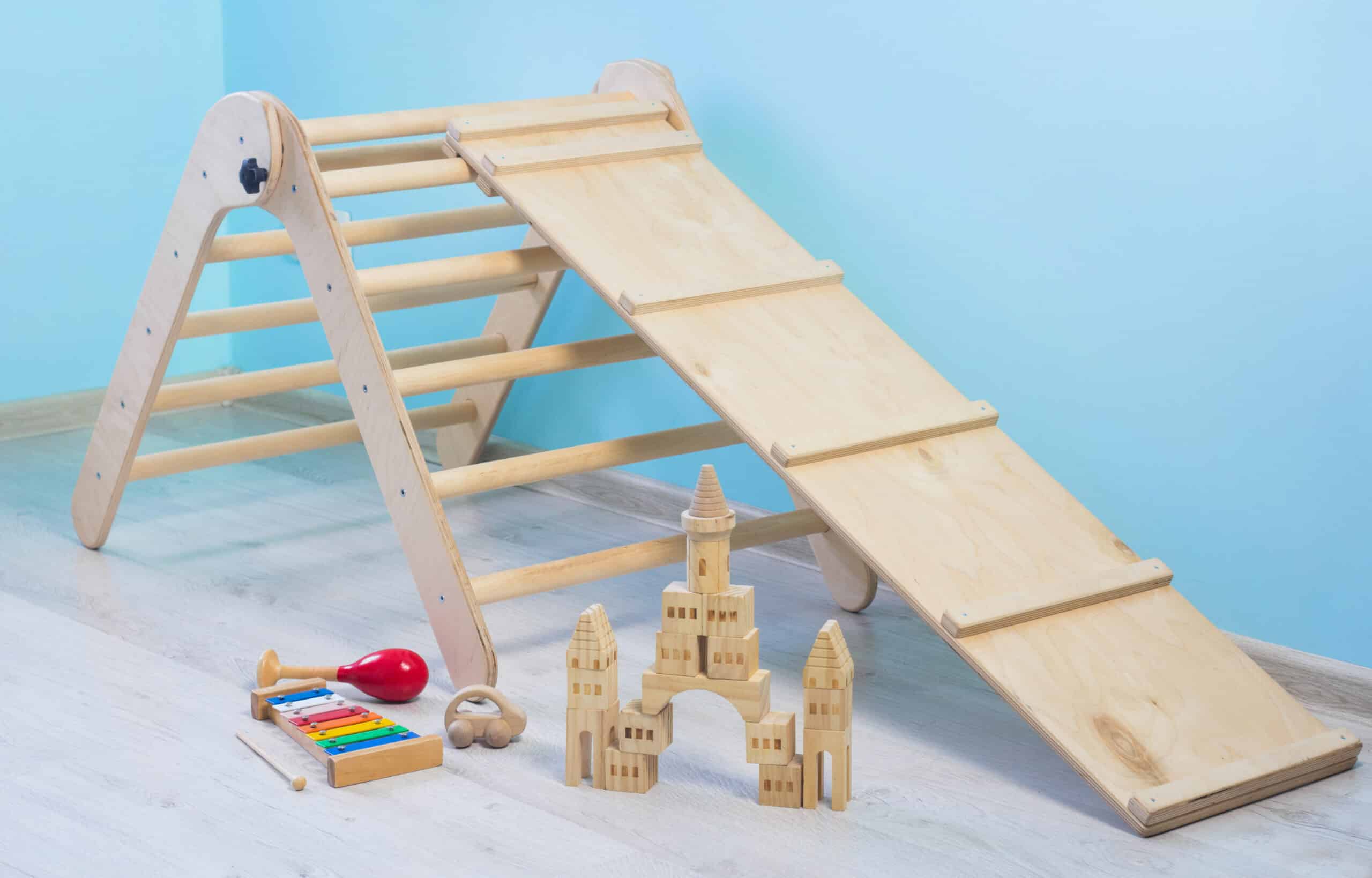 Your toddler is now 3! There are so many activities your 3-year-old may enjoy. Their gross motor skills are more developed than they were a year ago. Your toddler may now be ready for more challenging climbing toys! On this list are the best climbing toys for 3-year-olds.
What to Look For When Shopping For a Climbing Toy For a 3-year-old
When you are shopping for climbing toys, there are many factors you will need to consider. With your toddler now being older, they can handle a more challenging toy. Look for a climbing toy that continues encouraging their gross motor skills, coordination, and balance. In addition, 3-year-olds are now playing more intentionally with their peers, according to Kids Health. Finding a climbing toy to enjoy with other children can also encourage your toddler to engage in group play! 
You will want to consider the same factors that you did when looking for a climbing toy for your 2-year-old. Look for a climbing toy that is challenging enough for your child but manageable to the point that they will not become increasingly frustrated if they cannot learn new skills.
The play gym will need to be the right size. Your toddler may become bored or accidentally break it if it is too small. If the play set is too big, it may overwhelm your toddler. The best climbing toy will be challenging, fun, and the correct size. 
What a 3-Year-Old is Learning Right Now
Your 3-year-old has grown up before your eyes! They are learning so many new skills right now. You can carry an entire conversation with your 3-year-old and understand most of what they say.
Your toddler understands more complex concepts and loves to explore all their bodies can do! Utensils may now be a breeze for your child, and they are ready to take on more challenging adventures, such as climbing even higher! 
What to Encourage When Your Child is 3
Your 3-year-old is ready to be challenged. You can encourage gross motor skill development in your toddler in many ways. Offer plenty of room to run and explore how fast they can go in a safe place. Opportunities to work on their fine motor skills and pincher grasps should still present themselves. If your child is great with a utensil, offer them toys they can manipulate with their fingers! 
Continue to have conversations with your toddler. Toddlers absorb everything you say and do! One of the best ways to encourage vocabulary growth is to talk to your child like you would anybody else. Even if they do not quite understand the meaning of a word, they are storing it away for later in their minds! 
Gross motor skill development can be encouraged by offering plenty of space to explore what their bodies can do now that they are 3! 
Best Activities to Encourage Gross Motor Skills
Some fun gross motor skill activities are:
Jumping on a trampoline.
Running in an open field or yard and seeing how fast they can run!
Climbing on playground equipment.
Exploring with a jump rope or hula hoop.
Playing hopscotch.
Riding a tricycle. 
These are just a few simple activities your toddler can do to help encourage their gross motor skills! 
Best Climbing Toys For 3-Year-Olds
Below are the best climbing toys for 3-year-olds! No matter what you may be looking for, these toys are top-rated by parents and loved by children. In addition, they have many characteristics that encourage independence, autonomy, skill growth, and more. So, if you are looking for the best climbing toy for your 3-year-old, you have come to the right place! Let's take a look below at the best climbing toys for 3-year-olds. 
Costzon Triangle Climber, Wooden Climbing Toys for Toddlers
The Costzon Triangle climber is made of pine, birch, and beech wood and has three different levels of climbing difficulty to explore. Develop gross motor skills through this climber; your child can grow in their sense of freedom. The triangle climber can hold up to 135 pounds and is completely non-toxic, easy to assemble, and portable enough to be moved if needed. Kids and parents love this climber for the simplicity and opportunity it gives children! 
ECR4Kids SoftZone Climb and Crawl Activity Playset
If you are looking for a safe and soft climbing set for your toddler, this is it! Foam activity climbing mats are soft, sturdy, and durable, offering a soft-impact landing. Your toddler can work on their gross motor skills and creativity and engage in group play with this climbing toy. It is 24 inches long, 16 inches wide, and eight inches high, making it small enough to be moved around and transported to other rooms. Parents love this climbing set because it's easy to clean, protects against wear and tear, and offers soft padding for children practicing their climbing skills. 
Foldable Climbing Triangle Ladder Toys
This foldable climbing triangle ladder toy encourages multiple skills at once. Your child will gain autonomy and confidence while working on their ability to control their body. This toy is durable and BPA-free, and non-toxic. The smooth wood will keep your child from getting hurt on sharp edges. Your toddler can play on the climbing arch and ladders, and you can adjust this toy to their size. 
This is a great climbing toy to encourage group play. It can hold up to 130 pounds and offers hours of entertainment to ignite imaginations! 
Indoor Jungle Gym
This indoor jungle gym is appealing to children because it offers multiple activities, and the colors pop! This 6-in-1 indoor jungle gym has a mini rock climbing wall, monkey bars, wood ladder and swing, Swedish slide, and rope ladder. Your toddler will love all the activities, and you can watch them grow in their confidence and abilities!
The quality of this indoor jungle gym is excellent, and the materials are safe, non-toxic, and easy to clean. Parents love this climbing gym because it encourages children to gain confidence. It is big enough for older children to play on. However, it can still fit inside a living room or playroom. Parents also love this climbing gym because it is easy to assemble and supports all their child's play! 
3-in-1 Foldable Climbing Triangle with Thicker Ramp for Climb and Slide
Children love the 3-in-1 Foldable Climbing Triangle! It helps children practice their gross motor skills and stimulates their senses. This climbing triangle can support up to 260 pounds, allowing children to play together!
The foldability of this climbing triangle is perfect for parents who want to store this toy away when it is not being used. The wood is safe and non-toxic, and also smooth. This a feature parents love because it keeps little hands from getting hurt. This is a great climbing toy if you are looking for something that is easy to store and transport and encourages your child to practice the many skills they are learning daily! 
In Conclusion
This list is excellent if you are looking for a climbing toy for your 3-year-old! No matter what you are looking for, you will be able to find something that continues to encourage your child to meet challenges and conquer them. The climbing toys on this list are different enough that you can find something you are looking for, but all offer unique characteristics that will encourage continued growth in your toddler. For example, the foam mats are excellent if you are looking for a soft climbing toy. On the other hand, you may want a climbing toy that is more challenging. The indoor-jungle gym is perfect for children who wish to play with other kids while working on many skills simultaneously! 
 3-year-olds are learning many new skills and are storing away all the information in their ever-growing brains. Giving your child a climbing toy will encourage independence, imagination, creativity, autonomy, and much more!