Do you love the outdoors and want to find the best outdoor toys for your three-year-old? Let's take a look at the skills and interests of a three-year-old, and what toys not only they will enjoy but also help them develop knowledge and reach milestones.
Developmental Milestones for 3 Year Olds
Every child learns at a different pace, so please understand that some children may still be learning to achieve these milestones. But, at the age of three, some common milestones you may see include:
Running and jumping easily
Washing and drying hands
Riding a tricycle
Using a spoon to feed themselves
Dress and undress themselves (not including buttons, laces, etc.)
Ability to concentrate on a task for up to 10 minutes
Speak in sentences from two to five words
Remember rhymes
Name colors
During this age, children are extremely active and learn many physical things. They walk, run, throw, and kick, and they are using these skills to explore the world.
The Best Outdoor Toys
Here are the 15 best toys for your three-year-old to play with outside.
Bubble Wand Set
Bubble Wands Set
Big Bubbles Wand Funny Bubbles Maker with Tray, Nice for Outdoor Playtime & Birthday Party & Games, Suitable for All Age People
We earn a commission if you make a purchase, at no additional cost to you.
Bubbles are bound to be a hit! This bubble set from Amazon has so many different bubble wands for endless hours of discovery and play. With large wands that create giant bubbles and have intricate designs, to small wands in different basic shapes, this bubble set is great for individual or group play.
Tricycle
5 in 1 Kids Tricycle
10 Month to 4 Years Old Kids Trike Toddler Bike Boys Girls Trikes for Toddler Tricycles Baby Bike Infant Trike with Adjustable Seat Height and Removable Pedal (Black)
We earn a commission if you make a purchase, at no additional cost to you.
A tricycle is a great way to spend lots of time outdoors with the family. Whether your toddler has learned how to ride a tricycle or is getting gentle pushes, helping them learn how to pedal with their feet and steer with their hands is great for motor skill refinement. This tricycle has adjustable seat height and can be purchased on Amazon.
Sand Table
We earn a commission if you make a purchase, at no additional cost to you.
This sand table can also act as a water table and be a super fun option for Summer play. This table folds down for easy storage and includes small shovels, a watering can, a cupcake, and a rain cloud. This table can also be filled with other contents such as feathers, balls, etc.
Garden Set
Kids Gardening Tool Set
Garden Toys with Wheelbarrow, Watering Can, Gardening Gloves, Hand Rake, Shovel, Trowel, Double Hoe, Apron with Pockets, Outdoor Indoor Toys Gift for Boys Girls
We earn a commission if you make a purchase, at no additional cost to you.
Having a play garden set is great for three-year-olds. At this age, they like to help and copy what they see. If you need to give your garden some TLC, get your toddler this gardening set so they can play along while you tend to the garden. You'll have hours of helpful play with this Gardening Tool Set.
Bug Exploration Kit
Searching for insects is surely an adventure! With this Bug Exploration Kit, dive into nature searching for bugs and learning all about them after they're put into the cage. With binoculars, a flashlight, a magnifying glass, a compass, a butterfly net, and a critter case, this kit has everything your toddler needs.
Sprinkler Splash Pad
Non-Slip Splash Pad
For Kids and Dog, Thicken Sprinkler Pool Summer Outdoor Water Toys - Fun Backyard Fountain Play Mat for Baby Girls Boys Children or Pet Dog (67 inch, Blue&Blue)
We earn a commission if you make a purchase, at no additional cost to you.
Enjoy the hot Summer days with this non-slip Splash Pad. With shallow waters, it is a safe option to play in the water and is easily set up. All you have to do is hook up the hose, and the small holes in the rim of the splash pad create a fountain of water that toddlers love. Looking for a splash pad the whole family can enjoy? Get this extra large splash pad.
Soccer Set
Now that you're toddler is learning how to kick, a soccer set can help define their motor skills! Not only will it improve their coordination, but it is a great physical exercise that can help them learn organized sports and team-building skills! This soccer set can be great for individual or group play.
Scooter
Toddler Scooter for Kids 2-5
Adjustable Height - 3 Wheel Scooter for Kids Ages 3-5 Boys & Girls - Kids Three Wheel Scooter with Light Up LED Wheels
We earn a commission if you make a purchase, at no additional cost to you.
Not only is this scooter great for coordination, but it's loved by littles because of its light-up LED wheels! This scooter has an adjustable height, an extra wide deck for safety and stability, and is lean-to-steer to teach balance. While learning, your toddler may be riding slower, and these LED light-up wheels will turn on at any speed.
Acrylic Art Easel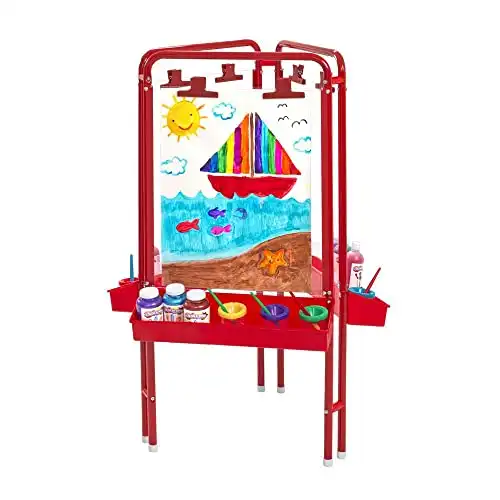 We earn a commission if you make a purchase, at no additional cost to you.
This art easel can be used indoors, but it is a great way to spend time outdoors. Let your child's imagination blossom while they are surrounded by nature and creating art. We all know art projects can be very messy and a task to clean up. With this art easel, you can make the mess outside and hose it down when you're done.
Swing Set
Wooden Swing Set/Playset
With Swings, Slide, Rock Wall, Chalkwall, Clubhouse and Sandbox, Ages 3-10, Amazon Exclusive Multicolor
We earn a commission if you make a purchase, at no additional cost to you.
This swing set features two swings, a climbing ladder, a sandbox, and a slide! With so many different options to play on this swing set, your three-year-old will have the best time. They can play with friends or engage in independent play (with supervision when climbing). This swing set will create years of memories.
The image featured at the top of this post is ©Sergey Novikov/Shutterstock.com.