Children love to play, and playing is how they learn about themselves and the world around them. At four, most children are in preschool and starting to learn numbers and letters. Basically, any activity at age four is a learning activity as they start asking questions and exploring their environment. One way parents can help their four-year-old is by spending time playing outside. Children who play in the backyard or at a local park will benefit from time spent outside. The best outdoor toys for four-year-olds are ones that can help them reach development milestones, stimulate their curious minds, and spark their imagination and creativity.
Why Kids Need Time Outside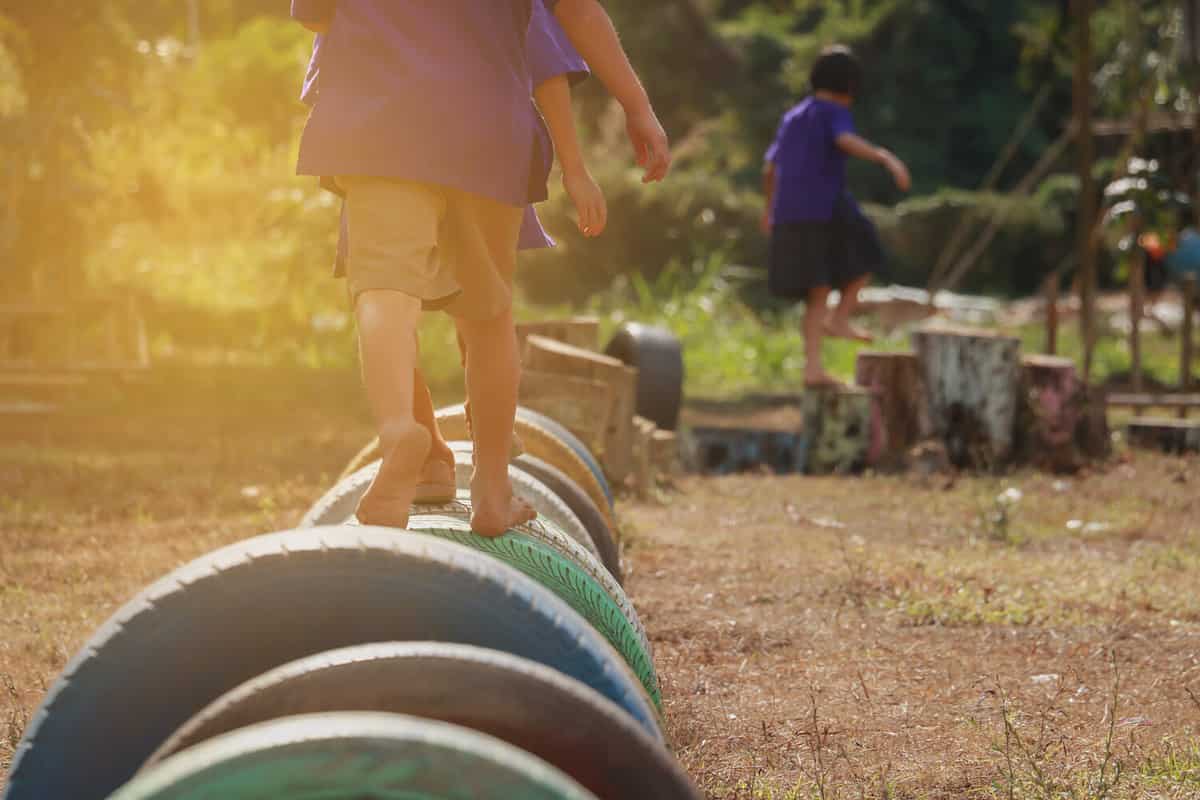 Spending time outdoors is important for kids to develop a healthy body and mind. Exploring nature and learning about the world around them are keys to healthy development. Pediatricians recommend time outside each day, weather permitting, so kids have room and space to move around and feel energized. Some parents are concerned about time outside for safety reasons, but with a little planning ahead, parents can find ways for their kids to safely spend time outside to reap the health benefits of fresh air and sunshine in a healthy space.
How to Keep Kids Safe Outside
Before heading outdoors to play, parents can take a few safety precautions to ensure their kids have fun and stay safe.
Children should always wear helmets on scooters and bikes.
Parents should regularly apply sunscreen to avoid sunburn.
Keep hydrated and ring water bottles.
Teach little one always to use the buddy system
Teach kids about stranger danger and not to talk to strangers
Keep out of direct sun during peak temperatures 11 a.m.-1 p.m.
Best Educational Toys for 4-Year-Olds
All of these toys are created for play outside and are age-appropriate for four-year-olds.
1. Bennol Kids Water Table
This four-in-one water table will keep little one busy outside. There are four separate compartments where kids can put sand, water, dirt, or snow. This is a great outdoor toy because multiple kids can play at once. The table comes with a dolphin-shaped funnel, tree water tower, water windmill, excavator, watering pitcher, scoop, shovel, and rake. Plus, the crab and crocodile sand molds are perfect for making sand animals. The water table is portable, so you can put it outside at the park, beach, or just in the backyard.
We earn a commission if you make a purchase, at no additional cost to you.
2. Outdoor Indoor Bean Bag Toss Game 
Kids love to play games, and this animal-themed bean bag toss game is a great outdoor toy for four-year-olds to play with the whole family. But it's more than just a bean bag game. The other side is a toss-and-stick target game, so you get two games in one with this set. Throwing soft bean bags and balls develops hand-eye coordination and fine motor skills and gets them ready for friendly, competitive-style games. The set comes with ten bean bags, ten sticky velcro-covered balls, and four nails to secure to the ground. 
We earn a commission if you make a purchase, at no additional cost to you.
3. Paint & Plant Stoneware Flower Gardening Kit
Get creative and plant some flowers. This stoneware flower gardening kit has three stoneware pots that your four-year-old will love decorating. They can create their own design and then plant some flowers. It makes a great Mother's Day or birthday gift, and your four-year-old will be so proud of their flowers. The kits come with three pots, one tray, potting soil, three different packets of flower seeds, twelve different colors of paint, two small paintbrushes, three plant markers, a small shovel, a watering jug, and an informative instruction booklet. This activity is for a parent or older sibling to help get started.
We earn a commission if you make a purchase, at no additional cost to you.
4. MITCIEN Kids Camping Set
Let your four-year-old learn to experience camping without trekking all the way to the woods with this camping set. The fun set is perfect for backyard camping. It has a small play tent, campfire, pan, toy food, lantern, real binoculars with 90-180 rotation, and multiple play tools, including a plastic toddler multi-tool. The play campfire lights up with cricket sounds to mimic the real thing. If you want your kids to get the camping experience without leaving your backyard, this camping set is perfect.
We earn a commission if you make a purchase, at no additional cost to you.
5. Wiggle Car Ride On Toy
It's not a Big Wheel or a trike; instead, it's more of a push scooter. The wiggle car is a ride-on toy without pedals or gears. You just wiggle to get it moving. This is a great little ride-on toy for outside play. It is safe, durable, and comes in a variety of colors. This simple design is easy to assemble and gets your four-year-old wiggling and moving around.
We earn a commission if you make a purchase, at no additional cost to you.
6. Best Choice Wooden Sandbox
Sandboxes provide hours of entertainment for kids. And this wooden sandbox is no exception. It is big enough for a few little ones to get into her and have fun. The design is square with  47 in. X 47 in. space. It has fold-out benches that seat four, and when not in use, you can fold them down, and it covers the box completely for safe storage. The sandbox has a liner underneath for ventilation and sand height adjustments. The wood is a durable heat-treated cedar that can be left outside in rain or shine. Play-grade sand is not sold with the sandbox, but you can easily find that at most hardware stores.
We earn a commission if you make a purchase, at no additional cost to you.
7. Crayola Sidewalk Chalk
A good outdoor toy does not have to be complicated; it can be as simple as sidewalk chalk. Sidewalk chalk is perfect for creative minds who love to draw. Kids can draw rainbows, animals, silly shapes, or make a hopscotch game. The possibilities are endless with some simple, colorful sidewalk chalk. The set has thirty-six colors and is the perfect shape for small hands to hold onto. These simple, classic pieces of colored chalk are one of the best outdoor toys for four-year-olds because they develop fine motor skills and encourage creativity and imagination.
We earn a commission if you make a purchase, at no additional cost to you.
8. Dinosaur Sticky Dart Board
Dartboards with real darts are for adults, but this kid's dinosaur-themed dartboard is perfect for four-year-olds. It comes with four sets of sticky balls in four colors for four players. The sticky dartboard has numbers for points in each section. It is easy to set up and comes with hooks to set it up outside or inside. The game is portable, so that you can take it to the park or neighbor's barbecue for all-day fun. Throwing balls promotes hand-eye coordination, and playing a game teaches about friendly competition and keeping score. This game is perfect for four-year-olds and their friends and family of any age.
We earn a commission if you make a purchase, at no additional cost to you.
9. iPlay, iLearn Kids Golf Toys Set
Get your four-year-old a head start on their golf game with this golf toy set. It comes with one ball-to-tee trainer, one club, three club heads, including a putter, a left driver head, and a right driver head, and fifteen golf balls. This golf set helps develop fine motor skills and hand-eye coordination and gets your child excited about the exciting game of golf.
We earn a commission if you make a purchase, at no additional cost to you.
10. Osoeri 6-in-1 Swing Set
The ultimate outdoor toy for a four-year-old is a swing set. The classic swing set just got an upgrade with this six-in-one swing set. It has two swings, a ladder, a trapeze bar, a climbing net, and a basketball hoop for maximum outdoor fun. The set is sturdy and supports up to 440 pounds of kid-sized fun. Your active four-year-old will love this six-in-one swing set.
11.  Outdoor Playhouse for Kids
Every kid needs a clubhouse, and this outdoor playhouse is perfect for little ones. It has doors and windows that open a canopy and three games on the outside: a tic tac tow, pachinko, and a dart board. Plus, the waterproof roof will keep their playhouse nice and dry. This fun playhouse is great for imaginative play with friends. Let your kids learn social skills and creative pretend play in this cute outdoor playhouse.
We earn a commission if you make a purchase, at no additional cost to you.
The image featured at the top of this post is ©Great Pics Worldwide/Shutterstock.com.