Starbucks products have been invading grocery aisles for years. They have a range of at-home coffee products, Keurig Cups, and you can even buy their egg bites at Costco now. One Starbucks product that's become popular is their Cold Brew Concentrate. It offers up to 8 servings with of iced drinks in a much smaller bottle.
In this review, we'll tackle whether Cold Brew Concentrate is worth buying, including a reason you may want to skip it and stick with other types of Starbucks iced beverages.
What Is Starbucks Cold Brew Concentrate?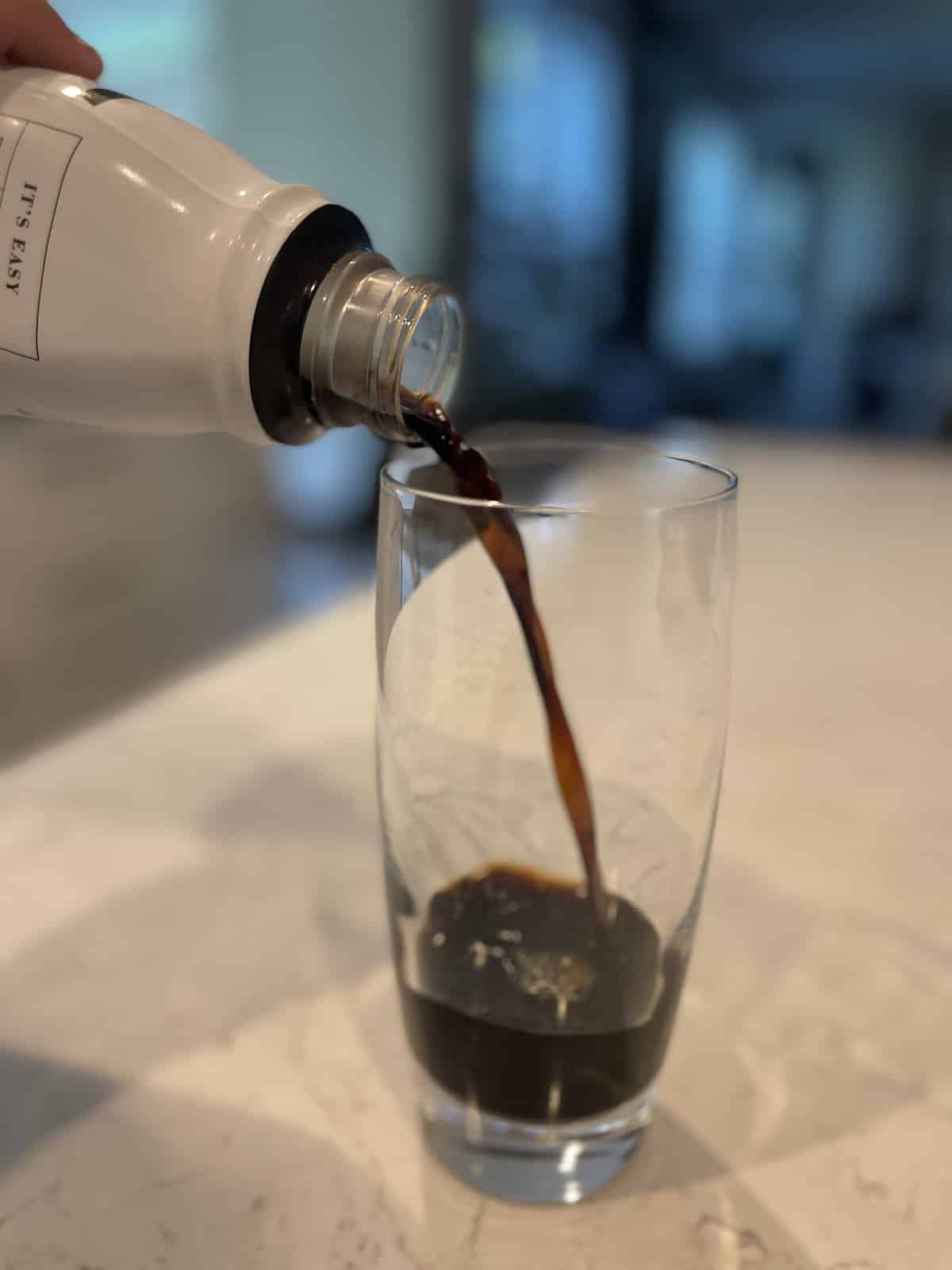 Starbucks Cold Brew Concentrate is sold in 32-ounce bottles, which is smaller than their other at-home products. For example, their Unsweetened Cold Brew is sold in 40-ounce bottles while iced coffee sells in 48-ounce bottles.
The reason bottles are smaller is you're supposed to dilute the concentrate with water. Starbucks recommends four ounces of concentrate and four ounces of water per serving. After adding a generous amount of ice, this should fill up a 16 or 20-ounce glass.
This offers a couple of potential benefits.
First, the bottle is just smaller and takes up less fridge space. Bottles don't need to be stored in the refrigerator prior to opening, so they can be kept in a pantry. This is different than Starbucks' normal Cold Brew and Ice Coffee, which need to be refrigerated prior to opening. A few of these can take up all your valuable refrigerator space!
Second, it can be less expensive per serving. Let's quickly do the math:
Starbucks Cold Brew Concentrate makes 8 servings. Its price changes, but is presently $9.99 at Target. That's about $1.25 per drink.
Starbucks Cold Brew that's not concentrated costs $6.49 at Target for five 8-ounce servings. That's about $1.30 per drink.
Is this savings massive? Not really, but I've also seen concentrate on sale for $7 or $8 several times. In these cases, I picked up three or four bottles since I can keep Cold Brew Concentrate bottles in my pantry. That adds up to some real savings.
It should be noted that when you're ordering Cold Brew at a Starbucks store, they'll add water to a concentrate, so drinking Cold Brew Concentrate isn't a different process than the stores use.
What Does Starbucks Cold Brew Concentrate Taste Like?
First of all, I'm a Starbucks Cold Brew fan in general. I enjoy the lower acidity and smoother taste and it seems to be a little easier on my stomach.
Starbucks describes Cold Brew Concentrate as having "subtly sweet, chocolaty notes," and I think that's a pretty good summary. I was surprised by how "sweet" the coffee tasted. It blends hints of chocolate with vanilla and uses beans with a medium roast. It's without question sweeter than what you'll get if you order a Cold Brew at one of Starbucks' stores.
Whether you enjoy this is entirely subjective. My personal preference would be less sweet, so I'd prefer the Cold Brew I usually get at Starbucks stores. However, the taste difference isn't large enough that it's dissuaded me from picking up bottles of Cold Brew Concentrate at the grocery store when they're on sale.
One Reason to Avoid Starbucks Cold Brew Concentrate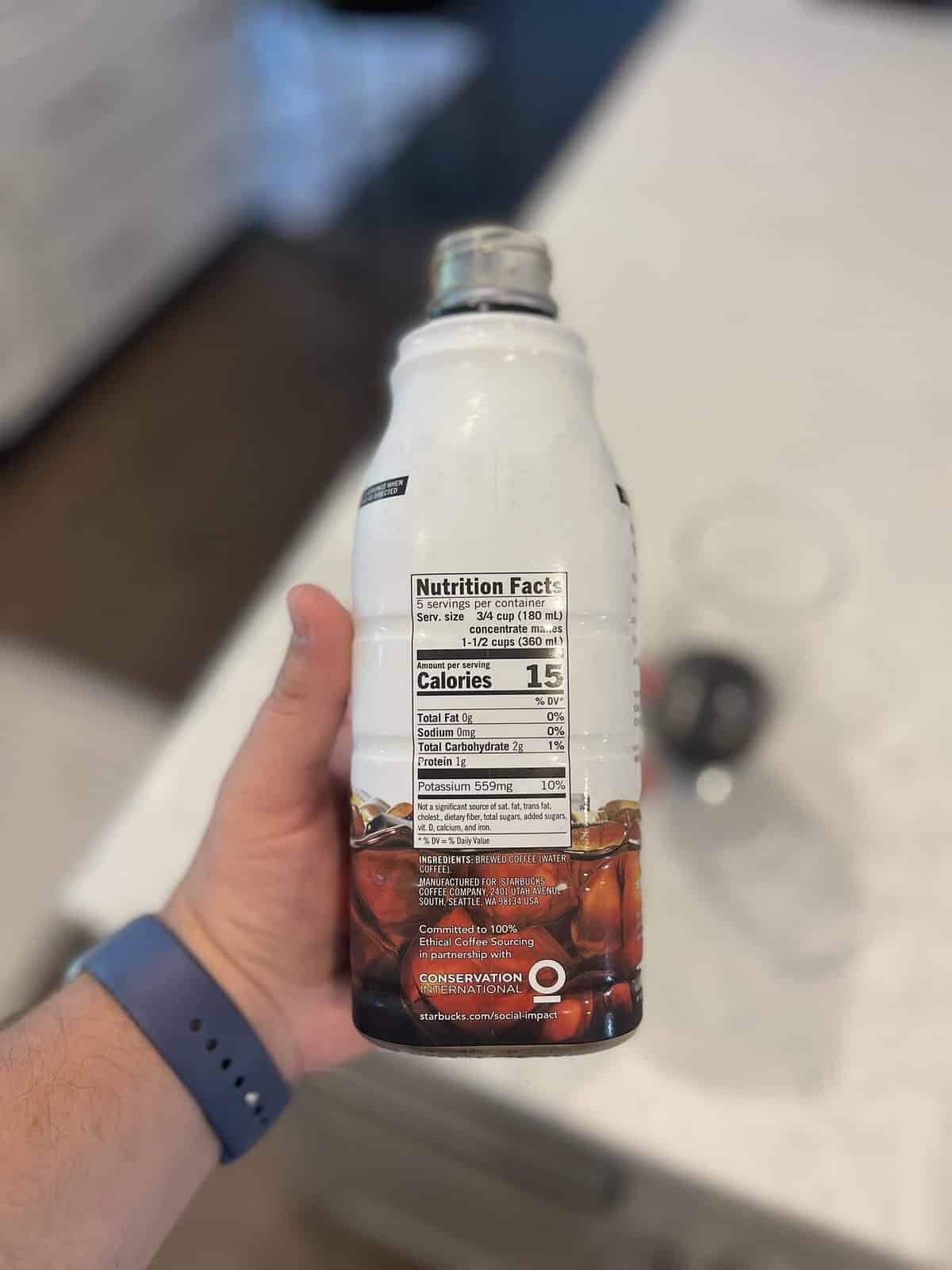 Unless you're drinking coffee drinks with tons of added sugars, their nutrition is generally the same. Expect 15 calories or so per serving. Black coffee is generally very healthy!
However, I noticed there was no disclosure of caffeine content on their Cold Brew Concentrate. I also searched the Starbucks Corporate Site and was unable to find any caffeine information.
Only later did I find a post on Reddit that had a response from a Starbucks representative stating that their Cold Brew Concentrate has about 25 to 50 mg of caffeine per four-ounce serving. This number seems almost too low and I'm left to wonder if there could still be a mistake. For comparison, a short medium roast of their drip coffee has 170 mg of caffeine.
Yet, with many comments online about how Cold Brew Concentrate doesn't provide the caffeine "kick" coffee drinkers are used to, it's clear the caffeine content is well below most other Starbucks drinks. If you like the amount of caffeine you get in a standard Starbucks drink, you may want to avoid Cold Brew Concentrate.
The image featured at the top of this post is ©MomsWhoThink /Eric Bleeker .