Whether you're getting ready for the beginning of a school year or preparing for a break, it's important to find ways to get your kids outside. While it's tempting to let our children sit inside and watch TV on the weekends, playing outside promotes creativity and curiosity, and has numerous other benefits. When it comes to kids around the age of 8, it may take some motivation to get them playing outside but the best outdoor toys for 8-year-olds just might do the trick.
At 8 years old, your child isn't so little anymore but they're not a pre-teen quite yet. It may be more challenging to keep children at this age engaged, but with the right activities and toys, they can enjoy playing outside for hours. Keep reading to find out more about the 7 best outdoor toys for 8-year-olds.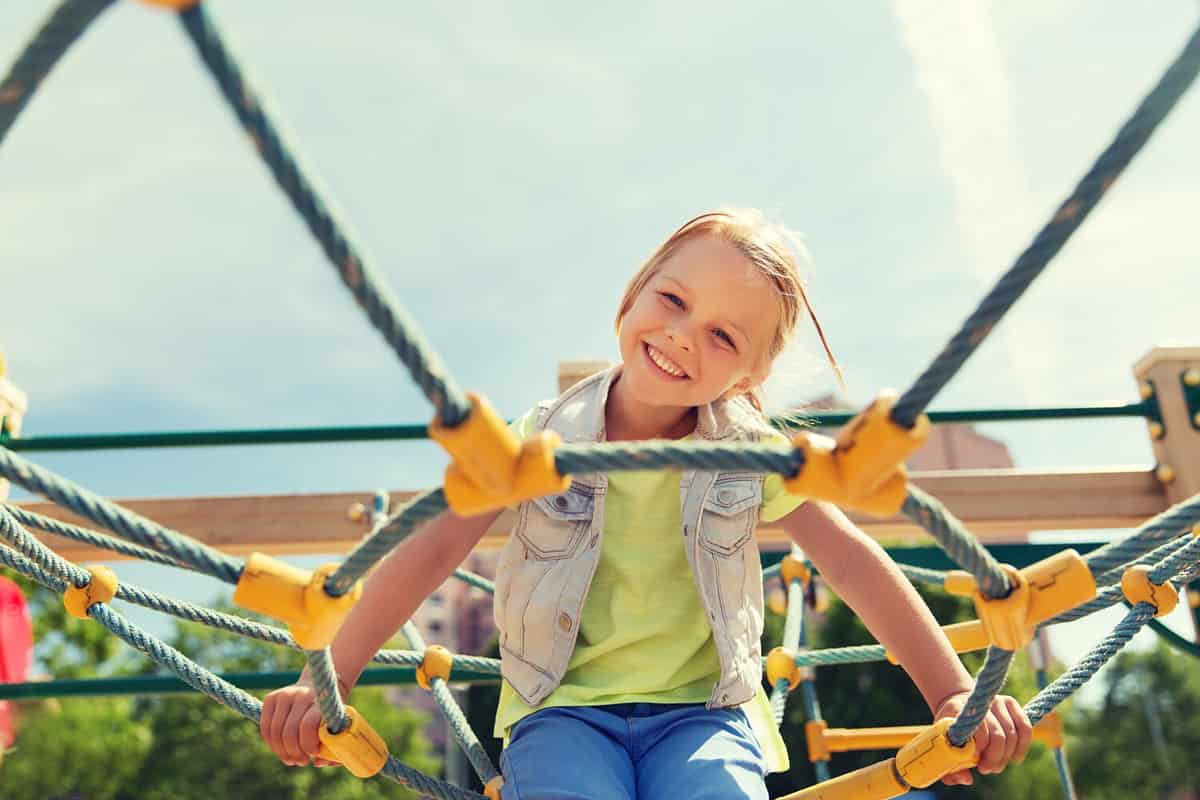 What to Look for in Outdoor Toys for 8-Year-Olds
Outdoor play is such an important part of childhood. Not only does it give kids an opportunity to soak up some vitamin D (with sunscreen, of course!) but it also gives them the opportunity to use their imagination. In fact, play is such an important part of development that it has been recognized as a right every child has.
When you're looking for something that's age-appropriate for 8-year-olds, it's important to keep in mind where they are developmentally as well as what they're currently learning.
6-8 years old is considered middle childhood. Kids around this age are able to do many things independently, like dress themselves and tie their shoes. However, they also still need their parents, and social interactions with their family, friends, and peers are essential.
At this stage in development, 8-year-olds will:
Gain small amounts of independence
Learn to do more things on their own
Start to become aware of their place in the world
Understand social cues and gain a desire for peers to like them
Considering these developmental milestones, it can be beneficial to find outdoor toys that allow your child to connect with others and use their intellectual abilities. These toys can be a lot of fun any time of year, but especially during the summer or fall when it's still warm enough to have fun outdoors and play with water. Here are the top 7 best outdoor toys for 8-year-olds.
Nona Kid Jump Rope Activity Set
Jump-rope is a classic game kids of all ages love. While your kids may have practiced jump rope before or might even have their own jump rope already, the Nona Kid Jump Rope Activity set is still a great gift.
The jump rope that comes with it is perfect for beginners or those who have been jumping rope for a while. Additionally, it comes with some fun activity booklets that have different jump rope games and rhymes. Even if simply jumping rope doesn't keep them entertained for long, they can extend the fun with some additional activities.
We earn a commission if you make a purchase, at no additional cost to you.
Airplane Launcher Toys
These airplane launcher toys are the perfect fit for kids around the age of 8 and are specifically designed for having fun outdoors. The planes come with three different modes to play with. Your child can use the launcher, or the slingshot, or see how far they go with the glider mode.
Since the planes that come in the set are made of molded foam, they're safe for kids or siblings to play with together without having to worry about someone getting hurt. They also come with colorful LED lights for even more fun. These are easy to use for kids of all ages and they can glide as far as 50 feet.
Giant Bubble Wands
Bubbles are another classic toy that never gets old, no matter how old your kids are. These giant bubble wands make such amazing bubbles that we wouldn't be surprised if you wanted to play with them too!
The giant bubble wand kit comes with everything your kids need to have a fun time with bubbles outdoors. It includes 2 pouches of bubble concentrate, a set of giant bubble makers, and an activity booklet to give the kids some creative ideas for how to use them.
We earn a commission if you make a purchase, at no additional cost to you.
Bow and Arrow Set
If your child loves sports and being active, the outdoor bow and arrow set is the perfect toy to play with. This bow and arrow set comes with a detachable target, 2 bows, and 14 arrows. It's perfect for kids to have some independent fun or even to practice with friends or siblings.
The bow and arrow set allows your child to practice aiming in a safe way. The archery set also comes with LED lights, which makes it perfect for darker rooms. Although it can be used indoors, this is perfect for setting up in the yard or patio for outdoor fun.
We earn a commission if you make a purchase, at no additional cost to you.
Reusable Water Bomb Balloons
If you're playing outside in the summer or warmer parts of the year, there's nothing quite as fun for kids as playing with water. While water balloons and water guns never get old, these reusable water bombs are perfect for kids around the age of 8.
Instead of having to pick up busted water balloons around your yard, they can refill these reusable bombs for neverending, mess-free fun. You can purchase them in different size packs, depending on what they'll be using them for. This 6-pack is perfect for a kid to play alone or with a friend or sibling.
We earn a commission if you make a purchase, at no additional cost to you.
NERF Super Soaker SkyBlast Target Sprinkler
Another fun way for kids to play outdoors with water is with this NERF Super Soaker Sprinkler. This outdoor toy allows kids to practice aiming while also cooling off and having fun with water.
While the super soaker guns are sold separately, this activity kit comes with the sprinkler, a foam rocket, and the hose adapter. If your kids already own the super soakers, they can shoot water at the 360-degree rotating sprinkler. When they spray and knock down the sprinkler, it launches the foam rocket into the air. This outdoor toy is the perfect activity for kids during the summer.
We earn a commission if you make a purchase, at no additional cost to you.
Kids Toys Toss and Catch Game
The kid's toss-and-catch toy game is another classic that many of us likely remember from our childhood. However, it's the kind of game that's still fun for kids to play outdoors and it's especially fun for beginners.
The toss-and-catch game comes with a storage bag which makes it perfect to take on the go. You can use this game in your yard or at the park. The material is also waterproof, so you can use it whether you're at the beach or hanging out by the lake. This is a great outdoor game for kids and the paddles come in a stylish blue color.
We earn a commission if you make a purchase, at no additional cost to you.
Finding the Best Outdoor Toys for Your 8-Year-Old
Children of all ages can enjoy playing outdoors, especially if they have some fun and engaging toys to play with. No matter what their interests are, children at this age are starting to become more independent and are starting to socialize more with others as well.
The toys on this list can be great outdoor choices for children between the ages of 6-8, especially for those who love being outdoors. If you're looking for the perfect outdoor toy for your child or a gift for a child you know, check out some of the best outdoor toys for 8-year-olds on this list.
The image featured at the top of this post is ©Sergey Novikov/Shutterstock.com.