Ride-on toys are becoming more and more popular. These toys come in all shapes and sizes, from electric bikes to scooters to go-karts. These ride-on toys are fun for kids and a great way to beat boredom and get outside. Before purchasing a ride-on toy, parents should go over specific safety guidelines and make sure to enforce the rules of the road and follow safety instructions to make sure their children are using the ride-on toys appropriately. The best ride-on toys for 8-10-year-olds are ones that are well made and tested.
Benefits of Ride-On Toys
If you are new to ride-on toys and are concerned about the benefits of ride-on toys for kids, you may be surprised to learn that there are some benefits to using these types of toys. For example, playing with ride-on toys builds self-esteem and confidence as children start to see what they are capable of doing. Ride-on toys teach children to be self-reliant and build critical thinking and problem-solving skills. Using ride-on toys gives children a sense of independence and encourages exploration and creativity, something that many children lack when they spend too much time on screens.
The Mayo Clinic Health System emphasizes the importance of safety gear for riding toys, whether bikes, skateboards, or scooters; children should wear safety gear like helmets, kneepads, and other toy-specific safety gear.
The Best Ride-On Toys for 8-10 Year Olds
All of these toys have high ratings from users. However, families need to read through the safety instructions and height and weight limits to ensure each ride-on toy is appropriate for their child and their specific safety needs. The Bicycle Helmet Safety Institute lists state helmet laws that apply to bicycles and motorized and non-motorized vehicles. Consult the list to ensure your child is following age-appropriate state helmet laws. 
1. EzyRoller New Drifter-X Ride on Toy
The new drifter-X ride-on toy is fun for young riders. The company suggests riders be at least six years old and up to kids 150 pounds. The drifter is a simple contraption designed to work best on flat surfaces. It uses self-propelling action to move kids along; just push legs from the left to the right to steer, and it has a hand brake just in case kids get moving too fast. The seat has padding and back support, plus with hands-free steering, kids can create new games and more ways to have fun with the drifter.
We earn a commission if you make a purchase, at no additional cost to you.
2. Aprilia Licensed 24V Kids Electric Motorcycle High
This electric motorcycle is for kids ages four to ten and has everything kids need to ride safely. The bike comes with training wheels to get your child comfortable, and it has a key start, hand acceleration, LED headlights, and two reflectors. The resistant wheels make riding on all kinds of terrain easy so that they can ride on grass, asphalt, brick roads, and more. Typically, charging time is 8-12 hours.
We earn a commission if you make a purchase, at no additional cost to you.
3. Aosom 24V 7.5 MPH Electric Go Kart
This electric go-kart with remote controls is going to be your child's new favorite toy. It reaches speeds of up to 7.5 miles per hour, and kids will love whipping around in this go-kart. Parents can rest assured knowing the go-kart has a five-point seatbelt and high-traction wheels for extra safety. The go-kart also has a three-speed remote control so parents can feel more in control as their child drives.
We earn a commission if you make a purchase, at no additional cost to you.
4. HUDORA Scooter for Kids
Hudora scooters are all-aluminum lightweight scooters with big wheels to keep kids safe. The handlebars can be adjusted to four different heights to ensure kids can find the perfect adjustment for their size. The scooter folds down for easy travel, so kids can use it anywhere they want.
We earn a commission if you make a purchase, at no additional cost to you.
5. Sopbost 24V 2 Seater Ride On Buggy 4×4 Off-Road Kids UTV
This 4X4 two-seater buggy holds up to 200 pounds and is ready to go wherever your child wants to explore. The UTV has a 24V rechargeable battery and four powerful motors. The rear wheels have strong spring suspensions, perfect for different terrains. Each seat is adjustable with seat belts, and the lockable doors keep kids safe. It has a remote control with forward/ backward, steering control, and an emergency brake as an added safety feature.
We earn a commission if you make a purchase, at no additional cost to you.
6. 24V Kids Ride on Drift Car for Kids
This electric drifting go-kart has a quality metal frame and features a variable speed foot pedal reaching up to 7.5 mp/h. The drift car has a rechargeable battery system that will keep the vehicle going for one to two hours after eight to twelve hours of charging. The system is easy to handle and has LED front and tail lights for added safety.
We earn a commission if you make a purchase, at no additional cost to you.
7. Aosom Kids Pedal Go Kart Ride-on Toy
If you are a parent who prefers their kids to play on a pedal-powered ride-on toy, then this is the perfect pedal ride-on toy. The go-kart has an excellent ergonomic design built to relieve back stress and provide a better overall experience. The 3-position adjustment allows the driver to find the best seat position for their size. The toy is great for kids from ages five to twelve. The go-kart has a rugged, wear-resistant tread and shock-absorbing suspense system for a smooth ride on almost any surface. It has a handbrake and goes forward and in reverse for a simple driving system. The go-kart helps kids gain strength and work on coordination skills, all while getting plenty of fresh air and exercise.
We earn a commission if you make a purchase, at no additional cost to you.
8. ANPABO 24V 4×4 Ride-On Toy for Big Kids
Are you looking for an off-road vehicle for your 8-10 year old? You have found it with this ride-on toy for kids, which has a large durable metal frame and wear-resistant wheels. The four big spring suspensions are designed to do off-roading to get a better grip and traction on all types of ground. The car has two-speed gears, 2WD and 4WD options, and an adjustable seat so kids can use it as they grow. This fun electric vehicle has a 2.4G remote control and an emergency button for extra safety.
9. EVERCROSS EV06C Electric Scooter
Electric scooters are fun and growing in popularity. This lightweight scooter offers every convenience. It's foldable for easy storage and has three speeds. The scooter has an LED display on the thumb throttle to check the speed mode and battery level while in use. The highest speed it reaches is 9.3 miles per hour, and adjustable height for different-sized kids.
We earn a commission if you make a purchase, at no additional cost to you.
10. Hot Wheels Roller Racer Go Kart
This push-pedal go-kart is a super simple design and doesn't have a motor or need batteries. It is a one-size-fits-all kid-powered device. The large no-slip grips for hands and feet. This is a great ride-on toy for kids to burn energy and cruise around.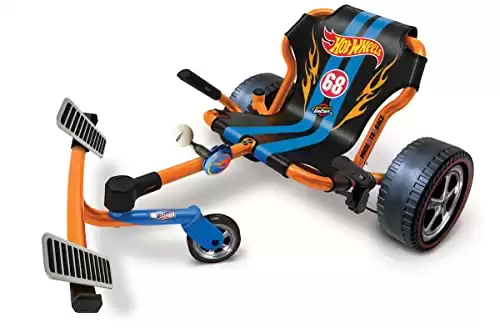 We earn a commission if you make a purchase, at no additional cost to you.
11. Razor Ground Force Drifter Kart
This sleek little drifter kart has a strong steel frame and molded aluminum wheels. The gripping tires are 4-1/2-inches. The kart has a chain-driven motor, thumb-trigger acceleration control, and an easy-to-use hand brake for safety. The battery will stay charged for up to 40 minutes of riding. It is not just designed for fun but for safety, too.
We earn a commission if you make a purchase, at no additional cost to you.
12. Razor MX125 Dirt Rocket Electric-Powered Bike
This electric motocross dirt bike is designed for little riders from ages seven and up. It has a crossbar reinforced handlebar, a retractable kickstand, spoked wheels, and a hand-operated rear brake. It features a twist grip throttle and 12-inch knobby tires for better traction. Your little one is going to love riding around on the exciting dirt bike.
We earn a commission if you make a purchase, at no additional cost to you.
13. Radio Flyer Extreme Drift Go-Kart
With drifting tires and an adjustable seat, kids will be comfortable and safe driving around in this go-kart. It is perfect for kids aged 5-12 who feel the need for some speed in their lives. The go-kart has three speeds: 5, 8, and 11 miles per hour when moving forward and a single speed for moving in reverse. The kart has a seatbelt for safety and a flag for visibility so kids can cruise around and know they will be seen. And the parent-controlled speed lock means they will always have an adult as their backseat driver.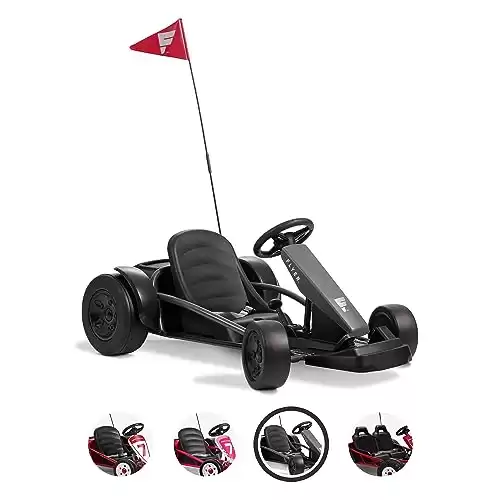 We earn a commission if you make a purchase, at no additional cost to you.
The image featured at the top of this post is ©Dreams Come True/Shutterstock.com.